Is there a WirWetten mobile app for Android?
No, WirWetten is yet to develop a downloadable Android app for its clients. There is also no information floating around whether you should expect an app or not. But they do have something equally appealing, and that is the WirWetten mobile version. You can consider it to be the only option for Android users who never settle in one place. The mobile version is engaging with various components to help you navigate, punt, and play casino games.
You will also find its simplicity to be relaxing and, therefore, worth using for your betting activities. You can access different sports and enjoy a comprehensive menu designed to ease manoeuvrability. Those who have specific requirements can use the search button available on the menu. With the mobile version, you will have fun the same way you would if you had the android app.
---
Is there a WirWetten mobile app for iOS?
Similarly, WirWetten doesn't have an app for iOS devices, and that is one flaw the company should consider fixing. But so long as it's about making your WirWetten betting account portable, then you shouldn't mind using the mobile version. It is unique, fast, and pleasant. The version also comes with a lot of functionalities that you will find on the desktop site. That means you can change your default colour and even your language with a few taps. You can also place bets easily using the simplified interface.
Another thing you will love is the bottom placement of the advertisements. That makes the whole site less distracting and easy to use. The mobile platform maintains the white interface, and if you are in the moods for something comprehensive, click the Go to the website link and enjoy what it has to offer.
---
WirWetten mobile version
From the bits above, you should know how impressive the mobile version is, especially if accessed using a compatible device. The platform brings about the ease of operation required to make betting stress-free. Using the interface, you can quickly move around while keeping tabs on your betting activities. You can also have a glance at your bet slip and know how many games to go before your fate is known. Those who find the desktop version to be hectic will be intrigued by the mobile variant. It is straightforward, and therefore, requires only a few steps for it to perform any task.
It also removes anything irrelevant to the bettor, and that is why it is not cluttered. Finally, there are the controls that are everything to any website regardless of its purpose. At a glance, you can access almost every command you need to place a bet, play casino games, and join the last-minute rush. You can also quickly deposit and withdraw funds without any problems. All that shows how valuable the WirWetten mobile version is to punting enthusiasts.
---
How to use the WirWetten mobile version?
The main reason why the mobile version is available is to make betting effortless. But then how do you go about the whole process, and is it as easy as they claim? Well, you are about to find out in the next few minutes. First, you need to login to your WirWetten account using your mobile phone. You can, thereafter, go to the sports section and make your ideal selection. That is by tapping on the match to view the available options then picking the odds. The minute you choose a particular odd, it is going to reflect on your WirWetten bet slip. From there, everything becomes easy. You just have to use the addition and subtraction buttons to add or reduce the stake. Note that you can add five coins or subtract five coins. Once you finish, confirm your options and bet.
---
Sports betting on mobile
New members may not understand a lot about betting using a mobile phone. The trick is to grasp only the crucial details and learn the others slowly. One thing you are going to note while navigating through the mobile website is the betting options. These are the choices you have to pick before selecting an odd. That means they are always coming together with the odds. The site provides gamblers with many options to ease betting and make the whole experience satisfying. Amateurs should stick to winner, draw, and Over/Under. But once you advance your game, you should look forward to using the most technical options. That includes goals under a certain number and Asian Handicap.
---
Mobile Features
If features are enough for you to consider a betting site, then WirWetten will thrill you. The site has a wide variety of features that will entertain you and make your betting worth it. You only need to know which function does what and you are good to go. Some of the components bettors can access using the mobile version include:
Live Streaming
Esports bettors can access the live streaming option, which seems to be very exciting. You should never pass the opportunity to watch eSports live on your phone. It is, however, vital to have stable internet connectivity for you to stream continuously without glitches. Live streams come with sensible properties like the full-screen option. Using the selection makes it easy for you to watch events using the entire display of your smartphone.
You also get a chance to decide on the quality of the game. You can mute the event or let it play loud. The number of matches available for live streaming depends on the teams playing. There are times when there are many games available for streaming, while at times, you will find a few. To view live games, you need to go through the live options and click those with a TV icon next to them.
In-play function
The in-play function is becoming a big deal in the online betting industry. The feature is all about giving punters the freedom they need to have pleasant betting sessions. Throughout the years, betting sites have only been able to provide pre-match betting. But now you can stake on an ongoing match even using your mobile phone. You should, however, know that only a few games get to have the in-play function. If you want to look at the available live matches, you should tap the live button.
You will find it at the bottom of the site with the icon of a person kicking a ball. You can, thereafter, make your selection, place your bets, and wait to see if you are a lucky punter. The betting method is similar to regular betting. The only difference is that you get to punt on events whose statistics are changing by the minute.
Cash Out option
In addition to the live streaming option and the in-play function, WirWetten offers the amazing cash-out feature. Using the cash-out option, you can withdraw your bet instantly before the game ends. You, however, have to wait for the event to go live prior to initiating the cash-out option. The feature is available on both pre-matches and live events so long as they come with the cash-out button. As a result, you need to make sure that a particular event allows you to cash-out beforehand. Also, you should expect some delays from time to time. But the good news is in case of a delay the site will notify you. All you have to do is have great timing to maximise your profits and reduce any losses.
Custom betting
Last but not least is the fantastic custom betting feature. It comes with new functionalities, including allowing you to develop a unique bet and thereafter punt on it. The idea is ingenious, and the functionality shows how much freedom you have on the site. If you go through the regular bets, you will notice that there are many custom bets from other gamblers. To single them out, have a look at the matches that come with an orange mark on its side. If you want to create a custom bet, simply fill the custom bet form and watch your bet go live. It is one of the most intriguing moments of using WirWetten mobile.
---
WirWetten casino mobile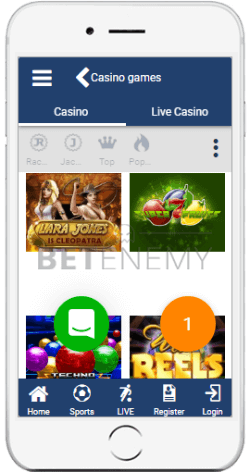 WirWetten mobile possesses most products available on the desktop version, and that includes the casino. Once you opt for the casino section, you will find another option called live casino lobbies. Here is where you find outstanding games, for instance, live roulette, live baccarat, and live poker. You can also go to the regular casino and play games like 100 Joker Staxx with 100 pay lines. There are also additional options that are intriguing, for instance, 777 Burning wins and seven fruit extremes. You, however, have to sign up for an account before you can gain access to the mentioned variants.
---
Is there a Mobile Bonus?
Considering the exemplary structure of the mobile platform, you should be hoping for a mobile bonus. It is, however, disheartening to hear that there is no existing mobile bonus for punters. The only thing you can do is access the available options and have a brilliant betting experience. Hopefully, while making their regular updates, they will consider adding a mobile bonus code together with the mobile bonus.
---
System Requirements and Compatibility
The fact that WirWetten lacks a downloadable mobile app doesn't mean you can access it with any device. Such a website is multifaceted, with different platforms running continuously to ensure absolute dependability. You are also going to find the addition of high-quality games that require modern systems to run. That is why using compatible smartphones like iPhone X, 8, 7, 6 plus Samsung, Huawei, and Xiaomi is mandatory. The minimum requirement is using Android or iOS devices with the latest operating system. That could be iOS 13 or Android 10. You may also consider the previous versions so long as they are superior enough to accommodate the WirWetten mobile version. Another crucial factor is to go for a good browser that guarantees functionality, for example, chrome and Mozilla Firefox.
---
Mobile Deposit & Withdrawal Payments
A professional mobile betting site should be able to allow betting enthusiasts to perform every function, for example, make payments. That is why WirWetten operators took upon themselves to deliver wonderful betting options. You are therefore going to find unique deposit and withdrawal methods like Yandex, Crypto, and Paysafecard. You will also find Trustly, which is the quickest bank transfer method. The site, however, advises their clients to use methods like credit card and debit cards. Some of the additional payment options that are dependable while using the mobile version include:
Deposit Methods
Withdrawal Methods
| Payment Method | Deposit Minimum | Deposit Maximum | Time for Deposit |
| --- | --- | --- | --- |
| Visa | €10 | €5000 | Instant |
| Skrill | €10 | €1000 | Instant |
| Trustly | €10 | €1000 | Instant |
| MasterCard | €10 | €5000 | Instant |
| MuchBetter | €10 | €1000 | Instant |
| Neteller | €10 | €1000 | Instant |
| EcoPayz | €10 | €1000 | Instant |
| WebMoney | €10 | €1000 | Instant |
| Yandex Money | €10 | €1000 | Instant |
| Qiwi | €10 | €1000 | Instant |
| Jeton Wallet | €10 | €1000 | Instant |
| Cryptocurrencies | €10 | €1000 | Instant |
| PaySafeCard Direct | €10 | €1000 | Instant |
| Astropay Card | €10 | €1000 | Instant |
| Payment Method | Withdrawal Minimum | Withdrawal Maximum | Time for Withdrawal |
| --- | --- | --- | --- |
| Visa | €10 | €5000 | Up to 3 days |
| Skrill | €25 | €5000 | Up to 3 hours |
| Trustly | €20 | €5000 | Up to 3 hours |
| MasterCard | €10 | €5000 | Up to 3 days |
| MuchBetter | €10 | €5000 | Up to 3 hours |
| Neteller | N/A | N/A | N/A |
| EcoPayz | N/A | N/A | N/A |
| WebMoney | N/A | N/A | N/A |
| Yandex Money | N/A | N/A | N/A |
| Qiwi | N/A | N/A | N/A |
| Jeton Wallet | N/A | N/A | N/A |
| Cryptocurrencies | N/A | N/A | N/A |
| PaySafeCard Direct | N/A | N/A | N/A |
| Astropay Card | N/A | N/A | N/A |
MuchBetter, Visa, Skrill, MasterCard, Trustly, Cryptocurrencies, Qiwi, Neteller, EcoPayz, WebMoney, Astropay Card, Yandex Money, Jeton Wallet, PaySafeCard Direct
MuchBetter, Visa, Skrill, MasterCard, Trustly
---
Questions & Answers
Is there available WirWetten mobile app for my Android or iOS?
No, there is no WirWetten app for Android or iOS users. You can, however, use the fast and dependable mobile version accessible using your device.
Can I change the odds from fractional to decimal?
No, you cannot change the odds from fractional to decimal using your mobile phone. You should switch to your desktop version first.
How do I play WirWetten games on my tablet or phone?
In case you want to play WirWetten on your mobile phone, you should load the casino section. You can, thereafter, pick a game and start playing.
Can I play WirWetten mobile for free?
Yes, you can play WirWetten Mobile for free. However, bettors should first login to their accounts to gain access to any available free games or free spins.
Are all the payment methods available on the desktop version accessible using the mobile site?
Yes, all the payment methods are available on the mobile version. As a result, you can use any to make payments.
Is the live stream option clear on the mobile phone?
The Livestream option on the mobile phone is clear, so long as you make the right settings. To begin with, change the display quality.
How can I reset my password using my mobile?
To reset your password using your mobile, click the login button then the restore password link. You can, thereafter, enter your email and click restore.
Can I access my current bet slip on my mobile version?
Yes, you can access your current bet slip using your mobile version. All you have to do is login and thereafter open the bet slip.
---
About the Company
WirWetten is a license holding online betting platform that went live in 2005 under the leadership of Wir-Wetten Limited. The company was owned by Johahn Leitner, who later made it available to betting clients beyond Austria in 2014. Since then, it has remained to be a force to reckon with in the world of online gambling. To maintain its relevance in the competitive market, WirWetten has been refreshing its gaming products and betting markets regularly.
They are always adding something while updating significant features on the site. Currently, it is among the few betting sites with the custom betting feature mentioned earlier. Those are among the essential things that have seen WirWetten rise in the ranks and maintain its stunning reputation. It is, therefore, a recommendable betting site for any punter interested in starting or continuing his or her betting journey.
---
Contact details
The online gambling site added a few contact details due to its official status. That is to help bettors reach customer representatives whenever a problem arises in their accounts. The available contact details are so far proving to be useful. Some like the telephone number give punters direct access to the available agent. Live chat, on the other hand, allows you to chat with customer supports. That is even though it is quite slow compared to most alternatives. Those with queries that are not prompt can consider using their official email address. With the contact details:
---
Mobile Rating and Conclusion
WirWetten's mobile rating stands at pretty high. The mobile sportsbook comes with the best betting interface coupled with a beautiful design. It also uses a fantastic layout and structure to appease bettors and increase traffic. All those features are not only incredible but also admirable compared to those of its opponents. It, however, lacks a mobile bonus. The only option is to, therefore, use the ready to claim bonuses. Otherwise, the mobile version is perfect and, as a result, recommendable to betting enthusiasts.