Note for UK players:
Dear players, for that moment Winner does not have a UK license. In this case, we can recommend another bookmaker, which is Betway if you want to try good sections for sports betting and casino.
Mobile App for Android
Once you first see the main page of Winner Sports Android mobile app, you will observe that the live betting option is one of its most notable features. When you click on the live betting option, the latest fixtures such as Football, Snooker, Cricket, Basketball, and Tennis will present to you. Each sport has its tab where punters can stay updated with odds, special promotions, and standing of each match.
The Android mobile is indeed user-friendly. It assists customers with useful tools. These tools allow its customers to stay updated on all games, calculate odds easily, and access all audio and video coverage. Because of this, it will be easier for novice players who do not know much about betting and the strategies in gambling.
The winner app does not only offer a wide array of sports markets. If you like to play Winner casino, Poker, and Bingo, you can easily download the mobile for Android and play all games with the same account you have at Winner Sports. With a reliable and robust interconnection, Winner Sports mobile app will let you access its offerings and will always allow you to bet on wherever you are.
How to Download the .apk File and How Install It?
Whether you are an Android or iOS user, you can get the app very quick and simple. Once you're done with the process, everything offered by the platform will be available to you. Here is a guide to download and install the .apk file:
Unfortunately, due to its strict policy, Winner Sports is not available at Google Play Store. However, you can directly download the app via the website.
Step 1: On your phone setting, go to Settings and then to Security. Then, turn on the "unknown sources".
Step 2: Visit the Winner Sports Website. Click on "Download Android Application" found on the main page.
Step 3: The download process will start. Once done, look for the .apk file on your downloads folder and start the installation process.
Step 4: Open the app and create your account to start playing.
---
Mobile App for iOS
If you are an iOS user, you can right away play all Winner Sports games and events once you create and deposited into your account. You can enjoy and bet on different games on the go with the mobile app offering thousands of sports and markets. Favourite sports such as football, horse racing, tennis, and cricket are all available on the mobile app.
The mobile has a simple UI, with comfortable 1 tap features such as bet slip and touch ID allowing you to access into your account quickly. The mobile app will let you easily access different features like bank transactions and customer support. You can also manage your account by creating a folder to sort all your favourite games.
Winner Sports is more enjoyable to play with if you are using an iPad because of its bigger screen. The icons are large and easily readable. For this reason, playing on the iPad is recommended on your Smartphone. Note that the Winner Sports app is perfectly compatible with iOS devices with a 9.0 up to the most recent version.
How to Download the App and How to Install It?
Same with getting the .apk file, to download and install the mobile app is not a long process. If you are an iOS user, you have to do the same process. The process is reasonably simple and does not take long. Below are the steps required to download and install the mobile app:
Step 1: Go to the iTunes store.
Step 2: Look for Winner Sports mobile app on the search bar.
Step 3: Click the download button to start the download and installation process.
Step 4: When you're done, click the app so you could start signing up your account and play all the games offered at Winner Sports.
---
Mobile Sports Betting
You can access the platform's sportsbook in some ways – via mobile app, mobile site, or through your desktop. Winner provides its customer with easy-to-navigate pages, allowing its customer to browse their desired market easily regardless of experience. There is a section named "betting highlight" where punters can inform of the platform's popular bets and special deals.
Gambling aficionados can choose their preferred match, with over 22 various options to choose from. Mainstream sports like Football, Golf, Tennis, and less popular sports like Cycling, Handball, and Aussie Football are best to place bets with because of the relatively high odds it offers. If you are not a fan of Sports, there are also several events like Business, Entertainment markets, TV and Politics where you can bet the results of the next election.
Winner Sports odds are also competitive and in line with its customer standards. Sports like Football, Cricket, and Tennis odds prices are similar to other top bookmakers. So if you are looking for this type of offer on a gambling site, these Sports are highly recommended. On the other hand, odds on the in-play section are updated continuously the entire match allowing you to see the latest prices of each game. In line with this, you will also inform about the upcoming matches that you can also bet on within the day.
---
Mobile Apps Features
Curious why Winner Sports mobile app stays on top of the game? For starters, there are plenty of markets with good odds from various sports, tournaments, and leagues. That is not surprising though, but more than that, there are a lot of reasons why the mobile app remains successful.
Easy Access
With a single tap on links or icons on every option, you will be directed to your preference instantly. For iOS users, the touch ID allows customers to access your account easily.
Smoother and Straightforward Navigation
The mobile app lets you have a perfect gambling experience and allows you to start your betting adventure no matter where you are. It features an intuitive and slick design and easy navigation. It loads easily, and you will never be distracted due to low speed especially when you connected to 3G, 4G, or Wi-Fi.
Full Coverage
The mobile app provides full comprehensive coverage. This way, you will never miss a thing in terms of promotions, updates, and latest offerings. The live betting option will keep you informed and will never cease to keep you updated especially on situations where the odds turn to your favour.
Mobile Cash Out
Though this feature is also available on the website, having it on the mobile app is great news. Most gambling site doesn't offer mobile cash out, and surely gambling enthusiasts will be thrilled to know this recent innovation in Winner Sports. What is cash out? The cash option will let you close the bet before the game even ended. This feature will assure you sure winning or minimise your loss as the games progress.
---
Review of Mobile Site Version
The mobile site is no doubt comparable to other top bookmakers in the industry due to topnotch layout and design, thousands of betting preferences, and game selections it offers. On this review, it is essential to focus on the functionality of the website. It is technically important as some punters are hooked to dive into the gambling arena if the site is aesthetically pleasing and offers easy navigation.
Generally, the mobile site is good looking. However, it is kind of messy to look at as the site bombarded with too many words and links on each page. The website is very interactive and functional though and can meet up to your standards. On the left corner of the page, there's a menu where all sports markets and sports betting events displayed. The site is user-friendly, especially for recreational players.
On the sports section, you will see quick links that can make changes to your account. Winner Sports have already provided you with all the details, including the latest odds offered and their details. On the contrary, when you visit other sections at Winner like Casino, Poker, and Bingo, you will notice that they differ in terms of design and layout. However, they do not vary in terms of functionality.
---
Winner Casino App

Winner Casino app has the same quantity offered at the desktop version. All games powered by Playtech, which is the world's no. 1 software provider in the betting industry.
The site works perfectly on both Android and iOS users and will let you play the same account you have created on Winner sister companies. It works fine on older devices but runs very smoothly on newer devices.
Playtech Constantly improves the quality of their games to ensure players with superb graphics and versatile gaming experience. There are plenty of slots and table games to play, including Video Slots, Baccarat, Roulette, and a lot more.

Several live dealer games also available, and the variety of selections is very promising.
Overall, the casino app is excellent.
---
Winner Poker Mobile App

Winner Poker's mobile app uses the HTML5 technology which makes the app work on a wide variety of devices. The app can be downloaded for free and does not take long to install. You can get the app through the mobile website where you are required to download a link to your email so you can download the right software. For faster download, you can also download the straight from google play or app store. However, this option depends on the type you have as the app is mostly available on newer smartphone models.
When Already installed, you will offer the same features present on the primary site. You will notice that there are plenty of games and hundreds of active tables for players. You can enjoy a variety of games such as Hold 'Em, Stud, Hi-Lo, and Omaha. Besides, you can also play exciting tournaments like Sit & Go Freerolls, and more.
The lobby of the mobile app is very easy to navigate allowing you to browse different types of Poker games quickly. The software utilises helpful tools so players can play without hassle. It is also possible to have many tables open simultaneously and switch to casino games instantly when you feel like it.
Overall, Winner Poker is one of the best platforms around, and it deserves a thumbs up.
---
Bingo App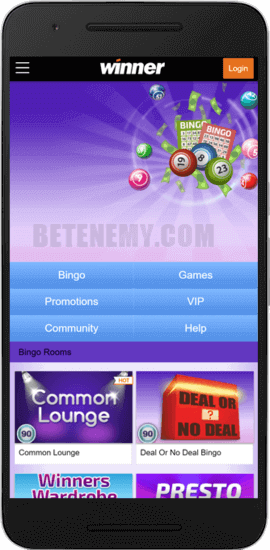 For iOS gamers, Winner Bingo mobile can be downloaded through the iTunes store.
However, There is no app or .apk file for Android devices as of the moment. For, Android users who wish to play Bingo games, they can utilize the mobile site version on their browser at www.mbingo.winner.com.
The platform currently has 8 various bingo rooms with a solid schedule of games.
Though the bingo games are not that much in quantity, the games which are also powered by Playtech are all in good quality. You can play diverse classic bingo games and other exciting variations of the platform.
On The other hand, registering an account is quick and easy to do. But, once you already have an account on other Winner apps (e.g. Sportsbook, Casino, Poker), there's no need in signing up a new account. You can use the same account you have on other apps.
---
Mobile Version and Apps – Differences Between Them
Winner Sports mobile version and apps provide the same features and options offered on their primary website. However, there are still differences between the two that are worth mentioning. These differences will help you identify which versions are better to start on your betting venture.
Mobile Apps Advantages
Smoother gambling experience
The clean and interactive interface
Lets you play at your convenience
Allows offline access except on playing or betting games
Mobile Apps Disadvantages
Requires download and installation
Android devices require a set up on setting and security
Android devices require access on the mobile or desktop to get the app or the .apk file
Consumes your phone remaining storage
Mobile Site Advantages
No need for download and installation
Works best in all smartphones that are connected to the internet
Clean interface
Mobile Site Disadvantages
Does not load fast as the mobile app
Offline access not allowed
---
Winner Mobile bonus
Winner Sports will not discourage you in this area. The platform provides dedicated promotions, including sign up bonus, sports accumulating booster, and money back deals. The platform also offers its customers generous odds on selected sports, special promotions, and exclusive bets on some popular leagues such as Champion League and Premium League.
Furthermore, the brand released a new type of promotion known as Mobile Loyalty Free Bets. For every £200 bets placed via mobile, you get a free £10 bonus. You can avail from this bonus more than once.
The free bet credited on every settled 20th bet. The qualifying bet must be with odds of 2.00 or more. Also, the qualifying bet should place on Horse Racing or In-play football, tennis, NFL, NBA, MLB, NHL, Snooker or Darts events. Note that this bonus is available only for bets placed from mobile devices, using Winner's mobile app or website version.
---
System Requirements and Compatibility
Winner sports mobile app is compatible with almost all mobile devices. For a better gaming experience, you would need a good internet connection. You need to have a reliable 3G, 4G, and Wi-fi connection so you would not be distracted on most exciting parts of each game. Here are specific requirements for the mobile app to work efficiently on your device.
Interestingly, the mobile app for Android will never be a worry for players who have older smartphone models. It is an advantage that the .apk file is compatible with all types of Smartphone regardless of their model.
iOS devices are more sensitive than their Android counterpart. The app is available at the iTunes store, and indeed the installation process is never a problem. However, if you have below iOS 9.0 version, then the mobile app may not work best on your iPhone or iPad. Active internet connection also required for full functionality of the mobile app.
Here are some examples of compatible devices:
Samsung Galaxy S8
Samsung Galaxy S9
Motorola Moto G5
Huawei Mate 10
Huawei Honor 8
iPhone 6
iPhone 6s
iPhone X
---
Mobile Payment Options
When choosing a gambling site, most punters look for bank security before they start their betting venture. The good thing is that Winner Sports offer a wide selection of payment options with account security as an utmost priority. For this reason, you can deposit and withdraw into your account with confidence. Here are the available payment options at Winner Sports:
| Payment Method | Deposit Minimum | Deposit Maximum | Time for Deposit | Minimum Withdrawal | Withdrawal Maximum | Time for Withdrawal |
| --- | --- | --- | --- | --- | --- | --- |
| Visa | £10 | £50 000 | Instantly | £5 | £50 000 | up to 7 days |
| MasterCard | £10 | £50 000 | Instantly | £5 | £50 000 | up to 7 days |
| Neteller | £10 | £10 000 | Instantly | £5 | £10 000 | up to 3 days |
| Skrill | £10 | £5000 | Instantly | £5 | £65000 | up to 3 days |
| PayPal | £10 | £5000 | Instantly | £5 | £5000 | up to 3 days |
| Envoy | £0.10 | £50 000 | Instantly | £5 | £50 000 | up to 3 days |
| Entropay | £10 | £30 000 | Instantly | | | |
| Boku | £10 | £100 | Instantly | | | |
| Neosurf | £0.10 | £50 000 | Instantly | | | |
Although there are no limits from the bookmaker, there could be limits, settled by the payment providers.
---
FAQs
Have questions that not given on the site's FAQs section? Let's see if the FAQs below will answer your inquiries.
Do I still need to re-register an account when I play at Winner mobile app?
No. You can use your existing account to play various games on other Winner products.
Does Winner have any software restriction?
Yes. Players below 18 are restricted to play all Winner products.
Can I transfer funds from a certain Winner product to another?
No. It is not necessary to transfer your funds as you can use your remaining funds to other Winner products.
What Internet connection should I use?
When you use the mobile services of Winner, it is good to have a Wi-Fi connection to the Internet, but also 4G is a good choice. The app and website version for mobiles will work on the 3G network too, but it is recommended to use wi-fi or 4G.
Is there a way I can see my previous transactions?
Yes. Your account will provide you with information on all transactions you make. Your chosen payment option also keeps records of your transaction history.
How can I contact the customer service department if I encounter problems with my account?
---
About the Company
The Winner only introduced in 2009, but it quickly rose up across Europe since its establishment. It started as an online casino and later on a Sportsbook was launched in 2013. Having both Casino and the Sportsbook, the brand is indeed severe to meet the requirements and standards of all gambling aficionados. Winner Sports also prioritises responsible gaming and security to its players. To ensure this goal, the company acquired a license from the most reputable UK Gambling Commission.
Winner Sport is no doubt one of the most innovative in the business. Now it offers a mobile app for Android and iOS users. If you like to bet on your favourite sports wherever you are, you can never go wrong with Winner Sport mobile app. Although the Sportsbook only launched recently, it never fails to establish a great variety of sports and events to bet.
---
Apps Rating and Final Verdict
Winner offers both a mobile app and mobile site version to its players, but whichever you prefer, the platform will exceed your expectations. Though the mobile site is more than enough, the mobile betting app highly recommended as it will assure a smoother gambling experience. The mobile app for Android and iOS will provide you with more dynamic and reliable services. You can easily get access to your favourite sports, casino, poker, and bingo games at your convenience. Overall, it is worth signing up at Winner. The platform deserves a perfect rating.