The Tote Review
The Tote is UK and Ireland's favourite sportsbook that offers markets on horseracing and greyhounds that come with some amazing odds. Bet on ante-post events and feel the thrill of live betting while watching the races streamed live! The Tote is the perfect place for profi punters who know what it takes to place a winning betslip.
---
Open an Account at Tote
Registering to open a new account at Tote proves a straightforward, uncomplicated process that opens a whole new world of winning possibilities. Punters will enjoy access to an extensive variety of wagering options that provides broad coverage of Irish, select the UK as well as major international horseracing events in the US, France, Dubai, and South Africa also football events. Tote, in the process also delivers all a punter could wish for in service, reliability and speedy settlement of winning payouts.
Anyone wanting to register must be over 18 years of age before they may legally sign up at Tote. The documentation requires only necessary personal information such as the applicant's date of birth, title, full names, email address, land & mobile numbers, and full street address. The Tote's homepage offers a linked "Join US" tab containing the document new registrants must complete, it is also the only way online to register at the bookmaker.
Euros is the only accepted currency and be sure to familiarise yourself with the terms and conditions before submitting any documentation to apply for registration as a member. A handy pop-up appears after you arrive on the application page which connects potential applicants with one of the knowledgeable service team members. Before first sending any message via the pop-up it requests you enter your email address, this information ensures you will receive a specific response if there is no service agent instantly available or if it is outside office hours. During office hours the pop-up serves as an instant live chat link while outside office hours your enquiry will be addressed via a return email the next morning.
The only other method to remotely open an account is via telephone, the Tote website providing landline numbers for their contact centres in the Republic of Ireland, United Kingdom, as well as the rest of the world.
How to activate and verify your profile?
New registrants need to provide valid proof verifying their age and place of residence. If you fail to reduce said evidence within 72 hours of the first deposit the account may suspend. However, their terms and conditions clearly state that if for any reason an account becomes rejected they will refund all monies deposited into the account in full. To verify new accounts registrants will need to provide a form of photo identification such as a Driver's License or Passport, plus a utility bill and bank statement reflecting their name and current address, all documentation must submit via email to verify@thetote.com.
To prevent any possible delays, ensure all documentation mailed to them are legible, and in date copy of the original, otherwise they may reject the application. Following their terms and conditions, certain restrictions may apply to any unverified accounts until the verification process completes successfully.
On their first login to the website, new members will need to set a password before they may access their new accounts. All passwords must comprise a minimum of nine characters that contain a minimum of One Numeric, One Capital Letter, and a Special Character or Symbol.
Steps for recovering lost password
Easy assistance is always at hand to members that somehow misplaced their member card, pin, or password since the Tote website offers a lost password link. Lost cards do not prove excessively worrisome since member cards cannot be abused as it requires a PIN to withdraw funds or place any bets. Replacements for lost cards can be ordered via telephone and mailed to your address.
Passwords and login information can also by clicking on the " forgot password" link. That located underneath the box where you log into the site. That will direct you will be prompted to enter your username or email. Once opened, an email will send with a link to reset your password. Alternatively, you may contact the support team and request their assistance.
---
Website review – design and navigation
Most striking at first glance is the visual impact created by the site's contrasting red on white appearance, which combined with its logical, well laid out interface makes it quick and easy to navigate to any desired destination. Though criticism of the text colour utilised on the site might seem trivial, it could represent a genuine challenge to visually impaired punters since the muted colour variation between the grey or white text severely limits visibility. Utilising these two colours for the bulk of the text throughout the site might be an essential issue to address at the soonest.
Site layout makes for easy, intuitive navigation via the logical placement of links and menus. The main menu bar centrally placed at the top and a submenu bar directly below, with all links clearly defined enable visitors to locate their desired destination quickly. Further links to betting markets and special offers come offset to the right and left of the central page to provide additional easy navigation options. A big-bold red, centrally placed special signup offer on the homepage offers extra encouragement for casual visitors to sign up and become new members.
---
Horse Racing
As far as horseracing is concerned, punters will find the Tote provides cover of events held at racetracks in the ROI and select UK events as well as several major International races. Since Tote Ireland first opened its account in 1932, the bookmaker established its reputation over decades as having the core of Irish Horseracing at its heart, till it finally became synonymously linked as part of the scenery at race tracks throughout Ireland. Wholly owned and operated as a subsidiary of Horse Racing Ireland and responsible for the Totalisator lottery as well as accumulator operations on 26 of the racecourses within the Republic of Ireland. The bookmaker provides an extensive variety of betting options, to cater to the tastes of all race punters their wagering options cover Greyhound & Horseracing as well as Football. Tote Ireland puts all its profits directly back into Irish Horseracing for the future and current betterment of the sport.
Betting options
The bookmaker offers a wide variety of betting options, to cater to the tastes of all race punters their wagering markets provides extensive coverage of horseracing at 35 race meets in the ROI, 13 in the UK, and a select number of major events at locations in the US, Dubai, France, and South Africa. Supporters of the Irish horseracing scene can take comfort that Tote Ireland, owned and managed by Horse Racing Ireland, has the organisation taking care of its own by ploughing all profits back into Irish horseracing.
In contrast to most bookmakers, by their very nature totalisator style wagers proves far more straightforward with punter bets accumulated in a pool offering excellent odds. Tote betting options cover two primary groups Totepool Single Bets which covers wagers placed for pure Win, Place, Double, Treble, Trifecta, Exacta, and Swinger. While Totepool Multiple Bets accept wagers for, Jackpot, Scoop6, Placepot, Quadpot, Each Way, Pick 6, and Reverse.
How about the odds?
The Tote actually wants people to win and as such will not close a punter's account simply because they are successful at the game since it offers pool betting they also will not limit the size of your stake simply because a punter may have won. Due to its accumulator pool being a relatively modest size it is still possible to "Pool Scoop" and claim the total net pool as a dividend.
The accumulator pool can grow to be fairly generous in size, especially after a couple of juicy rollovers which in the past has already given rise to a couple of significant wins on the Pick 6 and jackpot in Ireland. As with rollovers around the world, they merely offer "free money" whenever nobody won the previous accumulator pool. It allows rollovers to provide massive value where punters recorded wins worth over €200,000 in value.
Tote's four leg jackpot represents one of the highest value for money wagering options because the odds of winning are incredibly favourable and usually pays disproportionately high dividends. Each Sunday at a selected Irish racecourse the Tote offers another great opportunity, it is Super Trifecta Race, historically Race 6. The Super Trifecta pool comprises a portion of each trifecta pool that has not been win during that week.
Part of the Tote's great value for money charm is its guaranteed pool sizes assuring punters of excellent value for money deal on all its multi-race accumulators.
---
Greyhound betting
In addition to its horseracing market, the bookmaker also provides betting wagering options covering Irish Greyhound racing. The Tote offers punters a wide range of betting options which gives them the opportunity to bet on multiple dogs in one race. The bets from a multitude of punters flow into different pools, and this makes for much better odds to win a more significant return for a given stake. Greyhound racing commonly has just six dogs in each race which mathematically provide far better odds of winning, which sees punters walking off with reasonably tidy returns of minor bets.
Betting options
The Tote offers a number of different pools and betting options broken down as follows:
Tote Jackpot – at each live Sky Sports greyhound race the bookmaker offers a Tote Jackpot which takes place for the full duration of the card.
Straight Forecast – these bets demand a punter to correctly predicts the first and second placed finishers in the selected order in any given race.
Reverse Forecast – bets covered by this option demands a punter correctly predicts the second-place finishes in any given race, however, the dogs can finish in any order.
Combination Forecast – bets of this type demand a punter choose more than two selections with the dogs still having to finish in first and second places, meaning any of the three chosen dogs can finish in first and second places.
Straight Tricast – demands a punter to correctly predict the first three dog placings in the correct order, which due to its predictive difficulty offer fairly high rewards.
Combination Tricast – similar to the above demands a punter to correctly predict the first three placings, but in any order, however, this series of four lower return on any given stake.
How about the odds?
The Tote wants punters to bet betting and winning. Subsequently, punters will not see their account closed due to winning big, and surprisingly there exist no prescribed limits to the size of each punter's stake even if they win. The Tote also guarantees the minimum value of its prize pools, similar to horseracing the accumulator pool continues growing as punters place more wagers, with no limit on the winning amount only the odds can determine the amount.
Tote betting offers markedly improved margins, which ensures punters always receive the best possible value for money, leading to significant boosts on their returns.
---
Football betting
"What's the score going to be tonight?" alongside "Good Morning!" and "How do you prefer your tea?" must surely rank as the most commonly used terms in the UK today. Football is the most watched sport in the world today, and a great betting partner is one of the most important things an enthusiast wanting to place bets could find. The Tote continues to look after the needs of its enthusiastic football supporters by covering a variety of betting options for the biggest leagues and tournaments like FIFA World Cup football, Premier League, Champions League and others.
Tote punters have betting options such as Jackpot pools with Syndicates offering 1X2, Correct Score, and Both Teams to Score, Asian Handicap, Over/Under, and Point Margin. Tote even offers a FreePlay option that allows loyal punters to play at no cost to themselves yet receive real money winnings and they don't also have to make their selections they can just let the Smart Pick betting tool to the hard work for them. Also, there is a good possibility that FreePlay may even deliver a consolation prize for a near miss.
Betting options
Unless specifically stated otherwise, the practised norm is for bets to only count for the normal period of play, timed at 90 minutes plus any added time. 1X2 Betting is undoubtedly the most common choice and the simplest to understand and wager. To receive a winning return, punters must correctly predict the full-time result of each game they wager on, i.e. bet on the team to win. As the name implies, Correct Score betting rules demand the punter give the exact correct score for each team in the match they choose to bet. Both Teams to Score requires the punter to choose between "Yes" and "No" to settle their bet and outcome demands that both teams score before the end of the game. Asian Handicap requires punters to predict a series of match outcomes meaning the upper hand is given to selected teams in advance, with the draw eliminated.
How about the odds?
As with any pool type betting Tote offers great odds but sweetens the deal even further with guaranteed jackpot prizes that ensure value for money deal immaterial of the total value of wager contributions made into each pool. Furthermore, consolation prizes are given to those that closely missed winning any of the big jackpots. Players can even partially or completely sell the tickets to Colossus and still make a profit irrespective of the pool's remaining leg outcomes. All the above makes for great odds as a chance of walking away with a profitable return from tote style betting is already far greater.
---
Sign up bonus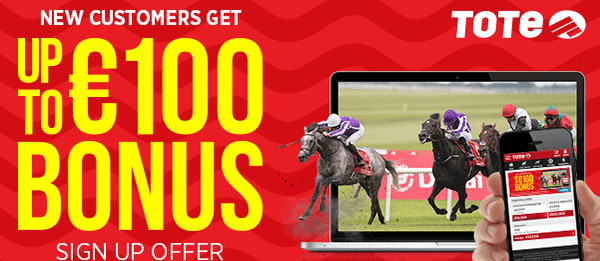 The Tote is offering its new players up to €100 as a sign-up offer. When you register an account and make your first deposit, and subsequent first bet of €10, Tote will return your bet as a bonus. This bonus does not require a bonus code and will include €40 in the form of a promo after placing your tenth bet. The amount awarded will be based on the average value of each bet made. In addition to this, if you bet €60 in your first four weeks after account registration, you will receive €12.50 back each Monday up to €50.
The terms of this bonus state that bonuses will be credited the following business day. Only those over the age of 18 may register an account and participate in this bonus, and those with duplicate accounts will exclude from this offer. The €12.50 offer will credit on the following Monday and only bets placed Monday to Sunday will qualify. The maximum allowable bonus for each of the four weeks is €12.50.
---
---
Live betting
As one would normally expect from a totalisator betting provider, Tote offers no option for in-play wagering due to its near singular focus on horseracing events and football pools also receive similar treatment. While not unheard-of, operators offering in-play wagers on dog and horseracing events remain extremely scarce.
Live streaming – is it available?
Live coverage remains a firm favourite amongst all punters and Tote's website offers live streaming coverage of all its horseracing and greyhound fixtures. To gain access to a selected race, you must first place a bet on the race you wish to watch. Once your bet is registered, you will then have access to the live streaming of this event.
---
Cash Out option
Colossus will at times offer to buy tickets that may still qualify for a prize consolation prize or jackpot. These generous offers typically become available between the end of one and the start of another match in any given pool. In certain instances, half-time and breaks in play will be another period during which punters can expect Cash Out offers. Players can sell their tickets back to Colossus in portions of 10% each. That enables punters to cash out portions of the ticket and still retain a chance to win the jackpot's main prize. To catch these cash out offers punters must regularly log into their accounts while the pool is still in progress.
However, the standard cash-out option is not available, and it is usual with the lack of in-play betting options.
---
Payment methods
Punters have three options to fund their Tote account, the first being the traditional method of sending a cheque or cash directly to the Tote Ireland, Ballymany together with the punter's Tote account and contact details. These are naturally far slower methods to fund accounts and can take as long as five days before complete the Tote processing the payment and has the additional disadvantage of the unnecessary security risks when sending funds via post.
Punters can also fund their accounts via telephone and transact a payment by supplying your Tote card details. The support staff began available from 9:30 am GMT and the end of the final Irish race each day. The limited time during which the staff remains available may feel a little restrictive. However, it remains infinitely more secure due to the data encryption securing payments similarly to online payments.
The final method requires a punter to sign up for an online account and simultaneously to register their card details with Tote Ireland. To start betting via a card, punters need to click the Deposit Now button and fill in their debit or credit card numbers together with the necessary security confirmation. All bets made afterwards will only require the punter's security information.
Account holders can only make withdrawals via the same transaction method and card chosen to make the deposit. The Tote sets absolutely no maximum limit for deposits or withdrawals. However, account holders have the option of setting and changing their limits for daily, weekly, or monthly deposits via the preferences section on the website after they log into their account.
Tote accepts significant debit cards, credit cards such as MasterCard, Visa, and Maestro as well as cheques, postal money orders and cash. The maximum withdrawal limit is €5000, but this depends on the withdrawal method selected.
| Payment Method | Deposit Minimum | Deposit Maximum | Time for Deposit | Minimum Withdrawal | Withdrawal Maximum | Time for Withdrawal |
| --- | --- | --- | --- | --- | --- | --- |
| Visa | €5 | Card dependent | Instant | €5 | €5,000 | 3-5 days |
| MasterCard | €5 | Card dependent | Instant | €5 | €5,000 | 3-5 days |
| Cheque | €5 | Card dependent | 5-days | €5 | €5,000 | Up to 7 days |
| Laser | €5 | Card dependent | Instant | €5 | €5,000 | 3-5 days |
| Cash | €5 | Card dependent | Instant | €5 | €5,000 | Instant |
---
Tote mobile apps
Tote Ireland broadened the punter betting experience by when it entered the continually growing mobile market by launching a mobile app in 2011. The app offers a secure and safe way for live betting into the UK and Irish Tote horseracing pools and is compatible with iPhone. Those customers with an Android device will only be able to use the mobile site version.
The app and mobile site offer most of the features currently available on their website, which enables punters to enjoy a more convenient and faster-betting experience. It allows punters already in possession of a Tote account to place bets on the UK and Irish race events with options to cover the Jackpot, Exacta, Placepot, Trifecta, Pick 6, and Daily Double.
---
Affiliate program
Tote presents a unique method of placing wagers on major international Tote pools, and affiliate partners earn commission on each placed wager. As far as earnings are concerned the sky is the limit for affiliates because the Tote is a unique policy of never restricting or closing player accounts just because they win.
Tote claims a fixed percentage portion of all bets which is then utilised to pay affiliate commissions with no restrictions placed on winning accounts because they want affiliates and players to win and earn big. All affiliates earning more than €100 in commissions will receive their payments monthly. They offer a standard highly attractive €100 bonus sign up on new accounts in conjunction with account promotions each week, and special signup offers accompanying special events.
Tote offers access to international horse racing pools from around the globe worth multi-millions of euros from as far as Hong Kong, Dubai, USA, South Africa, France, UK, and Ireland. Also, they also cover betting on Irish Greyhound and football pools. Tote's VIP rewards program ensure VIP players receive additional offers and incentives to keep wagering at the tote.
Parties interested in becoming a Tote partner need to sign up via their Sign-Up link on the website, complete the form by supplying their details. After that, the application will be under review to ensure it meets with the company's policies. After approval, newly signed partners can access their creative material and affiliate links via the affiliate portal.
---
FAQs
What benefits are there to using a Tote account at the racetrack, instead of cash?
A Tote account offers several benefits, and its self-vending terminals allow punters to skip long dreary waits in cash queues, account holders will accumulate Tote reward points for every transaction, they will also receive regular money back specials automatically.
How do I claim my winnings if I forgot to do so at the races?
One can cash Tote's winning tickets later at any Irish race meeting, present the winning ticket to one of the company's tellers, or post to their late payments department at Tote Ireland, Ballymany, Newbridge, Co. Kildare. After processing, Tote will issue a cheque in payment; however, be sure to include your full name, address, and contact number.
Is Tote's website secure, if so how is it secured?
The bookmaker is critically aware of how vitally important it is to maintain the privacy of its members. Resultantly the company ensures the continuous privacy of your information entrusted to thetote.com via DigiCert certified 128-bit Secure Socket Layer (SSL) encryption. These encryption levels guarantee the highest levels of industry-standard security protocols protect all communications that may contain personal and financial information of their clientele.
How do I make a deposit using a bank transfer or from my e-Wallet, NETeller, or Skrill account?
Unfortunately, Tote Ireland cannot accept deposits made by bank transfers or any eWallets.
Must I contact a service agent to adjust my deposit limit?
Account holders can change their deposit limits themselves at a time most convenient to them, directly on the website. Simply log into your account, go to the preferences section, and select a suitable new daily, weekly, or monthly deposit limit.
How do I add a new card to fund my account?
Tote only allows for one card at a time to be active on any account. However, it is possible to change to another card, but the account must be empty before the change is possible. Any account holder wanting to remove a card from their account must contact the Tote call centre on 045 491 830.
I want to make a withdrawal from my Tote account, how do I choose a different card?
The Tote returns all withdrawn funds using the exact payment card and method used to transact the deposit. The company does not permit the addition or removal of cards solely for the withdrawal of funds.
---
Company Info
Tote, registered in Ireland and licenced under the jurisdiction of the United Kingdom Gambling Commission, adheres strictly to all regulatory requirements as set out by the UKGC for its UK customers. The bookmaker co-exists with Tote pools offered within the UK itself that became available in 2008 and started accepting online wagers in 2005. Since Tote betting's inception, it recorded numerous outstanding jackpots, commonly shared between several winners. However, the single most impressive win occurred in 1988 at the Leopardstown racecourse when a lucky individual walked away with a massive € 207,000 for a single winning ticket.
Customer care and support
Having garnered an excellent reputation for exemplary member service levels, professionally trained service support staff remain available from 9.30am GMT until the end of the final race in each Irish race-day. Those seeking assistance can make contact via email, landline or instant chat during the hours stated above, any queries after those hours will only receive an answer the next morning. To improve services globally, the bookmaker established three different contact centres to address services in a variety of areas such as Ireland, UK, and international.
In my personal experience, their live chat function does the company credit; my questions received a prompt response, with friendly, knowledgeable answers to my questions.
---
Contacts
Where is company's main office?
The head office of Tote is located on the following address: Horse Racing Ireland, Ballymany, The Curragh, Co. Kildare. For better perspective, you can follow this link to see the location in Google Maps.
---
Final verdict and conclusion
Tote Ireland had through the years displayed excellent levels of service and remained focused on providing a smaller betting market that delivers far higher odds of winning. The company must be exceedingly good at its task since the whole betting industry has expanded into other markets to remain relevant and profitable. Tote specialises in providing excellent tote bets to the greater public, while retaining its focus on delivering high levels of site security, ensuring certain standards of privacy for their clientele.
However, punters would benefit from a greater variety of online banking options to make the funding of their betting accounts a more convenient affair. Cash, cheque, or credit card is the only options just does not cut it in today's online society, which could potentially prevent many new signups and lose a potentially great betting partner plenty of its existing members. However, in the greater scheme of all things horseracing, these few shortcomings should not stand in the way of anyone wanting to sign up and join it could be the beginning of a meaningful relationship responsible for massive winnings from a ridiculously small initial outlay. Our final rating for Tote is 7 out from 10.