Activating the Tote bonus code (Steps)
After you've revealed your promo code, open The Tote website and click on "Join us" button which is located on the upper right corner.
You will see the registration form which consists of a few steps. Fill in the required information in the first step and proceed to the next.
In the second step you will need to fill in additional information. One of the fields is specified for your promo code.
Enter your code in the specific field and proceed to the last step of the registration process.
Complete your registration, make your first deposit and you will get your bonus.
---
Welcome offer - up to €100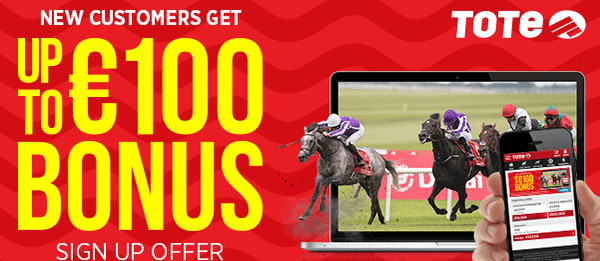 As Ireland's premier bookmaker the Tote has horse racing at its heart. They put all profits back into Irish horseracing and following their core values the team extends a generous, welcoming bonus to gather all supporters of horseracing into its fold. Newly registered members have a golden opportunity to increase their wagering budget by up to £100 if they adhere to a few simple requirements.
place your first £10 wager and receive a free £10 in return
place your 10th wager and receive the average value of their first ten wagers in return, the limited to a maximum of £40
make wagers to the value of £60 in any of your first four weeks after registering and receive an additional free £12.50 in return the next Monday – if you repeat the process for the following three weeks you will receive £12.50 each week, thereby reaching a total cumulative value of £50 over the four-week period
All free welcome bonus funds will be credited directly into your player account the very next day.
---
---
Bonuses for existing customers
Tote Ireland continues looking after the welfare and happiness of their long-time members with generous free contributions, thanking them for their continued support and encouraging them to keep doing so. Loyal members can all claim these budget boosting offers, focused purely on The Tote's current actively playing members.
Tote regularly offers fantastic new promotions featuring free bets and/or money back specials, punters wanting to claim these great offers simply need to continue reading the qualifying requirements of each, with one offer explained and discussed in greater detail below.
UK & Irish racing best price guarantee
Punters regularly placing wagers at UK & Irish racing meets would be well advised to take careful note of the Tote's current Best Price Guarantee promotion. Loyal Tote punters take heed! This offer may only cover a select number of the UK racing, but it includes all Irish racing events and will only be offered to a selected number of qualifying members.
membership must reach Gold or Platinum level status
until the review of the Tote Rewards program reaches its conclusion, existing members already having received benefits from the Best Price Guarantee offer will continue doing so
in contrast, new customers cannot qualify until The Tote reinstates its rewards program
The Tote Best Price Guarantee promotional benefits offered to Gold and Platinum Level Tote Rewards members are as follows:
Tote undertakes to pay the better of the Bookmakers SP or the returned Tote Dividend on Win Bets as well as the Win portion of Each Way bets
the offer is valid on every Irish race to meet, and is valid on Win Bets valid from £20 up to £100, and is also applicable to Win portions of all Each Way bets
the offer is available on a select number of UK race events, and is valid on Win Bets valid from £20 up to £100, and is also applicable to Win portions of all Each Way bets
Promotional credits will reflect in player accounts each morning directly after the event
in case of any dead heats, the Best Price Guarantee will not be applicable
if any Rule 4 deductions occur the offer will not be applicable since the SP no longer reflects the price paid
all bets must be made via the punter's Tote Account
£20 is the minimum qualifying bet value, while £100 will be the maximum qualifying bet value
Tote Reward program members must continually maintain their Gold or Platinum status for the whole month each month
You can find the actual information about the selected fixtures about that promotion on Tote's website.
---
Mobile bonus
Tote currently offers no mobile specific promotions or bonuses; however, mobile users have full access and benefits to all bonuses and promotions offered on the entire desktop site. Furthermore, members preferring to place bets via their mobile device will enjoy the full functionality provided by The Tote desktop site via its dedicated mobile portal or alternatively downloading and installing The Tote app.
Newly registered mobile users can choose to inflate their wagering budget by receiving a massive boost from The Tote's highly tempting £100 Sign-Up Offer. Existing members already enjoying Gold or Platinum level accounts can make use of the fantastic Best Price Guarantee as discussed above in the previous section.
---
Deposit and withdrawal methods
Members have three methods to choose from for transacting deposits and withdrawals to and from their Tote betting account. Euros is the only currency Tote accepts, furthermore, the single valid bank cards accepted for valid tender is Visa, MasterCard, as well as Maestro.
Firstly, punters can still choose to send funds via post, in either cash money or cheque format together with their personal contact and betting account details, to Tote Ireland, Ballymany. This method has certain intrinsic drawbacks such as the long delays and high-security risk before the funds reach Tote for processing.
Alternatively, as a far quicker solution that still carries a fair amount of risk, members can make telephonic contact with the friendly support team at the Tote, anywhere between 09:30 GMT and the start of the last race in the Irish racing day and supply them with your bank card as well as Tote account details. The limited hours of Tote service staff availability might put a bit of a damper on suitable personal preferences.
Lastly, registering online for a personal Tote player account and after that logging directly into your own account at the Tote via the dedicated website facility still remains the fastest and most secure option. Punters simply need to open an online account, register and supply their personal Tote player card details, select the "Deposit Now" link, submit your requested credit or debit card details plus the required security confirmation. After completing the process, all future bets are made using the personal security information you submitted.
All withdrawals will become credited into the exact account via the exact same transacting methods each punter had initially chosen to transact their first deposit. The Tote will not entertain any requests contrary to the above-preferred way of funding. Another great benefit at the Tote is the total lack of any fixed maximum deposit or withdrawal limit.
Deposit Methods
Withdrawal Methods
| Payment Method | Deposit Minimum | Deposit Maximum | Time for Deposit |
| --- | --- | --- | --- |
| Visa | €5 | Card dependent | Instant |
| MasterCard | €5 | Card dependent | Instant |
| Cheque | €5 | Card dependent | 5-days |
| Laser | €5 | Card dependent | Instant |
| Cash | €5 | Card dependent | Instant |
| Payment Method | Withdrawal Minimum | Withdrawal Maximum | Time for Withdrawal |
| --- | --- | --- | --- |
| Visa | €5 | €5,000 | 3-5 days |
| MasterCard | €5 | €5,000 | 3-5 days |
| Cheque | €5 | €5,000 | Up to 7 days |
| Laser | €5 | €5,000 | 3-5 days |
| Cash | €5 | €5,000 | Instant |
Visa, MasterCard, Laser, Cheque, Postal Order, Cash
Visa, MasterCard, Laser, Cheque, Postal Order, Cash
---
FAQs
If an event finishes in a draw how does that affect my Best Price Guarantee?
Any event ending in a dead heat will result in the Best Price promise not being applicable.
When will my bonus winnings be credited into my account?
All promotional winnings will show as a credit in player accounts the very next day.
Will I still receive my promotional bonuses if I place a cash wager at the track?
Promotional bonuses are only valid if placed via your personal Tote account.
What is the minimum wager I can place and still qualify for the Best Price Guaranteed promotion?
The minimum qualifying wager to receive Best Price Guarantee bonuses is €20, and the maximum is €100.
I have just signed up and registered for a new account at The Tote. How do I become a member of the Gold or Platinum rewards program so I can receive the Best Price Guarantee?
The Tote Rewards Program is currently under review, and until the review reaches a conclusion, new members cannot qualify to receive the Best Price Guarantee.
I have a Platinum level account and qualify for the Best Price Guarantee promotion. Where can I see which races form part of the promotion?
Members can view a complete list of all upcoming fixtures offering Best Price Guarantee at https://www.thetote.com/tote-best-price-guarantee.
---
About Tote
The group opened its first Tote Account in 1932, in the wake of the passing of the totalizator act in 1929 wherein the law allowed for mechanical pool betting in Ireland, making it one of the earliest bookmakers in the industry. Having become a well-recognised and welcome fixture at racetracks around Ireland and the UK, The Tote, over the years sank its roots into Irish horseracing until it became an intrinsic part of racetrack scenery. Wholly owned and operated as a subsidiary of Horse Racing Ireland it oversees the operations of totalizators across all 26 racecourses located in the Republic of Ireland. In 2005 The Tote expanded its footprint and product offering by accepting wagers online, continuing its expansion program in 2008 with the introduction of Tote pools in the UK.
The Tote provides an expansive range of betting options available to all Horse, Greyhound racing, and football punters. With horseracing as its primary offering, the Tote covers all 35 race fixtures held at all 26 tracks currently in existence within the Republic of Ireland. Adding to its betting offering within the ROI, the Tote provides betting options on 13 race fixtures held in the UK, and a hand-picked number of major international horseracing fixtures spread as far afield as Dubai, US, South Africa, and France.
---
Contacts
If you have questions about Tote's website or you experience any problems with the website, here is a list with the contact information:
Call Centre: +353 (0) 45 492 830
Main Fax: +353 (0) 45 455 456
Email: info@thetote.com
Account Queries: 045 491 800 between 09:30am GMT and the start of the last Irish race
Call Centres for Wagering or New Account Openings for:

Republic of Ireland: 045 491 830

United Kingdom: 0800 904 7784

Rest of the World: +353 (0) 45 491 830

Live Chat Option – on website
---
Bonus rating and conclusion
By the very nature of pool betting, bonuses and promotions currently on offer by The Tote represent excellent value for money to all bettors loving accumulator style bets. The Best Price Guarantee promo offers especially good odds with unexpectedly profitable returns on wins, while the extensive list of fixtures forming part of the promotion ensure punters do not have long to go between events.
The rules and regulations remain straightforward, unbiased, reflecting Tote's no-nonsense attitude explicitly aimed at improving the sport of horseracing and accumulator betting to the good of all including the punters. Due to its localised offering mostly in and around the Republic of Ireland the provided betting markets seem somewhat limited when compared to other international online bookmakers, however still sufficient to keep most punters and lovers of racing and football busy and endlessly entertained.