IMPORTANT NOTE:
A lot of players try the services of this brand and are left a little bit disappointed with the overall quality of the products. That is why, we suggest registering at another website, such as 1xBet that has a much better reputation.
Is There an Android .apk Application?
Toals is actually a very old brand in the sports betting market, having been opened in the year 1932 as a family business. As they progressed over time, they have also adapted to the latest trends in the sports betting industry. Along with the mobile revolution, Toals has also created their very own mobile platform which we will be discussing at length in this full review of Toals.
First of all, let's talk about Toals for Android. Unfortunately, you won't be able to find an .apk for Android devices. If you check Toal's Twitter account, you will see that there was an announcement of an Android app in Google Play just this April 12, 2019. However, the Toalsbet Android mobile app doesn't seem to appear when you search for it in Google Play. That said, the Android app probably hasn't been launched yet, or it is perhaps not available to some players in some countries yet.
In that case, the only way for Android users to access the Toals mobile platform is to access the mobile site version, which we'll talk about later on in this review.
---
Toals App for iOS – Download and Installation Guide
Fortunately, there is an app that is available for iOS devices. There are two ways to access the app: Download from iTunes or download using the .apk file.
How to download Toals from iTunes:
Step 1: Open iTunes on your iOS mobile device.
Step 2: Search for 'Toals'.
Step 3: From the search results, choose 'Toals' from FSB Technology (Ltd).
Step 4: Once on the page for the Toals iOS application, click 'Install'.
Step 5: Wait for the Toals app to be downloaded, and enjoy using Toals on your iOS mobile device.
There's one more way for you to download your app and start playing on Toals' mobile platform.
How to download Toals using the .apk file:
Step 1: Go to the Toals website.
Step 2: On the homepage, scroll down and look for the banner that says 'Download the Toals app'.
Step 3: Click the image, and go to the redirected iTunes website.
Step 4: From there, click 'Install'.
Step 5: Wait for the Toals app to be downloaded, and enjoy using Toals on your iOS mobile device.
---
Review of Mobile Site Version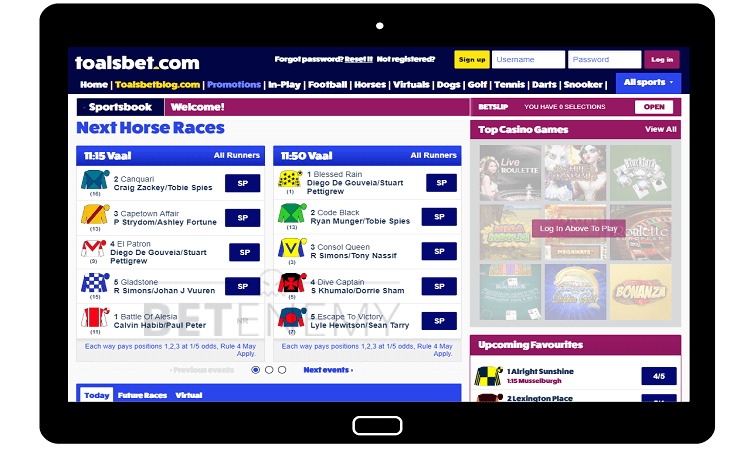 For those who have Android devices, the only way to access the platform is through the mobile site version. To access the mobile website, simply go to www.toalsbet.com using your mobile browser or enter toalsbet.com.
From there, you'll see the optimised version of the website. There isn't that much difference between the mobile site and the desktop website when it comes to the appearance, navigation, and interface. The only difference is that there are mobile features, and the interface is more optimised to fit the size.
With regard to aesthetics, we have definitely seen better and neater sports betting apps. The interface is a bit minimalist, but it's still quite messy in terms of the placement of buttons and options. The colour scheme, as mentioned above, is also quite painful to the eyes as it combines the neon shades of blue and purple. While it may work for the desktop version, it simply doesn't pan out for mobile apps or mobile websites.
---
Sports Betting on Mobile
If you look at the desktop website of Toals, you'll notice that it looks like most traditional sports betting sites which aren't a surprise since it's a pretty old one that's been around for over 80 years. It's a little bit cramped with a lot of texts and information which is pretty standard with most traditional websites.

When they created the mobile app and mobile sportsbook website, they pretty much brought the same elements to the mobile platform, except that the latter is more optimised for the size of the phone. One thing that you'll notice about this website would be the colour scheme used. It uses a rather peculiar colour scheme of purple and blue which is actually quite painful to the eyes compared to the newer sports betting platforms. The colour scheme is definitely not one of the appealing qualities of this platform. However, it does make up for it with its high-quality functions.

The great thing about Toalsbet is that it offers a great line of games from popular choices like Football, Basketball, Golf, and even Horse Racing – all of which are really popular in the UK. As for the odds, they're very known for their high odds which is why punters flock to them in the first place. Being one of the oldest bookmakers in the industry, they surely know how to have high odds on their games.
---
Mobile App Features
Now that we've discussed an overview of the platform let's see if Toals has three of the most outstanding features that most punters would look for in an online bookmaker. Let's take a look at them one by one.
Live Streaming
First of all, is there a live streaming option available in Toalsbet? Unfortunately, Toals does not offer any live streaming service for their sports or any other section. If you would like to watch the game while you bet, you need to watch from a third-party streaming service while you access your account.
Will they add a live streaming feature in the future? Well, there is no news about whether they'll add one just yet. So for the time being, you just have to watch from another site that offers this kind of service and do your betting activities on Toals' mobile platform.
In-Play Function
One of the things that they do have is an in-play function which allows you to make bets live while the event is happening or right when the game has started. The great thing about this platform is that it has such a wide array of in-play betting events that you can try out.
They offer some of the best championship league events, especially for Football and Horse Racing. Horse Racing and Dog Racing are especially popular in the UK markets, which are offered by Toalsbet. To avoid some confusion, in-play betting is also known as live betting in some platforms.
Cash-out Option
Finally, let's see if there's a cash-out feature. For those not familiar with a cash-out feature, it's basically a function that allows you to pull out your money early in a live game before the event is finished. This is great if you think that the second half won't go in your favour.
Fortunately, Toals offers this kind of feature but not for all bets. There are specific bets wherein Toals would offer this feature. You'll be able to know by looking for a particular cash-out symbol in your bet slip that will indicate that the bet can be cashed out.
---
Toals Casino Mobile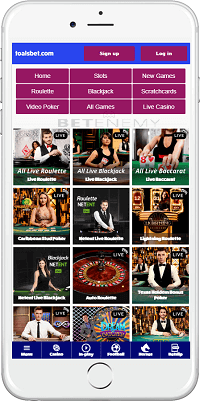 Next, let's take a look at their casino section. Their casino section has an excellent selection of games to choose from. From Slots to Blackjack to Roulette, you've got a plethora of choices to choose from. They also have Video Poker games as well as Live Dealer games.

One thing you'll notice about the iOS app and the mobile website version is that it's a little buggy with the casino and live casino sections. If you click on the Live Casino section, you'll be brought to the same list as the Casino section.
You can say that the two sections are connected. That's a bit confusing because most websites would have separate parts for the casino and live casino. In any case, it's a bit strange that the live casino and casino sections are independent but are connected to each other when you click each individual section.
---
Mobile Version and App – Differences Between Them
While the mobile app and mobile site version hardly have that much difference, there are a few advantages and disadvantages for both.
Mobile App
Pros:
Very smooth
Slightly cleaner to look at than the mobile site version
Faster
Cons:
Only for iOS
Takes up phone memory
Mobile Site
Pros:
Doesn't need any system requirements
Can be accessed through any phone with a browser
Exactly like the desktop website
Cons:
Slower loading times
Messier than the app
---
Is There a Mobile Bonus?
If you're looking for a mobile-exclusive bonus such as a mobile first-time deposit bonus or a mobile-only bonus, you won't find any of that here. However, you can avail of any of the other promotions that the platform has to offer.
Just go to the Promotions page of the platform, and you'll find a list of the bonuses you can avail. There is also no news as to whether they will be adding a mobile promo in the future, but the current promos should keep you busy.
---
System Requirements and Compatibility
When it comes to Android devices, you won't need to observe any system requirements because Android users use the mobile site version to play anyway. For the best experience though, you may need to have the latest software version of your mobile device.
Here are some of the compatible devices:
Samsung Galaxy S6-S10
Samsung Note Series
Samsung S series
LG V series
Huawei Mate 10
iPad 2 to 4
iPad Air and iPad Air 2
iPad Mini-Series
iPhone 4s to 6s
iPod Touch 5th Gen
---
Mobile Deposit & Withdrawal Payments
In case you want to know the payment methods available on the mobile site version, you don't need to worry as they are the same with the desktop version. Check out the tables below:
Deposit Methods
Withdrawal Methods
| Payment Method | Deposit Minimum | Deposit Maximum | Time for Deposit |
| --- | --- | --- | --- |
| Visa | £10 | £5000 | Instantly |
| Neteller | £10 | £5000 | Instantly |
| Skrill | £10 | £5000 | Instantly |
| MasterCard | £10 | £5000 | Instantly |
| Maestro | £10 | £5000 | Instantly |
| Payment Method | Withdrawal Minimum | Withdrawal Maximum | Time for Withdrawal |
| --- | --- | --- | --- |
| Visa | £10 | Not specified | 1-3 Days |
| Neteller | £10 | Not specified | 1-3 Days |
| Skrill | £10 | Not specified | 1-3 Days |
| MasterCard | £10 | Not specified | 1-3 Days |
| Maestro | £10 | Not specified | 1-3 Days |
Visa, MasterCard, Maestro, Neteller, Skrill
Visa, MasterCard, Maestro, Neteller, Skrill
---
Questions & Answers
To expand your knowledge and judgement about the mobile platforms of Toals, read the questions and answers below.
Is the Virtuals section available for mobile?
Yes, the Virtuals section is available on mobile. Just click on the Virtuals section at the top of the website.
Is there a live chat option on the mobile platform?
How much free memory is needed to install the iOS app?
You will need an available memory of 37.1 MB.
When will the Android app be available for download in Google Play?
Although there is an announcement that it is already up, there is no news about when you'll be able to find it on Google Play.
Can I avail of the welcome bonuses using the mobile platform?
Yes, you can avail of all the bonuses using your mobile device.
Can I use the mobile platform on a Windows phone or Blackberry phone?
You can access the website using any phone with a browser, but the experience may change depending on your device.
What is the ID touch login feature for the iOS app?
It's a feature that allows you to scan your fingerprint to log in.
---
About Toals
As mentioned above, Toals is a rather old company that was established back in 1932. It is actually a family owned business that has its roots in Ballymena co, Antrim. Although it started out as a well-known company in Ireland, they eventually spread their influence to the UK and expanded further ever since. They first began by opening up live stores where punters can place their bets. When the internet boomed, they created their own website. Today, they have a website, a mobile website version, and an iOS mobile app. They currently have a license under the United Kingdom Gambling Commission and operate under FSB Technology UK.
---
App Rating and Conclusion
With regard to the overall experience, Toals offers high-quality gameplay with simple-to-use controls in the app and a vast variety of games and events. The reason why a lot of punters flock to Toals is that it is one of the most trustworthy brands in the industry and gives you a great gaming experience as a whole.
However, you may not like the fact that the mobile website version is rather messy. The iOS mobile app is not so bad since it is smoother than the mobile website, but many other mobile platforms are much cleaner, have a better colour scheme, and run better on the portable device. We would definitely say that the app is not that cooling to the eyes as compared to the other apps that have a more beautiful and warmer colour scheme.
If you're not that particular with aesthetics and navigation, you'll really enjoy Toals' iOS app and mobile website version since it is still based on one of the oldest platforms to grace the online sports betting industry. Because of that, you'll have a wonderful time playing as the owners of this brand know exactly what its customers like. You'll also enjoy some of the generous bonuses that this platform has to offer.