Is there a TigerGaming app available for Android?
As things stand, TigerGaming does not offer either a sports betting or a casino app for Android. Users wishing to access either of these two services via their smartphone will instead have to head to the mobile optimised version of the site. There is, however, a dedicated app to support their online poker platform. The world-famous game of bluff is the jewel in the crown at TigerGaming which explains why this area enjoys its own app. It is possible, however, to play poker without using the free download app.
---
Is there a TigerGaming App available for iOS
It is the same situation as detailed above when it comes to iOS with no app currently available for sports betting or casino play. Owners of Apple smartphones and/or tablets do, however, have the opportunity to download an app should they wish to play poker. The poker app is the only iOS application offered by TigerGaming at this current moment in time. Although it is not required in order to access the full range of services, it does provide a slightly more streamlined experience.
---
Review of Mobile Site Version
To view the full mobile site in its full form, access the TigerGaming login page on your mobile device and enter your credentials. Once users have logged in, they will have access to a sliding top menu that provides direct links to most key locations, for example, the casino or the racebook. To find the full list, you will need to click the menu button in the very top left-hand corner of the screen.
Each page comes with different options, which are not always consistent in presentation but generally speaking links are responsive and fast loading. TigerGaming does not offer an in-depth casino or sportsbook, and the more limited range of products has a noticeable impact on how smooth the site is and hence the overall user experience.
---
Mobile Sports Betting
Placing pre-event sports bets on TigerGaming's mobile site is a real breeze, although this is in part due to how limited the sportsbook is. TigerGaming falls a huge way short when it comes to the number of sports, additional markets and extra features compared with most other betting sites. While this is a major blow for any sports fanatic, one benefit is that this area of the site runs incredibly smoothly.
Bets can be placed with a similar amount of ease too. Rather than clicking on a particular fixture to reveal all markets, all available options feature at the top of the screen and switching between them is near-instant. Users merely have to make their desired market selections and then choose the team/player they wish to back. After selecting, TigerGaming will ask you to either place your stake or the amount you wish to win. In the case of the latter, the stake is automatically calculated for you.
Mobile users have access to the full range of future and specials bets should they wish to try their luck with a more long-term prediction. Additionally, there is a 'game props' section, and here users can access a small number of extra markets not offered on the main mobile sportsbook. For any horse racing bets, users will need to access the separate 'racebook' to access racecards for all upcoming thoroughbred contests.
---
Mobile Site Features
Live streaming
TigerGaming only provides an extremely basic sportsbook which comes with very few additional features when compared to some of the better-established brands out there. Far from the number one priority here, they have opted against providing live streaming services of any kind for their in-play matches. This means there are no visual aids for live sports bettors as animated match trackers are also not included.
In-play function
You will only find a small number of live betting fixtures at TigerGaming, but they are all ones players can access using their mobile device. As much as we like the layout of the main mobile sportsbook, the live betting section is not up to the same standard. Rather than having all in-play fixtures loading on the main 'live' page, users have to click 'live odds' and then make their choice from any one of the 'in progress' matches. It is not possible to view all live odds across sports at a glance, nor can bets be placed especially quickly.
Cash Out option
If you are unfamiliar with cashing out, it is a feature that gives sports bettors the chance to settle their wagers early, guaranteeing some profit or a reduced loss, depending on the position of the bet at the time it is cashed out. With punters keen to acquire this high level of control over their bets, the cash-out feature is one we see with increasing regularity across sportsbooks. It does not, however, feature in any capacity at TigerGaming, meaning all bets run from start to finish here with no option to cut your losses or lock in a profit.
---
TigerGaming casino mobile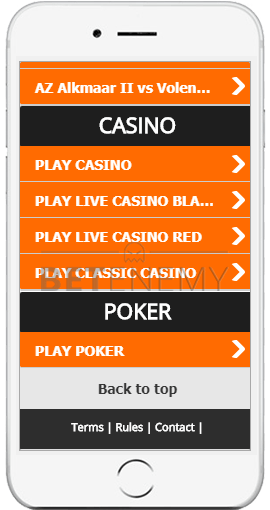 When it comes to accessing a range of mobile casino games, TigerGaming customers might well come away fairly disappointed. The collection available on their desktop site is respectable, but a sizeable number of them are not available through the mobile site. All video poker options fail to feature while players only have the option of one roulette game and one baccarat game available to them. Despite the limited number of table games that are available, they do at least perform well on smartphones and tablets.
When it comes to mobile compatible slots games, there is considerably more to choose from, but this is still a lot fewer than we see across most established casino sites. The list might not be overly long, but the ability to filter by slot type would still be a welcome addition to the mobile casino. The same can also be said about being able to favourite certain games, another feature which is also lacking from the mobile casino.
---
Live Casino Section
TigerGaming host games such as blackjack, roulette and baccarat at their very own live casino but they have not made any of them mobile-compatible at the time of writing. There are links for 'Live Casino Red' and 'Live Casino Black' across the mobile site, but neither of the two pages has any content in them whatsoever. Upon clicking either link, users will simply be greeted by a page which says 'Coming Soon'. The same issue also occurs when clicking 'Classic Casino' meaning that any live casino games are currently firmly off the menu for mobile players. We are hopeful these will be made live sooner rather than later.
---
TigerGaming Poker App
In terms of access to offers, tournaments and tables, players using the poker app still enjoy the complete experience. No matter if it is high prize tournaments, missing grinds, jackpot sit 'n' go's or the 100% poker welcome bonus, you will find it on the app. Available on both iOS or Android, it is recommended that any keen poker fans give the app a runout.
The interface is user-friendly, and you can go from your smartphone's home screen to a seat at a table in next to no time. Some improvements could be made on the design and level of customisation, but on the whole, the app provides a fully satisfactory online poker experience.
---
Pros & Cons of the TigerGaming mobile website version
Pros
Uses only small amounts of data.
Pages are quick to load.
Pre-event sports bets can be placed quickly.
Excellent use of icons gives the site a professional feel.
Cons
There are several incomplete pages.
The live betting page is poorly organised.
Has a tendency of briefly logging you out after a few minutes of inactivity.
Live casino games are not mobile compatible.
Many casino games do not feature on the mobile site.
Balance is not always visible at the top of the screen.
---
Is There a Mobile Bonus?
TigerGaming offers a handful of casino bonuses, and an even bigger selection of poker offers but none of them is mobile-specific. In fact, the only one mobile users will see listed when accessing the promotions page is the 100% poker welcome bonus. It is hard to explain why this is the case, as several promotions can be played through using the mobile site or poker app. In such instances, you would need to read the terms and conditions on the desktop site before taking part.
---
System Requirements and Compatibility
For the poker app, Android devices require Android 6.0 (Marshmallow) or higher. This operating system was introduced in October 2015, so only particularly old phones will not be able to load the app. For Apple devices to run the poker app, they must be models no older than the iPhone 5 or iPad 3.
Here is a list of some compatible devices:
Apple: iPhone 6, 7, 8, X, XR, XS, 11, 11 Pro, 11 Pro Max, iPad, iPad Mini, iPad Pro.
Samsung: Galaxy S5, S6, S7, S8, S8+, S9, S9+, S10, S10+, S20
Huawei: P9, P10, P10 Plus, P20, P20 Pro, P30, P30 Pro
Xiaomi: Note 2, Note 3, Note 10, Note 10 Pro, Mi 5, Mi 6, Mi 8, Mi 9.
Sony: Xperia E5, XZ, XA1, L2, XA2, XZ2, XZ3, 10, 10 PLUS, 1, 5, 8.
As for the mobile site, this should work across all mobile phones as well as on all major browsers, for example, Chrome, Firefox, and Safari.
---
Mobile Deposit & Withdrawal Payments
A 4.9% fee applies for any payments made via Skrill 1-tap, and there is a flat 7.5% processing fee on all credit card deposits. Wire transfer payments may also incur a charge of up to $45 or 3% of the transaction amount.
For most withdrawals, it can take up to 48 hours before the funds reach your account. The only real exception is bank wire transfers which can take as long as 15 days. In the past TigerGaming guaranteed all e-wallet payments within 24 hours, doubling the withdrawal if this failed to happen, but they no longer honour this pledge.
Deposit Methods
Withdrawal Methods
| Payment Method | Deposit Minimum | Deposit Maximum | Time for Deposit |
| --- | --- | --- | --- |
| Visa | $50 | $5,000 | 3-5 days |
| Bank Wire Transfer | $1,000 | Unlimited | 3-5 days |
| Neteller | $10 | $10,000 | Up to 24 hours |
| Skrill | $10 | $5,000 | Up to 24 hours |
| EcoPayz | $10 | $10,000 | Up to 48 hours |
| MasterCard | $50 | $5,000 | 3-5 days |
| American Express | $50 | $5,000 | 3-5 days |
| Bitcoin | $20 | $50,000 | Up to 24 hours |
| Litecoin | $20 | $50,000 | Up to 48 hours |
| Dash | $20 | $50,000 | Instant |
| Ethereum | $20 | $50,000 | Instant |
| BitcoinCash | $20 | $50,000 | Instant |
| Ripple | $20 | $50,000 | Instant |
| Discover | $50 | $5,000 | Up to 24 hours |
| Payment Method | Withdrawal Minimum | Withdrawal Maximum | Time for Withdrawal |
| --- | --- | --- | --- |
| Visa | - | - | - |
| Bank Wire Transfer | $1000 | $3,000 | Up to 15 days |
| Neteller | $25 | $5,000 | Up to 24 hours |
| Skrill | $25 | $5,000 | Up to 24 hours |
| EcoPayz | $25 | $1,000 | Up to 48 hours |
| MasterCard | - | - | - |
| American Express | - | - | - |
| Bitcoin | $20 | $10,000 | Up to 48 hours |
| Litecoin | $20 | $10,000 | Up to 48 hours |
| Dash | $20 | $10,000 | Up to 48 hours |
| Ethereum | $20 | $10,000 | Up to 48 hours |
| BitcoinCash | $20 | $10,000 | Up to 48 hours |
| Ripple | $20 | $10,000 | Up to 48 hours |
| Discover | - | - | - |
Dash, Bank Wire Transfer, Neteller, EcoPayz, Skrill, American Express, MasterCard, Visa, Litecoin, Ethereum, Bitcoin, BitcoinCash, Discover, Ripple
Dash, Bank Wire Transfer, Neteller, EcoPayz, Skrill, Litecoin, Ethereum, Bitcoin, Discover, Ripple
---
Questions & Answerss
Can I change the odds from Fractional to Decimal?
Yes, just tap the 'My Account' button and then 'My Profile' to change the odds type. Users have the choice of either decimal, fractional or American format.
Is there a TigerGaming .apk file for Android I can download?
Yes but only for playing mobile poker. The official .apk download is available directly from TigerGaming's website. Head to the official website and select 'Poker' and underneath the top menu is a link to 'Mobile'. Click this to reveal the QR codes for the Android and iOS downloads. There is no other official .apk file download available.
Why can't I find a TigerGaming app for iOS in the App Store?
The TigerGaming poker app is not available in the App Store regardless of your location. This is partly because Apple took the decision in 2019 to only allow native apps to be advertised in the App Store. The new rule makes it a lot harder for many casino, poker and sport betting sites to have a compliant app.
How do I use the TigerGaming mobile site?
All you need to do is access the site just as you would when using a desktop or laptop. Search for TigerGaming on your mobile browser and click the link for the official website. The mobile compatible version of the site will load by default.
Can I access live chat while on mobile?
Yes, tap the 'contact' button at the bottom of the page and once loaded an option for a live chat should appear on the right-hand side of the screen.
Will live casino be available on the mobile site soon?
As TigerGaming has already gone to the trouble of making pages for live casino games, we would expect that their development is currently ongoing. No exact time frame is provided, but there is a decent chance they will appear reasonably soon.
Can I view the mobile site in another language?
No, all pages and software at TigerGaming can only be viewed in English.
How many people use the TigerGaming poker app?
TigerGaming runs on the Chico Poker Network, which is not the biggest operator but one that offers a decent player pool and active tables around the clock. It does not matter how many people use the TigerGaming poker app as you will be connected with users who might well have arrived via other gambling websites.
Can players from my region access the mobile site?
TigerGaming does not prevent anyone from accessing the mobile version of their site, but this does not mean you will be able to register. To find out if you are eligible, check to see if your country features on the list during the registration process.
---
About the Company
When it comes to experience, TigerGaming packs a real punch. Founded in 1999, the feline-themed site has been offering online gambling to virtual customers for over two decades. The brand is managed byThot Management NV, who is based in Curacao and operating using a Curacao-issued licence, 5536/Jaz. All payments, however, are handled by a Maltese company, Troy Logic Limited.
---
App Rating and Conclusion
As with TigerGaming for PC, the mobile experience varies drastically depending on the area of the site in which you are seeking to spend your money. Sports betting is lacking in features, fixtures and markets but placing your bets pre-event is a simple task. In-play bets cannot be placed with such ease though as the menu layout is not so logical or tidy.
Despite the issues with live betting on sports, it is their casino play which receives the lowest mark. The mobile experience is unsatisfactory with so many non-live games missing combined with a complete absence of live casino tables. It is not all bad news for smartphone users though, as TigerGaming are able to redeem themselves when it comes to poker. Their dedicated app is not overly flashy or even what you might describe as cutting edge, but it does provide a smooth card playing experience which will not let you down.