IMPORTANT
In 2015 Unibet Group became an owner of StanJames and its website. In the first years after the acquisition, the bookmaker remained active, but on 26 February 2018, Stan James' website was closed. After that, all accounts of Stan James were transferred to Unibet. Customers can access their profiles through Unibet's platform.
Introduction
In 1973, Steve Fisher and James Holder founded a single betting shop in the town of Wantage, Oxfordshire– Stan James. Stan James comes from "Stan", a blend of Steve and his wife's name, Anne, and Holder's first name. From one shop, Stan James grew and grew. Now, there are over 90 betting shops under its name. It is also now owned by the Unibet Group PLC. The trading name of the bookmaker is StanJames.com, and it is licensed by the Gambling Commission of Great Britain and the Government of Gibraltar.
Stan James gives different betting opportunities including sports betting, poker, and casino. The brand is available in over 120 countries. However, its primary focus in the UK market. Stan James still operates offline. However, they give more attention on their online gambling site now.
They are not affiliated with any sports team, player, or event organiser.
On the other hand, they have partnered with several local companies and have operated under different alternative brands.
For instance, in Spain, they partnered with Group MGA casino. In the US, they have Racing2Day, and in Ireland, they have Betpack. This bookmaker is also a member of the Kindred Group, the biggest online gambling operator in Europe. Kindred Group holds licenses France, the UK, Denmark, Belgium, Italy, Germany, Ireland, Australia, Estonia, and Romania.
Stan James has kept strong marketing campaigns, the most notable of which was the Stan James World Matchplay (2000-2010) which was the second biggest darts event. With their innovative markets, it's not a surprise that StanJames.com has become one of the most influential names in the industry. In fact, they have more than 14.1 million registered bettors as of the moment.
---
Registration
Registering in StanJames.com is easy. You just have to follow the steps below: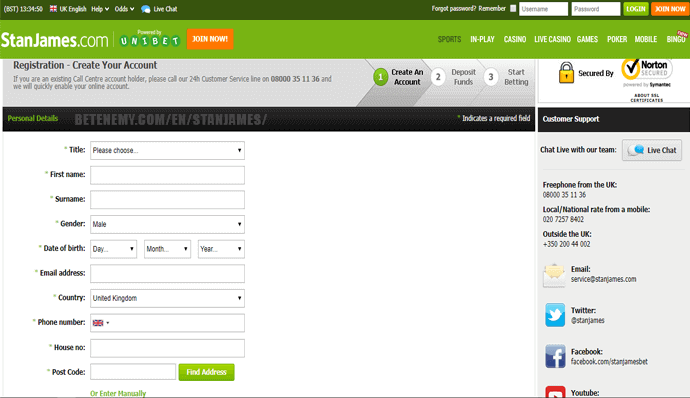 Step 1: Visit the site. Go to www.stanjames.com. You can find the JOIN NOW tab in the upper left corner or the upper right corner of the site. Click the tab.
Step 2: Provide personal information. StanJames.com will ask you to provide your name, gender, birth date, e-mail address, country, phone number, and address.
Step 3: Create your account details. Make your username, password, currency, and security question and answer. Remember the right way to create your password. Use a combination of numbers, letters, and symbols.
Step 4: Read the necessary documents. It's important that you read the Terms and Conditions along with StanJames.com's Privacy Policy. You don't want to sign up for something you don't fully understand. After you do so, click Create My Account tab.
Step 5: Make a deposit. Once you've created your account, make your first deposit. Wait for the confirmation of the deposit. Then, you can start betting on your chosen market.
How to activate our account
Your account is already activated as soon as you make your first deposit. You can continue to use the account, and bet on the different sports market as long as you keep enough money in your account.
How to verify our account before any withdrawal
You must be more than 18 years old to create an account at StanJames.com. They reserve the right to ask that you provide proof of your age. Until proven that you are of legal age, your account may be suspended, and your funds will be withheld.
Some of the documentation required is a copy of your identity card (driving license and passport), and/or bank statement.
What to do if we lost our password
If you have unfortunately forgotten your password, you have first to click the FORGOT PASSWORD link which you can find beside the LOG-IN tab. You will then see a form asking for your username and date of birth. From there, you have two options:
Answer your security question and change your password right away.
Ask StanJames.com to send you an email with a new password. You can use the password given to you in logging into your account. Change the password once you've successfully accessed it.
---
Website review – Design, Structure and Layouts
StanJames.com caters to a lot of markets, which is good because they can reach out to more customers. However, this worked to their disadvantage as their website looks cramped. If you look at their pages, you'll notice that they are more text-based and there's minimal flashy graphics. However, they've definitely filled up spaces with promo codes, stats, and more. It'll take you a minute to understand the site and learn how to navigate around it.
For first-time bettors and visitors, StanJames.com can be overwhelming. However, for bettors who already know what they're looking for, the labels and the systematic division of the sports markets can aid them perfectly.
On the good side, the green, white, and black palette are working well. It's pleasing to the eyes, which is a big boost to the brand's identity. Moreover, if you get the hang of the site, you'll be overly satisfied with their services and betting experience.
---
Sports Bettings
From football to bowling, StanJames.com has a lot to offer. Like other prominent UK sportsbook, it focuses on horse racing and football. However, they are also known to put as much importance in less crucial matches as with the big events. Their edge is that they understand what punters their customers want and they deliver the best markets.
Available betting markets
StanJames.com has a large range of betting markets. They cover about 27 sports markets including athletics, American football, basketball, baseball, boxing, bowls, cycling, cricket, futsal, darts, golf, Gaelic sports, handball, greyhound racing, ice hockey, horse racing, pool, poker, snooker, rugby, table tennis, soccer, volleyball, and winter sports.
When it comes to soccer and horse racing, you will have a lot to choose from. If you're looking for something other than sports, StanJames.com also offer entertainment and politics betting. All in all, this bookmaker has excellent coverage.
Are the odds higher?
If you're looking for a consistently good betting odds, then StanJames.com will not disappoint you. They have a different level of dedication when it comes to sporting fields. And while they may not offer the best betting odds, they certainly are better than most bookmakers. They run on low betting margins– 3.9% for soccer market and 5% for other big markets like horse racing. That's a competitive enough for punters.
---
StanJames.com bonus: Bet £10 Get £20 – Welcome Offer
When you register in StanJames.com for the first time, you will have the chance to enjoy their bonus of about £20 free bet. There's no special Stan James promo code required for this exclusive bonus. You just need to place a £10 on a sport of your choice.
Here are the terms and conditions of this bonus:
In order to qualify for the bonus, your qualifying bet must be £10 or more.
A qualifying bet is one with a 4/5 odd or more.
Bets placed on push, non-runner, or void option is not valid.
The bonus will be credited to you 24 hours after the bet has been settled.
You need to use the bonus within 7 days.
Returns from the free bet are paid of the stake.
This offer is only available one per person.
This offer is only available to customers in Ireland and the UK.
This bet can't be used with other offer or promotion.
The bonus can't be awarded to customers using Skrill or Neteller.
---
---
In-Play betting
One of the biggest strengths of StanJames.com is its in-play betting. There's no doubt that in-play betting has changed the game of online betting as it adds another touch of excitement to it. StanJames.com is one of the pioneers of in-play betting. Its market includes basketball, baseball, rugby, cricket, and more.
The interface of the page allows customers to view all of the available sports and check which ones are live at the moment. It also features scores, possession, subs, etc. Overall, with its market list, odd value, and interface, StanJames.com in-play betting is competitive enough.
Live Streaming
Customers can avail the live streaming service of StanJames.com. However, it is only available for horse racing at the moment, and you have to bet on that game with at least £1. If you want to watch other games live, you might want to visit other sites.
While the live streaming option is clearly a good offer, it's something that this bookmaker still has to work on.
---
Horse racing
For horse racing fans, StanJames.com can offer live coverage of races, complete with their information, stats, and results. They also provide tips. While the races are usually from the UK or Ireland, there are also those from the US and other parts of the world.
Being the only market with the live streaming option, it's evident that horse racing is StanJames.com's biggest market. In fact, this market also has the highest winning potential. You can win up to £250,000, unlike other markets which can only offer up to £100,000.
---
Cash-Out option
Unfortunately, StanJames.com does not offer any cash-out option. In this field, they are a bit behind their competitors.
---
StanJames Casino
Like the sportsbook, Stan James is also famous among online casinos, especially in the UK. They partner with several big software developers including Microgaming, NetEnt, NYX, Novomatic, Amaya, Realistic Games, WMS, Quickspin, 2by2 Gaming, Evolution Gaming and Blueprint Gaming to give their customers a wide variety of games.
Their slots include creative themes with lots of features. Some of which are The Invisible Man, Motorhead, and Creature from the Black Lagoon. You can also try Mega Moolah, Divine Fortune, and Arabian Nights.
For their table games, they have baccarat, poker, blackjack, and roulette. If you don't feel like playing serious and want to have a bit of fun, you can try Keno, and Deal or No Deal.
---
Casino bonus – to £100. Deposit £100 and you'll have £200 to play with
When you register at Stan James Casino, you can get their bonus that amounts up to £100. All you have to do is to deposit £20 to £100, and you will have £20 to £100 more to play with. Once you've made the deposit, call the customer service via e-mail: casino@stanjames.com or live chat. The customer support will automatically add 100% of your deposit to your account.
Here are the terms and conditions of this bonus:
To qualify for the bonus, your first deposit should be £20 or more.
You need to use the bonus within 7 days. Otherwise, it will expire, and you can no longer claim it.
Returns from the bonus are paid off the stake. Customers must wager 40x to 60x before they can make any withdrawal.
This offer is only available one per person.
The cash you have in your balance will be used for the bonus.
This offer is not available to customers from Belgium, Canada, Afghanistan, Costa Rica, Estonia, Faroe Islands, Denmark, Hong Kong, Iran, France, Israel, Italy, Iraq, Jordan, Kuwait, Pakistan, Mexico, Portugal, the Philippines, Saudi Arabia, Romania, Spain, Singapore, the United States of America, Turkey, Australia, and the United States Minor Outlying Islands.
This bet can't be used with other offer or promotion.
---
Live casino with real dealers
The live casino is a new feature in StanJames.com, home to most popular casino games. Like their casino, the live casino also has a wide selection of games powered by Evolution Gaming. Any customer can access it easily. With a live casino, gamers have access to live games handled by real dealers. They can play live Roulette, live Baccarat, live Blackjack, live Hold'em, and live Three Card Poker– whichever game you choose.
Though lacking in many things, StanJames.com has done themselves a favour by launching this feature. While not yet perfect, their live casino is an excellent addition to their brand.
---
StanJames Poker Review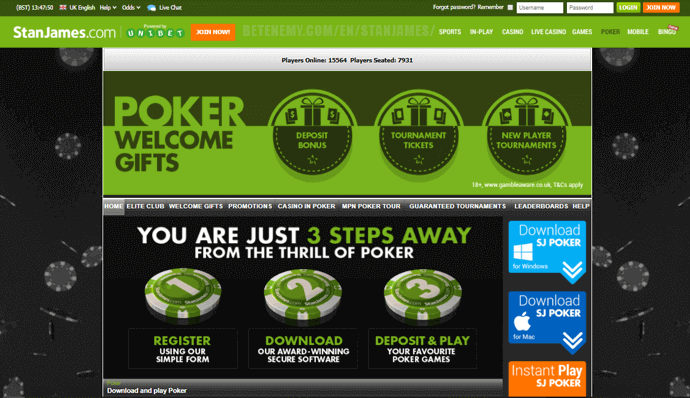 Stan James Poker has made its name among the high street bookmaking shops. However, last 2014, they closed several poker affiliate accounts without any warning. This issue has damaged their reputation which they are slowly recovering from. Customers started doubting Stan James Poker's trustworthiness.
On the other hand, there are still a lot of poker enthusiasts who remain loyal to the brand. And why not? They have excellent promos and offers. From their signup bonus to their loyalty bonus, there are only a few other online poker gambling sites that can compete with Stan James Poker.
---
Poker bonuses – 10000$ Monthly loyalty flips
Every month, Stan James Poker practice the Festival of Speed where they give all players the chance to get the £100 000 Freeroll Festival bonus. To get this bonus, one must:
Unlock 2 achievements per day.
Every time you unlock an achievement award, you have access to the freeroll ticket offered according to your level.
Use the freeroll ticket within 24 hours after receiving it.
Check your progress daily by going to MY ACCOUNT then MY ACHIEVEMENTS.
---
Payment methods
In making deposits and withdrawals, you can choose one from the following:
Debit/Credit cards: including Visa, MasterCard, MaestroDeposit: The minimum deposit is £5.Withdrawal: The minimum withdrawal is £10. The process will last 3 to 5 working days.
Skrill, Neteller, PaypalDeposit: The minimum deposit is £5.Withdrawal: The minimum withdrawal is £10. The process will last 24 hours.
PaysafeDeposit: You can choose a paysafecard of about £10, £25, £50, or £75.Withdrawal: Payment will be sent to your bank account. The minimum withdrawal is £100.
Bank TransferDeposit: Not specifiedWithdrawal: Payment will be sent to your bank account. The minimum withdrawal is £100.
---
StanJames mobile
You can navigate StanJames.com through your mobile browser or the company's app. The mobile version allows you to browse around the site with little to no problem, even if the interface is quite rough. The design of the mobile app is basically the same as that of the website.
StanJames.com mobile supports live streaming of horse races and gives live commentaries on games. Currently, Stan James is offering exclusive deals and promos for mobile users. Overall, the mobile feature is good, but not the best.
---
Affiliate program
Stan James affiliate program allows you to earn up to 35% of the revenue share. You will also get benefits when your referral play in the Stan James sportsbook, poker, casino, and/or games.
Sadly, this program is temporarily on hold. It doesn't accept new registrations as of now. However, you can still submit your application if you're interested. In sending an e-mail to affiliates@stanjamesaffiliates.com. Include your full name, e-mail address, website, and country. They will still review your application.
---
Customer care
The Help section in StanJames.com website is lacking and disorganised. But their strong customer support team make up for it by being available 24/7.
Stan James is known by how they handle their customers. Their staff is professional and will not let you wait to get your questions answered. They mainly focus on their live chat and will reply in a matter of seconds. However, they attend to calls and e-mails as well. Their call centre is based in Gibraltar and accepts about a thousand phone calls each day.
---
Contacts
You can contact StanJames.com 24/7 by using one of the following methods:
---
Final Verdict and Rating
In general, StanJames.com is a good bookmaker which can give a comprehensive betting experience. However, with a 40-year experience, you'd expect more from it, and it just does not exceed the expectation. True, they know their punters and give their customers exactly what they want. They also treat their customers well, which is a huge plus. Most importantly, they have pioneered in-play betting market and offers the most number of casino games and sports in the UK.
However, they have so much more potential. StanJames could improve its odds, and their website could benefit from a design makeover. StanJames.com could easily overwhelm new users.
These all said StanJames is still worth a try. After all, it will not get to keep its place as one of the top bookmakers in the UK if it does not deliver quality service. Overall, StanJames.com deserves to get 9/10 rating.