How can I open an account on Sportingbet – step by step
Click the 'Register' or 'Join Now' button located on the Sportingbet homepage.
The first step of the registration form asks for your country of residence, account currency, email address and account password.
On the next step, enter your title, name and date of birth before clicking 'Continue'.
The final page will ask for your home address, mobile phone number, and how you would like to receive any marketing information (non-compulsory). Once complete, click 'Create my account'.
Customers from the UK will be asked if they wish to place a deposit limit on their account before their details are verified.
How to complete the Sportingbet sign-up process?
How dо I verify my account?
What should I do if I forgot my password?
---
How can I open an account on Sportingbet mobile?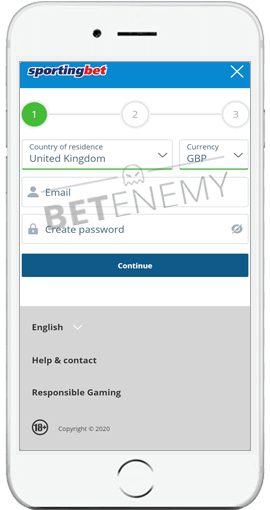 Anyone accessing Sportingbet via mobile will enjoy the same straightforward registration form available on the desktop site. There is no difference between the two in both content or presentation, so following the steps outlined at the beginning of this guide will get you sorted.
---
Important Terms & Conditions for new registered members of Sportingbet
After signing up at Sportingbet, you will not be able to change your account currency more than once without approval. Any additional changes are subject to rules and exchange rates offered by Sportingbet.
By signing up at Sportingbet, you agree to keep your password secret and not allow anyone else to use it. The bookmaker will not be held liable for any misuse of your account resulting from unauthorised access.
When contacting the customer service team, you should assume that all communications will be recorded and used in evidence should any dispute later arise.
---
How to protect my account in Sportingbet from limiting or ban?
Failure to supply verification documents when requested may result in suspension or closure of your account.
If anyone is caught playing Sportingbet on any account other than the first they set up, all transactions may be cancelled and the account closed.
Abusive and offensive language is not tolerated on any on-site chat board or towards staff.
Players are also not entitled to make any false, malicious and/or damaging comments about Sportingbet in the media or on a public forum.
In addition to that, the usual notions apply about collusion between accounts, advantage play betting and non-recreational customers (for which read anyone who wins too often or hits Sportingbet when their odds are out of line, especially on obscure sports, leagues and markets).
---
Can I close my Sportingbet account?
Click the 'My Account' icon in the top right of the screen and then from the menu click 'My Account' and then 'Settings'. On the Gambling Controls option, you will be able to place deposit limits or close your account by clicking the respective option. For closures, you can choose to take a short break or indefinitely close your account.
---
How to edit my account details in Sportingbet?
Click 'My Account' from the range of menu options and then 'My Account Details'. Here you can update your address (providing it's within the same country), email address and phone numbers by typing over the existing date and clicking 'Save'. To amend your country of residence or name, you will need to speak to customer support.
How to get Sportingbet welcome bonus for new clients?
Any new customer bonus available to players from your region should feature prominently as you arrive on the Sportingbet website. Alternatively, you can find details of any promotions on other sites precisely as we have done in our Sportingbet bonus code review.
These offers are available to any genuine new client who resides in the qualifying geographical areas. To claim any offer, simply follow the steps specified in the terms and conditions, usually placing a deposit and bet worth a specific amount. No registration code is usually required.
How can I make a bet on Sportingbet?
Clicking on the odds for a particular market will add the selection to your betslip, visible in the righthand column of the screen.

The betslip is divided into three separate tabs, single, multi and system, and you just need to click your desired option. For system bets, note that the available bet options are selected from the drop-down menu near the top of the bet slip.

After deciding on a type of bet, enter your bet amount in the 'Stake' or 'Stake per bet' box. The overall cost of the wager will then be calculated for you along with the possible (net) winnings.

If happy with the numbers, click 'Place Bet' and then cross your fingers and enjoy the action.
---
How can I make a bet on Sportingbet mobile?
Betting on Sportingbet mobile is a simple task that starts by tapping on odds to add them to your betslip. You can then access your bet slip either by tapping the red box which provides an accumulator overview or by tapping 'Betslip' underneath. Here you have access to the same single, multi and system options mentioned above in the previous section and you will confirm your bet exactly how any PC user would.
---
Why should I open a new account at Sportingbet?
Benefits
Quick and easy registration form.
Select from over 20 different account currencies.
Detailed 'Help' pages can be of great assistance to customers.
Good selection of payment methods.
Pages well optimised for use on smartphones and tablets.
---
How to make deposits and withdrawals?
Some payment methods offered by Sportingbet are region-specific and are not available to all customers. Below we have included those that are most commonly available.
| Payment Method | Deposit Minimum | Deposit Maximum | Time for Deposit | Minimum Withdrawal | Withdrawal Maximum | Time for Withdrawal |
| --- | --- | --- | --- | --- | --- | --- |
| Visa | £10 | £50,000 | Instant | £10 | £100,000 | 1 – 5 bank days |
| Bank Wire Transfer | £10 | £50,000 | 3 – 5 Bank Days | £10 | £100,000 | 1 – 3 bank days |
| Neteller | £10 | £50,000 | Instant | £10 | £100,000 | 1 – 5 bank days |
| Skrill | £10 | £5,000 | 24 Hours | £250 | £2,500 | 1 – 5 bank days |
| Paysafe Card | £1 | £4,000 | Instant | - | - | - |
| MasterCard | £10 | £50,000 | Instant | - | - | - |
| PayPal | £10 | £50,000 | 24 Hours | - | - | - |
| CLICK2PAY | £10 | £50,000 | Instant | £10 | £100,000 | 1 – 5 bank days |
| Maestro | £10 | £50,000 | Instant | £10 | £100,000 | 1 – 5 bank days |
| Ukash | £1 | £1,000 | Instant | - | - | - |
| Laser | £10 | £50,000 | Instant | - | - | - |
| Delta | £10 | £50,000 | Instant | £10 | £100,000 | 1 – 5 bank days |
*Money deposited via PayPal can only be used for sports betting.
---
FAQs
How do I activate my Sportingbet account?
New customers do not need to activate their accounts as this is done automatically.
Is there a Sportingbet mirror link?
There used to be several working mirror links for Sportingbet, e.g. sportingbet777.com but none are active now.
Is there a Sportingbet sign up bonus?
Yes, but the availability and size of the registration bonus vary between countries.
Can I register more than once?
No, customers are only allowed to have one Sportingbet account.
How do I access my Sportingbet account?
Login using your email address and the password you created during registration. If you cannot remember your password, it is easy to reset it (see above).
Can I delete my account in Sportingbet?
Yes, you can do this by following the steps outlined in chapter five of this guide.
Can I change my user ID in Sportingbet?
No, Sportingbet has scrapped user IDs and now only allows users to login via their email address.
How do I confirm my email address after registration in Sportingbet?
Sportingbet does not require customers to confirm their email address.
How is my data protected?
Customer information is protected through a series of secure firewalled data centres, certified encrypted webpages and ISO27001 certified practices.
Why do I need to register?
Only registered members can deposit money and place bets across the entire Sportingbet website.
---
About Sportingbet
Mark Blandford created Sportingbet in 1997, and he was one of the first to predict the giant rise in online sports betting. A year later and Sportingbet went live, one of the first UK bookmakers to offer bets via the internet.
In 2001 the company floated on the London Stock Exchange's Alternative Investment Market which was a real landmark for the online gaming industry. The company is now co-owned by giants of the industry GVC (who operate the likes of Ladbrokes-Coral and Bwin), and by William Hill following a £530m takeover in 2013. William Hill took control of all Australian and Spanish operations with GVC taking responsibility for the rest of the Sportingbet empire.
---
Customer services
In our experience, answers from customer support tend to be quite brief. Unlike other significant sites, assistance is not available 24/7. While not the most helpful service out there, they will help fix any issues you have during or after registration. There is also a dedicated 'accounts' section on both the FAQ and 'Help' pages which contains lots of valuable information.
Contacts for Questions
Live chat is available between the hours of 10:00 and 22:00 (CET). You can also email Sportingbet via the online form on the 'Contact' page or by writing to support@sportingbet.com.
To contact Sportingbet by phone, call 0800 028 0348.
---
Final verdict on Sportingbet registration review
The free registration process at Sportingbet starts strongly courtesy of their simple sign-up form which takes next to no time to complete. Within a couple of minutes, previously unregistered customers can be placing their first bet. Should help be required at any point, many answers are available on the help pages. Still, adequate customer service is also available most of the day.
With everything as easy to execute on mobile devices, Sportingbet scores strongly here but the site is not without its faults. Across many pages, you can still find a reference to 'User ID' even though these have been scrapped and customers now login with their email addresses. Secondly, the verification process, which often needs completing before withdrawing, can be quite slow too, which stops you from getting your money quickly.
Our only other concern is that should anyone gain access to your email account, they will be able to access your Sportingbet account quite easily just by resetting your password.
Overall rating: 4/5