Spin Sport Review
With their knowledge of running casinos, it's no surprise that Spin Sports casino is a big hit among the players in the platform. Aside from just the casino, however, the sportsbook is equally popular among punters. The sportsbook is powered by SBTech, making it capable of providing an excellent experience for the players.
---
Spin Sports Registration
Let's talk about the registration process. Unlike a lot of other bookmakers, there is no big Registration button on the homepage. If you're an old-school online punter, this is probably something that you're not going to use too.
To find the registration link, you have to click on the hamburger button located on the left side of the screen. You will then see options in the dropdown which will reveal a Registration button. After you click the button, you have to follow these steps:
Step 1: Enter your desired login details and other necessary information.
Step 2: Click on the check button stating that you agree with the terms and conditions.
Step 3: Click on the check button to verify that you're above 18 years old.
Step 4: Activate your account by checking your email.
Step 5: Follow the instructions given in the email to verify your account.
Step 6: Start playing!
---
Website Review – Layouts and Navigation
For any bookmaker, their website's design is a very important aspect to consider because it can create that good first impression for their visitors. However, gone are the days wherein bookmakers use flashy graphics and lots of ultra-bright colour schemes. Modern-day bookmakers now prefer to make use of subtle colour schemes alongside an interactive layout.
The same goes for Spin Sports. At the homepage, you'll treat to stunning graphics and a very attractive layout. The header, which is an ad for the free bet, can also be moved around a bit if you point your cursor there. That adds to the whole interactive vibe of the website. You can take a look at what it looks like by checking out the screenshot below: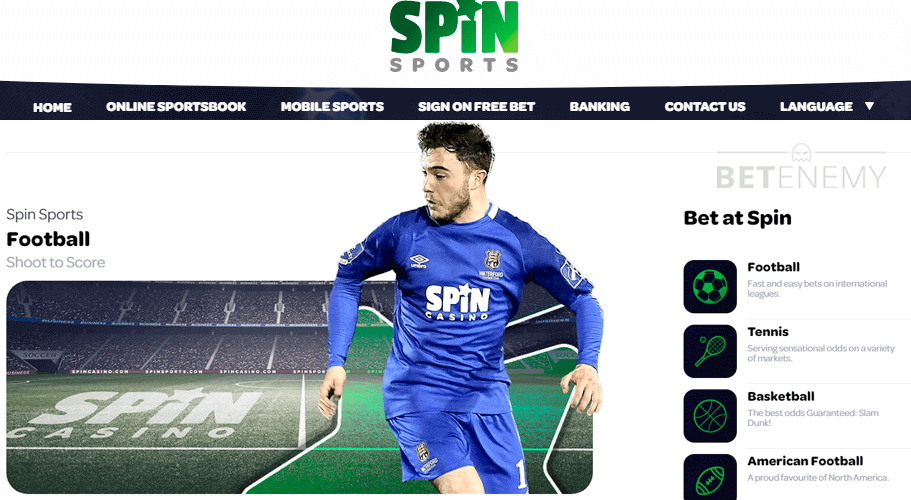 ---
Betting on Sports
The sportsbook is one of the key parts of the entire Spin Sports brand. The sportsbook offers a plethora of well-known sporting events that you can place your bets on. There are also a ton of betting options you can choose from if you want to try monitoring different sports.
We're going to take a closer look at the various betting options available and also the quality of odds. That way, you can familiarize yourself with this section.
Betting Options
At first glance, you won't be able to see a list of all the betting options available. For most traditional sportsbooks, a list of betting options can found on the left side of the page. For Spin Sports, the focus is more on the individual sporting events offered.
However, you can still get a small idea of the main betting options offered if you scroll down further. Here are a few of them:
Football
Basketball
Baseball
Cricket
Tennis
MMA
eSports
About the Odds
Spin Sports is known for some pretty competitive odds. Even though it's a pretty new player in the market, it certainly knows how to use good odds to attract customers.
As for the format of the odds, the default odds are decimal. However, fractional odds and American odds also offered. It just depends on which one you prefer to use when you bet.
---
Sports Free Bet Welcome Offer – Up to €200
To get things rolling, Spin Sports offers a welcome offer to new players. The welcome offer is pretty generous as it provides you with a free bet of up to 200 EUR. This free bet will allow you more leverage and more money to play your bets.
Here are some of the important terms and conditions that you need to take into consideration when you want to avail of the free bet:
You need to make a minimum deposit of 10 EUR to qualify for the bonus
You must make this deposit within seven days after the date of your registration to qualify
You will receive a free bet that is equal to the amount that you have deposited
You can only receive a maximum of 200 EUR for the bonus even if you deposit an amount higher than that.
The bonus amount is non-transferable
All new players can avail of this bonus only once
---
---
Live Betting
There is no separate live betting section on the website. Instead, live betting is under online sportsbook. To access the live betting section, go to the list of events and click on the InPlay section. From here, you'll see all the live events you can bet on.
Some of the more popular live events that you can check out include football, basketball, cricket, golf, and tennis. With the live betting section, you can participate in some of the most exciting sporting events in real-time.
---
Cash Out Feature
Just like most modern sportsbooks, Spin Sports offers a nice cashout feature. The cash-out feature is one of the most useful features that you can find in any sportsbook.
The cash-out feature is a risk management feature that allows you to pull out of a bet even before the event finished. That is very handy if your calculations tell you that the odds won't be in your favour later on in the game.
---
Live Streaming Services
Live streaming is also a popular feature in the live betting sections of most popular sportsbooks. Live streaming allows you to watch games that are happening at the moment. It's an excellent feature for hardcore sports fans who can't miss games.
Unfortunately, though, Spin Sports still does not have live streaming section for players to enjoy. If you'd like to avail of live streaming services, you'll have to find a third-party streaming platform.
---
Spin Casino
Let's now move on to the Spin casino. Since the Spin Sports brand is known for its first casino, you'll surely treat to a good experience with their online casino.
In this casino, you have the chance to play from a collection of really nice games. There are slot games, table games, roulette games, and many more – each with its theme. You'll surely be able to entertain yourself the whole day just playing these.
---
Casino Welcome Bonus – €1000 Free
If you enjoyed the sportsbook bonus, then you'll also surely enjoy the casino welcome bonus. Just like the sportsbook's welcome bonus, this one is also very generous and attractive. You'll get a bonus amounting to a whopping 1000 EUR just for signing up and making a deposit. To avail of the promotion, you need to take note of these terms and conditions:
To receive the full amount, you need to make deposits in three increments.
You will receive a 100% match bonus for depositing 400 EUR.
On the second time, you'll receive a 100% match bonus for depositing 300 EUR.
On the third time, you'll receive a 100% match bonus for depositing 300 EUR.
You have seven days to complete all these requirements before your offer becomes void.
---
Options for Deposits and Withdrawals
While the website does provide you with a list of the withdrawal and deposit methods, you won't find that many details on each payment method. Here's a table of the various deposit and withdrawal methods that you can use:
| Payment Method | Deposit Minimum | Deposit Maximum | Time for Deposit | Minimum Withdrawal | Withdrawal Maximum | Time for Withdrawal |
| --- | --- | --- | --- | --- | --- | --- |
| Visa | €10 | no limit | Instant | €50 | €10 000/day | 2-3 days |
| MasterCard | €10 | no limit | Instant | | | |
| Neteller | €10 | no limit | Instant | €50 | €10 000/day | 24 hours |
| Skrill | €10 | no limit | Instant | €50 | €10 000/day | 24 hours |
| EcoPayz | €10 | no limit | Instant | €50 | €10 000/day | 24 hours |
| Ecocard | €10 | no limit | Instant | €50 | €10 000/day | 24 hours |
| ZapZap | €10 | no limit | Instant | €50 | €10 000/day | 24 hours |
---
Spin Sports Mobile App
If you're more of a mobile gambler rather than a desktop gambler, then you'll probably prefer the mobile platform of Spin Sports than the regular platform. To access the mobile platform, all you have to do is scroll over to the header and click on the Mobile Sports section. From there, you'll be able to gain access to the more optimized mobile platform. All the functions and features are the same as the desktop version. The only difference is that the layout fits the mobile phone's screen.

While Spin Sports has a pretty good mobile platform to brag about, it does not have a mobile app. It means that you won't find Spin Sports in the Apple Store or Google Play. If you want to play in Spin Sports, you have to make do with the mobile website.

The same goes for the Spin casino mobile platform. To access this platform, the only thing you have to do is access the website via your mobile browser. From there, click on the link leading to the casino section and you should be brought to the mobile casino right away.

To have an idea of what the mobile platform looks like, you can take a look at the screenshot we've provided to the left part.
---
Spin Sports Affiliate Program
While betting on sports and having a winning streak in the casino offers a lot of cash, it's better if you have a steady stream of income that can allow you to continue funding your gambling activities in case you're having a bad day. Enter the Spin Sports affiliate program, a commission program that gives you money every time you drive quality traffic to the platform. The affiliate program provided by Buffalo Partners and gives you access to various partners under the parent umbrella. Not only does it provide an easy-to-use dashboard that allows you to monitor your traffic, but it also gives very generous commissions.
To give you an idea, here's what the commission scheme is like:
1 to 10 referrals – 25%
11 to 40 referrals – 30%
41 to 100 referrals – 35%
101 and higher – 40%
That's just the basic commission scheme. There are also times when Buffalo Partners offers extra incentives like a 50% commission on your first month and many more.
---
Questions & Answers
How to activate and verify your Spin Sports account?
To activate your account, you need to check your email after you create your account. Look for the email sent by Spin Sports and follow the instructions there. After that, you can use your Spin sports login details to enter your account like normal.

As for the verification, you need to send or upload a copy of your valid government ID and a proof of address such as a bank statement, credit card bill, or a utility bill.
How can I recover a forgotten password?
In case you forgot your password, go to the login section of the website and click on the Forgotten Password option. From there, you'll given instructions on how to reset your password.
Is there a no deposit bonus available at Spin Sports?
Spin Sports doesn't have no deposit bonus, though there's a sign-up offer available at both the sportsbook and casino section upon successfully signing up.
Is there a live casino in Spin Sports?
Yes, there is a live casino in Spin Sports. You can find the live casino option on the topmost part of the website beside the Casino option (there is a blue star beside it).
Does the welcome bonus require a Spin Sports promo code?
The new customer offer doesn't require you to use any promo code for you to avail of it. All you have to do is click on the Sign On Free bet section, click on the bonus you want to avail of, create an account through the Spin sports registration process, make the minimum deposit, and take note of the terms and conditions.
Is there going to be a Spin sports mobile app for the Spin Sports mobile platform for download?
There is no news as to whether or not Spin Sports will make a dedicated app for their mobile platform. For now, you can access the mobile platform via your mobile browser.
Will a live streaming section be added any time in the future?
There is no announcement as to whether a live streaming section will be added any time soon. However, you can check back with the website from time to time to see if there are any updates.
Are there any other bonuses offered other than the sign-up bonus?
So far, the two main bonuses are the sign-up offers for new customers and free bets for existing players. The Spin Special offers basic enhanced odds while the Super Spin Special offers enhanced winnings paid as free bets.
---
About Spin Sport
The cool thing about Spin Sports is that it isn't such a new player in the industry. While the website itself founded in 2017, the company brand handling the platform has been around for even longer than that. One of its earlier brands is known as Spin Palace Casino, which has been around since 2001. That makes Spin Sports one of the most well-experienced brands in the market.
---
Contact Details
If you have any inquiries or any concerns that you need help with, you can also contact Spin Sports' customer service. The great thing about Spin Sports is that it offers two of the most practical ways that you can contact customer support. They offer both live chat and email options.
Below, we've listed the Spin Sports contact details that you need to know:
---
Final Rating and Conclusion
That concludes our full and detailed Spin sports review. To recap, Spin Sports is known for its wide selection of sports events and casino games, high-quality live betting section, payment methods, generous welcome bonuses, and Asian handicaps. They're also quite known for satisfactory odds and very fast payout times. About legitimacy, they have two licences – one that comes from Malta and the other from Kahnawake.
Those are some of the pros that we've noticed from the platform. As for the cons, they don't have dedicated apps, they don't have live streaming, and they don't accept players from the US. Those are just minor disadvantages, though.
One of the main disadvantages that you may notice is that they don't give enough details regarding their payment methods, such as processing time for deposits and withdrawals. It is rather crucial if you're a conservative punter who wants to know all details before signing up.
Other than that, we can say that Spin Sports is worth checking out. They may be new, but they do have immense potential. With that, they deserve a rating of 3.8 out of 5.