Is there a Royal Panda mobile app for Android?
For a company as well established as Royal Panda, we are a little surprised they have not yet developed an app for Android devices. Despite this, any Android users will not have any issues accessing Royal Panda's range of games and features as the mobile site is fully fit for purpose. Simply access the site using your preferred mobile browser and Royal Panda will automatically direct you to the mobile-optimised version of the site.
---
Is there a Royal Panda mobile app for iOS?
They may not have found the time to yet develop an Android app but Royal Panda have managed to release an official app for Apple devices, so at least 25% of the world is ok! The quite recently released app is incredibly similar to the mobile site in design with many pages identical in appearance. There has not yet been an update for the app but this seems to be because it lacks major flaws rather than it being simply neglected. Parent company LeoVegas have spent years tweaking and improving their own app so the RoyalPanda brand is simply able to enjoy the fruits of all their earlier work it seems.
---
How to install the Royal Panda app for iOS?
The Royal Panda iOS application is available directly in the App Store so there is no messing around locating and installing external files. There are a few simple steps which you should follow to get the Royal Panda iOS app on your device. Here there are:
Head to the App Store as usual while logged in
Search for the official Royal Panda app, made by Royal Panda Ltd
To begin the download, tap the 'Get' button
Due to its small 7.2mb size, it will installed in a matter of seconds on most connections.
---
Royal Panda mobile version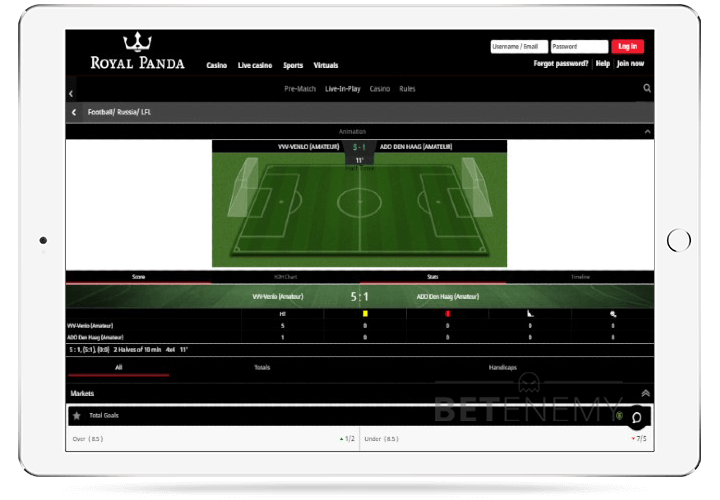 With both the mobile site and iOS so similar in their design and usability, we can talk about them together generally as the 'mobile version'. Users on their smartphone devices or tablets will still enjoy the classic Royal Panda design but they also have access to menus and icons far more tailored towards smaller screens.
Overall the design is very sensible and Royal Panda's techies have avoided adding anything too demanding on your device. You may occasionally experience a little bit of a delay when loading certain pages but generally speaking the app and mobile site both perform well.
Users can access the full range of account settings while on the mobile site and they also have direct access to live customer support. There has been a real effort to keep the desktop and mobile sites as close as possible with users able to access all the same features. Even payments are taken in exactly the same way so transitioning from PC to mobile is a very easy task.
---
How to use the Royal Panda mobile version?
If you are an Apple user who has the app downloaded you can simply tap the shortcut to the app and login with your usual details to get started. For the rest of you, just search for Royal Panda using your search engine and make your way to the website. While on the website, the most important shortcuts are always found across the bottom menu. There is also an option to receive notifications on the very right hand side of the screen. Tap this button to allow or block push notifications.
To play any of the many casino games Royal Panda has to offer, click the game icon and then allow for it to load. Games vary in their design but typically there will be an option to select your stake size, often across the bottom of the screen, before you begin. If you wish to play games for free, make sure you are not logged into your account to access the free demo games.
As for placing sports bets, navigate to the event you want using the menu headings and then simply tap the odds of a certain event in order to add it to your bet slip. The bet slip, which can be accessed by tapping the button in the bottom right of the screen, will feature all selections you have selected. Depending on what you have added, you can then choose to place single or multiple bets, the latter available via a drop-down menu towards the bottom of the bet slip.
---
Sports Betting on mobile
Head to the Royal Panda mobile sports book by tapping the 'sports' button located on the bottom menu. It isn't possible to customise the display of the sports book, like you can on the desktop site, but there is no real need to with the mobile sports book very user-friendly. Collapsible menus allow users to easily view different sports and in addition, there is often a helpful range of options to choose from on the top menu. Players seeking great value for money can search for 'boosted odds' by tapping the slider on the pre-match page and in most cases there are plenty of these.
---
Mobile Features
---
Royal Panda casino mobile
Although the mobile casino does not boast quite as much depth as the desktop site, there is still plenty to go at. Mobile users enjoy a great range of options across a wide number of games such as roulette, blackjack, slots (video, jackpot and classic) and video poker.
Although these are the only categories visible on the mobile site, you can also access things such as scratch cards and 'soft games'. To view these though you will need to find them using the search box. The search function is a highly useful way of finding games but it is prone to being a little sluggish.
Much like on the desktop site, users can also filter games by developer. If you have a software developer you are particularly fond of, simply select them from the drop-down list to easily access all of their games. Tap any game you like and providing it is available to players in your country, it will load and then be ready to play.
---
Is there a mobile bonus?
Royal Panda do not offer a bonus exclusively for mobile users, preferring instead to give all players access to the same offers regardless of the device they use. So, while there are no mobile-specific treats, anyone accessing the site on their smartphone or tablet can enjoy all the great promotions Royal Panda has to offer. The only thing to be aware of is that some deals are sent exclusively via marketing communications so make sure you have ticked to accept these so you don't miss out.
---
System Requirements and Compatibility
The iOS app is compatible with any iPhone, iPad and iPod touch running iOS 11.3 or later. As this is a fairly recent release, users with old Apple devices may not be able to download the app. This is not a big issue however as the Royal Panda site performs without issue in-browser when using Safari (and other browsers too).
Android users just need a mobile browser to access the Royal Panda website on their device. There are no minimum requirements needed to access the mobile site but live casino games may not run smoothly if you have poor signal/weak Wi-Fi connection.
The mobile version of Royal Panda is available for smart devices such as: Samsung, HTC, Lenovo, LG, HUAWEI, Sony, ZTE, Asus, Acer and others.
---
Mobile deposit & withdrawal payments
When making a payment at Royal Panda, users follow a simple five-step process. Select your payment method, enter the deposit amount, then choose a bonus, confirm the deposit and last of all wait to receive confirmation. Payment methods accepted at Royal Panda feature below but be aware you might see a slightly different selection depending on your location. Also, as per the table below, note that not all methods are available for both deposits and withdrawals.
Deposit Methods
Withdrawal Methods
| Payment Method | Deposit Minimum | Deposit Maximum | Time for Deposit | Taxes |
| --- | --- | --- | --- | --- |
| Visa | €10 | €50 000 | Instant | 0% |
| MasterCard | €10 | €50 000 | Instant | 0% |
| Neteller | €10 | €10 000 | Instant | 0% |
| Skrill | €10 | €15 000 | Instant | 0% |
| Fast Bank Transfer | | | | 0% |
| Trustly | €10 | €15 000 | Instant | 0% |
| PayPal | €10 | €15 000 | Instant | 0% |
| Paysafe Card | €10 | €15 000 | Instant | 0% |
| EcoPayz | €10 | €15 000 | Instant | 0% |
| Sofort | €10 | €15 000 | Instant | 0% |
| IDebit | €10 | €15 000 | Instant | 0% |
| GiroPay | €10 | €15 000 | Instant | 0% |
| AstroPay | €10 | €15 000 | Instant | 0% |
| Zimpler | €10 | €15 000 | Instant | 0% |
| Instadebit | €10 | €15 000 | Instant | 0% |
| Euteller | €10 | €15 000 | Instant | 0% |
| Epro | €10 | €2500 | Instant | 0% |
| Safetypay | €10 | €15 000 | Instant | 0% |
| MuchBetter | €10 | €15 000 | Instant | 0% |
| iWallet | €10 | €15 000 | Instant | 0% |
| Interac | €10 | €15 000 | Instant | 0% |
| Venus Point | €10 | €15 000 | Instant | 0% |
| Payment Method | Withdrawal Minimum | Withdrawal Maximum | Time for Withdrawal | Taxes |
| --- | --- | --- | --- | --- |
| Visa | €10 | €50 000 | 1 to 5 days | 0% |
| MasterCard | €10 | €50 000 | 1 to 5 days | 0% |
| Neteller | €10 | €100 000 | Instant | 0% |
| Skrill | €10 | €100 000 | Instant | 0% |
| Fast Bank Transfer | €10 | €100 000 | 1 to 5 days | 0% |
| Trustly | | | | 0% |
| PayPal | | | | 0% |
| Paysafe Card | | | | 0% |
| EcoPayz | | | | 0% |
| Sofort | | | | 0% |
| IDebit | | | | 0% |
| GiroPay | | | | 0% |
| AstroPay | | | | 0% |
| Zimpler | | | | 0% |
| Instadebit | | | | 0% |
| Euteller | | | | 0% |
| Epro | | | | 0% |
| Safetypay | | | | 0% |
| MuchBetter | | | | 0% |
| iWallet | | | | 0% |
| Interac | | | | 0% |
| Venus Point | | | | 0% |
Visa, MasterCard, Skrill, Neteller, Paysafe Card, AstroPay, EcoPayz, Epro, Euteller, GiroPay, IDebit, Instadebit, Interac, iWallet, MuchBetter, PayPal, Safetypay, Sofort, Trustly, Zimpler, Venus Point
Fast Bank Transfer, Skrill, Neteller, Visa, MasterCard
As standard, no fees are applied by Royal Panda but they do reserve the right to charge a 10% fee should a user request a withdrawal without turning over the deposit amount at least once.
---
Questions & Answers
Is a Royal Panda mobile app available for my Android or iOS device?
At this moment in time, there is only a Royal Panda iOS app. As it is a reasonably new app, it is not unrealistic to think that an Android apk download will follow in the coming months.
Can I change the odds from fractional to decimal?
Yes, you can change the odds format by accessing the bet slip. At the top of the bet slip there is a drop-down menu featuring all the different odds types including fractional and decimal. Once you have selected an option, all odds on the site will automatically be updated to reflect the change.
How do I play Royal Panda games on my tablet or phone?
Load the Royal Panda website or app and click the game icon for any game you wish to play. If you are logged in the real-money version of the game will load. If you are unsure how to then place your bets, each game will feature an instruction manual/help page.
Can I play Royal Panda mobile for free?
Most games come with a free-to-play 'demo' version. To access these however you must not be logged in to your account. While logged in only the real money version of games will load.
How can I check the progress I've made on my bonuses?
When logged in, tap the 'my account' button and then select 'my bonuses'. Here you can find information relating to all bonuses applied to your account including their expiration date and remaining wagering requirement.
Can I make logging into my mobile account more secure?
Royal Panda supports two-factor authorisation should you want to include an additional layer of security to your account. You can add this by installing Google Authenticator and then following the instructions listed on the 'Two factor auth' page of your account.
Can I view the mobile site in another language?
Yes, at the bottom of the page you can choose from eight different languages: Chinese, English, Finnish, German, Japanese, Norwegian, Portuguese and Spanish.
---
About the Company
First appearing in 2014, Royal Panda enjoyed a promising start to life in the online casino industry. Attracting customers with their strong branding, easy to use website and range of casino games, Royal Panda went from strength to strength, later adding sports betting to their range of facilities. Impressed by what they saw, Swedish company LeoVegas sought to purchase the Royal Panda brand, In 2016 the deal was done, worth an initial €60m up front but including another €60m tied to add-ons.
When the buyout was finalised, around half of Royal Panda's user base was in the UK. Dwindling profits plus some additional factors related to licensing and regulation led parent company LeoVegas to pull the brand out of the UK market at the start of 2020. This decision allowed Royal Panda to focus on other countries where its Maltese gambling licence (MGA/CRP/237/2013) allows it to operate, including in places such as India.
---
Contact details
Players can access live chat 24/7 by tapping the black and white speech bubble icon in the bottom right hand corner of the screen. If you prefer you can also email your enquiries.
---
Mobile Rating and Conclusion
While we were not blown away by the Royal Panda mobile experience, there are very few negative things we can point out about it. Extremely cutting edge and innovative it might not be, but its more basic design allows for no-nonsense, quick and easy access. Now and again we experienced some minor performance issues but largely the site is fast to load and particularly so when it comes to the sports book.
Finding particular casino games or sporting fixtures is not a task made needlessly hard thanks to the sensible layout and search box functions. It is also easy to claim any kind of deposit-linked bonus as they will always feature when making a payment into your account (providing you are using an eligible payment method). All in all, if you are considering trying Royal Panda out, or if you are seeking a new mobile casino or sports betting provider, this is a place well worth considering.
Overall rating: 4.5/5