RedZone Sports Review
RedZone Sports is one of the favourite betting websites of all the punters who know their game when it comes to American Sports. RedZone focuses on disciplines such as Rugby, American football, Aussie Rules, etc. The bookie offers not only an extensive sportsbook but a decent casino section, as well. Let's take a look.
---
RedZone Sports Registration
Press the red "Join Now" button, which can be found in the top right-hand corner of the website.
You are then asked to enter personal information – gender, name, birth date and email. Click "Next" to move to the second registration page.
Now, enter your country of residence, phone number and address. When you have completed that, press "Next".
You are then asked to create information for your new account. Come up with a username and password. You can also select what odds you want bets to be displayed in, as well as what currency you want to play with.
If you want to, you can set daily, weekly or monthly deposit limits, to ensure that your playing does not get out of hand. Please note that this can always be revised later in your account settings.
Complete the mandatory captcha at the bottom, and tick the box that states that you have accepted the terms and conditions, and the privacy policy of the site.
Finally, click the "Create Account" button, and there you go.
---
Website Layout & Navigation
The homepage for RedZone is their sports betting, making it accessible to users immediately. Punters can see information on live events, as well as a revolving banner of big upcoming events, should they be interested. There is a full list of all of the sports that are offered by the site on the left of the page, so punters can easily scroll down and find whatever they like. RedZone has also provided a search bar so that bettors can swiftly find the exact event or championship they are looking for. Just like many other sites, the betting slip is displayed on the right-hand side of the page, to keep track of bets easily.
The other parts of the site are clearly signposted, and just as easy to select (punters can browse the in-play, casino, live casino, virtuals, and promotions sections if they wish). The casino is set out in such a way that makes it equally as easy to navigate. There is a search bar to locate an exact game immediately, as well as games separated by type (new games, blackjack, slots, etc.).
Overall the site is very easy to navigate, and not too crowded, meaning that users can easily find their way around, and locate whatever it is they are looking for.
---
Betting on Sports
Sports betting is the main draw to the website, and RedZone does their best to accommodate the interests of all sports bettors with a range of sports and betting markets on offer.
Betting Options
RedZone offers betting opportunities on 26 different sports, including horse racing and greyhounds, as well as eSports. Each sport has a hefty range of betting markets so that punters can specifically bet on what aspects they are confident in, increasing their chances of winning.
Underneath the sports betting section, RedZone also offers "Special Events", which are not necessarily sports-related, but punters may still like to bet on. This subsection accepts bets on outcomes within British politics, as well as who will win the American election. Not only that, but there is also the opportunity to bet on the winner of popular reality television shows, such as Dancing on Ice.
RedZone also has a section called "Enhanced Odds", which is a selection of events with certain betting opportunities that are RedZone Sports best odds guaranteed, for punters who are looking to win a little extra.
About the Odds
RedZone offers sports betting in fractional, decimal and American odds. Although you can choose your preference when you sign up, you can easily switch it at any time from the sports betting home page. Simply locate the decimals information in the top right-hand corner of the screen, and click on it for a drop-down menu of all of your options. Select your preference and continue to bet.
---
RedZone Sports Welcome Bonus
It's uncustomary for sportsbooks such as RedZone not to offer its newest customers an incentive to deposit. However, that is the case with RedZone, as a RedZoneSports sign up offer is not available upon registration. We must admit, considering their competition, we are somewhat baffled by the lack of a RedZonesports welcome offer.
Although to compensate, RedZone does feature several other promotions, such as their "Win in the first five minutes" offer. This promotion will pay out to any member opting in whose team scores in the first five minutes of play. As for any other promotions, these are only viewable to registered members, therefore registering is the best route to go.
---
Rewards Points at RedZone
RedZone offers a unique draw to their website in the form of rewards points. For every bet using real money that you make, you can also receive rewards points. Different betting activities are rewarded with a different number of points, regardless of whether you win or lose the bet. These points can then be accumulated and used to buy things from the reward store. These points are available for both casino and sports betting.
---
---
Live Betting
RedZone offers live betting for its punters. This allows users to bet on events that have already started, and usually with odds that change in real-time to reflect what is happening in the match or game. The In-Play section of the website can be easily sorted by sports (punters just need to click the sports icon that they are interested in, to find current events). You can also see a schedule of events that are coming up, up to a week in the future. The betting market for in-play events is far more limited than for events that have not yet started, but they still offer a decent range for punters who are interested in last-minute bets.
---
Cash Out Feature
Cash-out is a feature that is commonly found on betting sites, including RedZone. Punters have the opportunity to exit a bet before the event has finished, taking winnings based on the odds at that moment, regardless of the final outcome of the event. This is great for events that look like they might take a turn for the worse at any moment and allows you to leave with some winnings. RedZone does not offer this service on all of its sports bets, only some. In order to find out which bets can be cashed out, check your betting slip, where it will be displayed.
---
Live Streaming Services
We are happy to announce that RedZone Sports already offers live streaming services for the horse racings and the greyhound racings. You need to sign up to your account and enjoy this newly presented feature.
In addition, they also offer a live visualization of many games such as football. This is a common alternative to live streaming, where you can watch the event, but it does mean that punters can see roughly what is going on with the game, the position of the ball, etc. It provides just enough information to help support live bets.
---
RedZone Sport Casino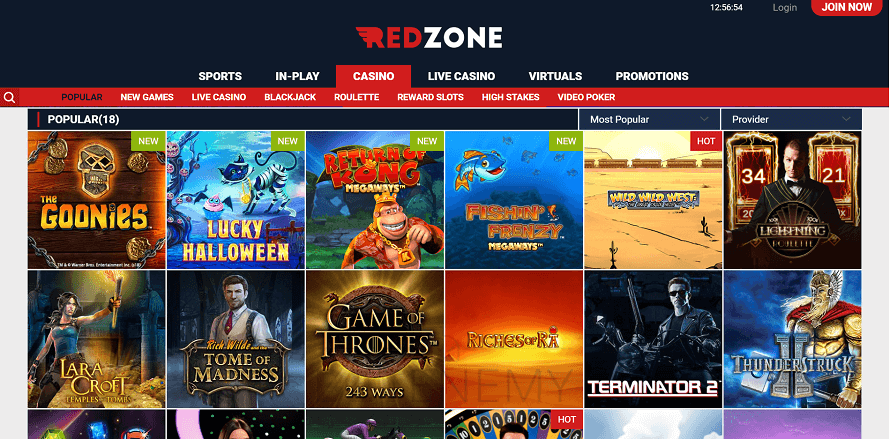 The casino is also extensive, for those who would rather this form of betting. Games can be presented in A-Z order, most popular or newest to oldest, and bettors can also browse games by provider. There are numerous variations of many games so that you can find one that suits your exact tastes. At the top of the casino webpage, punters can select the type of casino game they are interested in, to browse only that selection. There are over 300 different slot games, 15 roulette tables, and 22 blackjack games, to name some of the offerings.
---
Live Casino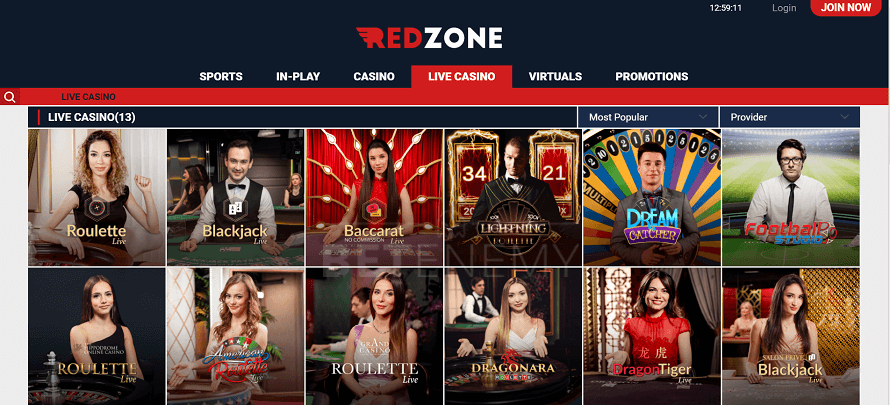 RedZone also offers a live casino, with 13 different game options to choose from. These include baccarat, roulette and blackjack. Punters can choose between a few different alternatives of the same game, to find one that they prefer. Although the live casino is not as extensive as many others from online bookmakers, it makes up for it in quality. They only host one provider, Evolution, which is known to create a great social environment for bettors to play against each other. Perhaps the only downside to this live casino is that there are no hold'em poker games on offer, which is a very common and popular on other sites.
---
RedZone Virtuals
For punters who are interested in betting on Virtual Sports, RedZone offers virtual horse racing, greyhounds and football. Football events are three minutes long, and greyhounds/horse races are two minutes each. Events happen one after the other, and punters can win up to £50,000 daily. Each event has a few betting markets to choose from and bet on, and the swiftness of these events are great for punters with a limited amount of time.
---
Options for Deposits and Withdrawals
RedZone has somewhat limited options when it comes to depositing and withdrawing funds, compared to other betting sites. Punters can deposit money into their accounts via Visa, Mastercard, Trustly or Boku, and can withdraw money using any of the first three options. The website also specifies that for legal reasons, punters can only withdraw money using the method that was used to initially deposit it, although this is standard for online bookmakers.
Although there are no set fees for depositing and withdrawing funds, RedZone says that there may be fees incurred to cover costs, although users will be notified of these before they are applied to any transactions.
Deposit Methods
Withdrawal Methods
| Payment Method | Deposit Minimum | Deposit Maximum | Time for Deposit | Taxes |
| --- | --- | --- | --- | --- |
| Visa | £10 | £20 000 | Instant | Free |
| Bank Wire Transfer | £10 | £20 000 | Instant | Free |
| Trustly | £10 | £20 000 | Instant | Free |
| MasterCard | £10 | £20 000 | Instant | Free |
| Payment Method | Withdrawal Minimum | Withdrawal Maximum | Time for Withdrawal | Taxes |
| --- | --- | --- | --- | --- |
| Visa | £20 | £20 000 | 3-5 Working Days | Free |
| Bank Wire Transfer | £20 | £20 000 | 3-5 Working Days | Free |
| Trustly | £20 | £20 000 | 3-5 Working Days | Free |
| MasterCard | £20 | £20 000 | 3-5 Working Days | Free |
Visa, MasterCard, Trustly, Bank Wire Transfer
Visa, Bank Wire Transfer, Trustly, MasterCard
---
RedZone Mobile App
RedZone currently offers a mobile app for iOS only to their customers, there isn't an app for Android or on any other software platform. This can be seen as a downside to the bookmaker, as many people who own an Android device are turning to handheld devices to bet on, as opposed to a desktop, which is less convenient.
Despite this, punters can still access the website on their mobile devices. The site automatically adjusts to better perform on smaller touch screens, so that punters can still easily bet wherever, and whenever they want. You can still do everything that you can on that main version of the site; everything is just displayed slightly differently for ease of use.
---
RedZone Sports Affiliate Program
RedZone has created an affiliate program in order to increase its customer base. Punters have the opportunity to
become a partner
with the site and encourage new users to sign up. Affiliates have some freedom to choose their own payment, such as lifetime shares in the company, or CPA for each player. They also receive loyalty rewards that can be redeemed as free bets or merchandise from the rewards store (the same store that points can be redeemed at).
---
FAQ
How do I verify my RedZone account?
When you register your RedZone account, your information is shared with a third-party service, that validates the data. They will ask to see copies of personal identification (such as your passport, drivers' license, national ID card, or UK photo citizen card), and proof of address.
How do I recover my lost password?
If you have forgotten your password, click on the "Forgot your password" link, found on the RedZone Sports login screen. Fill in your email address and date of birth, and complete the captcha. You will be sent an email with a link to reset your password.

Alternatively, if you have forgotten your username, email customer support from the email address you used to sign up with, they will ask you to verify your full name, date of birth and postcode, then you will be given access to your account.
Is there a no-deposit bonus available at RedZone Sports?
No, all of the RedZone Sports bonuses that are currently available require that you first deposit real money. There is no way to win anything from the site without first using your own money.
Does RedZone Sports offer any kind of welcome bonus?
No, there are no promotions specifically for new users. When you register, you have the opportunity to add in a RedZone Sports promo code if you have a valid one, but there are no traditional bonuses offered like many other bookies. There are, however, other promos that you can take advantage of once you are a verified user of the site.
What currencies does this site accept?
Currently, RedZone accepts EUR and GBP. You can choose your preference when you register, but this can also be changed in your account settings at any time.
Can I use more than one payment method?
Yes, you can, but punters should be advised that for legal reasons, winnings can only be withdrawn from the site using the method that was used to deposit the money in the first place, not an alternative method.
Do I have to pay tax on any winnings?
No, you do not need to pay tax on any betting winnings.
---
About RedZone Sports
RedZone Sports launched as an online booking site in 2016 and has thrived in the past three years. They have opted for an international approach to their site, focusing not only on the UK and Irish sports, but making sure that they also take full advantage of U.S. sport expertise when it comes to major betting stakes on sports like NFL, baseball and basketball. The Switzerland-based site is licensed and registered by the UK Gaming Commission and includes an online casino with an array of games, as well as a live casino.
---
Contact Details:
Telephone: Not available on the website
Email: help@redzonesports.bet
Live Chat: Yes, available from 12 pm to 10 pm every day
Address: Argyll Entertainment | Bahnhofstrasse 10 | 6300 | Zug | Switzerland
---
Final Rating and Conclusion
RedZone Sports is a relatively new international bookmaker, but this has not prevented them from offering a high-quality product for punters. The site is easy to use and offers a wide range of betting opportunities for bettors of all interests.
There are a few things that the site does lack, which could be seen as potential dealbreakers for customers. Currently, the site does not offer live streaming services, nor does it provide a mobile app for those who wish to play on handheld devices. Although customers can still take advantage of the mobile version of the site, which can be used on phones or tablets, it is not as convenient as an app.
The site is also somewhat limited when it comes to offers and promotions. There is no RedZone Sport welcome offer for new customers, and relatively few bonuses for existing players, compared to other betting sites. In fairness to the site though, they do have their rewards point system, which still allows punters to win a little extra just for playing on the site.
Despite these negative aspects, the site offers decent odds when it comes to sports betting (this is not including their enhanced odds bets, which are almost always some of the best on the market), and a variety of casino games and sports bets to suit the tastes of all punters. Although the site is currently only available for the UK or Irish residents, they make sure that customers can experience betting on local games, but also international ones.