Racebets Review
Horse racing has been a favourite sport among bettors for generations. It has been practised since the 12th century when the Crusaders brought home with them beautiful Arabian stallions which were then bred with English mares to create the perfect racing breed. Since then, horse racing has become a significant sport throughout Europe, America, and India. This is the prime focus of the brand RaceBets. In this review, we will take a look at the specifics and options of its betting platform.
---
Registration
Any interested individual can register for free at Racerbets.com. However, depending on what country you are from, betting taxes might be applied. Before registration, here are some important pointers to remember:
Registration requirements
Eligible players should and must be 18 years old and above. However, check on your country's regulations about minimum age for online gambling.
One account is for one person only.
Multiple accesses in one account are prohibited.
Your account is for personal use only.
If any of the rules mentioned above are disobeyed, it is the right of the company to take proper actions. Also, they actively encourage each interested individual to check and follow their country's laws before applying for an account.
Step-by-step Guide Registration
Part 1
Part 1 of the registration asks you to provide your account details. To complete part 1 of registration, make sure to fill out the following:
Enter your valid and current email address.
Select a unique username that suits you best.
Create a password that contains an uppercase letter, a lowercase letter, numbers, and a special character. Also, make sure to make it at least 8 characters.
Confirm your password by retyping it on the next box. Make sure it matches!
Select your country of residence.
Select your current currency of choice.
Choose your correct time zone.
Under responsible gaming, you can choose to have limits on your bets or not. Racebets cares for every customer which ensures you for your money's safety.
Make sure to agree to the company's terms and conditions by ticking the box!
Part 2
Part 2 of the registration requires your personal details. To complete part 2 of the registration, make sure to follow these instructions:
Enter your first name/s.
Enter your last name.
Choose your gender.
Enter your correct birthdate.
Fill out your address by changing the country and filling in additional details for your address.
Filling out your mobile phone number is optional.
Lastly, click 'secure account' to complete your registration and enjoy!
How to activate and verify our account?
It is important in Racebets to have your accounts verified. This step is necessary because regulations should be followed. The regulator in the different territories, it is regulated by the Maltese Gaming Authority. There are several ways to verify your account.
After your successful registration, you need to check your email account to verify your email address. Check your spam folder if the verification email from Racebets is not in your inbox. Once your email has been verified, you have full access and can deposit in Racebets.com without any issues.
For further verification, it is important to provide a COLOURED photocopy of:
Personal Identification (1 PHOTO ID): Passport, Driver's license, National Identification card, Citizencard via citizencard.com (frontand back)
Address Verification: Utility Bill (less than 6 months), Tax Bill (less than 6 months), Bank Statement (less than 6 months), LandlineBill (less than 6 months, has to include your address)
Photocopies of the documents must be CLEAR AND LEGIBLE. They should show all FOUR CORNERS and FULL DOCUMENT; otherwise processing period may take longer. Your documents should state RESIDENTIAL ADDRESS and NOT P.O box number. SCANNED IMAGES of your documents can be uploaded to account verification page upon logging in your account. Alternatively, you can email the scanned images of your documents at support-en@racebets.com. If you wish to verify via mail, post to: RaceBets International Gaming Ltd., Verification Team, Dragonara Business Centre, Dragonara Road, St. Julians STJ 3141, Malta.
Age verification is important in Racebets. This is to ensure the security of your account and for us to verify the age of their customers. It should be done within 3 days of your newly registered account.
Always remember to verify your email and your identity and age (by following step 2 and 3) to ensure a hassle-free betting experience. This also ensures you to deposit bets and withdraw winning without any issue.
What to do if you have forgotten your password and account name?
If you have tried to log in to your account and find yourself scratching your head while filling in the boxes or blanks, it might seem you may have forgotten them. Don't worry! Racebets can help you with this simple problem.
If you have forgotten your password, you can simply click "Forgotten Password" to provide yourself a new password. If not, you can contact their support team by email (support-en@racebets.com) or via telephone +44 808 238 0022.
For forgotten username, unfortunately, you can only solve this problem by contacting their support team or by calling us with the provided information above.
---
Website Review: Design and Layouts
Racebets.com has a user-friendly homepage for easy access. The black bar at the top of the site has tabs that organise and group the things you need. The webpage is coloured dominantly with black and has accents of yellow ochre. Besides, the buttons are distinguished with its orange and yellow gradient colour. A minimalist design and layout are used in Racebets to have a cleaner and classier look. With this, it provides a pleasing experience to the eyes while you are placing your bets and decide what market to choose!
In the home tab, you can see on the upper right corner where you can sign-in, if already a member, or sign-up if you want to join. On the top left corner, you can see a sidebar that contains race details. On the centre, you can see an array of information ranging from promos, upcoming events and highlights. Placing this information on their homepage provides customers with the most essential details they want without clicking different tabs.
Racebets offers a variety of betting categories for its customers. These are the betting categories offered in the site:
Fixed-Odd Betting
In making a fixed-odds bet, you are making a wager at a fixed price provided by their company. Once your bet has been accepted, you are guaranteed to get the price despite having odds shortened. However, this category of betting is only available in selected races only.
Bookmaker Betting
This category refers to bets other than the fixed-odd bets held by their company at our their own risk. Furthermore, in this category, you are unaware of the odds. They may also refer to bookmaker betting as Starting Price betting or SP betting.
Tote Betting
Tote bets are bets placed in a pool. Like the SP betting, you are unaware of the odds as you put your bets. Aside from a variety of betting categories, a wide array of betting types is offered in Racebets. The betting types you can play in Racebets are as follows:
Win bet
Place bet
Show bet
Win/Place/Show Bet
Each-Way Bet
Ita Bet
Trita Bet
Forecast Bet
Quinella Bet
Tricast Bet
Trio Bet
Swinger Bet
Superfecta Bet
Pick Bets
These types of bets depend on the market, race type, event country, and bet category. For the rules and regulations of each bet type, their support page offers every detail you need to know.
---
RaceBets Horse Races Betting Markets Review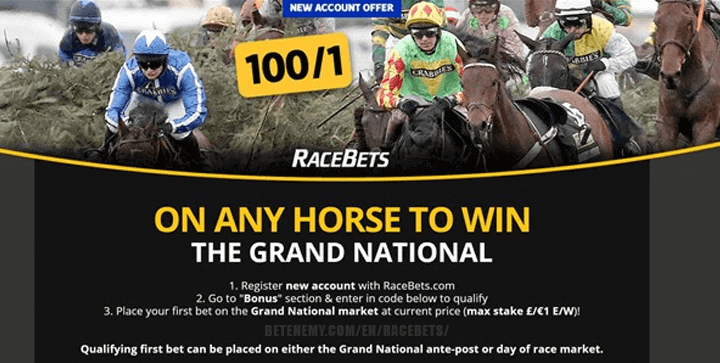 There are various betting markets offered in Racebets. Here are their 5 different markets where you can place your bets:
Betting Markets
Ante-Post
Ante-post prices are offered before the day of the "Day-of-Race" bets. These markets are offered up to and including the day before the event or race. However, bets will be void if odds areincorrectly left up to the website in any course of Ante-Post Entry/Forfeit or Declaration.
Early Prices
Early prices markets are offered in all Irish, German, French, and South African markets. It is also the term used when fixed odd bets are available.
Day-of-Race
Day-of-race markets are offered at the time which overnight declaration has been made.
Head-to-head
This type of market is offered in certain races, with markets available for match-ups chosen by us, Racebet. Fixed odd bets are offered for either horse to finish the race ahead of oneanother. In Racebets, they try to match runners that they think are and have similar chances of winning. However, you should remember that your horses do not need to win the race to win yourbet. Your horse SHOULD finish in front of the horse that matched in the head-to-head market. If the runners become non-runners or did not finish the race, all bets are voided,and stake money is refunded.
Special Bets
There are various special bets with fixed odd bets. However, rules in this type of market may vary. Only Racebets can define how the outcome of the betting will be based on their owndefinition. There are several types of special bets, and these are Favourites Index, Number of Wins, Trainer Champion or Jockey Champion, and Winning Distances.
Odds
Odds are basically a way of showing the probability of something to happen. This shows potential returns you can make through putting wagers. In horse racing and greyhound racing in Racebets, you can get different kinds of odds depending on what race you are betting from and which country you are from.
Fixed-Odds
Fixed-odds are prices set by us here in Racebets.com on selected races. If you're bet has been accepted, you are guaranteed to get the price even if odds are shortened after you have made yourbet.
Starting Prices
In the Ireland, and United Arab Emirates (UAE), Starting Prices or SP refers to odds prevailing on a horse during an on course fixed-odd betting market as the race begins. Upon making thisbet, you cannot know the odds.
Tote Odds
Tote odds apply in tote betting where wagers are forwarded to Parimutuel Betting by Racebets. Similar to SP betting, you cannot know the odds as well.
---
RaceBets welcome bonus: 100% Up To €50
Racebets makes sure that first-timers are rewarded. This is their way of making you feel at home and welcomed. First-timers in Racebets will receive €50!
The Racebets welcome bonus can only be legible for your first deposit. However, it is in their full disclosure, that there are certain rules in this welcome bonus. To avoid any confusion and misunderstanding with this offer, take time to consider and read the following conditions:
1. Your first deposit must be in a minimum of €10.
To qualify for the promo you should to be a new player.
Deposits made via Skrill and Netteller DO NOT qualify.
2. To bet using your "100% deposit bonus up to €20" bonus, simply follow these rules:
Play with your qualifying deposit 1/2 or 1.50 on fixed-odds.
Then, enter the bonus code

WELCOME

in the Bonus section to activate your welcome cash.
Time period for your bonus welcome cash is only 30 days after your new account registration.
3. Residents from the following countries can only avail the welcome bonus:
Norway
Maurituis
Malta
India
Japan
Finland
Germany
4. Existing account holders DO NOT qualify.
5. Racebets has the full power and right to amend, cancel, reclaim, and refuse any promotions and offers in their discretion.
6. You need to wager the bonus once on selections with odds of minimum 1/2 (1.50), to fulfill the bonus requirements and be able to withdraw your winnings.
Apart from the mentioned regulations above, Racebets has a dedicated article of their full terms and disclosure for customers. They ensure that policies are treated fairly and no one is an exemption of the rule.
---
---
Horse Racing and Greyhounds
1. Horse Racing
Horse racing and betting have long been famous. It was highly popularised during Queen Anne's reign during the 18th century. Fast forward to today, the love for the sport has not died. The advancement of technology did not hinder horse race betting but instead, made it better and more convenient.
Racebets offers you a wide array of horse races. For your enjoyment and entertainment, they have 10+ types of horse races. Some of the races they offer are the following:
Apprentice Races: Such race is for apprentice jockeys only or those who would want to be a professional jockey. Apprentice jockeys might carry a weight allowance dependingon the race conditions and their experience.
Claiming Races: Claiming races are popular and dominant in countries like America and France. In this race, it serves as an avenue for buying and selling horses. Eachhorse in the race has a predetermined price which is then bought or claimed with that price before the start of the race.
Hurdle Races: Hurdle races are a kind of jump race wherein there are collapsible jumps. These collapsible jumps are usually over a distance of two to three miles.
Open Races: This type of race is open for any horse but certain requirements must be fulfilled first.
Turf Races: Turf races are races that are conducted in grassy surface. This race usually starts at the beginning of spring up until autumn.
2. Greyhound Racing
During the 16th century, greyhound racing was named by Queen Elizabeth I as the "Sports of Queens". She established the first rules and regulations which are the foundations of today's greyhound racing sport. In Britain alone, there are at least 26 registered greyhound stadiums. The industry has an estimated wager of £2.5 billion, which makes it one of the most attended spectator sports besides the famed horse racing and other betting sports.
Greyhound pups are given their own identification numbers which are tattooed on their bodies. After which, they are then registered to the National Greyhound Association in Kansas. Owners must register their greyhounds with three name suggestions which are not longer than sixteen characters.
Racebets do not only offer online betting for horse racing alone but for greyhound racing as well. On the homepage, you can see on the highlights sidebar that there is a tab with a greyhound image on it. By clicking so, you can view greyhound race details on the site. Just like horse racing, Racebets also offers good betting odds for greyhounds.
---
Live Betting and Streams
Racebets offer live streams services of different races. All you need is to directly log-in to your account and click the button "Open Live-Stream" in any market. However, the availability of the live stream function depends on your location. Certain geographical restrictions might be in your country which does not support or allow their live stream services.
Some technical issues during your live stream might occur and here are the possible reasons for this:
Technical issues
You might be using an outdated browser.
Your flash driver is not updated or installed.
Issues with cookies stored on your browser.
The technical issues spring from their network.
---
Cash-Out Options
Cash out allows bettors to profit by getting their stake back, especially if they see that their bet is not going well. Cash-out options for Racebets, however, is non-existent. It is a feature one would want to see on their website.
---
Payment Methods
In Racebets there are more than 15 payment methods available. Some of the most well-known methods are the following:
Technical issues
Mastercard
Visa Credit and Debit Card
Visa Entropay
Paysafecard
PayPal
Online bank transfers
However, they do not allow deposits through American Express because its provider, Amex, does not allow gambling transactions. Racebets don't have any preferred payment methods, so this is all up to you. But, if you wish for more private transactions you might want to use Skrill and Neteller. They do not offer any deposit fees in the site, too. However, some payment methods may have some charge fees, and you may clarify this with your chosen provider.
To withdraw your winnings, just click the button "Withdraw Funds". This is accessible via desktop versions through pc or laptop. Racebets actively operates through closed-loop policy for better security. This means that your funds MUST be withdrawn in the same way you deposited it. The support team provides the full policy for your withdrawals in your account.
Payment Limits
For every customer in Racebets, there are minimum and maximum deposit limits. These deposit limits are per
24 hour period
and is subject for
validation
. Here are some of the offered minimum and maximum deposit limits:
Deposit Methods
Withdrawal Methods
| Payment Method | Deposit Minimum | Deposit Maximum | Time for Deposit |
| --- | --- | --- | --- |
| Visa | €10 | Not specified | Instant |
| Neteller | €10 | Not specified | Instant |
| Skrill | €10 | Not specified | Instant |
| Paysafe Card | €1 | €1000 | Instant |
| MasterCard | €10 | Not specified | Instant |
| PayPal | €20 | Not specified | Instant |
| Maestro | €10 | Not specified | Instant |
| Direct Bank Transfer | €5 | Not specified | Instant |
| Payment Method | Withdrawal Minimum | Withdrawal Maximum | Time for Withdrawal |
| --- | --- | --- | --- |
| Visa | Depends on your activity | Depends on your activity | Up to 5 Working Days |
| Neteller | Depends on your activity | Depends on your activity | Up to 5 Working Days |
| Skrill | Depends on your activity | Depends on your activity | Up to 5 Working Days |
| Paysafe Card | Depends on your activity | Depends on your activity | Up to 5 Working Days |
| MasterCard | Depends on your activity | Depends on your activity | Up to 5 Working Days |
| PayPal | Depends on your activity | Depends on your activity | Up to 5 Working Days |
| Maestro | Depends on your activity | Depends on your activity | Up to 5 Working Days |
| Direct Bank Transfer | Depends on your activity | Depends on your activity | Up to 5 Working Days |
Sofort, iDeal, Solo, Direct Bank Transfer, Diners Club, Maestro, Neteller, Skrill, PayPal, Paysafe Card, Visa, MasterCard
PayPal, Paysafe Card, Visa, MasterCard
---
Racebets Mobile
Aside from the desktop version, Racebets is also reachable and functional through mobile versions. However, Racebets mobile is not a software app on your smartphone, but rather a mobile version that should be viewed or used in your browser.
The mobile version is optimised for a user-friendly interface and suitable for mobile controls. Like its desktop counterpart, the colour coordination in the mobile version are black, yellow, and orange. As you enter the mobile version, you will be greeted with the highlights section that is similar to the highlight sidebar in the homepage of the desktop version. With this are "Register" and "Login" buttons.
The tabs on the top area of the desktop version have been made into a collapsible sidebar option in the mobile version of Racebets. This method helps it look neat and organise the sections. Also, instead of scrolling down for other tabs, the collapsible sidebar makes it easier to navigate through the site. However, the mobile version of Racebets cannot process your withdrawal transaction. If you wish to handle your withdrawal transactions in your smartphone, you may go to your browser's option to make it into the desktop version. Once done, withdrawal transactions are possible.
---
Affiliate Programs
Racebets offer affiliate programs for anyone who owns or runs a website with a substantial amount of daily, weekly, or monthly visitors. In their affiliate programs, the Racebets will offer and provide you with their media banner in different languages.
On their affiliate programs, they offer you a guaranteed 35% commission of the net revenue from their customers from you. Here is a quick example:
If your customers generate a net revenue of €7000 per month, as part of the affiliate program, you will receive €2,100.
Racebets operates under full risk at any time. They do not ask for commissions, refunds, or such from your customers' winning money. But they guarantee you that you can and will earn money.
If you are interested in their generous affiliate program, join them, register, and visit https://affiliates.racebets.com/register where you can find more detailed info.
---
About Racebets
Horse racing in the EU is not just a leading sport but is a flourishing industry. It employs about 300,000 people and generates revenue of about €6 billion. It also helps the economy apart from the enjoyment people gain from it. Also, as the years progressed, the methods of betting on favourite horses advanced as well. Rather than attending actual games and placing your bets, technology has made it possible to bet online! Racebets is Europe's leading online bookmaker. Racebets accepts bets online for horse racing and greyhound racing. It is one of the few online bookmakers solely dedicated for horse racing bets.
The company is licensed and regulated under the Lotteries and Gaming Authority of Malta. They operate in 30 countries, in 24 hours, 365 days; ensuring you the best quality service!
---
Customer Care and Contacts
Racebets.com, being the #1 online horse betting site in EU, cares mostly about their customers and patrons. Their support page has all the basics, rules and regulations, and FAQs for you. They ensure you that they operate under legal matters and refrain from involvements in money laundering so to protect threir customers. They offer live chat support for any concerns that needs immediate answers.
The great thing about Racebets's customer support is that they are eager to help. I don't know if it happened to me only. However, I did experience some delay when I tried to reach out to the team. I don't think it affected my view on their company much, though, as the one who attended to my concerns was very polite. Also, I like how fast their support page is.
Where is located the head office of RaceBets?
The company's office is located at the following address: Dragonara Business Centre Dragonara Road, San Ġiljan STJ 3141, Malta. Here is a view on the address from Google Maps which will give you a better idea of the main office of RaceBets.
---
Rating and Conclusion
Racebets has one of the cleanest and minimalist interfaces. It provides customers with benefits and promotions like the Welcome Bonus. Despite the verification program being a bit of strict and very specific, it is undoubtedly needed to protect their customers and as well as the integrity of their site. Since the institution is running under legal terms, it is safe to say that no illegal transactions are allowed and are under Racebets operations.
Not do they only care about earning money for themselves, but they extend their services to affiliate programs which are in turn, both a beneficial offer for the company (for advertising purposes) and for its affiliates (for extra income). Racebets offers a very structured way of running their site to ensure better security. They provide reasonable restrictions to certain aspects which come with an appropriate reason. With the vast array of payment methods, it is guaranteed that you will have options which are not as limited as other sites.
Ultimately, Racebets is indeed EU's number 1 online horse racing and greyhound site. It is highly recommended for anyone who has an interest in both. However, for those who are looking for more, it falls behind its competitors. That said, Racebets stands at 4.0/5 for now.