PowerPlay Review
Specializing in sports betting, PowerPlay is quite known for their very smooth platform and their variety of games. Boasting over 1,000 available events to play, PowerPlay mainly targets the European market through its slick gameplay and innovative features. They're also pretty known for their generous offers and their very easy-to-join VIP program.
---
How to register on the website?
If you're new and you'd like to register an account, it only takes a few steps to do so. Follow the steps below and you'll have an account right away:
Step 1: Click on the 'Sign Up' button located at the upper right corner of the page.
Step 2: Fill up the form with your personal details such as email, desired password, name, birthday, currency, and contact details.
Step 3: Click the boxes at the bottom to confirm that you agree with the terms and conditions of the website.
Step 4: Submit the form by clicking 'Join Now'.
Step 5: Check your email address for a confirmation email and follow the steps stated there.
How to verify your account?
One of the standard operating procedures of all online gambling platforms is to verify the account of their customers. This is done to prevent any instance of identity theft or anything similar. If you don't verify your account, there is a risk that the platform won't allow you to withdraw your money for security purposes.
To verify your account, you simply have to submit identification documents. You'll need to submit a valid ID (the safest ones to submit are Driver's License and Passport) and a proof of address (the best ones to submit are utility bills or bank statements). Make sure that the proof of address is at least 3 months old.
---
Website Review – Design and Navigation
One of the attractions of the PowerPlay platform would be the website itself. Unlike a lot of other online gambling websites, PowerPlay's webpage doesn't look cluttered. It's quite common to see sites that have a lot of ads, colour, and glam. PowerPlay's website, on the other hand, uses a more modern style that's simple but pretty. It makes use of a red and black colour scheme which is very easy on the eyes.
As for the navigation, there are not that many buttons to press – which is good. Many online gambling sites have way too many buttons to click on and web pages to explore, making things really confusing for customers. Adopting a somewhat minimalist design, navigation in PowerPlay's website is also minimalist. Whatever you see at first glance is whatever is really on the site.
---
Sports Betting
The star attraction of the website is the sports betting platform. It's easy to use, and it has quite many sports markets to choose from.
Available Sports
PowerPlay offers a wide range of sports for players to choose from. Some of the sports options include Football, American Football, Tennis, Golf, Cricket, Snooker, Basketball, Hockey, and more. However, some of the most popular ones on the website are Football, Basketball, Tennis, and American Football.
Betting Markets
Although PowerPlay is still new in the world of online betting, it's competitive enough to offer a variety of markets for players to choose from. In fact, there are more than 1,000 betting markets available on the website every day. There are even Special Markets where players can bet on anytime. There are also Half Time, Normal Time, Extra Time and more markets to look out for. If you're interested, go ahead and see for yourself.
How About the Odds
PowerPlay's odds are not too bad. The odds of the football and basketball markets are pretty good, and they could even be on par with most of the odds offered by other sports betting platforms.
---
Sports Welcome Bonus – Up to $100 Free Bet
If you happen to be new to PowerPlay, then you have the chance to enjoy a nice little welcome bonus allowing you to get a free bet that reaches up to $100. Basically, you just have to sign up and wager on whatever event you like. After that, you'll be given $100 in two parts of $50 (so you'll receive two $50's). This free bet will allow you to keep your balance insured even if you lost (up to $100 only). Here are the terms and conditions that you have to know:
This free bet covers new players that make their first two bets.
Players must wager a minimum of $5 to qualify for the bonus.
The maximum amount that you can get for the two increments is $50.
You must bet on an event with odds of 3.0 or higher to qualify for the free bet.
This bonus is not to be used in conjunction with other bonuses.
---
---
Live Betting
The live betting section of PowerPlay is awesome because it's up to date with all the great sports events. It shows the event when it is happening live. With this, you'll be able to see all the details like the score, the odds, and the winner per half. It's a very exciting betting opportunity to let you feel the movement of your game while you are betting on your favourite team. You will find sports such as:
Football
Tennis
Basketball
American Football
Baseball
Boxing
Cricket
Cycling
Darts
Golf
Handball
Ice Hockey
Motor Sports
Pool
Rugby
Snooker
Volleyball
Specials
---
Cash Out Option
Fortunately, there is cash out option available for taking out your bets early in the game. Sign in your account. In right section you will find 'Cash out' option. This feature allows you have made a qualifying bet to at important moments. Also, you can sell your betslip back to the bookmaker.
---
Live Streaming – Is It Available?
No live streaming option is available on the platform. There is a live betting section where you can bet on games live. However, you cannot watch the game on the platform while you are betting. To watch the live game, you will have to access a third party live streaming platform so that you can watch the game while you bet.
---
PowerPlay Casino
If you are already quite tired of the sports betting platform, then you can hop on over to the PowerPlay casino which is also available on the website. Just like the sports market, you'll be able to get a nice New Player Casino Bonus.
New Players Casino Bonus - 100% Up to $200

This one is a bit similar to the welcome offer of the sports section in a sense that it offers free gameplay. The only difference is that it offers a 100% bonus of up to $200. Also, the bonus will be given in full amount and not in increments. Basically, you will get 100% of whatever amount you deposited of only a maximum of $200. This means that if you deposit $200, you get $200 worth of bonus. However, if you deposit something like $500, you won't get $500 but $200 since $200 is the maximum amount for the bonus. Take note of the terms and conditions that come with the bonus:
You have to opt in to the offer before you get the bonus.
The minimum deposit you have to make is $10 to qualify.
The maximum amount of bonus you can get is $200.
This offer is only available to new players.
To withdraw the bonus, you need to wager both the deposit amount and the bonus 60 times.
The maximum win with this bonus is $2000.
This bonus is not to be used in conjunction with other bonuses.
---
Live Casino
The live casino is more exciting than the regular casino because it gives you the chance to play with dealers in real time like you would in Vegas or Macau casino. When you enter the live casino on the website, you'll immediately see four gaming options – Live Roulette, Live Blackjack, Live Baccarat, and Live Casino Hold'em. You can pick any of those to play, but you have to log in first. You can also play another form of a live game called Video Poker if you're more into poker.
---
Payment Options
As of now, PowerPlay only offers these methods of payment. Find out what these payment options are below.
Deposit Methods
Withdrawal Methods
| Payment Method | Deposit Minimum | Deposit Maximum | Time for Deposit |
| --- | --- | --- | --- |
| Visa | €15 | €2500 | Instant |
| MasterCard | €15 | €2500 | Instant |
| Maestro | €15 | €2500 | Instant |
| EcoPayz | €15 | €2500 | Instant |
| Direct Bank Transfer | €15 | €2500 | Instant |
| Neteller | €15 | €2500 | Instant |
| Skrill | €15 | €2500 | Instant |
| Interac | €15 | €2500 | Instant |
| Payment Method | Withdrawal Minimum | Withdrawal Maximum | Time for Withdrawal |
| --- | --- | --- | --- |
| Visa | €10 | €100,000 in a 7-day period | up to 3 days |
| MasterCard | €10 | €100,000 in a 7-day period | up to 3 days |
| Maestro | €10 | €100,000 in a 7-day period | up to 3 days |
| EcoPayz | €10 | €100,000 in a 7-day period | 2-5 days |
| Direct Bank Transfer | €10 | €100,000 in a 7-day period | 72 hours |
| Neteller | €10 | €100,000 in a 7-day period | up to 24 hours |
| Skrill | €10 | €100,000 in a 7-day period | up to 24 hours |
| Interac | €10 | €100,000 in a 7-day period | up to 48 hours |
Interac, Neteller, Skrill, Direct Bank Transfer, EcoPayz, MasterCard, Maestro, Visa
Interac, Neteller, Skrill, EcoPayz, MasterCard, Visa
---
Mobile Website Version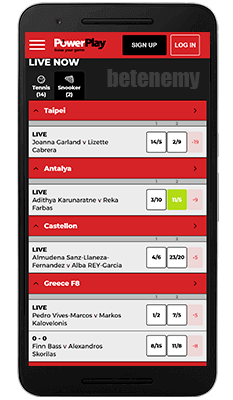 There is no dedicated app for Powerplay. However, there is a mobile-friendly version of the website which is very similar to the original site but more optimised to fit the screen of your mobile devices. With this, there really is no need for any more dedicated app because the mobile-friendly website already does everything that an app does.
When you enter the PowerPlay website, you'll automatically be brought to the mobile website version where you can do everything that you can do in the desktop version.
---
Affiliate Program
Of course, playing in the casino and placing bets on sports markets are not the only ways to make money. Another way to make money in PowerPlay is through the affiliate program wherein you can become an affiliate partner and promote the brand through your affiliate website. All you have to do is sign up to the PowerPlay Affiliate Program and become monetising your website.
With the affiliate program, you can earn from 30% up to 60% depending on how many people sign up under your banner. The payment terms are in Net 15 terms.
---
FAQs
If you have questions about PowerPlay's betting features, refer below to find the answers.
Is there a hotline to call for customer support?
There is no hotline provided by the website. There is, however, a WhatsApp number.
What kind of file should my verification documents be in
Preferably, they should be in picture formats such as JPG or PNG. PDF can be used as well.
How safe is the information that I sent?
Your personal information is safe enough. All information is stored in an encrypted server that cannot be accessed by third-party entities.
Are there any other documents that I need to send?
You may also need to send a picture of your credit card if it is requested by PowerPlay. If they ask you for credit card verification, send a clear picture of the card's front and back.
What can I do if I forgot my password?
There is a password recovery facility in the login page. Just click the Forgot Password option below the login section.
Can I put a limit so that I don't spend too much on gambling?
Yes. Simply go to 'My Account' and click on 'Gambling Controls' to set deposit limits.
Is it possible for my account to get suspended?
Yes, there are instances in which your account may be suspended. Some of these include possible information theft, abuse of bonuses, and duplicate accounts.
---
Company Information
PowerPlay is one of the newest additions to the online sports betting and casino industry. The company was founded just this 2018 under the operations of Deck Entertainment N.V. They have a sublicense by C.I.L. issued in Curacao, and they also have their headquarters in Curacao.
---
Customer Care and Support
The customer care support is quite efficient when it comes to answering speed and content. They really answer questions fully and concisely so that you can get exactly what you want to know. Even if they are offline at the moment, they usually reply within the day through email.
---
Contact Details
One of the good things about the customer support of PowerPlay is that there are a number of options to contact a customer service representative. There are Live Chat, Whatsapp, Facebook, and Email options. The details are as follows:
---
Final Rating and Conclusion
As a sports gambling platform, PowerPlay is definitely still wet behind the ears and still has a long way to go. It still lacks live streaming option, and appropriate payment methods.
Still, it's off to a pretty good start with a pretty wide variety of generous bonuses. It also has a very smooth website with a really nice interface. That in itself is already a plus for most punters. It also brags a wide variety of games as well as sports markets for betting.
Overall, it currently has a score of 7.5 over 10.