Betting Sites that Accept Paysafe Card
When you open the Cashier section at some of the leading bookmakers in the online business today, you will find countless of options. Those deposit and withdrawal methods are varied and include e-wallets, card payments and bank transfers. At the same time, most betting sites that are worth joining will surely include Paysafe card! Here are the top bookmakers with this payment supported.
---
What is Paysafecard?
Gaming and online gambling have never been easier than now. It is thanks to digital payment gateways like paysafecard that this is now possible. Use this e-wallet for just about any online payments. These include paying at online shops and depositing into the best bookmakers available on the market now. It is easy to buy a paysafecard. Most UK cities have local sales outlets that sell these cards. Choose any type of card with the amounts ranging from 10 to 100 GBP topped up in it. From then on, you can use the card to pay online at your convenience.
The company based in Vienna, Austria, is now present in 49 countries around the globe. The owner of this card is Paysafe Holdings UK Ltd. Here are some trivia that might interest you.
Quick Historic Facts about Paysafecard:
The company was established in 2000 in the UK.
It took just a couple of years for paysafecard to spread to Germany and Austria.
2002 saw the transformation of PaySafe from card into e-voucher for online payments.
In 2005, EU decided to fund Paysafecard.
7 years after its launching date, Paysafe card could boast having more than 10 million transactions.
By 2009, the company received several licenses including a MasterCard one.
The company spread to the USA in 2010.
A year later, a Paysafecard app was developed.
In 2016, customers had access to Paysafecard direct – topping up your card with a barcode generated on your phone.
Two year later, Paysafe now has Paysafecash – using yet again a barcode to settle payments with cash in nearby shops.
2018 was pivotal for the company as they started working closely with Google Play and at the same time launching the eID identification feature.
---
Online Betting with PaySafe
With Paysafecard, you can go ahead and deposit on any bookmaker supporting this payment option. You must remember that Paysafe card can be used for transferring funds to your betting account but not out of it. Withdrawals with Paysafecard are impossible, but you can still use My Paysafecard account and sign up for payout.
Paysafe as a Faster Alternative to Bank and Card Transfers
Deposits are vital for punters. So, when you choose sports betting sites or online casinos to join, then take Paysafe into account. It offers instant deposits with minimum limits of 5 to 10 currency units depending on the bookmaker.
Paysafecard Security Measures
Since you top up your e-voucher using a card bought in a local store, you can guarantee the safety of your transactions. Each card has unique 16-digit PIN code or a barcode attached. So, nobody but you will be able to fund your betting account with paysafecard.
No Added Fees on Deposits
Lots of online casinos or bookies will accept PaySafe as a deposit method because of its lack of added fees. Punters will not be charged a commission for using their paysafecard for online gaming and mobile betting as this is also an option worth trying. Plus, you can be sure that the absence of a fee will not delay or worsen the processing of your transactions.
Bonuses and Promotions with Paysafe
What we can say for sure is that Paysafe Card is perfect for responsible gambling. You can use this financial gateway to control your stakes but also to claim bonuses at the best betting sites. There are also many promotions tied to using Paysafecard as your deposit option.
---
How Do I Open a PaySafe Account?
Paysafecard is a prepaid online payment solution. Hence, you won't need to open an account. What the company does is to offer varied and feasible ways to pay in cash online. Thus, even betting online is now possible using cash. The best news is that you will need a card. No online profile is required or any other information about your address, phone number and the like.
Still, if you want to use Paysafecard direct, you will need an online payment account. Here is how to get one.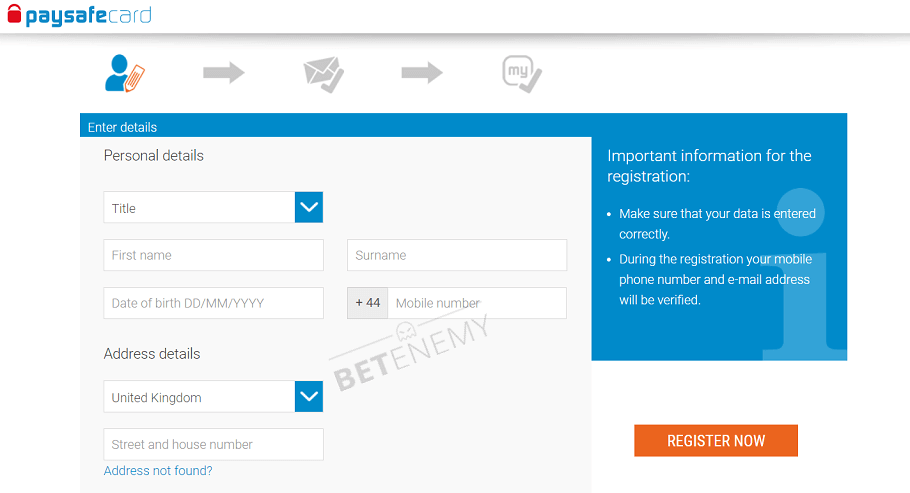 Open the official site of Paysafecard at www.paysafecard.com and click on Sign Up to register.
Provide all information needed including name, address, and password.
Verify your mobile number and phone and move on to My Paysafecard for direct online payments.
---
How Do I Get a PaySafe Card?
There are several ways to use cash in the online bookmakers. First of all, you may need to remember that Paysafecard allows you to top up a virtual e-voucher so you can make online payments in 49 countries. The easiest way is to find a prepaid mobile phone card. Buy it in any of the local outlets. You will receive a 16-digit PIN code that will activate the card. All this is possible without the need to add personal or bank details.
Alternatively, you can use Paysafecash for paying in cash after the online purchase made using a QR/barcode on your phone. The cashier scans the code and collects your cash – it is as easy as that and this time around no pin code will be required.
---
Ways to Fund my Paysafe Card
Unlike other e-wallets and different digital payment cards, paysafe is different. You will need cash to fund your e-voucher. Here is how to do it.
| Deposit Methods | Fee | Withdrawal Methods | Fee |
| --- | --- | --- | --- |
| Paysafecard | No Fee | Paysafecard Mastercard | ATM fee |
*The fees may vary from country to country plus there will be additional rates for currency exchange.
---
Fees for Paysafecard Payments
It is free to make payments with Paysafecard. However, you must note that there is a maintenance fee which varies in different countries. It is usually around 3 currency units per month. The charge comes into effect several months after purchasing the first PIN. Besides, if you deposit on betting sites using a different currency, you will have to pay conversion fee as well.
Mind you, fees may vary according to the product you use as well. For instance, my paysafecard and paysafe MasterCard will differ in their limits and fees attached.
---
What Types of Currencies Does Paysafe Accept?
Since this online payment method is accepted in nearly 50 countries, you can bet it will support most currencies out there. Here is a list of the ones you can calculate it the Paysafecard currency convertor.
EUR
USD
ARS
AUD
BGN
CAD
CHF
CZK
DKK
GBP
GEL
HRK
HUF
ISK
KWD
NOK
MXN
NZD
PEN
PLN
RON
RSD
SAR
SEK
TRY
UYU
AED
---
Paysafecard Mastercard
Any online registered user of Paysafecard can order their very own Mastercard with Paysafe. You can do so by accessing the "paysafecard Mastercard" and select a design that fits your preferences. You will need to pay an issuance fee. Confirm your identity and address as you would do with any debit or credit card by uploading the required documents.
You will receive your card within 7 to 10 working days. Upon delivery, you can activate your card right away. Request a 4-digit pin for withdrawing from ATMs. It will be sent to your email. Memorize it and use this card for withdrawing from any of the bookmakers that support paysafecard or Mastercard payments.
---
My PLUS Loyalty Programme
As of 5 May 2020, this program will be discontinued. It used to allow customers to earn points for their online payments. The higher your balance, the greater the benefits! You could get cash or e-money in exchange for the points. Now, these discounts and free PINs will only be valid until 30 June 2020. So if you have any accumulated points use them up now before it is too late.
---
Pros & Cons of Betting with Paysafecard
PROS
Paysafecard is literally unhackable
Safe and anonymous payments online
Free cancellation of lost or stolen Paysafecard
No fees for deposits on online betting sites
CONS
Be careful with the PINs as losing one means you will never be able to get your money back
---
Frequently Asked Questions
Can I use Paysafecard for crypto payments?
Unfortunately, this isn't a feasible option yet. To play on crypto bookmakers, you must use another digital Bitcoin wallet.
Is it possible to use PaySafe for mobile betting?
You can fund your mobile casinos or sports betting account using the PINs you have or My paysafecard.
Are withdrawals from bookmakers possible with Paysafecard?
Not really! You will need to link your prepaid paysafecard Mastercard to your profile for withdrawals.
How much does paysafecard charge me for deposits on betting sites?
Normally, there will be no fee involved unless the bookie charges one.
---
Is it Worth Betting with Paysafe Card?
In conclusion, we can say that Paysafecard is among the most convenient ways for funding online accounts on bookies' sites. This is so because this type of e-voucher makes it quite easy to deposit cash online. Not surprisingly, all major betting brands in the business make sure to feature this payment method for their customers.