How to download Paf mobile app for Android?
Paf has one of the most fantastic mobile apps for Android gadgets. It works incredibly well and delivers results so long as you use the right commands. It, however, requires you to download the apk file so that you may be able to use it on your phone. The download process is both fast and straightforward. You can, therefore, go ahead and use the procedure below to initiate the download.
Open the link provided using your android phone.
Scroll down to the black button and green android icon.
Click the button once and wait for a microsecond.
A pop-up menu will appear on your phone.
Accept the download and give it a few seconds to complete.
The Android apk file is only a few MBs, and so your phone only requires little space for it to hold the file.
---
How to install Paf mobile app for Android?
If you found the download process to be simple, then know that the installation procedure will be a walkthrough. However, you will face challenges with the app in case you are using an incompatible mobile phone. Either way here are the steps that you need to follow:
On your Android smartphone, open the settings section.
Go to your phone's security.
Enable the allow installation from unknown sources feature.
Go to your download folder.
Tap the Paf apk file to install.
Give it a few seconds before it finishes.
You can after that sign up or log in to your Paf account and proceed to deposit, then punt or play any casino games.
---
Paf Game Show App
There is one feature available on the Paf mobile app that you will not find on the desktop version. That is the Paf Game Show, which happens to be utterly exciting. The game is simple, but it requires wits for you to end up scooping the winning prize. It involves answering a couple of questions related to mobile betting. The first section of the game is meant to warm up the participants since the questions are usually manageable. However, as the game proceeds, the questions become tougher.
The winner is the person who ends up with the highest points. He or she gets to have a taste of real Paf prizes, for example, free spins, which is equal to free games. The trick is to remain standing when others get benched, and that is by answering every question correctly. The games are usually available on Monday, Wednesday, and Friday. You just have to time the competitions and log in to play.
---
Is there a Paf mobile app for iOS?
The minute Paf introduced the Android app; people knew it was only a matter of time before they could start punting using their iOS gadgets. However, Paf is yet to release any official iOS app, and therefore, iPhone and iPad users are left to rely on the mobile version. The good news is that it is identical to the Android app. The only difference is the method used to access Paf accounts. While one requires only a few taps, the other needs a compatible browser to function. The layout is, however, similar, and the themes are alike. You will, therefore, have fun betting on the interface.
---
How to use the Paf mobile app
Placing a bet on the Paf mobile app is stress-free. You first need to use the login button and details to access your account and, thereafter, make a deposit. The next step is to scrutinise the available matches and determine whether you can predict them correctly or not. If you find them worth trying, take your shot by analysing the events before you punt. You can choose a single bet or a multi-bet. Revise your bet slip to make sure there are no errors then press the green button to complete the process.
---
Paf Mobile Version
The Paf mobile app is full of advantages. That is apart from the downsides which are available both on the mobile version and the desktop site. The platform gives you an incredible interface where you need only a few taps to place a bet. In case you want to play the Paf Game Show on Wednesdays or Fridays, you only need to open the app and proceed. That is whether you are travelling or not. There is no loading or repetitive login so long as you don't log out after your session. You can also use it to deposit and withdraw cash at any location. That makes it more dependable than the desktop version.
---
Paf mobile sports betting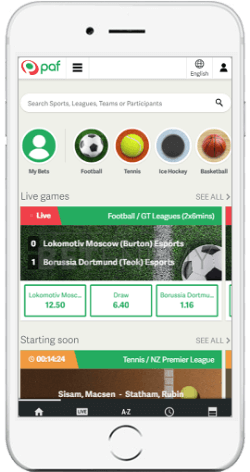 While using Paf mobile to punt on matches, the first thing that will cross your mind is the betting options. For you to place an odd, you have to make a prediction which has to be on the options provided. Similar to the desktop site, you will find plenty of betting options, for example, Asian handicap, winning team, match winner, and draw. There are also additional ones which you will find to be useful during betting. The choices will be embedded in different matches.
---
Mobile Features
The attractiveness of the mobile version depends on the mobile features available. That is why Paf is striving to update its mobile app with useful and exciting functions. So, has it managed to include all the relevant features?
Live Streaming
Similar to the desktop site, Paf mobile doesn't have any live streaming features. You, therefore, can't use your Paf app to watch live matches. In case you want to do so, opt for external services. But with the other available features, you will still enjoy betting using Paf mobile app. After all, it is still exciting without the live streaming service.
In-play function
Paf members can place bets using the in-play function. The mobile app has a page exclusive for in-play matches. Access the page via the menu. You can thereafter bet on every live match available on the section. It is among the many features available on the mobile platform that will ensure your total satisfaction. You should, however, take your time to analyse every inclusion available.
Cash Out option
Another feature you will find on Paf mobile app is the cash-out function. It is thrilling, especially if you are a master of knowing when to cash out and when to let the game finish. Having this feature coupled with the in-play function on the app will see you enjoy punting on Paf mobile. It is also the kind of feature that may maximise your betting sessions.
---
Paf mobile casino app & Paf mobile live casino app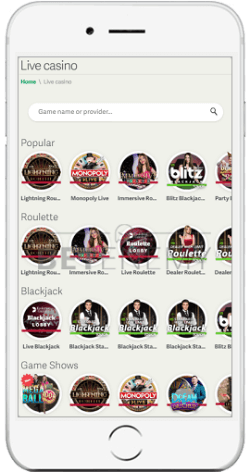 The operator continues to favour the casino even on the mobile app. That is why it is the favourite section on the site. Once you open Paf casino, you will access a long list of breathtaking casino games, for example, Paf poker. You will also interact with slot machines like Book of Dead, which you can play for free or with real money. If you are strategic, go for games like baccarat and any blackjack variants. The Paf theme is appealing, and the simple layout makes navigation less stressful.
There is a sub-section of the casino called the live casino, which has plenty of gaming products like Lightning Roulette. Players who are after intriguing games should wager on unique inclusions, for example, Monopoly Live, Party Blackjack, and Megaball. The appealing aspect of Paf live casino is that you get to have a fantastic feel when playing against other players. Those who wish to make gaming interesting can chat with the live dealers, especially if you are playing Live Blackjack. That is regardless of the variant.
---
Is there a Mobile Bonus?
It is already evident that Paf mobile has some disadvantages, especially if compared to other mobile betting platforms. On top of those disadvantages is the lack of mobile-specific offers. The site doesn't have any bonus customised for smartphone users. You are, however, not restrained from accessing other fantastic promotions available on Paf. Using your Paf mobile app or mobile version, you can claim any promotion you qualify and enjoy your time online. The only challenge is that Paf has countable promotions and so you will not have too much fun as you intend. That is why most people consider it to be a site for mature punters who are after trying their luck and not taking advantage of the offers. Either way, the mobile version is still incredible to access.
---
System Requirements and Compatibility
Anyone with the urge of using the Paf Android app or mobile version requires the right gadget. Using incompatible versions may access the site, but will give you problems when it comes to navigation. Therefore for seamless manoeuvrability and unlimited betting and gaming capacities, you need to have at least a compatible gadget. At most, you require a smartphone with a superior processor and the latest iOS or Android operating system. You will also need your phone to be up to date so that you don't experience any issues accessing particular sections of the mobile version or app.
A compatible system coupled with high-speed internet will see you enjoy fantastic betting sessions. You will also have an easy time playing live casino games without any buffers. For the right phones, you should shop for Samsung, iPhone 6, 7, 8, and X, together with their corresponding versions. You can also use Huawei, Nokia, Sony Xperia, Motorola, and Oppo mobiles. If you need a bigger view, use android tablets and iPads.
---
Mobile Deposit & Withdrawal Payments
Paf has few but competent online payment platforms. It consists of some of the best systems of payment that make transaction initiation and processing effortless. You will also notice that the payment methods are structured to suit a particular region. That means if you are from Estonia, you can use variable bank transfer methods as other European countries use e-wallets. The structure of the mobile deposits and withdrawals, therefore, varies depending on your country.
Deposit Methods
Withdrawal Methods
| Payment Method | Deposit Minimum | Deposit Maximum | Time for Deposit |
| --- | --- | --- | --- |
| Bank Wire Transfer | €10 | - | Instant |
| Siirto | €10 | - | Instant |
| Skrill | €10 | - | Instant |
| Payment Method | Withdrawal Minimum | Withdrawal Maximum | Time for Withdrawal |
| --- | --- | --- | --- |
| Bank Wire Transfer | €10 | - | up to 5 days |
| Siirto | €10 | - | up to 24 hours |
| Skrill | €10 | - | up to 24 hours |
Bank Wire Transfer, Siirto, Skrill
Bank Wire Transfer, Skrill, Siirto
---
Questions & Answers
Is Paf mobile app safe?
Yes, Paf mobile is a safe gaming app that fosters fairness. It is also one of the only sites that discourage continuous gambling for their punters.
Can I change the odds from fractional to decimal?
No, you cannot change the mobile odds format on the mobile version; however, the same can be done on the desktop.
How do I play Paf games on my tablet or phone?
You have to access the casino site using your mobile phone for you to launch any Paf games. You can thereafter deposit cash and play as long as you want.
Can I play Paf mobile for free?
Yes, you can play Paf for free by using your smartphone. You just have to tap the game you wish to play and pick the demo version.
What do I do if I don't find the Paf apk file I downloaded?
You can always download it twice only this time keep an eye on the folder it will land.
What happens if I don't allow apps from unknown sources?
Your mobile app is not going to install, and therefore, you will not be able to use it.
Can I install the Paf mobile app twice?
No, you can only install the Paf mobile app once, and therefore you cannot have two Paf apps.
Are games in Paf mobile regulated?
Yes, games in Paf mobile are regulated by an authorized body to ensure gaming fairness.
---
About the Company
The timeless design of the Paf platform has seen it exist longer than many other betting sites. That is because the website was built to last and adapt to the changing demands of punters. The story of Paf began in 1966 when the parent company started its first land-based casinos. It was, however, until early December 1999 that Paf began venturing in online casinos, creating the first-ever to be seen online platforms. After gathering fame and fortune, Paf started giving back to society through multiple initiatives. More advancements followed including, coming up with an incredible Paf Android app whose function is to accommodate mobile users. That made it cover nearly every sector of online gaming, thereby becoming one of the best gambling platforms.
---
Contact details
Paf has dependable contact details in addition to having the best mobile platform any player can ever wish for. That is to make up for the abundant features missing from the site. You should, however, note that there is a FAQ section for punters who have general questions. Those who have account-specific queries or would wish to seek guidance on particular topics can contact the helpdesk using either:
The customer representative may take a longer period to answer, depending on the queue available. But if you lack the patience, use their live chat, which happens to be both fast and reliable. It is also easy to use since you just have to type your message and send. The site will then direct it to a Paf agent, and within a few minutes, you will have your reply.
---
Mobile Rating and Conclusion
Paf mobile rating needs improvement. The mobile app harbours so many features, including cash-out functions and in-play features, but also it lacks essential functions. For example, you will not find services like live streams available in Paf mobile.
Those are the things that deny it the spark it needs to score the whole points. You will, however, have an incredible time punting on Paf mobile app and mobile version. Generally, it is the place to find the best sporting events and an irresistible list of casino games.