Is There An Android .apk Application?
In the past there, seems to have been an Android application for Olybet sports if you search Google for it. However, the app doesn't seem to be available anymore. Even if you search for the app in Google Play or on the website, you won't be able to find it. So the best thing to do is merely access the mobile version of the site instead.
---
What About Mobile App for iOS?
The same thing goes for iOS devices. You won't find any dedicated app for Apple devices either. If you search for it in the iTunes store, you won't end up with any results. You also won't find anything when you look at the main website.
---
Review of Mobile Site Version
With that said, you can just access the mobile version of the website. Now, even if there is no app available for download, it doesn't mean the website can't make up for it. The Olybet mobile site version is actually just like an app about its features and navigation style. The best part is that you can access it using any phone that can connect to the internet.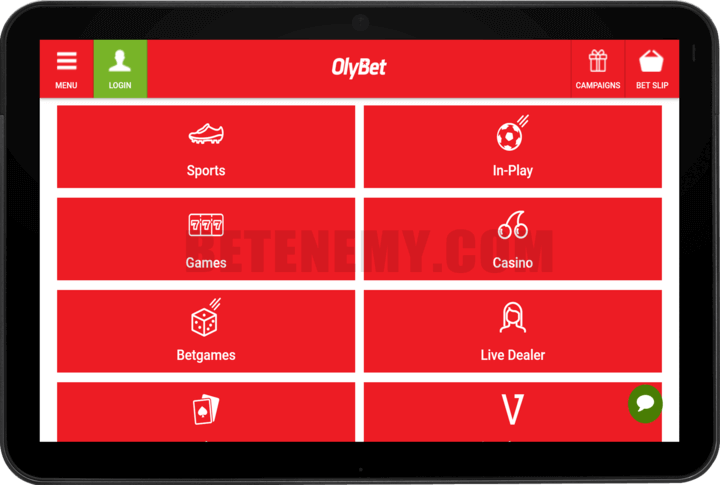 Aside from its optimised design, the Olybet mobile website looks really good. It makes use of a lot of graphics and very simplified structures without much text. So overall, it's really pleasing to the eyes making it great for you to play on. It's actually perfect for those who like to bet while they're on the road.
Overall, it's a lovely, elegant, and simple mobile website that anyone can use. It definitely compensates for an actual native app.
---
Mobile Sports Betting
The bread and butter of Olybet lie in their sports betting platform. They're very well known and loved in the Baltic States such as Estonia and Lithuania. They offer up to 16 different betting options such as football, basketball, tennis and many more. Of course, football is one of their main lines as football is one of the most, if not the most, favourite sports in Europe.
If we're talking about the odds of the sports markets, Olybet can be seen to have quite competitive and up to standard in the industry. Betting odds reach up to 106% in the sports events making the platform as a whole, very attractive.
---
Mobile Version Features
The mobile site version of Olybet has a lot of features. Here are some of these features:
Live Online Chat for the Live casino
This is one of the more unique features of Olybet. In the live casino section, there's a little live online chat section where you can chat with other players and even dealers in the live events. This gives you a chance to meet new friends and also get other people's opinions on the bets.
Cash-out Feature
The cash-out feature is advantageous if you want just to enter a trade then get out fast. For instance, if you think that the results of the game will go the other direction in the middle, the cash-out feature will allow you to take out whatever profits you have made so that you won't lose all of your money when the game finishes. OlyBet offers several types of cash out, including partial and automatic.
BetGame Section
The BetGame is a separate section from the sports betting, casino, and poker sections. This section provides various games such as Lucky 5,6,7, dice duel, and bet on poker.
In-Play Betting
In-play betting is for those who want to bet during the middle of the game when they have all the stats at hand. It's a handy feature that allows you to make more intelligent decisions based on the flow of the game and not just on luck.
---
Mobile Casino of OlyBet
If you're more of the Vegas type of person, then you'll definitely enjoy the mobile casino of Olybet. It offers a wide range of games that you can play including table games like blackjack, slots, lotteries, jackpot games and many more.
Aside from that, there's also the option to play in the live casino with a live dealer. Playing in the live casino is pretty much like being in Vegas itself but through your computer screen. You'll be dealing with actual dealers on the other end of your platform. There is a wide array of live casino games that you can play such as live roulette, live blackjack, and a lot more.
There's also a poker section for players who are more of the poker-type. There's also a Poker VIP club for those who are high rollers instead of recreational poker players.
---
Mobile Offers
There doesn't seem to be any mobile bonus for first time mobile players, but there are a lot of very appealing offers that you may avail. There are welcome promotions for Sports betting and Casino section. Aside from the welcome bonuses, there are so many more other bonuses that you can avail if you check out the page that showcases all the promotions.
---
System Requirements and Compatibility
The great thing about not having a native app is worrying about all the system requirements and compatibility issues with the phone. Since you're just relying on a mobile browser, you don't need to have an updated OS, phone brand, or specs to access the mobile version of the website.
However, you do need to have the Java and Flash of your phone updated so you can play. The mobile website heavily relies on Java and Flash application, so you have to make sure they're both up to date. Otherwise, you won't be able to play.
So whether you're using a Samsung Note, Samsung Tab, iPhone, iPad, Blackberry smartphone, HTC, or any other brand of smartphone, you won't have a problem. Just make sure that you can access the internet so that you can play.
Here are some examples of compatible devices:
Samsung Galaxy S8
Samsung Galaxy S9
Samsung Note Series
Motorola Moto G5
Huawei Mate 10
Huawei Honor 8
iPhone 6
iPhone X
---
Methods for Deposit and Withdrawal
One of the great things about Olybet is that there are a lot of available deposit and withdrawal options that you can choose.
Deposit Methods
Withdrawal Methods
| Payment Method | Deposit Minimum | Deposit Maximum | Time for Deposit |
| --- | --- | --- | --- |
| Visa | €2 | - | Instant |
| Bank Wire Transfer | €2 | - | 1-5 days |
| Skrill | €2 | - | Instant |
| MasterCard | €2 | - | Instant |
| PaySera | €2 | - | Instant |
| Swedbank | €2 | - | Instant |
| Luminor Nordea | €2 | - | Instant |
| Coop Pank | €2 | - | Instant |
| LHV | €2 | - | Instant |
| SEB | €2 | - | Instant |
| Instadebit | €2 | - | Instant |
| Payment Method | Withdrawal Minimum | Withdrawal Maximum | Time for Withdrawal |
| --- | --- | --- | --- |
| Visa | | | |
| Bank Wire Transfer | €5 | - | 1-5 days |
| Skrill | €5 | - | 24 hours |
| MasterCard | | | |
| PaySera | | | |
| Swedbank | | | |
| Luminor Nordea | | | |
| Coop Pank | | | |
| LHV | | | |
| SEB | | | |
| Instadebit | €5 | - | 1-5 days |
The maximum limits for the deposit and withdrawal options are not stated by Olybet, but they vary depending on the used payment method.
---
FAQs
Should you have questions in mind, read the FAQs below for your guidance.
Why is there no dedicated app for Olybet?
There is actually no need for there to be any mobile app because the mobile site version is already like one. It acts like one and has features like one, so there's really no need to have any dedicated mobile app for the betting platform.
What are the advantages of using the mobile website of a betting platform as compared to using an app?
First, there is no need for you to download and install anything on your phone. This means that you won't need to use up space on your phone just to place bets. All you have to do is access your phone browser, and you can start playing. Also as mentioned above, you won't have any compatibility issues since no installation is necessary. You just need an updated Java or Flash, and you can start playing.
Is the mobile website version smooth to use?
Yes, it's very much as smooth as any other app. As it uses Java and Flash, it contains a lot of slider functions that don't need redirecting of web pages. This makes loading time really fast.
Are there any mobile bonuses for existing players?
So far, there are no mobile-exclusive bonuses. However, mobile users can avail of any bonus that the main website provides.
Are there games cannot be played in the mobile version?
All the games that can be found in the main website version can be played in the mobile version of the website.
Do I have to verify my account before I start playing?
You don't necessarily have to verify your account before you start playing. However, you may need to verify your account so that you can withdraw your money. To verify your account, you need to send over a scanned copy of one valid government ID and also a proof of address under your name indicating your address and other details.
Why do I have to verify my account?
This is a standard operating procedure for most online gambling platforms. First, it is to ensure that there are no minors who enter the platform. Second, it's to ensure your identity so that you can avoid having any type of fraudulent transaction or information theft incident.
Are there bonuses where I can get prizes instead of money?
Yes! There are actually a lot of lotteries, jackpots, and other interesting games that allow you to win a ton of prizes. There are even some games wherein you have the chance to win a car and other interesting freebies.
---
Company Information
Olybet was first founded sometime in the year 2010 by the mother company Olympic Casino Eesti Ltd. Olympic Casino was created in 1993 and started out by establishing various casinos in Europe. Eventually, they decided to expand their reach through the internet to grab a more significant share of the market. Known for its high quality and smooth platform, they are arguably one of the biggest online betting platforms in the European market.
They are licensed under the jurisdiction of Estonia and are run by bigger player BetConstruct. So if you're familiar with the BetConstruct platform, you'll most likely feel at home with Olybet as well.
The bookmaker is not available only for desktop users, but for mobile bettors too. They can use the dedicated mobile site version of Olybet which we describe in details below.
---
Conclusion and Mobile Site Rating
Putting it all together, we can see that Olybet actually has everything. First, it has a very attractive sports market that contains a lot of great sporting options for you to choose from – all with really nice odds. Since Olybet has limited availability, they really focus on what their specific target market wants (their target market is mostly the Baltic states). With that, their football market is perfect.
Their sports betting platform also has a list of great features to brag about such as a cash out feature, in-play betting, a live betting chat box and many more.
About the casino, it contains a list of really cool games that you can enjoy. It also has a separate poker room for poker enthusiasts and a VIP room for high rolling poker players.
Of course, the app in itself is already a great achievement by Olybet as it's very smooth, aesthetically attractive, and easy to use. It can quickly grab the attention of the player with its eye-catching graphics and bright colours.
However, Olybet may present itself as a problem for those who like to stick to mobile apps instead of using the mobile website. Apps are somehow smoother and faster at loading than the usual mobile site which is why most people still prefer apps. The absence of the native app might cause loyal app users to stray from Olybet and go for the other betting platforms that do have native apps.
Another con of Olybet is that a lot of countries are restricted from using the website. So even if Olybet is pretty known in the industry, there are a lot of potential players that won't be able to register on the platform because of restrictions.