Important
Mybet is no longer active for all of the locations where the company offered its services before. Now, its Sportsbook and Casino providings are unavailable as the bookmaker paused its work since August 2018. Instead, we recommend you to take a look at our 1xBet review and familiarise yourself with the offers of this online bookmaker which is fully licensed for the UK.
Company Info
MyBet is a massive online gambling platform that hosts up to 14,000 sporting events and has a lot of customers all over the continent. Mybet.com is the brainchild of the bigger parent company Mybet Holding SE. PEI Ltd. founded in Malta since 2002. Aside from a lot of quality sports betting events that it offers, it also provides players with a great experience and total safety as the company holds technology that even measures up to the German security standard in Europe.
Mybet even upped its user experience by making a brand new website just last August 2016. The new site has more features and a more user-friendly interface, making the platform a lot more interactive for all players. That allowed this sportsbook to gain a handful of customers from all around the globe.
---
How to sign up on the website?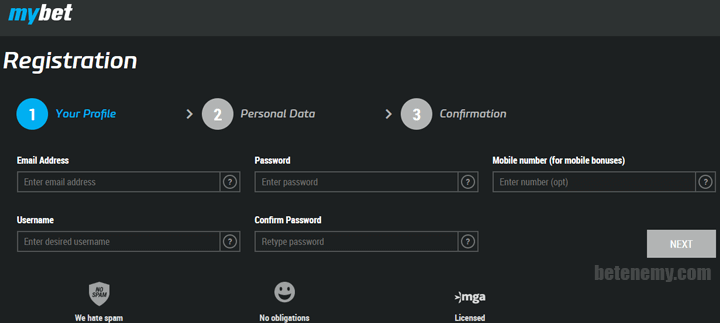 Since the website was built to be very interactive, it's effortless to navigate. That makes registration easy for anyone to do. Just follow these steps, and you should be able to play in a jiffy.
Step: Click on the Register Now button that is found on the front page.
Step: Fill in the details of your profile.
Step: Fill in your personal details.
How to activate your account? How to verify it?
Once you've finished that, the next thing you have to do is to activate your account. When you submit all the necessary information, Mybet will send you an email with instructions on how to enable and confirm your account. After you do that, you should be able to play already.
When you do with that, you now have to verify your account. It is a common practice done by most online gaming platforms to protect their customers' identities. All you have to do is send over a scanned copy of your valid ID (driver's license or passport) and a scanned copy of a proof of address (either a utility bill or a bank statement that's at least three months old).
Lost your password? Steps for Recovery
If you happen to lose or forget your password, Mybet helps you recover it very easily. Just follow these steps:
Step 1: Go to the login part of the website located at the top left.
Step 2: Click on the question mark (?) symbol beside the Password bar.
Step 3: Enter your username or email address on the space provided.
Step 4: Wait for instructions on how to reset your password.
Once you get the instructions, follow them, and you should be able to reset your password.
---
Website Review – Layouts and Menu
The Mybet website is one of the most interesting online gambling websites you'll find. What defines it is that some parts work as an app would. For instance, if you access the Forgot Password section, the site won't redirect you to another page. It'll just slide on over to the password recovery area just like an app. It makes the website have parts with speedy loading times.
It also has a drop-down notification icon and a slider menu. All of these features make it an excellent website. Design-wise, it pretty much uses the same layout and design that most new and modern gambling platforms use as well. The good thing about the design is that it's spotless and a bit minimalist. Of course, navigation is also pretty easy because everything is right there in front of you without many buttons for you to click.
---
Sports Betting
Known for its sports betting, Mybet offers a lot of great sports markets with football, basketball, hockey, and tennis in the forefront being the most popular ones to boot. Aside from the usual sports, they also offer sports markets for various eSports such as League of Legends, Dota 2, Starcraft, and more.
Betting Markets
Focusing on football, Mybet endorses football events– especially European leagues. To further endorse their football, Mybet even offers weekly jackpots to players who can guess winning teams in events 11 times in either English or German divisions.
What about the odds?
One of the best things about MyBet is that their payout is 97% which means that Mybet produces a lot of winners. It is because the odds are competitive and can give you a big winning chance. However, due to this winning chance, they've limited the max winnings to only €30,000 a day. So if you're after something bigger per day, this might not interest you. However, the odds of winning are sure, so if you don't mind earning consistently but not very big, this is a great platform.
---
Sports Welcome Bonus – 100% on the First Deposit Up to €100
Of course, no online sports betting platform is complete without its own signature welcome bonus. With the sportsbook welcome bonus, you can get 100% of your deposit amount of up to €100 if you use the Mybet bonus code START200. Here are a few terms and conditions to take note of:
This bonus is only applicable for only new customers and can only be used once per customer.
In order to avail of the bonus, you have to make a minimum deposit of €5, in which you'll get a maximum bonus of €200.
To avail of the bonus, you have to make an initial deposit within 7 days of your sign up using the bonus code

START200

.
You must bet on sports games with odds 1.5 or more within thirty days.
You must rollover your bet 5 times.
Only users of Paysafe, Paypal, Mastercard, Visa, and Bank wire are eligible for the bonus.
---
---
Live Betting on Sports
Like what most other popular online sports betting platform, Mybet also has a live betting feature. It allows you to get right in the middle of the action where you can make bets right when the game is happening. It is inspiring because it allows you to earn a lot of money when all the other betters are present as well. Live betting is available for football, tennis, hockey, volleyball, and basketball.
---
Is there a Live Stream feature?
For the sports games, the platform doesn't provide any live streaming on the site itself. If you want to bet and watch the game at the same time, you might have to watch it on your TV or on streaming sites.
---
Cash-Out Option – Is it available?
Fortunately, a cash-out option is available so that you can manage your bets even if the event hasn't finished it. It allows you to get profits based on the process of the game. It is a great fund management feature that lets you control the amount of money that put at risk from your account.
---
Casino Section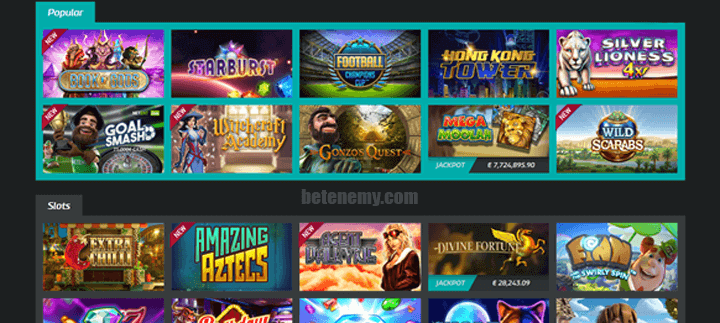 If casinos are more of your thing, then you'll probably want to head on out to the Mybet casino. Just like most other casinos, Mybet offers a lot of great games to play including slots, table games, roulette, and more.
First Deposit Offer – 200% Up to €200 + 100 Free Spins
If it's your first time signing up for the casino, then you can avail of a generous first deposit bonus where you get 200% worth of bonuses on your initial deposit plus 100 free spins. Here are the terms and conditions to note:
This offer is only available to new customers once per customer.
The 100 free spins are only applicable for Taco Brothers.
The minimum deposit is €10 for the casino.
The bonus can only be withdrawable if wagered 35 times in 30 days.
Second Deposit Bonus Offer – 150% Up to €500
Other than the welcome bonus, you get another bonus for making a second deposit. This one allows you to get 150% worth of bonus to up to €500. Just like the first offer, you have to wager the amount 35 times to withdraw it.
Third Deposit Bonus Offer – 100% Up to €500
You also get a third deposit offer where you can get 100% up to €500 in bonuses. It also needs to be wagered 35 times before it becomes withdrawable.
Fourth Deposit Bonus Offer – 50 Free Spins
The final offer is the fourth deposit bonus where you get 50 free spins. That can only use in Bonanza.
---
Live Casino
Mybet gives a very Vegas feel with its live casino. With the live casino, you get to live stream with real dealers, and they'll be the ones to facilitate your game. You can play live blackjack, live roulette, and other live casino games for your enjoyment.
---
Payment Options
To know more about the deposit and withdrawal methods in Mybet, check out the tables below:
| Payment Method | Deposit Minimum | Deposit Maximum | Time for Deposit | Minimum Withdrawal | Withdrawal Maximum | Time for Withdrawal |
| --- | --- | --- | --- | --- | --- | --- |
| Visa | | | | €30 | No limit | 24 hours |
| Bank Wire Transfer | €10 | No limit | 1-4 days | €30 | No limit | 1-4 days |
| Neteller | €10 | No limit | 24 hours | €30 | No limit | 24 hours |
| Skrill | €10 | No limit | 24 hours | €30 | No limit | 24 hours |
| Paysafe Card | €10 | No limit | 24 hours | | | |
| MasterCard | | | | €30 | No limit | 24 hours |
| PayPal | €10 | No limit | 24 hours | | | |
| Credit Cards | €10 | No limit | 24 hours | | | |
| Debit Cards | €10 | No limit | 24 hours | | | |
| Sofort | €10 | No limit | 24 hours | | | |
---
Mobile Services
Mybet doesn't have a mobile app that you can download on the Play Store or Apple Store. Preferably, there is a mobile version of MyBet that you can access through your mobile browser. The mobile version is very similar to the original website since the original site is pretty much like an app anyway. The only difference is that the mobile-friendly version is optimised to fit the screen of a mobile phone.
---
Affiliate Program
Mybet also has a great affiliate program where you can earn some extra cash aside from betting. If you become an affiliate partner of the platform and you can promote Mybet via your website, you can get up to 35% of shared revenues for your referrals. That is a great way to make some cash on the side without you doing much. It also allows you to make extra money for more betting and casino games.
---
FAQ's
With the overwhelming number of features available in Mybet, you might get confused with some questions. Refer to the FAQ's below to be guided.
Is the customer service 24/7?
No, the customer service is available from 12 pm to 8 pm CEST.
Can I temporarily deactivate my account?
Yes, you can. You can also choose the time period in which you want to close it.
How do I reactivate it?
It automatically reactivates after the time period you set.
Do you offer multiway bets?
Yes, we allow you to bet on different predictions in the same event and in the same bet.
Is there a way to cancel bets after they've been wagered?
Generally, this isn't allowed by Mybet. However, you may try to contact customer support and let them review your case if it's possible.
How do I cash in my casino earnings?
You will be receiving your winnings in chips. So once you accumulate a number of chips, you can exchange them for cash by clicking on the Buy/Sell chips option in the dashboard.
Is there a way to cancel my bonus if I don't want to avail it anymore?
Yes, there is. Simply click on the My Bonuses part in your account and you'll see a list of your active bonuses. Click the X button of the one you don't want anymore.
---
Customer Support
One of the best things about MyBet is the customer service that is available for players. First off, the website has a very comprehensive FAQ section where most answers already found. So before you reach out to a customer service rep, you can take a look at the FAQ section first. Aside from that, there are many options for you to contact a service rep. Check out the contact details below.
---
Contact Details
You can reach Mybet through the following methods:
Where is the head office of the company?
The main office of MyBet is located in Malta. The exact address is the following: W Business Centre, Level 3, Triq Dun Karm, B'Kara – BKR90 33, Malta. You can also see the location through Google Maps.
---
Conclusion and Rating
Overall, MyBet is a perfect platform that offers extremely generous rewards and a very good UX due to its website. However, some features are missing from the platform. For one, it doesn't have a live streaming option which is a staple feature for a betting website. Moreover, it doesn't offer horse racing, which is one of the biggest markets in Europe. While this is bad news, the good news is that the management is considering including horse racing for players.
Although Mybet has shortcomings, it remains as a great website for casino players and sports bettors. Overall, it gets a score of 8 over 10.