Matchbook Review
Matchbook holds the name of being a betting exchange company, instead of a traditional bookie. The company may not lead the industry of betting exchange today, but it's among the companies that are widely considered as the best when it comes to offering the lowest commissions in sports betting. Now, let's see how Matchbook is doing in its eleventh year in the industry.
---
Registration
Go to Matchbook's official website. – Go the official website of Matchbook. If you have problems accessing the site, try using browser extensions like Hola. Only go to your browser's store and add Hola as an extension. Once inserted, set the web address to UK.
Click "JOIN/LOGIN". – After clicking "JOIN/login", a pop-up box will appear on your screen. At the bottom of the pop-up box, click the red "JOIN NOW" button.
Fill in the registration form. – After clicking "JOIN NOW", another pop-up box will appear. The box displays the process of registration, which comes in 3 steps. The first step presents the registration form. Fill it up. Once done, proceed to the next steps by clicking "NEXT STEP". Do this process in the following steps. After completing the 3-step registration process, read the terms and conditions and then click "ACCEPT/AGREE".
Confirm your registration. – To complete your registration for Matchbook, go to your email address and confirm your registration in the account confirmation email sent to you by Matchbook.
How to activate our account
After confirming your registration for Matchbook, you will be redirected to Matchbook's official website with your account logged-in automatically. This means that your Matchbook account has been activated.
How to verify our account before any withdrawal
Like most betting companies, an official ID verifies an account in Matchbook. In your first deposit, you will receive an email from Matchbook asking for your additional official ID. Your ID can send through a post, fax, and or a scanned email. After sending your ID card and your proof of address, your account will verify.
While many people find this requirement of ID troublesome in the process of account verification, the ID request is necessary as a legal requirement to protect your account. Failing to comply with the condition will result in restrictions in your account such as a prohibition of withdrawal or account suspension.
What to do if we lost our password
Lost or forgotten password can easily be recovered or changed in a Matchbook account. For password recovery, go to the official website of Matchbook. On the homepage, click "JOIN/LOGIN". A pop-up box will appear. Click "FORGOT PASSWORD?" below the log-in section. A password recovery section will immediately appear.
The password recovery process will ask you to enter your username. After adding the detail, a new password will send to the email address registered with your Matchbook account. You can temporarily use the new given password to log-into your account in Matchbook.
---
Website review – Design, structure and layouts
The layout of Matchbook's official website is vibrant. The website's interface, in particular, is one of the best among betting exchange websites. The site is straightforward to use, which allows just about everyone to quickly get the hang of using it in just a couple of minutes.
The website designed in colours of white, red and dark grey, and the layout of the site is unique and attractive, but it's not confusing to look.
On the left side of the homepage are the sports offered and the submarkets available for the displayed sports.
The centre part of the page is the most popular upcoming sports matches with the lists of the current odds for back and lay.
The top of the page is a large graphics that updates users about new MB lounges in sports betting. In the lounge link located at the top right part of the homepage is a collection of sports insights interpreted by a team of professional betting analysts who are an expert in various sports including football, tennis, golf, and cricket.
Selecting a player or a team for sports betting is made easier in Matchbook's official website. A selection of slipping betting options is appearing on the top right side of the page, a place which is very accessible for the users. On the high menu bar is the display settings of the odd percentage. Users can hop from one odd selection to another – from US, HK, Indo, Malay, to decimal. Users can also choose from different currencies including USD, CAD, AUD, HKD, GBP, and EUR currencies.
Should the users have a hard time in navigating through the website, the website has an extensive learning centre that can access through the "Help and Learning" link.
---
Exchange betting
Exchange betting in Matchbook allows players to back and lay opportunities. Kin Matchbook, exchange betting is much more comfortable as two parties agree in the stakes and odds in betting.
What is Matchbook exchange system?
Matchbook exchange system is a system that has designed for bettors who ask for more value in betting. Matchbook offers low commissions and deep liquidity to be able to return the customers a maximum betting value.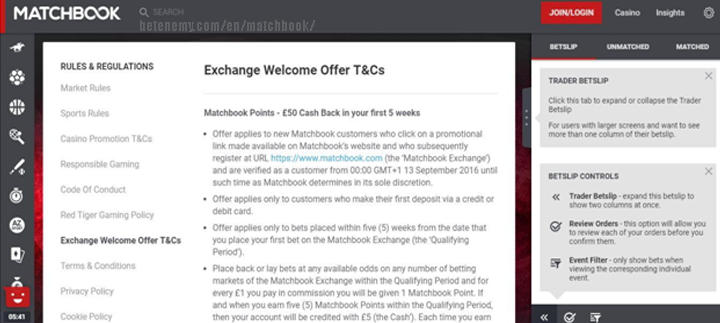 Available betting markets
Matchbook only offers a limited number of sports within its website. The betting exchange company offers sports events in basketball, rugby, tennis, ice hockey, golf, union, dart, MMA and boxing with a focus on football betting. The betting exchange website also organises betting events for politics and even for The Oscars.
In Matchbook, there are only a few countries covered in the football markets. Overall, the odds for football matches are available in 6 countries, and the prices are available for the UEFA Champions League, The Premier League, The FA Cup, The Championship, and Euro 2016. Matchbook facilitates betting events on the top tier sports from different countries in Europe.
The basketball extends to events like NBA, NHL, and ice hockey. While Matchbook only has a limited number of markets to the top sports leagues, they are not to blame for it. At Matchbook's current size and status, the betting exchange company would have very low liquidity if they are to extend their market reach forcefully. By restricting the betting stakes to bigger competitions and sports leagues, Matchbook can ensure these events to have substantial liquidity and more competitive odds.
Asian handicaps appear to be the concentration of this online betting exchange company. These markets have the most liquidity.
Are the odds higher?
Matchbook is a betting exchange company, so the competitiveness of its markets is indicated by its punters, not by Matchbook itself. That suggested that more and higher liquidity for an event means a closed book for the market.
Matchbook charges a tiny commission per cent of 1% per bet. The rate of commission is applied to the winning bet profits and used to the losing bet with a minor stake of liability amount or potential benefit.
Inlay bets, the stake of the backer and the potential profit are the same. Because of this, the commission on bets at 2.00 or more significant is 1% of backer's stake. This particular strategy of Matchbook is unlike that of Betdaq or Betfair. The two has an average commission charge of 2.5% on the profit of the bet without deductions or potential deductions from the stake. Matchbook has lesser liquidity than the two big betting exchange companies, but it has a market that is very competitive in total book percentage and charge of commissions.
---
Matchbook welcome bonus
Unfortunately, for that moment there is no welcome sign-up bonus offer for new players in Matchbook. Stay turn and when new information comes up we will be the first to inform you. You can read our content about each Matchbook bonus and offer for Sports, Casino and other sections.
---
---
Live betting
Live betting in Matchbook allows players to place bets while a sports event is taking place. In Matchbook, live betting events are much more convenient for players as the market does not close when the tournament starts, unlike other betting companies. A player can place bets until the end of the match.
---
Horse racing
Matchbook most recently introduced the newest event in betting – horse racing. Just last year, in 2016, the company became an authorized betting partner supporting the British Horse Racing. With its recent launch, people have been looking forward to the horse racing event in Matchbook.
Horse racing events in Matchbook currently presents horse racing in the UK and Irish only. The international horse race betting events are yet to plan in the future.
The standard commission for a standard horse racing event in Matchbook is 1.5%. The markets available for horse race betting are only those posts markets that have won or have been select. Additional markets will be open on the website soon.
---
Cash-Out option
The cash out option is not available at Matchbook. It is a big minus for the bookmaker, but in the future, we hope that will change, and players will have the opportunity to close their bets earlier.
---
Casino
Matchbook's casino tab on the website organised in four categories:
Table Games
Slots
Video Poker
Live Dealer
The section for table games features favourite table games and corresponding bonuses for all players to avail. All games are present in clear, high-quality graphic designs. The table games displayed in Matchbook's section includes Blackjack, Progressive Blackjack, High, American Roulette, European Casino Texas Hold'em, Pai Gow Poker, Red Dog, and Caribbean Poker.
Under the slots section is a wide-ranging collection of slots games from the most popular brand. Jack and the Beanstalk, Koi Princess, and Secrets of Christmas are only a few of the many popular slots games that you can enjoy. All slots games in Matchbook powered by NetEnt, a slots games provider that satisfies the games of every customer.
Matchbook also offers a wide selection of Video Poker options. In Matchbook, there are four different types of video poker: All America, Jack or Better, Deuces Wild, and Joker Wild.
The last category under Mtachbook's casino tab is the live dealer. This category is where players can play live casino games with the minimum to the maximum betting rates.
Casino bonus – Deposit £25 and get 40 bonus spins
This casino bonus of 40 spins can claim with the coupon code of CASINOMAX. To cash out the offer, you will be asked to roll over your deposit at least 35 times. After qualifying for the bonus, the amount of the promotion will credit to you within 24 hours, and the 40 bonus spins may be applied. This bonus only lasts for 30 days. After the period, the offer can no longer use. This casino bonus applies to customers from the United Kingdom, Ireland, Austria, Australia, Netherlands, Switzerland, Finland, Sweden, Hungary, Germany, Slovenia, and Japan.
Live casino with real dealers
Matchbook focuses on satisfying customers with significant demands. That is why Matchbook has introduced real live dealers to its live casino. Live casino games that can enjoy with live dealers include Live Roulette, Live French Roulette, Live Roulette High Roller, Live Blackjack, Live Blackjack High Roller, Blackjack low roller, and Live Common Draw.
With real dealers, casino games are made to be much more challenging and exciting. During a session of games with real dealers, the software displays the name of the dealer. A user is given abundant freedom in controlling the settings. Users can control the video quality, volume, and more. The unique thing about Matchbook's casino is the way it uses Netent software, which allows the platform to operate on its own.
---
Payment methods
Matchbook does an excellent job with payment methods. The online betting exchange company allows the most commonly preferred deposit and withdrawal options for its customers.
| Payment Method | Deposit Minimum | Deposit Maximum | Minimum Withdrawal | Withdrawal Maximum | Time for Withdrawal |
| --- | --- | --- | --- | --- | --- |
| Bank Wire Transfer | €500 | It depends | €500 | It depends | up 72 hours |
| Neteller | €10 | It depends | €10 | It depends | within 12 hours |
| Skrill | €10 | It depends | €10 | It depends | within 12 hours |
| Credit Cards | €10 | It depends | €10 | It depends | 2-5 days |
| Debit Cards | €10 | It depends | €10 | It depends | 2-5 days |
| Instadebit | €10 | It depends | €10 | It depends | |
---
Matchbook mobile
Matchbook's mobile version and Casino App, are available for use on Android phone. Like any other mobile casino apps, this application allows easier access to mobile betting games without the need of a browser. The good thing about this app is that does not need additional software.
---
Affiliate program
Matchbook Affiliates is Matchbook's official affiliate program. The focus of this program is primarily its casino and sports betting events. The website was founded in the US and then was taken over in 2011 by the US-based company.
---
Company info
In 2004, Matchbook entered the competitive world of betting exchange as an online sport betting exchange company. Licensed by the UK Gambling Commissions, Matchbook continues to offer betting services to customers within and outside the UK. Historically, Matchbook dominated the world of betting, even surpassing the present most leading betting exchange company, Betfair. However, over the years, many companies have started to make innovations in the industry, leaving Matchbook in the place of second best. Indeed, maintaining the success of a betting exchange company is never easy. To keep the place, a company must be able to market good liquidity, enable odds to hold up and give punters stake placement selections and opportunities.
---
Customer care
Matchbook gives its customers various methods to reach the management. Customers can contact Matchbook through phone, email, and live chat for questions or concerns. The online betting company also provides a FAQ section for customers. The section is known to be very extensive. It answers basic questions and explains details in the simplest and most understandable ways.
---
Contacts
If you need to contact Matchbook, you can reach them at one of the following:
Where is the main office of the company?
If you want to find the main office of Matchbook, here is the address: Inchalla, Le Val Alderney, GY9 3UL. You can take a look on it in Google Maps too.
---
Final Verdict and Rating
Matchbook isn't the best or the largest online betting exchange company in the industry. Nevertheless, it's satisfactory in some aspects, especially when it comes to the liquidity, commission rates, and better deals. It deserves to get a 9/10 rating.