How to download LuckyBet App for Android
The first thing that we're going to look into is the LuckyBet mobile app for Android. Now, take note that there is no LuckyBet app that can found in Google Play. That's because Google Play is rather strict when it comes to hosting gambling apps. That's why you won't find the app there.
Fortunately, there is an apk download option on the website that will allow you to get the LuckyBet app. To find it, all you have to do is go to the webpage and scroll down to the bottom part of the page. From there, you'll be able to see two buttons that say, "Download for Android". The button that features a football is the official APK file for the sports. The one with a roulette icon is the apk for the mobile casino app.
To download both the apk files, all you have to do is click on either one of them. From there, you'll be able to download the apk file. Once the apk file is in your mobile phone, you can install the app by clicking on the apk.
---
How to Install LuckyBet App for Android
As we mentioned above, most Android devices are rather strict with gambling apps. That's why installing the LuckyBet app isn't going to be as straightforward as downloading the apk file and installing the app. There are some configurations that you need to make to the security settings of your phone. Here's what you do:
Step 1: Click on the Settings option.
Step 2: Go to the Security option.
Step 3: Click on the box that says Unknown Sources.
Now that you have configured the settings of the phone, you can now easily download the apk file and install the file on your device.
---
Is there a LuckyBet App for iOS?
Android users are going to be happy that there's a mobile app for free download that they can access. However, iOS users aren't so lucky. There is no iOS app that you can find. There is also no official download page in the Apple Store for a LuckyBet application.
So how are iOS users going to access the LuckyBet mobile platform? Well, there is always the mobile version of the website. We'll be talking about that later on in the review.
---
Benefits of the LuckyBet App
After giving you a glimpse of the Android app and a few screenshots, some of the advantages you can enjoy include ease of use, ease of navigation, and speedy loading times.
Other than that, the app is quite interactive, especially the casino section. Finally, the app is also pretty easy on the eyes because the colour scheme isn't too bright nor too glam like traditional apps.
---
How to use the LuckyBet App?
How do you use the LuckyBet app? Well, navigating around the different sections of the app is pretty easy due to the hamburger icon. If you click on it, you can see a list of sections at the top part and a list of sports markets and casino games below.
---
Review of Mobile Site Version
The mobile version of the website is the primary medium in which you can access the platform with your iOS device. You also should know that this mobile version is accepted to use from Android users too. To reach the mobile version, you need to enter the LuckyBet website URL in your mobile browser, and you'll be there.
Now, the mobile site version is almost identical to the mobile app for Android. The mobile version website has all the features the app has. Probably the only difference between the website and the app is that the website doesn't load as fast, though that's just a minor difference. You can check out what the mobile site version looks like via our screenshot below:
---
Sports Betting on Mobile
When it comes to sports betting on mobile, you'll find quite many sports markets to choose from. The sports betting section includes popular sports such as football, volleyball, basketball, and many more.
What you'll love about the app is that it also has a pretty comprehensive list of eSports markets that you can choose from. These include Dota events, League of Legends, CS: GO, and many more. You'll also find some cool virtual sports sections that you can try out if you get bored with regular sports betting.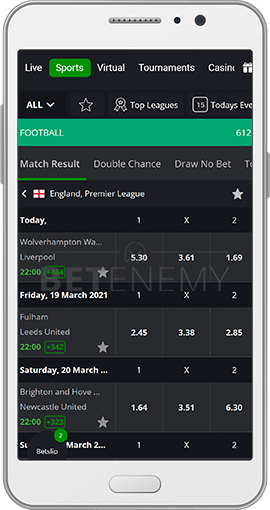 ---
Mobile App Features
In this section, we'll be going deeper into the sports section by taking a look at the live sports section. For live sports sections, there are three features that mobile punters usually look for.
These three features are the live streaming feature, the in-play function, and the cash-out service. These three features are staples in any live sports section. If a bookie has all three, then its live sports section is surely top grade.
Live streaming
First up is the live streaming feature. The live streaming feature made for hardcore punters who loved to watch the games while they place bets. It's a fascinating feature that you can avail of when you enter the app.
The good news here is that there is a live streaming feature in this app that you can avail of. With this live streaming service, you can watch any game that you want anywhere you are as long as you have an internet connection.
In-play function
The next feature that we have to take a look at is the in-play function. The in-play service is the same as the live betting section of the mobile app. That is where you can place bets on events in real-time.
While the list of events is rather limited compared to a lot of other bookies, the leagues that the live section offers are rather impressive.
Cash Out option
Finally, there's the cash-out option. This feature is a fantastic little function that allows you to have the opportunity to pull out profits if you feel like you're in the next round. You can say that it's a risk management option to keep your money safe.
The LuckyBet app does have this sort of option for both the mobile platform and the LuckyBet for the PC platform. As a mobile punter, you have the opportunity to guarantee your profits in the event of the odds, not going your way.
---
LuckyBet casino mobile
The LuckyBet casino mobile is the next section that we're going to take a look at. The LuckyBet casino mobile offers a lot of cool games that you can bet on. There are slot games, fantasy sports, table games, lotteries, bingo games, and many more.
Other than that, you'll also find that there are some tournaments that you can join. The competitions are for the people that have a more competitive streak and would like to win big prizes. The tournaments change regularly so you need to check the Tournaments section from time to time to see which one you can join.
---
Live Casino on mobile
Next to the casino section, there is the live casino section. The great thing about the live casino section is that you can play with live dealers just like in a real casino. If you frequent land-based casinos but don't have the time to go there, the live casino is the next best thing.
The live casino games that offered there all come from well-known software providers such as BetConstruct and other big names like Ezugi and Evolution Gaming.
---
LuckyBet Mobile Poker
Now, you may think that there is a separate mobile poker section in the LuckyBet mobile platform. However, the poker games are just a part of the casino section. If you go to the casino section, you'll find a few poker games that you can play.
If you happen to be a fan of poker, you'll have fun with the various poker events here. There is the Joker Poker Game, Double Bonus Poker Game, and many more that you can choose from.
---
Mobile Version vs Mobile App
There are two ways that you can access the mobile platform. These are the mobile app and the mobile version of the website. Both these mediums have their specific pros and cons. Here are the advantages and disadvantages of each:
Mobile App Advantages:
Features a speedy loading time
Interactive app design
Easy to use
Mobile App Disadvantages:
Requires security configuration
Requires constant updating
Mobile Version Advantages:
Does not need downloading
Does not require any regular updates
Can be used in any device
Mobile Version Disadvantages:
Significantly slower loading time
Could be susceptible to browser issues
Will sometimes require a browser update
---
Is There a Mobile Bonus?
While there is no LuckyBet mobile bonus that offered, there is a whole list of various sports and casino bonuses that you can avail of in the Promotions section. That said, you don't need an exclusive mobile offer.
The bonuses that offered to LuckyBet players are for both desktop and mobile punters, so even if you use the mobile platform, you still have the same opportunities that the desktop players can enjoy.
---
System Requirements and Compatibility
While the mobile version doesn't require you to think of any system compatibility, the mobile app does. With the mobile version, any phone of any version can be used. With the mobile app, you need to make sure that your Android phone has a version of at least Android 4.1 or higher if possible.
Here's a list of phones that will work very well with the app:
Samsung Galaxy S2 and above
Samsung Galaxy Nexus GT
HTC One X
Samsung Galaxy Note 2 and above
Sony Xperia E
---
Mobile Deposit & Withdrawal Payments
One of the most important parts of having an account in LuckyBet is knowing how to move money in an account. Here are the payment methods that you can use in the LuckyBet application.
| Payment Method | Deposit Minimum | Deposit Maximum | Time for Deposit | Minimum Withdrawal | Withdrawal Maximum | Time for Withdrawal | Taxes |
| --- | --- | --- | --- | --- | --- | --- | --- |
| Visa | €5 | €10,000 | Instant | €1 | €10,000 | 12 Hours | Free |
| Neteller | €5 | €500,000 | Instant | €1 | €500,000 | 12 Hours | Free |
| Skrill | €5 | €10,000 | Instant | €1 | €10,000 | 12 Hours | Free |
| Paysafe Card | €5 | €10,000 | Instant | €1 | €10,000 | 12 Hours | Free |
| EcoPayz | €5 | €10,000 | Instant | €1 | €10,000 | 12 Hours | Free |
| MasterCard | €5 | €10,000 | Instant | €1 | €10,000 | 12 Hours | Free |
| Bitcoin | €5 | €10,000 | Instant | €1 | €10,000 | 12 Hours | Free |
| Qiwi | €5 | €2000 | Instant | €10 | €200 | 24 Hours | Free |
| Perfect Money | €1 | €10,000 | Instant | €1 | €10,000 | 12 Hours | Free |
| Jeton Wallet | €5 | €10,000 | Instant | €5 | €10,000 | Instant | Free |
| Payeer | €10 | €1000 | Instant | €10 | €1000 | 24 Hours | Free |
| AstroPay | €5 | €10,000 | Instant | €1 | €10,000 | 12 Hours | Free |
| Epro | €5 | €10,000 | Instant | N/A | N/A | N/A | N/A |
| Piastrix | €1 | €10,000 | Instant | €1 | €10,000 | 12 Hours | Free |
| UPayCard | €5 | €10,000 | Instant | €1 | €10,000 | 12 Hours | Free |
---
Questions & Answers
Can I change the odds from Fractional to Decimal?
Yes, you can. Just hover over to the right side of the mobile website, and you'll see the odds formats. You have the choice to change the odds from fractional to decimal and even American odds. Aside from that, you can also change the odds to Hong Kong, Malay, and Indo odds.
Was it ever not working?
So far, there have been no problems with the app. If it is not working for your phone, you may want to double-check your OS version for compatibility.
I downloaded the LuckyBet app. What if it won't install?
That's most likely because the security configurations weren't fixed yet. To do this, you need to go to Settings, tap on Security, then check the Unknown Sources box.
Why can't I find a LuckyBet app for iOS in the App Store?
This is because there is no LuckyBet app for iOS devices. The only way an iOS user can access the LuckyBet mobile platform is to use the mobile version website.
Is the LuckyBet app free?
Yes, the LuckyBet app is free to download. Just go to the website so that you can download the apk file.
Do I have to do a separate mobile registration even if I registered using the desktop version?
No, you don't need to. Once you create an account in any of the platforms, you can use the same login credentials for both.
Can I use my mobile app to recover my password if I lost it?
Yes, you can. Just go to the LuckyBet login mobile page and click on the Forgot Your Password option. From there, you will be able to create a new password for your account.
What if I can't seem to get the mobile version to load properly?
This possibly means that your cache and cookies need to clear. To do that, go to the History settings on your browser to clear the cookies and cache. The mobile version should be able to work after that.

If it doesn't, you can also try updating your mobile browser and see if that helps. If all else fails, try to use a different browser. Google Chrome, Opera, and Firefox usually work pretty well.
---
About the Company
LuckyBet is relatively new to the market compared to all the other old-school mobile bookies. However, during the years that it was in operation, it was able to cement a good presence in the market. It was founded sometime in 2016 with its headquarters from Malta. Currently, the company now has a licence from Curacao with jurisdiction to operate in Europe.
The cool thing about LuckyBet is that it offers a pretty wide selection of events. While the sports markets are rather limited, the leagues included in the website are rather diverse. They also have high-quality casino games that come from top providers of gambling software.
---
Contact information
---
App Rating and Conclusion
Now that we've gone through every aspect of the LuckyBet mobile platform, what exactly can we say about it? Well, we can say that it's one of the complete mobile platforms you can find.
The sports market and the casino sections are both top class. Aside from that, the live sports section has all the necessary features needed to ensure that the app is a top-class live sports bookie.
The only downside that we can see here is that there is no iOS app for Apple devices. However, we don't believe that it's a very big deal because there's an efficient mobile version website and an Android app available. Other than that, we don't see any big disadvantage to joining the LuckyBet mobile platform.
Due to its completeness, we can give this app a total high score. It is a mobile bookie that we will recommend to our fellow punters out there.