Legolas Review
Legolas.bet is a platform that allows people to gamble by placing bets on various sports, horse racing games and casino games. The platform got its name from a horse named Legolas that rose above the rest and became a crowd favourite. It transformed the entire landscape of racing and managed to get the whole country interested in horseracing.
---
Legolas Registration
Registering on this platform is very easy. It requires a three-step process. Below is a guide on how to register.
Step 1: Go to Legolas.bet.
Step 2: On the upper right-hand corner of the homepage, click 'Sign Up'.
Step 3: Fill in the form with the necessary details and then sign up.
Activating and Verifying Your Account
After creating your account, you need to activate it. The platform will send an email to the email address you provided with a link that will automatically activate your account.
From there, you will be required to verify your account. This is very important especially when you need to withdraw your winnings or make a deposit. In order to verify your account, upload your valid ID card or passport to Legolas.bet at the profile section.
How to Recover a Forgotten Password
To recover your password, click the 'Log In' option on the homepage, select 'Forgot password', fill in the field with your username and date of birth, and then click 'Send Email'. An email from Legolas.bet will be sent to you with step-by-step instructions on how to recover your password. Use these instructions to change your password.
---
Website Review- Layouts and Navigation
This website has a very simple design. The colour scheme is light red and white. There is a lot of white space, making reading very easy. The font used is simple and regular, and there seems to have more pictures than words, which makes everything easy for those who do not like to read much.
The navigation and menu have been simplified, and there are no sudden popups or advertisements. There is a live chat at the right corner and notifications bubble at the left corner. All these features make the platform an extremely easy to use.
---
Betting On Sports
The sportsbook is the first option on the navigation panel. There is a wide variety of sports markets players can choose from. The sportsbook allows the player to bet on tennis, basketball, volleyball, darts and so much more.
The best feature, however, is how the player can view the progress of the game live. The platform shows when there is a substitution when the game is paused, and how many minutes the game has gone for.
Betting Options
There are three different options for betting. There is a single bet slip, combined bet slip and system bet slip. The single bet slip allows you to bet on only one game. The combined bet slip allows betting on a wide variety of games which means you can bet on more than one game. The system bet slip has a variety of features that are all dependent.
You can change the bet as the game progresses. This platform indeed has the best needs of the player at heart. You can change from 1 or X or 2.
Some of the available sports are:
Football
Volleyball
Basketball
Badminton
Boxing
Cycling
Cricket
Futsal
Handball
Rugby
Snooker
Tennis
Table Tennis
Squash
Trotting
About the Odds
The odds are definitely higher than other sites. The most popular sports have competitive values. Hardcore bettors will enjoy this platform.
If you choose to bet in the In-Plat Section, you should know that the odds change as the game progresses. They may increase or decrease, which is an advantage to the player on the platform.
The odds can be arranged in decimal, fraction or in an American style. Decimal style means that the odds are arranged as 50.00, 6.75 or 1.05. On the other hand, fractional style means 49/1, 23/4 or 1/20. American style means that the odds are 4900.00, 575.00 or -2000.00.
---
Welcome Offer for Sport
New members of Legolas.bet receive a 100% bonus on their first deposit from minimum €10 or maximum €100. However, the maximum bonus that you can receive is €100. The platform does not even require you to have a promotional code. Here are some important terms and conditions to remember:
First bonus - 100% match up bonus up to €100
Minimum deposit: 10 EURO
Maximum deposit: 100 EURO
Minimum odds: 1.5
Wagering requirement: 10x
Second bonus - 50% match up bonus up to €10
Minimum deposit: 10 EURO
Maximum deposit: 20 EURO
Minimum odds: 1.5
Wagering requirement: 1x
Third bonus - 400% match up bonus up to €40
Minimum deposit: 10 EURO
Maximum deposit: 10 EURO
Information: Deposit 10 EURO & Get 40 EURO
Minimum odds: 1.5
Wagering requirement: 15x
General T & C:
The bonus is limited to one person.
The offer has started from 01.08.2019.
The general requirement for all three offers is to make a minimum deposit of EUR 10.
You have 90 days from the date the bonus is activated.
If you perform all bookmaker requirements for the offer you have selected, the amount indicated will be credited to your account.
---
---
Live Betting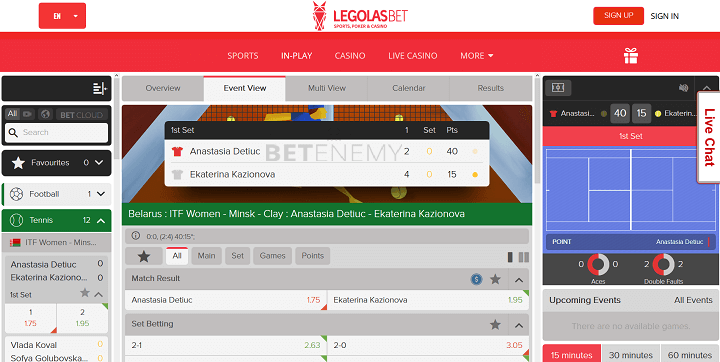 Live betting allows you to make a bet while the game is playing live. The bettors experience the full action enjoying every piece of excitement. They can easily make a bet or change their betting choice.
The live betting navigation is available for all sports. This ranges from darts to tennis to football. As long as the game is listed on Legolas.bet, it is possible to bet on it live. The number of minutes elapsed can also be seen from the platform.
---
Cash Out Feature
Cashing out is not available for this platform. Once you make a bet, you have to wait until the game is over. You cannot back down from the bet. However, they are currently working to include this feature.
---
Live Streaming Services
The platform has an option that is almost similar to live streaming. You do not see the players in action in the stadium, but you can see if there is a substation. The tab also shows if there is half time.
If you would like to watch the game that you have bet on, you will need to look for another site that streams live. This way, you are still in the loop. You will also get to experience the game and still make a bet.
---
Trotting Section
Aside from the sportsbook, Legolas.bet has an amazing trots section. Here you have different pools. Bettors choose which pool their horse is in and place a bet.
Each tab shows the loop number, the date they race and the trotting. Once a race has begun, you cannot change the bet. Therefore, you need to choose carefully.
---
Casino
The casino at Legolas.bet is one of the best in the industry. It has many games to choose from. They have classic games like Roulette to new ones like Royal Crown.
The overall design for the casino page is very informative and attractive. The video slots have stunning graphics. Plus, there is a live casino where you can play classic games like Blackjack. There are also jackpot games and table games like poker.
Legolas Welcome Casino Bonus – Up to €1000 & 125 Free Spins
New players are given a new casino bonus. The bonus is on the first, second and third deposit. The maximum bonus is €1000. In addition to that, the player is also given 125 free spins. Here are the important terms and conditions to follow:
First deposit - 100% up to €250
Maximum award: 250 EURO
Free spins: 25
Slot game: Divine Showdown
Second deposit - 50% up to €250
Maximum award: 250 EURO
Free spins: 50
Slot game: Coins of Egypt
Third deposit - 100% up to €500
Maximum award: 500 EURO
Free spins: 50
Slot game: Guns n' Roses
---
Live Casino Section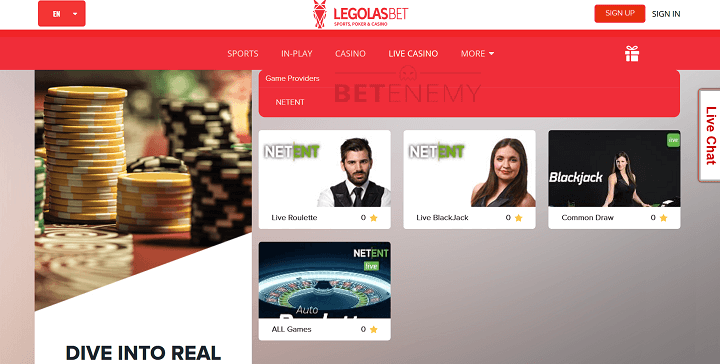 Legolas.bet live casino is an interactive casino where you will interact with some of the dealers. This makes you feel as though you are in an actual casino. The best part about the live casino is that the dealers are not in specific games but in all of the games.
In the live casino section, you will find a variety of Blackjack, Roulette, and Roulette Auto events. And what's great is that each type comes with unique game features.
---
Options for Deposit and Withdrawal
Depositing cash can only be done through a Visa card, Skrill or MasterCard. The visa card is the best option. This is because you receive the money into your Legolas.bet account immediately. There is no transaction fee. However, the minimum deposit is €4 and maximum is €40,000. The MasterCard is also similar to the Visa card. Skrill is an e-wallet. This means that the money will be added to your Legolas.bet account immediately. The minimum deposit is €10 while the maximum is €40,000. Sending money to another email address is 1.45% of the amount sent.
Withdrawal can be made through VISA or bank transfer. With Visa, the transaction time is 2-3 business days. There is no withdrawal fee. However, the minimum withdrawal is €10, and the maximum is €30,000. Because Skrill is an e-wallet, you receive money instantly. The withdrawing has no charges. Minimum withdrawal is €30 and the maximum is €10,000.
Remember that the limits are for the transaction. Other limits can be applied by your bank or by the card provider.
Deposit Methods
Withdrawal Methods
| Payment Method | Deposit Minimum | Deposit Maximum | Time for Deposit | Taxes |
| --- | --- | --- | --- | --- |
| Visa | €10 | €40,000 | Instant | 0 |
| MasterCard | €10 | €40,000 | Instant | 0 |
| Bank Wire Transfer | €30 | €150,000 | 2-10 banking days | 0 |
| Trustly | €10 | €50,000 | Instant | 0 |
| Neteller | €10 | No limit | Instant | 1.45% - deposits only |
| Skrill | €10 | €40,000 | Instant | 1.45% - deposits only |
| Payment Method | Withdrawal Minimum | Withdrawal Maximum | Time for Withdrawal | Taxes |
| --- | --- | --- | --- | --- |
| Visa | €10 | €30,000 | 2-3 banking days | 0 |
| MasterCard | €10 | €30,000 | 2-3 banking days | 0 |
| Bank Wire Transfer | €30 | €50,000 | 2-10 banking days | 0 |
| Trustly | €30 | €50,000 | Instant | 0 |
| Neteller | €30 | €10,000 | Instant | 1.45% - deposits only |
| Skrill | €30 | €10,000 | Instant | 1.45% - deposits only |
MasterCard, Visa, Bank Wire Transfer, Trustly, Skrill, Neteller
Visa, Bank Wire Transfer, Trustly, Skrill, Neteller
---
Mobile Version Services
There is currently no mobile version service for Legolas.bet. However, there is a mobile-friendly version of the website. It has been optimised to suit the mobile phone while maintaining the originality and authenticity of the original site. However, on the mobile phone, it has been simplified.
---
Affiliates
There is an intriguing affiliate program for legolas.bet. It offers a standard commission structure to its partners. The revenue shares are set automatically, and the value increases based on the performance of the player.
What's most interesting here is that your profit varies depending on the different website's sections.
Performance
Trotting
Sportsbook
Casino
€0 -€2,500
10%
25%
25%
€2,501- €15,000
15%
30%
30%
€15,001- €30,000
20%
35%
35%
Over €30,000
25%
40%
40%
/bbtable]
---
Questions & Answers
If you want to read more information, check out the questions below and their corresponding answers.
In which country is Legolas.bet not allowed?
Currently, the platform does not have a license to operate in the UK. However, it is open to all other countries.
What do I need to verify my account?
A valid ID or a current passport. However, a driver's license or a utility bill of the place of residence can also be used.
Can I change my current email address?
Yes, you can. Contact the Legolas.bet support team, and they will send you instructions on how to change the address.
Can I withdraw the bonuses?
Yes. As long as you fulfil the requirements of attaining the bonus, you can withdraw the bonus along with the winnings.
Is there a limit on the deposits I make?
Is there any betting fee?
There is none. Betting is free of charge. Withdrawing and depositing is also free of charge. However, the bank may charge you a transaction fee depending on the amount and the type of bank.
How old should I be to bet on Legolas?
You should be at least 18 years old. You should also hold a valid ID card.
---
About Legolas
Quite recently founded, Legolas.bet aims to provide a prestigious gambling experience to customers. The site has a team of experts that is devoted to helping players have the best possible experience. It offers exciting ideas and solutions that break traditions. Legolas.bet believes in making their customers feel good. The betting company understands that it is not about the players or the business but the memories made and the experiences shared.
---
Contacts Information
In case you want to contact Legolas' customer support, use the information below:
---
Final rating and conclusion
Llegolas.bet is a great betting site. It is one of the few sites that have incorporated sports betting. This makes it stand out from the rest. It has high odds, the website is simple to use and the affiliate scheme is very transparent. However, it needs to add more details to the live streaming option. With all this, Legolas gets a 8 out of 10 rating.