Why Choose Horse Racing Betting at Ladbrokes?
With the popularity of horse racing still increasing and no signs of waning, there are several options for sports enthusiasts. You can go to the racecourse and enjoy the thrill of watching the races live, or as another option, you can place your bets in a betting shop. Still, nothing can beat the ease and functionality of online betting. At Ladbrokes, all information needed to make an informed decision and up your chances to win is at your fingertips. There are also options for live streaming the races that allow you to let go of the racecards and use more modern alternatives.
At Ladbrokes, you can find valuable information on:
Betting rules
Betting calculator
Live betting
Cash out options
Promotions, offers, and specials
Useful tips about betting
Results of races
Betting Rules
Punters with Ladbrokes accounts have the option to place single bets, multiple bets, forecast, or tricast bets. They can also wager on unnamed favourites online at Starting Price only.
Betting Calculator
Everyone knows how difficult it can be to calculate the odds for a horse race. The potential money you can win depends on two things only — the odds and the stake. While how much you'd like to stake is all up to you, odds change with the approach of the race and are up to the bookmakers to determine. So short odds means an increased chance of winning but a smaller amount and vice versa. Long odds lower your chances, but that means the potential winnings are higher for the bettor. Luckily, Ladbrokes offers a betting calculator to facilitate the betting process for its customers.
Live Betting
As an added advantage for all customers, Ladbrokes allows them to take advantage of the opportunity to place a bet in-play. That way punters can have a better control of their bets by keeping track of the changing odds while the match is still ongoing.
Cash Out Option
To feel safer, Ladbrokes has a Cash Out feature. This helps punters minimise any losses while the race is still ongoing. The Cash Out button should appear on your bet slip when available. All you have to do is just click on it. T&C apply.
Promotions, offers, and specials
There are various promotions, offers, and specials available for customers of Ladbrokes. They are usually hard to miss as banners promoting them are displayed on the pages of the Ladbrokes site. Keep your eyes open and take advantage of any offer that suits your betting needs.
Currently, Ladbrokes offers other place races available on selected meetings. Bear in mind that bets must be placed before 6pm the day before the specific race. Also, a minimum runner requirement must be met. T&C apply.
Results of Races and Tips
Want to become an expert on horse racing? Make sure you are up to date with all that is going on in the fascinating world of horse racing. Ladbrokes can assist you with that as well as they publish articles giving useful tips on betting and you can always check the results of a race you missed by visiting the Ladbrokes website.
---
Pros & Cons of Horse Racing Betting at Ladbrokes
Horse Racing Betting at Ladbrokes is by far the most convenient go-to option for anyone passionate about horse races. It's not surprising then that Ladbrokes boast having a lot of attractive perks for their customers. There are, though, a few flaws as well.
Advantages of Ladbrokes
In-play betting on horse racing
Option for Live Streaming
Great odds
Cash Out feature
State-of-the-art sports betting app
Disadvantages of Ladbrokes
Cash Out not always available for horse races
---
Structure, Design, and Navigation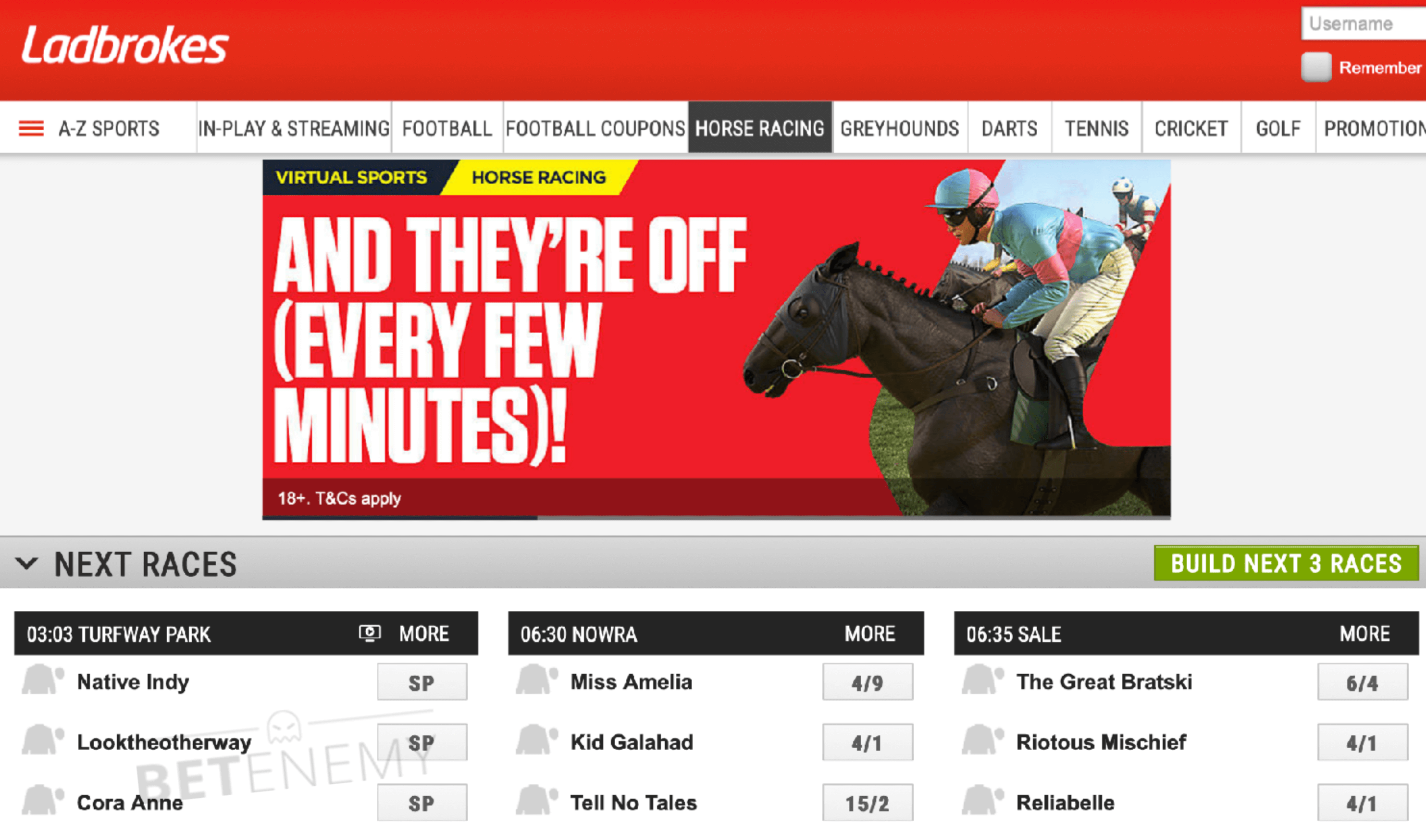 Although it is hard to say for sure that the Ladbrokes' website has the best interface around, it is not without its many merits. To start, it loads quickly, and there are hardly any problems when it comes to lagging or page loading.
The structure of the menu in the horse racing section is quite easy to navigate. It is not a hassle to find the upcoming races that are displayed in drop-down menus on the main horse racing page. They are clearly divided into next races, horse racing today, tomorrow, future racing and specials. Any promotions or offers will quickly draw your attention as they appear in a red banner at the top of the page.
The use of a monotone red interface is a bold choice as every important detail stands out in comparison to all the different shades of white, grey, and black used. The buttons that require you to take action are also clearly identifiable with their dollar green colour.
As a whole, it wouldn't be much of a problem for any new player to find their way around the site and place their bets.
---
New Customer Offer
If you are a newly registered punter at Ladbrokes, you are eligible for a great new customer offer. You can receive as much as £20 in free bets by opening an account. Use the promo code 20FREE and place a bet on any sport, including horse racing. The bet should be £5 minimum and Ladbrokes will match you up with a £20 in free bets. Bear in mind that this offer stands provided you wager within 14 days of the date you first joined Ladbrokes. T&C apply.
---
Bet Slip on Horse Racing in Ladbrokes
Placing a bet on horse racing in Ladbrokes is a piece of cake really. Here's how to do it:
First, make sure to log in to your Ladbrokes account or join Ladbrokes by creating a new one.
Then navigate to the horse racing section of Ladbrokes' site where you can choose an upcoming race to bet on. Look through the drop-down menu and click on the odds next to the racer's name. The odds will turn green.
The bet slip is located on the right-hand side of your screen. All the wagers you have clicked on will appear on it in the same order. There's a X to the left of each one if you change your mind and want to cancel the bet.
You will notice an empty box on your bet slip right next to the odds. The stake you want should be filled in there. The minimum stake allowed by Ladbrokes is as low as £0.01.
Once you enter your stake, the potential return is displayed right under the box where you have just entered your stake. The higher the stake, the larger your potential return will be. You can see the sum of the total potential returns right above the Place Bet button and under the total of your stakes.
If you are happy with your bet, click on the green

Place Bet

button located at the bottom of the bet slip.
---
Horse Racing Results in Ladbrokes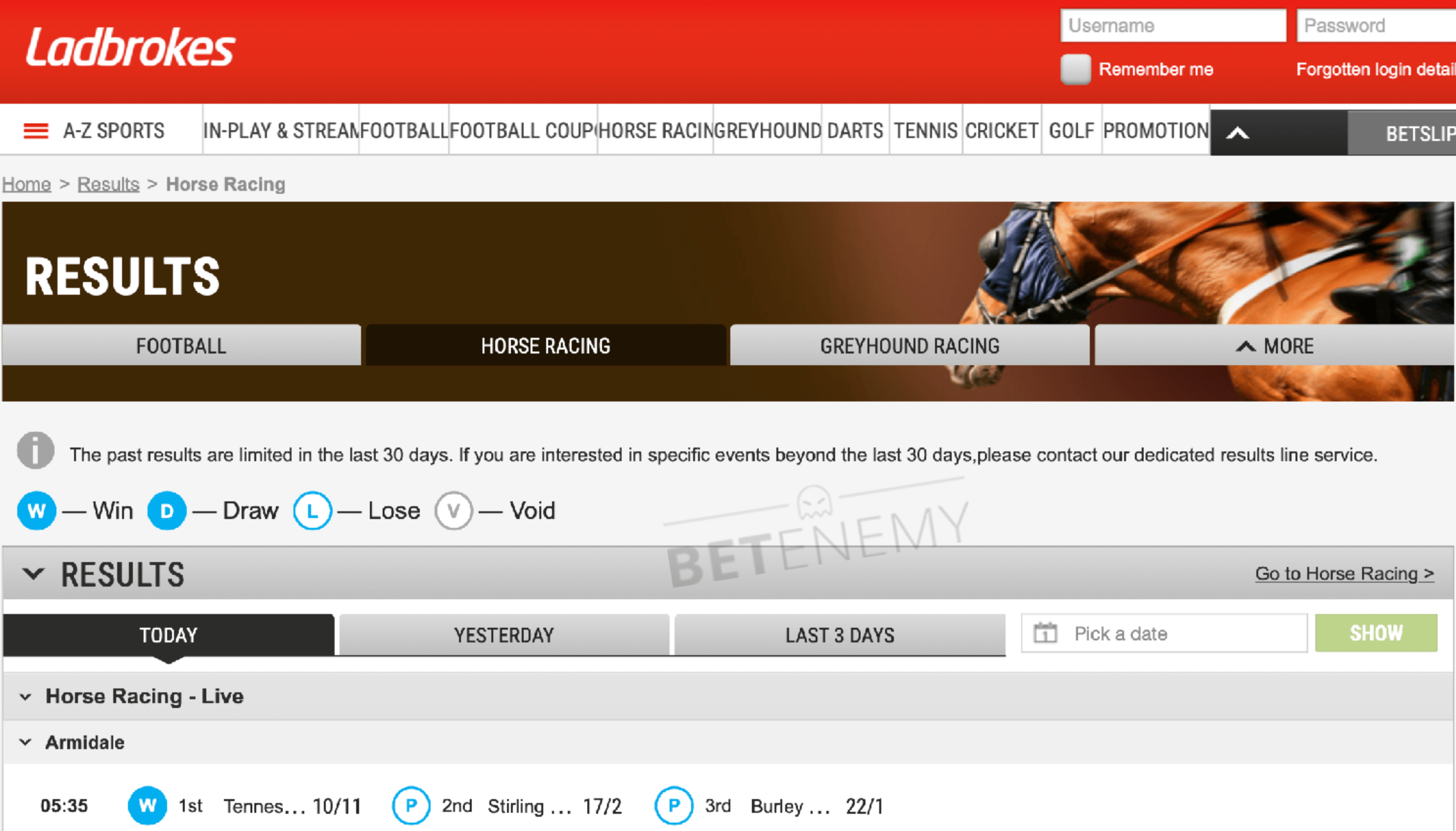 If you need to find out about the result of a past horse race, Ladbrokes has a dedicated section for results. Here you can find the results of races that date back up to 30 days ago. Start with results from today's horse races and move on to yesterday's results, or those from the previous week. Alternatively, you only can use the search tool to pick a specific date.
Ladbrokes uses the following symbols to visualise the horse racing results:
Should you want to know the results of a race that took place more than 30 days ago, call 0844 99 33 777 and ask the Results Line Service for assistance.
---
Horse Racing News
Having a regularly updated Latest Horse Racing News section, Ladbrokes makes for the perfect place to find out more about upcoming racing events. The latest news articles can give you valuable tips on how to place a safer bet by making informed predictions. For example, they may identify who is likely to become the shortest price winner or give you odds and markets that can lead you to a better chance of winning. Don't forget that all odds and markets apply only at the time the article was published and may change during or right before the race.
Apart from latest new regarding past and forthcoming races, you can also read articles giving you tips on bet calculating, horse racing odds and stakes, as well as additional information on everything to do with horse racing. From its history to present-day events; from women jockeys to detailed betting guides, Ladbrokes Horse Racing News has it all.
---
Mobile Betting on Horse Races


Living in the 21st century means one thing only — mobility. It is hard to imagine life without your phone. Not surprisingly, Ladbrokes has put considerable effort into making sure their mobile sports betting platform is just as good as their desktop one. Mobile betting with Ladbrokes is a fun, comfortable, and convenient way to calculate odds, place bets, and follow up on the races by either streaming them live or checking the results later. All you need to do is log in to your Ladbrokes account, and you are good to go.

Ladbrokes Sports Betting app is also available for iOS users and can be found in the Apple App Store. It has a current rate score of 3.5 out of 5, which makes it a decent enough alternative. It has an unbeatable range of markets to offer all iPhone or iPad users. If you are an Android user, you can download the app by visiting the Google Play Store. The rating the app holds there is 4.1 out of 5.

Remember that the Ladbrokes Sports Betting App requires Android 5.0 or higher and iOS 9.3 or any other later version.
Here are a few of the great features of the Ladbrokes Sports Betting App:
Cash Out control
Quick access to tips and news
Live streaming
#GetAPrice ( you can request a price on any markets by tweeting #GetAPrice @Ladbrokes)
Boost your Odds
In-play options
---
Payment Methods
The most convenient way to withdraw or deposit money into and out of your Ladbrokes account is done online. In the table below you can see the most commonly used payment methods and pick the one that suits you the most. Of course, if you wish, you can visit any Ladbrokes shop and carry out money transactions in person.
Deposit Methods
Withdrawal Methods
| Payment Method | Deposit Minimum | Deposit Maximum | Time for Deposit |
| --- | --- | --- | --- |
| Visa | £5 | £99 999 | Instant |
| MasterCard | £5 | £99 999 | Instant |
| PayPal | £10 | £10,000 | Instant |
| Neteller | £10 | Not specified | Instant |
| Skrill | £10 | Not specified | Instant |
| Paysafe Card | £5 | Not specified | Instant |
| ApplePay | £5 | £99 999 | Instant |
| Payment Method | Withdrawal Minimum | Withdrawal Maximum | Time for Withdrawal |
| --- | --- | --- | --- |
| Visa | £5 | £30,000 | 3-5 Days |
| MasterCard | £5 | £30,000 | 3-5 Days |
| PayPal | £10 | £10,000 | Up to 2 Days |
| Neteller | £10 | Not specified | Up to 2 Days |
| Skrill | £10 | Not specified | Up to 24 Hours |
| Paysafe Card | N/A | N/A | N/A |
| ApplePay | £0.01 | £30 000 | 1-3 Days |
Visa, Neteller, PayPal, ApplePay, Skrill, Paysafe Card, MasterCard
Visa, Neteller, PayPal, ApplePay, Skrill, Paysafe Card, MasterCard
---
FAQs
Can I bet on horse races which take place outside of UK?
You can bet on horse racing in the UK, Ireland, France, Dubai, and South Africa.
Do I need a different bet slip for each bet I want to make?
No, you don't. All bets you make will be accumulated on the same bet slip.
How do I know if I am eligible for Cash Out?
Cash Out is an added service. If you are eligible for Cash Out, the button will appear green on your slip. If not, it will be greyed out, meaning its unavailable for the given race.
How do I calculate my bets?
Ladbrokes has articles that give you tips on how to calculate the bets yourself. You can also take advantage of the bet calculator.
Can I download the Ladbrokes Sports Betting App on my Android phone?
Yes, you can. It is available both for iOS and Android users. You can download the app from Google Play or the App Store.
What if the market I want doesn't exist?
Tweet #GetAPrice @Ladbrokes to request a price and if they do not have a market, Ladbrokes will try to open one for you.
What is the maximum payout on horse racing?
It all depends on the race you have betted on and the service. For racing in the UK and Ireland which is under Full Service & Ante-post bets, the maximum payout is £1,000,000. For all other maximum payouts consult the help page at Ladbrokes.
---
Аbout Ladbrokes
Being one of the oldest-recorded sports in the UK, with its history dating back to the 12th century, horse racing is still as popular as ever. Today it is the second most viewed sport on the island after football. So it is not surprising that Ladbrokes offers its customers an unmatched horse race betting experience. The gambling company has its roots in the horse training business from when it was first established.

In 1886 the founders Pennington and Messrs. Schwind started as commission agents for horses in Warwickshire. Since then a lot of things have changed leading to the total transformation of the bookmaker. Now Ladbrokes Coral Group prides itself on being a force to be reckoned with in the betting industry. Even more so after having recently been taken over by HVC Holdings in a deal worth as much as £4bn.
Ladbrokes online and mobile platforms provide players with some great betting and gambling options. Horse racing is no exception. Thanks to Ladbrokes excellent service, punters have the chance to place bets on horse racing from the comfort of their own homes.
---
Customer Care & Contact Details
Ladbrokes does not economise on effort when it comes to peace of mind of their valuable customers. So there is a wide variety of ways you can get in contact with them should you have any queries or concerns. Customer Care is on call and ready to assist any time of the day and night as they work around the clock.
---
Final Verdict & Rating
With a comprehensive section dedicated on horse racing and more than a century's worth of experience, Ladbrokes makes for a reasonable choice when contemplating horse racing bookmakers. What really gives them an advantage over their competitors is Ladbrokes' keen attention to detail. They have spared neither effort nor expense in making their platforms user-friendly, helpful and secure. Their admirable dedication to excellent customer experience earns them 9 out of 10 points.