How to download Karamba mobile app for Android?
Many of us do several things in a day, and it is no different among punters. This is why betting through handheld devices is becoming more of a need than a privilege. Karamba recognizes this need and has thus created a fully-functioning mobile website version for betters on the go.
Android users can take advantage of this mobile version though there is an available application for Android. Karamba's casino and sports section can be accessed through the site along with most of its markets and features. It is the same when it comes to app.
To delight yourself in them, just head to www.karamba.com on your mobile web browser.
In addition, our researches show that there is an .apk file on the Google Play Store. There you can find an app for Karamba's options, but it is not sure how long the app will be available at the Play Store.
---
How to install Karamba mobile app on Android?
Step 1: Before you open your APK file, make sure you allow the installation of unknown sources. For that purpose, you should open "Settings" > "Security Options" > "Unknown Sources".
Step 2: Now, you should open "Notifications" from your mobile device. There is your installation file.
Step 3: Open it and the installation will start. That is it!
---
Mobile App for iOS
iOS users will be pleased to know that a mobile casino app is available for download in their device. This app is essentially an all-in-one application featuring slots, roulette and live casino. Over 200 casino games are packed in it, so there is no hesitating for existing Karamba punters who wish to bring the fun wherever they go. For the native app to function at its best, an iOS 7 or later version is required.
How to install Karamba mobile app on iPhone?
Step 1: Search for Karamba Casino in the AppStore to start downloading the mobile app.
Step 2: Installation should immediately follow once this step is done.
Alternatively, you can access the mobile website version through your iPhone or iPad's mobile browser. This is just another great way to enjoy casino services without needing to download an app.
---
Review of Mobile Website Version
Karamba's sportsbook and casino are all available in most modern smartphones and tablets supported by iOS, Android, Windows and others. With a good connection to the internet and an updated flash player, you're most likely going to enjoy your mobile betting experience through its user-friendly and navigable website version.
The website doesn't appear to be so ergonomic as a lot is going on on each page. This is one thing the bookmaker can still improve on. But once your eyes have adjusted to the layout of the site, you'll find that it is relatively easy to use. Any desired game or market can be accessed really quickly in just a few clicks.
---
Mobile Sports Betting
Before delving into the good points, it is necessary to mention that Karamba hasn't yet introduced a dedicated sports betting app available for download. This is a discouragement for punters who really look forward to it. However, there is a fully-optimised mobile website that you can use for mobile sports betting. The site functions smoothly, and you can easily move across different sections. The ease and simplicity of navigating the site is indeed an attractive feature.
Upon entering the sports page, you'll have all the amazing games available as if you are using the desktop version. You can wager on the in-play events, bet on events that are still about to take place in the next days, or even cash-out on them before the clock starts ticking. Placing a bet is also easily done on mobile. In the sports section, all you have to do is figure out which to bet on, click on it and choose from the selection of betting options available.
---
Mobile Site Version Features
As previously elaborated, the Karamba mobile website has a very similar look to its desktop counterpart. This means; everything you can find on the desktop, from the games and events up to the promotions are also available in the mobile app. There is even an addition of a mobile bonus which can only be received by new players playing in the mobile casino.
As you load your mobile browser, you'll immediately be taken to the homepage which essentially looks the same as the desktop site. There are several sliding links at the top of the page with various promotions and advertisements. By scrolling down, you'll see the games with the most popular ones available to play at the very top. If you want to play a game, a tab will open up letting you choose between 'demo' or 'real play'. The former is perfect for first-time punters who are still learning their ways into betting.
---
Karamba Mobile Casino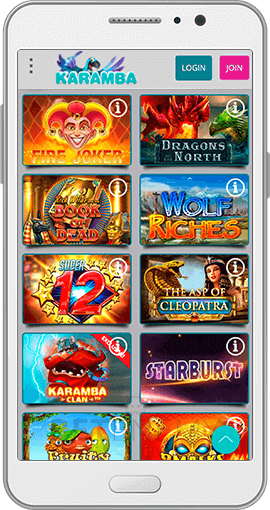 Casino players have two options in Karamba- playing through the mobile site or the mobile app. In both, you can play around 160 variations of slots and 40 other types of casino games with some live games. Though it is already a good number of selections, it is still a limited amount compared to what is available in the desktop version. But like the website version, you can also opt for the 'free play' mode if you're not yet ready to splurge out some cash.
You can find plenty of options for the most popular games on Karamba's mobile casino. Some of them are Pentagram, Madame Destiny, The King and Fruity Friends. If you are a classic table games lover, then Roulette, Blackjack and Baccarat and their variations are for you! To get started, just pick between the 'real game' and the 'demo' to be brought to the game of your choice. Probably one of the best merits of Karamba's mobile casino is the excellent quality of its live games. This is to be expected though as the software provider behind these is Evolution gaming- one of the industry's top providers.

Though the selections are still limited, the mobile live games provide an exceptional real-life casino experience. The live dealers are also very attentive to their customers' needs who can straightforwardly be reached via chat.
---
Mobile Version and Apps – Differences Between Them
There are plenty of differences between Karamba's mobile site and mobile app versions. Here are some of the differences that can be pointed out between the two:
Mobile App Advantages
Specially designed and optimised for mobile betting
Has a dedicated casino app for iOS & Android users
Secure option for betting on the go
Mobile App Disadvantages
Has system and compatibility requirements
Download and updates necessary
Mobile Site Version Advantages
Both sportsbook and casino sections are available
Any modern mobile device with an updated browser and flash player can be utilised
Requires no app download and regular updates
Mobile Site Version Disadvantages
Some issues with bugs and lags were reported
Poorer optimisation and customisation
---
Mobile Offers
There is no special mobile offer, but you can get all bonuses for the desktop users.
---
System Requirements and Compatibility
Although almost all devices and operating systems are compatible with the mobile site version, punters are highly encouraged to use one of the modern devices with upgraded OS versions upon playing to achieve the best mobile betting experience.
Here are some examples of compatible devices:
Samsung Galaxy S6
Samsung Galaxy S7
Samsung Galaxy S8
Samsung Galaxy S9
Samsung Galaxy Note
iPhone 5
iPhone 6
iPhone 8
iPad Air
iPad Pro
---
Deposit and Withdrawal Methods
The payment options you will find available on the desktop version are exactly the same as what you can find on the mobile version and mobile app. We have identified the maximum and minimum amount of deposit and withdrawal for you in this section:
Deposit Methods
Withdrawal Methods
| Payment Method | Deposit Minimum | Deposit Maximum | Time for Deposit |
| --- | --- | --- | --- |
| MasterCard | £10 | £4,500 | Instant |
| Visa | £10 | £4,500 | Instant |
| Neteller | £10 | £2,000 | Instant |
| Skrill | £10 | £2,000 | Instant |
| Skrill 1-Tap | £10 | £2,000 | Instant |
| PayPal | £10 | £2,000 | Instant |
| Paysafe Card | £10 | £1,000 | Instant |
| Bank Wire Transfer | £10 | £2,000 | up to 6 days |
| Payment Method | Withdrawal Minimum | Withdrawal Maximum | Time for Withdrawal |
| --- | --- | --- | --- |
| MasterCard | £10 | £100,000 | 6-8 days |
| Visa | £10 | £100,000 | 6-8 days |
| Neteller | £10 | £100,000 | up to 3 days |
| Skrill | £10 | £100,000 | up to 3 days |
| Skrill 1-Tap | £10 | £100,000 | up to 3 days |
| PayPal | £10 | £100,000 | up to 3 days |
| Paysafe Card | £10 | £100,000 | up to 3 days |
| Bank Wire Transfer | £10 | £100,000 | 6-8 days |
MasterCard, Visa, Neteller, Skrill, Skrill 1-Tap, PayPal, Paysafe Card, Bank Wire Transfer
MasterCard, Visa, Neteller, Skrill, Skrill 1-Tap, PayPal, Paysafe Card, Bank Wire Transfer
---
FAQs
Want to start mobile betting in Karamba but still needs some questions answered? Read our FAQs below to get the answers you need.
Does Karamba offer a sportsbook application?
Unfortunately, the bookmaker doesn't yet offer a sportsbook application. You can still play mobile sports, however, through its user-friendly and highly-optimised mobile website browser.
Is the mobile website browser-dependent?
No, it isn't. You only have to make sure you're using a more modern device and that your browser is updated with the latest flash player to enjoy the mobile website to the fullest.
How can I take advantage of the Karamba mobile casino?
The Karamba mobile casino can be enjoyed in two ways. Whether you are using an Android or iOS device, you can avail of the mobile casino by simply searching for Karamba.com in your mobile browser. Another option is the casino app that's only available as of now for iOS users.
Is the mobile app casino user-friendly?
Karamba's mobile casino app isn't the most ergonomic app you'll find in the market. You may find it a little more cluttered than others. But once you get used to its look, you'll find that it's just as navigable and easy to use as many others.
Is it safe to do mobile betting in Karamba?
The bookmaker has been around for more than a decade and has never been involved in a major security issue. Mobile betting is no different. It uses the latest SSL technology so you can be assured that all transactions and all your personal data are secured.
I am a new mobile app user. Is there a mobile bonus for me?
Yes, there is a mobile bonus intended just for mobile users of Karamba. Without using the bonus code, you'll be given £10 which you have to consume in a day immediately. If this is your first time in the bookmaker, the 100% Welcome Bonus also awaits you.
Which payment options can I use on mobile?
Every single payment option available in the desktop version is presented on mobile. Some of your choices are Visa, Mastercard, Maestro, Entropay, Skrill, Neteller and Paysafecard.
---
Company Information
With more than a decade of experience at its back, Karamba has established itself as a secure and trustworthy bookmaker. It may not be among the most well-known in the betting world, but it is a market leader especially when it comes to slots. The bookmaker is now headquartered in Malta but has greatly expanded its reach in an attempt to penetrate the global market.
Among the many steps, it took to provide the best services possible is giving access to betting-on-the-go to its current and future subscribers. The mobile site and app it provides has a great selection of games and events everybody will enjoy. This article will look into the features that make the mobile site and app worth your time.
---
Mobile Site Rating and Conclusion
The Karamba sportsbook and mobile casino websites are a successful replication of the computer version. Though there is a single Casino app available for iOS and Android users, we can confidently say that the bookmaker has done its mobile services justice. It is also expected that Karamba will soon launch a dedicated sportsbook app and extend the functionality and capability of its existing casino app.