GreatOdds Review
GreatOdds is a simpler yet interactive platform with an artistic design dedicated to providing an extraordinary interface for betting buffs. The site is where sports betting and casino gaming is on a whole new level thanks to its sports section. Throughout this GreatOdds review, you are going to find everything about the betting website. You are also going to get answers about why GreatOdds ranking is high across Africa and in most European nations.
---
Registration Process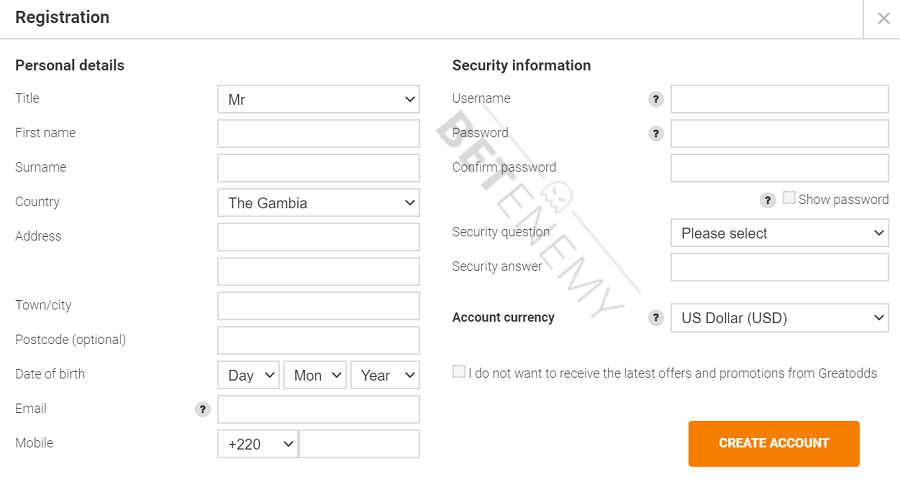 Punters have to sign up before unlocking the contents of the magical gaming site and gaining unlimited access to an assortment of sports. It is also the only way the sportsbook can get your details and ascertain your identity. In case you wish to become an esteemed GreatOdds member, go ahead and click Join Now. Thereafter follow the registration guidelines below and get a GreatOdds betting account where you can punt and enjoy sports betting.
On the form, provide your name, number, and your current valid address.
Pick the currency you wish to use while on the gaming site.
Come up with a username together with a strong password.
Select the security question whose answer you are going to remember.
Agree to the terms and conditions and, thereafter, create an account.
The sportsbook will use the information provided above to create a betting space for your betting needs. You should, therefore, make a deposit and start trying your punting luck.
Don't forget to verify your account for additional security and to provide proof of identity.
---
Website Design, Menu, Structure & Navigation
There is so much to say about the overall appearance of GreatOdds website. It seems like the main theme of the bookmaker is simplicity and visibility. Unlike many of its competitors, GreatOdds uses a mixture of light colours for its background. There are no images or watermarks to distract you while you are trying to make your lucky picks. The website's top face harbours a couple of buttons and selections whose purpose is to give players access to multiple GreatOdds pages. The orange highlight on some sections of the webpage is thrilling. They seem to be among the few things that add vibe to the betting website.
Another noteworthy feature about Greatodds is the lack of a drop-down menu. There is, however, the existence of many links throughout the homepage that ease navigation. Below the page, you will find additional clickable options, including language settings that allow you to switch your default language. That makes it a distinctive site for serious gamblers who are only there to punt. You will have a glance at the current sports in the middle of the website. In case you want to switch the selection, use the horizontal list below the menu bar.
If there is something, you will notice while online is the speed of the site. GreatOdds is a pretty fast interface compared to its competitors. The pages flip as quickly as you click them, and that is why the GreatOdds ranking continues to catapult. It will, therefore, take you a few minutes to place a bet. After all, you don't have to wait for the platform to load whenever you make a simple command.
---
Sportsbook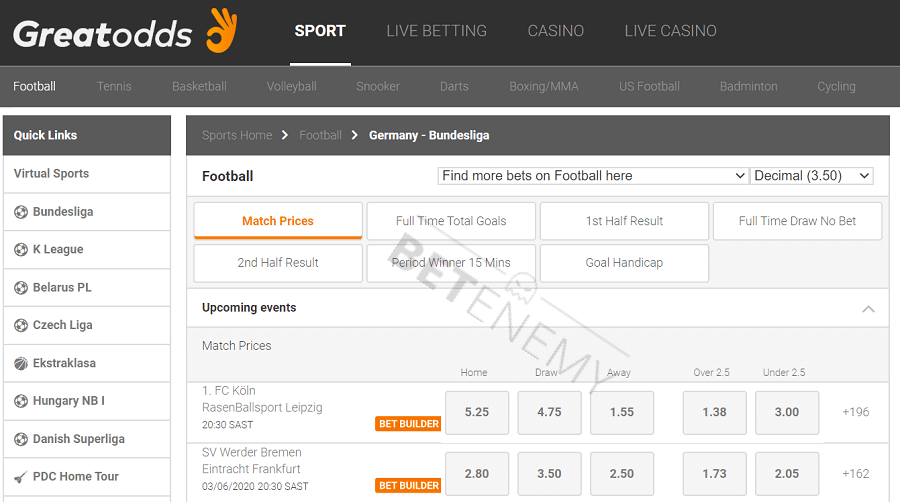 What you are going to notice later on this GreatOdds review is that the bookie covers a broad betting market. It also has diverse sports betting options that you can barely finish going through. That is why the best way to place a bet is to do it category-wise. The available sports include tennis, US football, snooker, darts, football, and cycling. You will also find various full-contact sports like MMA.
Betting options
Betting options refer to the types of predictions you get on every match. The list of betting options you get per event at GreatOdds is fascinating. You will come across both familiar and unfamiliar betting options. The more you stake, the more you get to familiarise yourself with the selections available.
There are also types of bets that exist in most events regardless of the category, for example, match results. Picks like Asian handicap and both to score, on the other hand, are most common in sports like football. The bountiful of betting choices eases the betting process and ensures exciting punting sessions.
About the odds
The odds of a sportsbook are vital to a punter since they determine the expected winnings. To get the total possible win, the sportsbook usually multiplies the full odds with the stake. It, therefore, implies that if the odds are huge, so will your expected winnings. To keep you optimistic, GreatOdds provides generous odds on specific matches. They also have different types of odds ranging from American to decimal. You can use fractional too as long as you understand how to use it to get the amount you should expect.
---
GreatOdds Welcome Sports Bonus
Exemplary odd sizes and betting options are not the only alluring features in GreatOdds betting platform. The bookmaker also has a welcome sports bonus for signees. New GreatOdds members at the bookie's section get a chance to increase their bankroll by going for the packages available. The site, however, doesn't have a bonus package that comes in euros. That is why you need to focus on the welcome packages below.
GreatOdds Ghana Welcome Promotion – 125% first deposit bonus up to GHS 500
As stated earlier on this GreatOdds review, the bookie serves both African and European nations. That is why Ghanaians have a welcome package, which is quite impressive. Players from Ghana receive a bonus equal to 125% of the deposits for amounts not surpassing GHS 500. You can use the GreatOdds welcome bonus to start placing bets as well as understand how the betting site works.
That is before you start using your cash, which reflects on your actual account balance. The bonus comes with terms and conditions that you have to fulfil before placing a withdrawal request. For example, you need to play through the bonus five times. Only bets on matches with odds above 1.8 will count. Additionally, you have 30 days for you to realise the wagering requirement.
---
GreatOdds Zambia Welcome Offer – 100% first deposit bonus up to 1000K
Bettors from Zambia also get to receive a welcome bonus from the bookie. It is, however, different from that given to Ghanaian punters. While in the region, you will receive a welcome offer equivalent to 100% of the first deposit. The maximum offer you can receive is 1000K. Betting buffs can use the offer to bet on a variety of events until its completion.
If you manage to pull out any winnings, you will have to meet the wagering requirements. That is by playing through the welcome offer for five times before the end of 30 days. The bets will only count if they have a minimum odd of 1.7. The wagering requirements are easier to achieve, and that is what makes GreatOdds Special other than the features you will see later on this GreaOdds overview.
---
---
In-play section
Speaking of exciting betting platforms, GreatOdds has an In-play feature that is available when betting on live matches. With the feature, bettors can start placing bets on events as they proceed. It is quite similar to regular betting only that the In-play feature gives you an enjoyable experience. The section is available on the live betting page, which is one of the buttons on the main menu. Only select games get to make it to the live betting page, and that means you cannot use the In-play feature on any sports you want.
---
Cash-out option
Just before the completion of the match, you are betting on, GreatOdds allows you to withdraw your stake. Similar to the In-play function, the cash-out option is only available on select events. There are, however, determinants that influence the amount of money you can cash-out. One of those factors is the time you request to cash-out. The bookie will, therefore, do some calculations and give you the remaining amount of your stake. It is quite a fantastic option, especially if the events turn out not as you expected.
---
Live Streaming Service
Not so many bookmakers offer customers a chance to follow live matches via their account. GreatOdds is among the unique bookies which use live streaming features to impress new and current players. The section comes with superior quality videos that you can enlarge for a better view. You can also project it to a larger screen if, at all, you want to have the ultimate experience. Other functions that you can use while live streaming is the volume control feature together with the playback feature. All those components make the live streaming section fulfilling.
---
Bet Builder
Bet Builder is a feature that allows bettors to come up with multi bets without physically picking the events. All that work is done by the system, therefore, making it easy. However, if one match is cancelled, then the whole betslip becomes void. The sportsbook does not allow the use of In-play and cash-out features on bet builder matches. If you wish to use the function, make sure you are using it to bet on football matches. The feature is not applicable to other sports.
---
GreatOdds casino
The inclusion of a casino section at GreatOdds was an ingenious idea. That way, the gaming site can attract various individuals regardless of their needs. The casino site is exactly how you would expect it to be, and that is classy and functional. Just like the sportsbook section, the casino is also simple. It uses a white background while placing a long list of games on the foreground. At the casino section, you will find video slots together with table games like roulette, baccarat, and blackjack. Their gaming compilation is exciting, especially for players who want intriguing games. The casino section is among the admirable features of this GreatOdds analysis.
---
Live casino
Live casino is a section on GreatOdds website where you will find various professional live dealers taking players through table games. The live dealers use their charming smiles and professionalism to make the games more entertaining. First, players have to look for a table with space and opt for the game. They can, thereafter, start placing bets and chat with the actual dealers using a chat button. Some of the live casino options include Immersive Roulette, Infinite Blackjack, and Ultimate Texas Hold 'em. With these games, your casino sessions will be fantastic.
---
BetGames
Games such as dice duel, luck 6 and 7, war of bets, and 6+ poker come under the category BetGames. These are unique kinds of live casino games with dissimilar gameplay and feel compared to other titles. Some like Lucky 5, 6, and 7, in addition to dice duel, occur after a specified period. You can, therefore, place your stake and wait for the draw then see if you have the winning combination. The gaming products in BetGames section are delightful and interactive.
---
Vegas Section
If you click on the "Others" section of the website, you will access two types of gaming categories, one of them being Vegas. As its name suggests, Vegas is an interface where only the most popular casino games exist. That includes gaming products like Safari King, Mustang Gold, Viking Voyage, and Astro Roulette. The list of games at Vegas is not as comprehensive as that of other sections, but it is the most entertaining. These are the kinds of inclusions that improve GreatOdds rating among major GreatOdds overview sites. If you are a gaming enthusiast, then you need to have a look at the section.
---
Virtual sports
Another gaming category on the "Others" section is the one that bears all the virtual sports. Here is where you get to bet on video games. Unlike usual sports, virtual games take a shorter period to complete. Head on to the virtual sports section and select the games you wish to bet on and, thereafter, proceed to make a wager. You can also watch the match as it progresses. Some of the sports available here include tennis, dogs, basketball, and horse racing.
---
Payment Methods
Not unless you are playing for free, you require to deposit for you to stake real cash. The only way to proceed is to use the ideal payment method. GreatOdds provides multiple options that you can use to make payments. One of those options is Visa, which is a credit card variant. There are also mobile payment methods like MTN and airtel, which are instant.
| Payment Method | Deposit Minimum | Deposit Maximum | Time for Deposit | Minimum Withdrawal | Withdrawal Maximum | Time for Withdrawal |
| --- | --- | --- | --- | --- | --- | --- |
| Visa | 5 GHS | 5,000 GHS | Instant | 10 GHS | no limits | 1-3 Working Days |
| EcoPayz | 10 GHS | 63,000 GHS | Instant | N/A | N/A | N/A |
| MasterCard | 5 GHS | 5,000 GHS | Instant | 10 GHS | no limits | 1-3 Working Days |
| Credit Cards | 1 GHS | no limits | Instant | 10 GHS | no limits | 1-3 Working Days |
| MuchBetter | 10 GHS | 29,000 GHS | Instant | N/A | N/A | N/A |
| Airtel | 5 GHS | 5,000 GHS | Instant | N/A | N/A | N/A |
| MTN | 5 GHS | 5,000 GHS | Instant | N/A | N/A | N/A |
| M-Pesa | N/A | N/A | N/A | 10 GHS | no limits | Up to 24 Hours |
| CryptoPay | N/A | N/A | N/A | 10 GHS | no limits | Up to 24 Hours |
| Vodafone | 5 GHS | 5,000 GHS | Instant | N/A | N/A | N/A |
| Tigo | 5 GHS | 5,000 GHS | Instant | N/A | N/A | N/A |
| Hallotel | 5 GHS | 5,000 GHS | Instant | N/A | N/A | N/A |
| Orange | 5 GHS | 5,000 GHS | Instant | N/A | N/A | N/A |
---
Security & Regulations
GreatOdds collects a wide range of data from clients during sign up and as they continue using their services. They do so to ascertain the identity of the user and also to beef up customer safety. That should, however, not worry any punter because every information is kept securely by the sportsbook. They use SSL security together with secure and hard to penetrate the firewall system. The online platform also incorporates end to end encryption to safeguard the client's password and bank account details. These are some of the necessary features highlighted in this GreatOdds analysis that show the professionalism of the bookie.
---
GreatOdds mobile app
Android users should consider themselves lucky since there is a GreatOdds app specifically designed for their devices. The app comes with an appealing sight due to its minimalist design and breathtaking layout. As soon as you open the app, it is going to ask you to choose the language. You can, thereafter, proceed to enjoy the wide variety of products it offers. Gamblers can place bets, and players can interact with the available casino games. The whole app is light, therefore making it swift and admirable. It is among the fastest sportsbook for android devices.
---
Affiliate Program
If you find the details on this GreatOdds overview to be of your liking, you should consider becoming a partner. The betting interface has a suitable affiliate program for candidates like you. But unlike other programs, GreatOdds offer its affiliates commissions depending on how many members they direct to the site. They also have one of the best marketing interfaces for their affiliates to use and advance their marketing skills. Join GreatOdds limited and start earning by referring clients to their site.
---
FAQs
What currencies can I use when creating an account at GreatOdds?
Players can use a wide variety of currencies, including the US dollar, Zambian Kwacha, Euro, and British Pound.
Is all my information secure on GreatOdds?
Yes, your information is secure on the site. That is because GreatOdds review uses some of the best security protocols and an end to end encryption.
Can I change the odds format in GreatOdds?
Yes, you can change the odd format to fraction, American, and Decimal. That is by using the drop-down menu at the beginning of the highlighted matches.
Do I need to verify my account to make a deposit?
No, you only need to register for an account to make a deposit. Verifying your account, on the other hand, is essential to keep you safe online.
Is GreatOdds betting site legal?
Yes, GreatOdds betting site is legit, given that it is licensed under multiple jurisdictions.
Can I play free games on GreatOdds casino site?
Yes, you can play free games on GreatOdds betting site. That is by using the demo versions of various casino games.
Can I change my language onsite?
Yes, you can change your GreatOdds language onsite.
---
About GreatOdds
GreatOdds is one of the latest online gaming site that was established by GreatOdds limited. The bookie proudly possesses multiple gambling licenses from Ghana, Zambia, and Curacao, therefore, allowing clients from different parts of the sphere. What makes it an exclusive betting site is its interactive interface that has a minimalist look. There is also a consummate casino platform for online gamers filled with good gaming products. The sign-up process is simple to avoid time-wasting, and security is top-notch to ensure client safety. That makes GreatOdds a perfect site that is worth checking out.
---
Customer service
The customer service at GreatOdds bookie is ideal for clients, but only if you can reach the customer representatives. Their mode of communication is slow and convenient. You hence get to have an easy time understanding the instructions they are giving. With such customer service, you get to fix your account problems without any issues. You can choose from the following contact options:
---
Contact details
There are various contact details available at GreatOdds, but there is a slight hiccup. For example, those who are planning to use live chat should know that the option is not always available. You, therefore, have to wait for specific times to get in touch with customer support. You should instead consider using other contact methods like the callback feature and the onsite email.
---
Rating & Conclusion
GreatOdds rating stands at 4.2/5, which you can consider being fair. The site is not as vibrant as many other platforms, even though it is speedy. It, however, has many features that you are going to love. That includes the likes of live streaming services and the availability of the cash-out function. But then the contact methods are not available throughout as you read on this GreatOdds review. You can, however, consider the betting website if you are into simplicity and speed.