App for Android
If you go to the Genting casino website, you can go to the casino app section to download the mobile app. Click on the download button, and you should be able to get the .apk file. Below is a breakdown of the steps to properly install the Genting casino app on your Android phone.
How to download the .apk file and install it?
To download the .apk file, you can follow the steps below:
Step #1: Go to the Security Settings of your Android.
Step #2: Enable download from Unknown Sources.
Step #3: Go to the Casino App download page.
Step #4: Click the green '

Download Now

' button to download the .apk file.
Step #5: Click on the .apk file after you download it and then wait for it to be installed on your device.
---
App for iOS
Fortunately, the iOS version of the app doesn't need a .apk file to install. You can just download the app directly from the App Store. Follow the steps below.
How to download the app and how to install it?
To download the iOS app, you can follow the steps below:
Step #1: Go to the App Store and search for 'Genting Casino App'.
Step #2: Download and install the app on your iOS device.
Step #3: Wait for it to install and start playing.
---
Mobile Sports Betting


Although the main attraction of Genting is their casino, they also have a sports betting app that punters can really enjoy. The mobile sports betting platform's design is really classy but easy to use. The look of the sports betting app resembles the look of the main website. Unlike the main website though, the app is much cleaner and has more interactive features.

With regard to sports betting options, Genting's sports betting mobile platform has a huge number of in-play events to choose from. The main ones are football, tennis, formula1, boxing, cricket, rugby, horse racing, and greyhound racing. Aside from these, there are still so much more that you can try out.

However, there are some sports betting features that are not present in Genting's sports betting platform. These include the live streaming option and the cash-out option – two important features that most sports betting platforms would have.

Again, this is because sports betting is not their specialization. Nevertheless, they still do have a lot of cool features to brag about. Let's check out some of them in the next section.
---
Mobile Apps Features
For both the casino and the sports betting, there are a lot of pretty noteworthy functions to check out. Here are a few of them:
4 Digit Pin Code
One of the coolest features of the mobile app would be an added layer of security in the form of a 4-digit pin code. So aside from your login details, you also need to log in through a 4-digit pin. If someone was able to breach your password, you're still protected with a pin code.
GentingPay Option
There is also the GentingPay tool which allows you to fund your account quickly and easily. This is a handy little tool that you can use to fund your casino account right away when you want to play.
In-Play Betting
For sports betting, there is an in-play betting option so that you can participate in sporting events while it is happening live. The great thing about Genting is that there are so many games to choose from – and all of them have in-play betting options.
Casino VIP Games
The casino has a VIP section for a few games. This allows you to experience the full enjoyment of the casino with added features and other cool benefits. These include the Live VIP Roulette, Live VIP Blackjack, and much more.
Video Poker
For the poker players out there, you also have the chance to play video poker. In this interactive poker platform, you can enjoy a high flying poker experience that actually feels like the real thing. High rollers will love the video poker feature of Genting.
---
Review of Mobile Site Version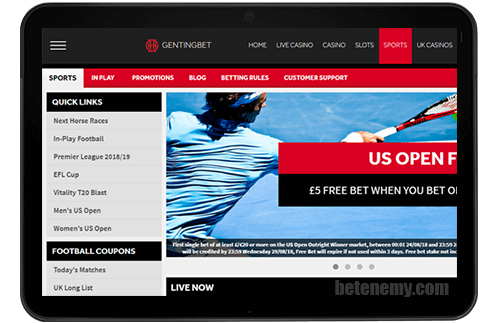 For those who don't want to download the app or for those who have phones that don't read mobile apps, there is always the option to use the mobile site version. The mobile version looks exactly like the main website but more optimised to fit a mobile screen.
There are a few slider functions but not as many as the mobile app. Because of that, the mobile site version may need more loading time between pages as compared to the app. However, the mobile site version is still very smooth and can still provide an excellent experience for casino players.
---
Genting Casino App
The Genting Casino App is the main attraction of the Genting mobile platform. With the Genting Casino App, you'll have access to over 300 enjoyable casino games. The casino was developed by well-known gaming software providers PlayTech and IGT. If you happen to be familiar with some of their works, you'll know just how good they are.
Not only are they very well known for creating some of the best gaming software in the industry, but they're also known to be one of the most reliable gaming software providers. When it comes to security and overall flow of the program's operations, these two companies come out on top.
---
Differences Between the Mobile App and Mobile Site Version
Although the mobile app and the mobile site version share the same features, there are actually a number of factors that make them different from each other.
Mobile App Advantages
Very smooth and interactive features;
Classy and elegant design;
Asian feel to it;
Fast navigation;
Mobile App Disadvantages
Takes up 6.9 MB of space;
Android requires changing settings;
Does not work for all phones;
Mobile Site Advantages
Easy to access;
More optimized and interactive compared to the main website;
Can be used by all phones;
No need for any download;
Mobile Site Disadvantages
Needs more bandwidth than the app;
Needs to redirect from web pages;
---
Is There a Mobile Bonus?
While there is no exclusive mobile bonus, there are a lot of great and generous bonuses that Genting offers. The casino especially has a lot of cool bonuses that you can avail of. First, there's an initial deposit bonus where you can get up to £100 by just funding your account for the first time. There's also an additional reward of up to £5 for these players, who managed to fulfil the wagering requirements of the offer.
Many more bonuses are available for both the mobile app and the mobile site version. You can check them out under the Promotions section of the page.
---
System Requirements and Compatibility
For the system requirements, you just have to be a bit attentive if you're using iOS devices as the .apk file works for almost all Android OS. iOS devices need to have a software version of 8.0 and above for the app to work and Androids need at least a version 4.0.X (Ice Cream) to work.
Here are some examples of compatible devices:
Samsung Galaxy Note;
Samsung S Series;
HTC Smartphones;
Huawei Smartphones;
iPhone 6;
iPhone 6s;
iPhone 6 Plus;
iPhone 7;
iPhone 8;
iPhone X;
If you have other mobile devices wherein the app is not compatible, then you can just access the mobile website version instead. As long as you have an internet connection, you can enter the URL of Genting in your mobile browser.
---
Mobile Payment Methods
One of the weak points of Genting Casino would be limited payment methods. There are only a few compared to a lot of gaming websites. The good news is that there are no extra charges from the end of the casino. In any case, here is a list of the deposit and withdrawal methods:
Deposit Methods
Withdrawal Methods
| Payment Method | Deposit Minimum | Deposit Maximum | Time for Deposit |
| --- | --- | --- | --- |
| Debit Cards | £10/€10 | Not Stated | Instant |
| Genting Bet UK Casinos | £50 | Not Stated | Instant |
| Payment Method | Withdrawal Minimum | Withdrawal Maximum | Time for Withdrawal |
| --- | --- | --- | --- |
| Debit Cards | £10/€10 | £25,000 | 3-4 days |
| Genting Bet UK Casinos | £50 | £25,000 | Instant |
---
FAQs
If you want to know more about Genting, read the FAQs below:
Do I have to send certain documents to Genting?
Eventually, you might have to send some documents for confirmation when you withdraw your money. This is because Genting does not accept minors. You just need to send documents to prove your age so that you can continue playing.
Is there a separate app for the Betting portion?
Yes, but it's only available for iOS devices. If you're using an Android phone, then you can just access the mobile website version so that you can bet on sports.
I'm using a Blackberry. Can I still download the Genting app?
Yes, but it will only work depending on what Blackberry device you're using. The Genting app works for Blackberry OS 10. Other devices that are compatible with the app include Blackberry KeyOne and Motion.
What other non-Android/iOS devices can play the app?
You can also use Windows Nokia Lumia to download the app. Other than that, you may not be able to download the app on your phone. If you can't, then just access it through the mobile version.
Why is the app not on Google Play?
This is because Google Play is rather strict and does not usually allow gambling apps. This is why Genting Casino hosts an .apk file download option instead.
Can I access the live chat feature in the mobile website or app?
Yes, you can. Do take note, though, that the live chat feature is not available 24/7 and has operation hours.
Is my money safe in the Genting app?
Yes, it is very secure. The money of the players is placed in the Customer Deposit Trust which only the customers can touch.
---
Company Information
The Genting Group has been known as one of the biggest companies in Malaysia ever since 1965. Known for putting up various casinos and resorts in different parts of the world, Genting has become one of the most established names in the gaming industry. Their growth in the casino market especially skyrocketed when they created their online casino GentingCasino.com.
Because of their emergence in the online world in 2010, Genting casino was able to enter a whole new market of people who prefer to sit in the comfort of their homes and bet on table games or card games rather than go all the way to a casino. Genting casino is licensed by the UK Gambling Commission and under the Alderney Gambling Control Commission.
Aside from just their website, they also have a top-rated app that targets mobile players. There is a dedicated Genting casino app for both Android devices and Apple devices.
---
Conclusion and Apps Rating
The Genting app is one of the most amazing casino apps that you can find on the internet. It has an amazing casino app that has a really elegant look, amazing line of games, and an exciting overall betting experience.
Other than the casino, it also has a sports betting portion. Although the sports betting part isn't as comprehensive, it's still pretty good. One of the unique features that it offers is the racebook – a function that not all betting platforms provide. This racebook allows you to bet on horse racing and greyhound racing. This further caters to the UK and European clientele who like betting on races.
When it comes to bonuses, they offer a plethora of really generous ones that everyone can enjoy. There are a great welcome bonus and many other promotions for existing players. While it does not have a mobile-exclusive bonus, the other rewards can still be accessed when you use your mobile phone.
If there is one weak point, it would be the limited number of payment options. However, this isn't such a big deal if you can find one that you can use consistently.