Football Index Review
If you are living in Canada, Ireland, New Zealand and the UK you could take the opportunity to try out the services of Football Index. Learn more about this football stock market and find out details for their offers, how to become a trader, payment options and other fundamental features.
---
Football Index Registration
Click either the green "Start Trading" button found in the top right-hand corner of the website, or the green "Join Now" button in the middle of the homepage – they both lead you to the same registration form.
Enter the required information – email, password, phone number and country. Press "NEXT".
Fill out the information on the next page as well – name, birthdate, address.
If you have a referral code, you can type it in here.
Tick the box to state that you are over the age of 18, and you agree to all of the terms and conditions on the site.
Press "Finish", and you are signed up.
---
Website Layout and Navigation
Unlike most sites where you can fully browse the site before you register, on Football Index, you only given some information on how the site operates. To fully understand the layout and navigation, you need to have a registered account. Once you are signed up, your home page looks vastly different and full of information. On the left-hand side, you have all of your account information – funds, how to use the site, and the opportunity to deposit and withdraw money. In the centre, users can see information about all of the players, and more detailed information on your portfolio. On the right-hand side, punters can find information about promotions, players that are going up in value, and as well as recent activity from other users.
Overall the site can take a little while to get used to, partially because it is relatively crowded, but also because this does not function as a traditional bookmaker. The layout of the site may not necessarily be the issue, rather the unique stock market format of betting. Once punters are used to the format, they may find it convenient that almost everything is directly available from the home screen.
---
Football Stock Market
The Football Stock Market is where you go to buy and trade players, which is the form of betting that you engage in with this site. The purpose is to buy players to add to your portfolio and sell them when they have risen in price, to make a profit. Just like the real stock market, the idea is to buy low and sell high. When you view the players, you can see all their vital statistics – their name, team, their market value, how much their price is increasing, and how much you can sell the player for. You can view the stock market through several filters, such as the highest increase/decrease in value, midfielders, defenders and goalkeepers, as well as the highest/lowest price. You can also create a watch list of players who you do not want to buy straight away, but you want to keep an eye on.
Just like the real stock market, prices fluctuate all the time. That may be because the player had a particularly bad performance, causing their value to decrease, or other traders have recently bought large amounts of shares, causing their value to increase. Part of the knack of this site is knowing when to buy and sell shares to get the maximum profits.
---
Welcome Money Back Offer – £500 Money Back Guarantee
New customers only. Min. deposit £10. Max. refund of up to £500 to be claimed within 7 days of first deposit. 18+ only. Account required. UK only. Additional T&Cs apply.
New punters have the chance to recoup some of their losses with this Football Index welcome promotion. If players have losses within the first seven days of opening their account, they can gain up to £500 back.
Punters must deposit a minimum of £10 to be eligible for this promotion.
The money-back is not automatic, and punters must reach out to Football Index to request the refund.
To redeem the offer, punters must Instant Sell all the shares in their portfolio.
Football Index will provide a 100% refund of losses, up to the maximum value of £500.
Punters must email Football Index asking for a refund within seven days of opening their account.
That is only valid for new players who experience losses. Those who have won in their first seven days are not eligible.
---
---
How to Become a Trader
The Football Index operates much the same way as the traditional stock market. To become a trader, all you need to do is buy shares in players who you believe are going to increase in value. You buy shares in players when the price is low, wait for them to increase in value, then you can sell them for a profit. You can also make money by receiving dividends from current shares, if they play well in a match, score goals, or make it into media headlines.
With each transaction, you can buy up to 300 shares in a player, the more shares that bought, the higher the value of the player increases. When you feel that the time is right, you can sell some or all of your shares, and this is where you stand to make the most money. You can "instant sell" your shares, where the site will calculate the amount of money you will receive for your shares. You can also join the "sell queue", which is where other punters can directly buy your shares. You do not have a guaranteed price for this method, and it just depends on the selling price at the point of purchase, which may be different to when you placed the shares up for sale.
---
IPO (Initial Player Offering)
An IPO is when new football players added to the Football Exchange. Punters notified of any new footballers being added, and their price, a day before they launched. This initial price set by the Football Index, and will eventually be subject to the market demands that drive the price up or down. It is beneficial to keep track of these IPOs, as they can be relatively cheap to buy immediately, as opposed to waiting for market demand to drive the cost up.
Punters can also request that certain players added to the stock exchange, by emailing or tweeting the support team at Football Index.
---
Football Index Blog
The site offers a full blog with information on all of the upcoming football events for that day. There are also specific posts dedicated to a specific tournament, such as the Premier League or Serie A. Also known as the Football Index News, the blog keeps punters up-to-date on what has happened so far, and predictions for what will occur soon. These blogs go into depth where possible, mentioning specific players, and how they are likely to perform. Written by people who are knowledgeable and passionate about the sport, keeping up to date with these blogs could give you the trading edge.
---
Football Index Forums
The forums are an opportunity for bettors to discuss everything they could think of when it comes to football and trading on the site. It allows punters to receive helpful advice from other traders who are in the same position or might have more experience and a better knack for understanding what is going on. The forum meticulously ordered by tags and monitored to ensure everything is appropriate, and queries are easy to find and keep track of.
---
Options for Deposits and Withdrawals
Currently, Football Index will only accept payments made through credit card or debit card – Visa or Mastercard. It is incredibly limited compared to other sites, especially considering the forward-thinking methods that the website displays in other areas.
Just like many other online bookmakers, Football Index has a "closed-loop" policy, meaning that you can only withdraw money using the same method that you used to deposit it. It is mostly designed to reduce levels of fraud.
It is also important to mention that although the site does not charge a fee for any real money transactions, they do incur a 2% commission for all of the shares that you sell.
| Payment Method | Deposit Minimum | Deposit Maximum | Time for Deposit | Minimum Withdrawal | Withdrawal Maximum | Time for Withdrawal |
| --- | --- | --- | --- | --- | --- | --- |
| Visa | £10 | Not specified | Instant | £10 | Not specified | 2-5 working days |
| MasterCard | £10 | Not specified | Instant | £10 | Not specified | 2-5 working days |
---
Football Index Mobile Apps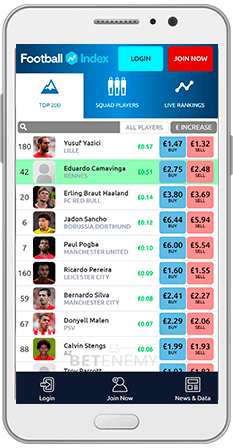 The site has developed a mobile app for iOS and Android users, to make it more convenient to play on the go. The iOS app is available directly from the app store and is free to download.

The Android app is also free to download, but cannot find on the Google Play store due to tighter regulations surrounding gambling apps. Punters must download the app directly from the Football Index website, in the form of a .apk file. Punters might first need to change the settings on their mobile device to accept downloads from locations that are not the Google Play Store, but downloading from the betting site is completely safe and will not harm your device.

Alternatively, those who do not wish to download either app (or do not have a compatible mobile device) can still access the main desktop site from any device. You can still do everything that you can on a computer or desktop, but it is somewhat difficult to navigate because they have not redesigned the site for mobile use.
---
Football Index Affiliate Program
Football Index has an affiliate program, which allows punters to earn money simply by referring new users to the site. The novelty of the football stock market does make this a slightly more appealing affiliate program compared to any other online bookmakers. Still, aside from that, benefits are relatively equal to competitors. Affiliates get access to professional marketing support, monthly payouts, and the opportunity to earn up to £100 with every person that signs up through them. You get a personalized Football Index referral code, which new players will use to register so that your efforts can be tracked. The affiliate program run by TradeDoubler, an experienced digital marketing company.
---
FAQ
How do I activate and verify my Football Index account?
Football index complies with KYC (know your customer) policies, which means they must verify your age, identity and address. It is initially done electronically, with no further input from you. There is roughly a 20% chance you will be asked for proof of identification and address, in which case you will be asked to submit copies of your passport/drivers' license/national identification card, as well as a bill/bank statement with your home address on it. The team will review these as soon as possible, to verify your account.
How do I recover a forgotten password?
If you have forgotten your password, press the "Forgot your username/password?" link on the login box. After filling in your email address, you will be sent a link to click on, which enables you to create a new password, logging you back into your account.
Are there any no-deposit bonuses at Football Index?
No, there is no that kind of bonus for punters. The only bonus available to users of the site is the £500 money back for new users. There are no other promotions on the site.
Is this site licensed?
Yes, Football Index is licensed and regulated by the UK Gambling Commission and the Jersey Gambling Commission.
Can I use more than one payment method?
Yes, you can have more than one payment method registered to your account. But it is important to remember that money must be withdrawn the same way it deposited – if it was deposited using Visa, it must be withdrawn using Visa. If multiple deposits made with various methods, withdrawals would split as well.
Is it possible to self-exclude from this site?
Yes, you can choose to lock yourself out for 24 hours, 48 hours, seven days or 30 days, if you feel like you need a break. It is called "Time Out" and can do in account settings.
How do I know the value of my portfolio?
The "All Time" value that displayed in your portfolio is the total value of your shares, and how much they have increased since the purchase.
Is Football Index Edge a part of the official site?
No, it is a completely different company that offers insight into the Football Index, by providing a blog full of Football Index tips and tricks, as well as information on dividends of players, now and previously. While it may be considered a great tool, it is not an official part of the Football Index, and there is no need to pay their membership to be successful.
---
About Football Index
Football Index is the first-ever stock exchange for real football players. Users can buy and sell shares in footballers, whose value fluctuates based on their popularity and their performance during matches. Owned and operated by British company Bet Index Ltd., the site was established in 2015 and continues to grow today.
---
Contact Details
---
Final Rating and Conclusion
For what it offers, the site certainly delivers. The novelty of a football stock market exchange is a new spin on betting and something that punters can choose to invest in. The site provides punters with all the information they need to make winning choices – they explain in-depth how to use the site, as well as offering extensive support via the blog, and moderated forum.
Just like any other form of sports betting, this site does require some relatively extensive knowledge of what is going on with the sport and individual players, to be successful. Punters who can keep track of multiple players and teams, potentially in different championships, have a higher chance of winning big. This site is not for people who are casually interested in football and want to make a quick win, and rather this is for those who are passionate about the sport and can dedicate time and effort to it. Holding on to shares for players who are having a good run will generate higher profits, the longer you can hold onto them, as well as receiving dividends from them.
Although it is completely different from traditional betting, those who are looking for an alternative may find that this is great for them. The site only offers to trade on football, which may limit their target audience to people only interested in that single sport. Still, aside from that, the website appears to be fully functioning, and easy to use once you get the hang of it.
Rating: 4.0/5