Is There an Android .apk Application?
Being a pretty new player in the market, Evobet is also familiar with the current ways more modern sports gambling platforms reach out to their customers. That's why aside from a regular desktop website, they also have a mobile platform to cater to the mobile gamblers out there.
Now, one thing to take note of is that no dedicated app is available for Android users. You won't find one in Google Play nor will you be able to access an .apk file online. This may sound disappointing, but it's actually pretty convenient. All you have to do if you want to play using your Android device is to load Evobet's website in your mobile browser.
---
What About a Mobile App for iOS?
How about iOS devices? Is there a mobile app for iOS that you can find in maybe the iTunes store or on the website itself? Unfortunately, there is also no dedicated mobile app for iOS devices.
So how can you access the mobile platform with your phone? Well, Evobet has a beautiful mobile version of the website that you can access with your mobile browser. However, we'll go into more details about that later. For now, let's concentrate on the features the mobile platform offers for the sports market.
---
Review of the Mobile Site Version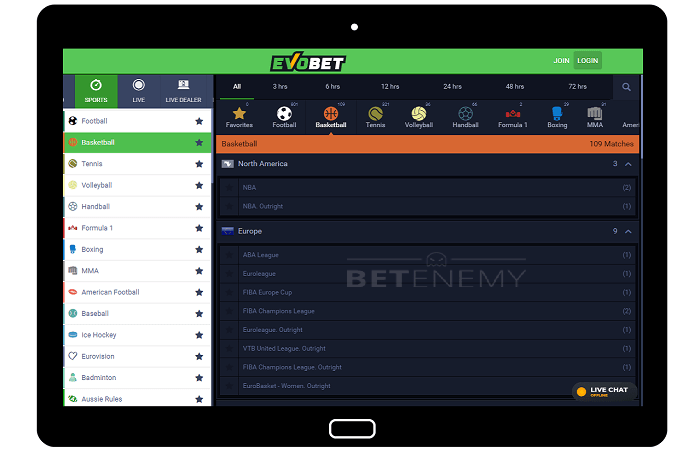 Now that we've gone over some of the features of the mobile platform let's focus on the mobile site version – the only way for players to access the platform with their mobile phones. There really isn't that much difference between the desktop version of the website and the mobile version except that the mobile version is a little bit more optimised. Other than that, they pretty much look the same.
One thing to note with the mobile version is that the layout somehow looks better and neater if you flip your phone sideways. Vertically, some parts would look like a bit cramped. That's why we recommend that you use the site with your phone facing sideways to get the best experience.
---
Sports Betting on Mobile
First off, let's talk about the sports betting experience that you will have if you play using your mobile phone. When it comes to the sports markets, Evobet has a whole range of great sports markets to choose from, and you can access all of them using the mobile platform.
The Sports section of the mobile website version offers a great selection of championship leagues that you can choose from, including Football, Basketball, Tennis, Volleyball, Handball, and Formula 1.
You can find many more sports available for mobile sports betting. There are even Virtual sports available such as Virtual Football, Virtual Greyhounds and Horse Racing, Virtual Car Racing, and more. What's great is that you have the chance to add all the sports that you like to your Favourites, giving you more convenience in finding your favourite games whenever you go betting. Moreover, you can also choose to view All sports or those according to 3 hrs, 6 hrs, 12 hrs, 24 hrs, 48 hrs, and 72 hrs.
---
Mobile App Features
Now that you have an idea of what the mobile platform is like let's take a look at some of the features. As punters, we usually look at three key features that can give us an idea of what we can enjoy when we enter the platform. Here are those three key features.
Cash-out Option
The first common feature is the cash out option. For those who aren't too familiar, the cash out option is a feature that allows you to take your money out early in the game just in case you believe that the second round won't really go your way. Fortunately, Evobet has this feature but only in selected games. To know which of the live games have a cash-out option, you can click on the event and see if there is an available cash-out option.
In-Play Function
The in-play function is synonymous to live betting, which is a feature that Evobet does have. With this feature, you can bet on games that are happening right away or the games that have just started. There is a live betting section that you can go to bet on live games.
Compared to the Sports section, there are fewer sports available on the Live section of Evobet's mobile website version. These sports include Football, Basketball, Tennis, Volleyball, Handball, Ice Hockey, Beach Volleyball, Cricket, Futsal, Table Tennis, and Snooker. Keep in mind though that the listed sports in this section may vary.
There are also some eSports available for live betting, including Dota 2, CS: GO, and even Mortal Kombat XL. There are also electronic sports games like E-Basketball, E-Football, and E-Tennis.
Live Streaming
For sports lovers who love watching the game while they are placing their bets, this feature is a convenient tool. Evobet has a great live streaming platform on their mobile website wherein you can watch selected live games happening at the moment in HD. It's a feature that sports fans and punters alike adore.
---
Mobile Casino
Evobet's fans will be happy to learn that the mobile version of the platform features a superb online casino. Basically, on the mobile site, you will find everything offered in the desktop version.

For example, you can choose from a vast variety of slot games. For users' convenience, they're divided into several sections: 'New', 'Top Slots', 'Video Slots' and 'Classic Slots'. We have to admit that the graphics are beautiful and the implemented sounds are realistic and enjoyable. It's just like you have your own tiny casino in your pocket.

When using your phone or tablet, you can also play Video Poker and Table Games in Evobet's Mobile Casino.

One of the coolest features is the mobile lobby with real dealers. Real-Time streaming will make you feel like you are visiting the most famous casinos in the world. The dealers are professionalists and will take care of your needs and preferences. It's vital for you to remember that if you want to enjoy a first-class experience in Evobet's Mobile Casino with real dealers, you will have to be equipped with a high-performing mobile device and a strong internet connection.
---
Pros and Cons of Evobet Mobile Version
As compared to having a dedicated mobile app, there are actually a lot of pros to just having a mobile version website. While there are some disadvantages, the advantages are a little more so it would make sense as to why the makers didn't see the need to make a dedicated mobile app. Here are the pros and cons:
Pros
No need for any download
Can be accessed on any browser
Can be accessed using any smartphone
No need for strict system requirements to use the mobile platform
Does not take up any phone space
Cons
Maybe a bit slower than an app
Some pages have longer loading times
---
Is There a Mobile Bonus?
If you are looking for a mobile-exclusive bonus, you won't be able to find one here as all of the bonuses offered by Evobet are available for both desktop and mobile versions. That's the great thing about Evobet. They play no favourites with regard to desktop players and mobile players. Everyone will have an equal chance to avail all of the bonuses no matter what device they choose to use.
With that said, there are no mobile-exclusive bonuses here such as a deposit bonus for new mobile players or free spins for mobile.
---
System Requirements and Compatibility
As we already mentioned above, there are no strict requirements needed to play in the Evobet mobile. All you need to do is have a smartphone with a browser, and you're good to go. Probably the only thing that you need to take note of would be the software version. While all software versions can take the Evobet platform, newer ones will be able to give a better experience when it comes to smooth interface and graphics.
Here are some of the compatible devices:
Samsung Note series
Samsung Galaxy series
Samsung S series
Samsung Galaxy Tabs 1 to 4
Samsung Galaxy Tab 10.1
Huawei Mate P10 and P20
HTC smartphone models
iPhone 8, SE, X, and XR
iPad air 2 and 3
iPad Mini 2 to 4
---
Mobile Deposit & Withdrawal Payments
The deposit and withdrawal methods are the same across both the mobile and desktop versions. Here are the tables with each method's respective details:
Deposit Methods
Withdrawal Methods
| Payment Method | Deposit Minimum | Deposit Maximum | Time for Deposit |
| --- | --- | --- | --- |
| Visa | €20 | €500 | Instantly |
| Neteller | €25 | €25000 | Instantly |
| Skrill | €25 | €25000 | Instantly |
| Paysafe Card | €15 | €1000 | Instantly |
| EcoPayz | €25 | €25000 | Instantly |
| MasterCard | €20 | €2500 | Instantly |
| Jeton Wallet | €25 | €25000 | Instantly |
| Sepa | €25 | €25000 | Instantly |
| Neosurf | €20 | €10000 | Instantly |
| Flexepin | €1 | €10000 | Instantly |
| CASHlib | €15 | €1000 | Instantly |
| Pass N Go | €20 | €2500 | Instantly |
| Payment Method | Withdrawal Minimum | Withdrawal Maximum | Time for Withdrawal |
| --- | --- | --- | --- |
| Visa | | | |
| Neteller | €25 | €1000 | 12 Hours |
| Skrill | €25 | €1000 | 24 Hours |
| Paysafe Card | | | |
| EcoPayz | €25 | €1000 | 12 Hours |
| MasterCard | | | |
| Jeton Wallet | €25 | €1000 | 12 Hours |
| Sepa | €100 | €1000 | 24 Hours |
| Neosurf | | | |
| Flexepin | | | |
| CASHlib | | | |
| Pass N Go | | | |
CASHlib, Flexepin, Neosurf, Sepa, Pass N Go, Jeton Wallet, Paysafe Card, Neteller, EcoPayz, Skrill, MasterCard, Visa
Jeton Wallet, Sepa, Neteller, EcoPayz, Skrill
---
Questions & Answers
If you're looking for answers to your questions about Evobet's mobile website version, find the answers below.
Is there a casino included on the mobile platform?
Yes, Evobet also offers a casino for its mobile platform.
How do I see the promotions using my mobile phone?
Click the menu icon on the top left (the three bars) and then click on the Promotions button once the slider comes in.
Is there a live mobile casino offered by Evobet to the mobile players?
How do I turn on the live stream for a game when using my mobile phone?
Click on the menu icon on the top left and then click on the Live section. You'll see a list of all the events available for live betting under the heading All. Beside "All heading' is another heading named 'With Video'. Click that one, and you can watch the game while you make a bet.
Can I sign up on the platform using my mobile phone?
Yes, you can. All you need to do is click on the big Join button located at the top right corner of your website, and you'll be walked through the process of registering an account. Once you follow those steps, you'll have an account.
Is there a live chat available for customer support for when I use the mobile platform?
Yes, there is a live chat option for the mobile platform. The live chat button can be found at the lowest corner right portion of the website. A green light indicates that there is someone online to cater to you while a yellow light indicates that there is no one available yet.
Does the casino offer a mobile-exclusive bonus?
Unfortunately, the mobile casino, just like the sports section, does not offer a mobile-exclusive bonus. However, you may take advantage of all the other bonuses available by looking at the promotions section.
How do I go to the FAQ section of Evobet mobile?
Scroll down to the lowest part of the page, and you'll see an option named FAQs. Simply click on that, and you'll be brought to the FAQ section of the site. From there, you'll be able to read all the FAQs and answers that you need to know about the entire platform.
---
About Evobet
Evobet is part of the new wave of online sports makers that came out in the year 2018 under the operations of CW Marketing BV. It has its headquarters in Curacao but has its license from the Government of Gibraltar. Because of its license, it can serve various countries around the West. It is one of the newer bookmakers that has included the North American and Greek clientele to its customer base. It is also a popular platform in other European countries such as the UK.
---
Mobile Version Rating and Conclusion
Evobet definitely has a great platform to offer to its players. The design may not be that great, but it does use a pretty clean colour scheme so you won't have a hard time looking at the screen for hours. With regard to the overall interface, we have to say that it is a bit cramped, which is why we mentioned earlier that it's more beautiful to look at when you flip your phone sideways.
Other than that, the Evobet mobile version is an excellent alternative to the desktop site if you are a mobile punter. It is effortless to use and navigate and has a lot of cool functions to boot. Also, live streaming on the Evobet mobile platform is great because you still get the same HD quality that you get with the desktop site.
Of course, you won't be able to please everyone as some punters only like to access online gambling platforms through mobile apps. Since this bookmaker doesn't offer a dedicated app for either Android or iOS devices, app lovers may not want even to try out the mobile site version.
However, other punters who are not that particular with whether they play on a mobile app or a mobile website will absolutely love this platform because of the features that it has. If you can overlook the cramped interface when the phone is vertical, then this platform is definitely for you.
With all that said, this mobile platform still does have a long way to go before it really reaches the levels of more prominent bookmakers. It is off to a good start though.