Is there a CasiniaBet app available for Android?
When we start our reviews, the first thing that we usually look at is if there is an Android app present. Since the Android OS is one of the most common operating systems, we need to know if Casiniabet has a dedicated app for the system. That said, can you find an app in Google Play or an apk download?
Unfortunately for app players, there is no CasiniaBet mobile app present either in Google Play or in apk form. Do watch out for websites that claim that they have an official APK file for free download. These files are often viruses that are disguised as legitimate files. If you happen to download any of them, your mobile phone will only get infected.
---
Is there a CasiniaBet App available for iOS?
Now that we've established the fact that there is no Android app let's now check for an official CasiniaBet app iOS version on the App Store.
Unfortunately, just like the Android app, there is also no CasiniaBet app for iOS devices. Even if you search for CasiniaBet in the Apple Store, you're not going to be able to find anything there. So what option do you have in order to play CasiniaBet games using your mobile phone?
Well, the only way to access the mobile platform is to use the CasiniaBet mobile website.
---
Review of Mobile Site Version
Next, let's talk about the mobile site version. How do you access the mobile site version? Well, you simply have to open up your mobile device, boot your browser, and type in the Casiniabet URL. Once you hit the search button, you'll automatically be brought to the CasiniaBet mobile website.
If you take a look at the mobile site version, you'll find it a bit different as compared to the desktop version. The CasiniaBet for PC comes with a lot more content in it such as buttons, graphics, and wordings.
On the other hand, the mobile version significantly takes out a lot of things in order to make the design more optimised. It's easy on the eyes and pretty easy to navigate as well. You can take a look at what the mobile website looks like below:
---
Sports Betting on Mobile
Since the sports betting platform is the main section of Casiniabet, we'll talk about it first. The sports betting section of CasiniaBet is pretty straightforward. Upon clicking the section, you'll be greeted by a list of the Top Leagues that you can play at. Usually, these leagues are all football leagues that highly appeal to the high rolling punters.
You'll also find other cool sports markets here such as tennis, basketball, volleyball, and many others to choose from. There's a complete list of all the sports that you can play here. CasiniaBet has a pretty comprehensive list so you won't get bored. Lastly, you'll find a list of sports that you can bet on right below.
---
Mobile Site Features
When you take a look at the mobile platform, there are three features that you need to watch out for. These are the live streaming, the in-play function, and the cash-out function. These are the three functions that are considered must-haves for mobile platforms.
For most punters, there must be at least two out of three of these features to be considered top quality. Let's take a look at whether or not they have at least two of these three features.
Live streaming
First on the list is the live streaming feature. Live streaming services have been added by most bookies as it gives punters the experience of watching live games while they're monitoring or placing bets.
However, the bad news here is that there is no live streaming feature offered by the platform as of this moment. Whether you switch from the desktop or mobile platform, you won't find any live streaming feature to avail of.
In-play function
Next, let's take a look at whether or not there's an in-play function. The in-play function is the same as a live betting section. In live betting sections, you can place bets on events that are happening at that very moment. It's like being a part of a live game and putting money on it while it's happening.
Fortunately, the CasiniaBet mobile platform has an in-play function – and a really good one at that. Its in-play function has a pretty wide selection of sports to choose from. It also features updating odds, scores, and other live information needed for you to make your betting decisions.
Cash Out option
Lastly, we've got the cash-out option. The cash-out option became more in demand because people wanted to have a risk management feature that allows them to pull out their money in the event that they feel like the odds won't be in their favour.
The beauty of the cash-out option is that it allows you to have more control over your money. That said, if you're the conservative type of bettor, then this handy little feature will be a big help to you.
The good news is that there is a cash-out option for both the desktop and mobile platform for CasiniaBet. With this feature, you don't have to worry about your money getting stuck in a bet that you won't be happy with.
---
CasiniaBet casino mobile
Now that we're done with the sports mobile, we'll talk about the casino section. The CasiniaBet casino mobile is pretty impressive in terms of game selection. That said, if you want to be entertained for a long time, then you'll really like it.
Another cool part about the casino section is that there are always new games that are added to the list from time to time. In fact, there is an option that says New Games. By clicking on that, you'll be able to see all the new additions that you can try out. It's quite impossible to get bored with all the games in the casino.
---
Live Casino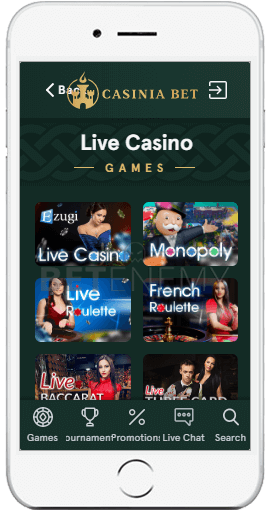 The live casino is one of the more exciting aspects of the CasiniaBet mobile platform. It is similar to the casino section. However, you get to play with live dealers just like in an actual land-based casino.
Therefore, if you happen to miss playing in a casino and you long for interaction with dealers, this is probably the closest thing you can get. You can play live roulette, live three card poker, live baccarat, and many more live games.
---
Pros & Cons of the CasiniaBet mobile website version
From the start, we can already infer that CasiniaBet isn't for everyone because it doesn't have dedicated apps for Android and iOS devices. While most punters don't really mind playing from their browsers, there will always be a group of people who are particular about playing via apps.
With regard to this matter, there are actually some pros to having only a mobile website as compared to having an app. At the same time, there are also a few cons to take note of. Here are a few that you may want to take into consideration:
Pros:
The mobile website version doesn't require any download
You don't have to update it as opposed to apps constantly
It doesn't eat up your phone memory
There are no issues with crashing unlike apps
Cons:
May sometimes need clearing of cache or cookies to work properly
A bit slower than an app
---
Is There a Mobile Bonus?
Bonuses are a staple in any bookie or casino. Usually, mobile-exclusive bonuses are created in order to drive more traffic to the mobile platform.
However, if you're the type who is particular with mobile bonuses, you'll be a little disappointed to find out that there is no mobile-exclusive bonus at CasiniaBet. However, you can still avail of all the other available bonuses that are offered in the desktop version.
To do so, simply click on the hamburger icon on the top left and click on the Promotions section. From there, you can choose between casino promotions and sports promotions.
---
System Requirements and Compatibility
One other advantage that we'd like to point out with having a mobile website instead of an app is that there are no system requirements to really think about. With an app, you need to make sure your OS is a certain version in order to take the app. With a mobile website, however, you don't need to worry about such things. You just need to have a stable internet connection and a mobile browser.
Just to give you an idea, here are a few of the phones that can really bring out the beautiful experience of CasiniaBet:
iPhone 6 and above
iPad 3
Samsung S5 and above
Samsung Note 4 and above
HTC phones
LG phones
---
Mobile Deposit & Withdrawal Payments
When funding your account using your mobile phone, you can use any of the deposit methods available. You can also use the same payment methods for withdrawing money from your account. To break down the payment methods this platform offers, we made a table with all the necessary details that you need to take heed of. Check out the table we made below:
Deposit Methods
Withdrawal Methods
| Payment Method | Deposit Minimum | Deposit Maximum | Time for Deposit |
| --- | --- | --- | --- |
| Visa | €10 | €5000 | Instant |
| MasterCard | €10 | €5000 | Instant |
| Bank Wire Transfer | €10 | €5000 | Instant |
| Neteller | €10 | €5000 | Instant |
| Skrill | €10 | €5000 | Instant |
| Trustly | €10 | €5000 | Instant |
| Paysafe Card | €10 | €5000 | Instant |
| EcoPayz | €10 | €5000 | Instant |
| WebMoney | €10 | €5000 | Instant |
| Neosurf | €10 | €5000 | Instant |
| Sofort | €10 | €5000 | Instant |
| Qiwi | €10 | €5000 | Instant |
| Payeer | €10 | €5000 | Instant |
| Bitcoin | €10 | €5000 | Instant |
| Ethereum | €10 | €5000 | Instant |
| Payment Method | Withdrawal Minimum | Withdrawal Maximum | Time for Withdrawal |
| --- | --- | --- | --- |
| Visa | €20 | €10 000/month | up to 3 days |
| MasterCard | €20 | €10 000/month | up to 3 days |
| Bank Wire Transfer | €100 | €10 000/month | up to 3 days |
| Neteller | €20 | €10 000/month | up to 24 hours |
| Skrill | €20 | €10 000/month | up to 24 hours |
| Trustly | €100 | €10 000/month | up to 3 days |
| Paysafe Card | | | |
| EcoPayz | €20 | €10 000/month | up to 24 hours |
| WebMoney | €20 | €10 000/month | up to 24 hours |
| Neosurf | | | |
| Sofort | | | |
| Qiwi | €20 | €10 000/month | up to 24 hours |
| Payeer | €20 | €10 000/month | up to 24 hours |
| Bitcoin | €20 | €10 000/month | up to 24 hours |
| Ethereum | €20 | €10 000/month | up to 24 hours |
Visa, MasterCard, Bank Wire Transfer, Skrill, Neteller, EcoPayz, Trustly, Payeer, Neosurf, Paysafe Card, Bitcoin, Qiwi, Sofort, WebMoney, Ethereum
Visa, Bank Wire Transfer, Neteller, Skrill, Trustly, EcoPayz, MasterCard, WebMoney, Bitcoin, Qiwi, Payeer, Ethereum
---
Questions & Answers
Can I change the odds from Fractional to Decimal?
Yes. You can change the odds from fractional to decimal and vice versa. You also have the chance to change the odds from fractional or decimal to American. In order to do so, hover over to the left portion of the website and click on the Odds Format dropdown. From there, you can choose among fractional, decimal, and American odds formats.
Is there a CasiniaBet.apk file for Android I can download?
No, there is no apk app available for official download. As mentioned above, there are some websites that may claim to provide an apk application. Avoid these websites as they may be pushing you to download a virus that can infect your mobile phone. Stick with the mobile version to be safe.
Why can't I find a CasiniaBet app for iOS in the App Store?
That's simply because there is no CasiniaBet app for iOS devices. The only way to access the mobile platform is to use the mobile version of the website simply.
How do I use the CasiniaBet mobile site?
To access the site, simply enter the URL on your mobile browser. From there, you will be brought to the mobile website. To look at the options, click on the hamburger icon on the left. You'll be able to navigate from section to section from there. You'll also see all the available sports markets that you can choose in the header.
Can the mobile website work in all browsers?
Generally, it can. However, the website works best in some of the more popular browsers such as Google Chrome and Opera. It can also work in other browsers as well, such as Safari or Mozilla Firefox mobile.
Can I do a mobile registration using the mobile website?
Yes. Once you enter the mobile website, click on the hamburger icon on the left and click the Join Us button. From there, you just need to enter all the necessary details needed for the registration and create your account. After that, use your login details to do a CasiniaBet login mobile and start playing.
Will they be adding a CasiniaBet mobile bonus any time soon?
There is no announcement as to whether they will or not. However, we believe that there is really no need for any mobile-exclusive bonus because there are already a lot of bonuses that you can avail of.
What do I do if the website does not want to load?
The quickest way to fix this issue is to clear the cookies and cache from the browser by clearing its history. After you do that, you shouldn't have any more issues with the website. If that doesn't work, you may want to try updating your browser or using another browser.
---
About the Company
CasiniaBet is pretty young as it was only founded sometime during 2018 in Cyprus. They have a licence from both Cyprus and Curacao. However, they are highly backed by one of the biggest software industry leaders, Soft2bet.
Due to their backing, they are able to fight among the competition in this fierce market. They are currently under the umbrella of parent company Tranello Ltd, and the brand has some of the best games and sporting events.
Even though CasiniaBet is new, the owners behind the platform aren't rookies in the field. They are also the owners of well-known brands Librabet and Campobet. That's why they know exactly how to deal with customers.
---
App Rating and Conclusion
When it comes to the overall experience of the CasiniaBet mobile platform, can they match up to the other big players in the field? Well, they have a wide selection of events, sports markets, and casino games. They're also pretty known for their mobile odds and generous welcome bonuses. They also have great features such as a cash-out feature and an in-play feature.
The only problems that you may encounter are the withdrawals. First, they have a low withdrawal limit. Second, the withdrawal limit is based on your VIP status. This means that the higher the VIP status, the better it is for withdrawals.
Withdrawals are a pretty big thing because they involve pulling out profits. If the withdrawal process isn't easy, then punters may be a bit turned off. That's why the withdrawal limit is a pretty big drawback. Of course, the pros still outweigh this big con.