How to download the Bwin app for Android?
Bwin has made it easier for its customers to play through the use of the Bwin app for Android. It is effortless to download the Bwin app for Android as you only have to go to the website to download the Android app. The download link for Android app can be found under the mobile sports section of the website. You may refer to the image up there.
Once you download the app, you may log into your account and start placing your bets. Up there are some screenshots of what Bwin.com for your Android phone looks like.
If you are having some trouble with installing the Android app, below is given a more detailed explanation on how to download and install the Android app on your phone.
How to install Bwin app for Android?
Step 1: Go to the website.

Visit Bwin.com mobile app download page and look for the download link. Once you find the download link, simply click on the Download Now button.

Step 2: Modify Your Security Settings

Some of you will notice that your Android will not accept the new Bwin application into the phone. The main reason is that Androids, in general, do not accept gambling apps yet. However, there is a way to download the Bwin app while bypassing the security of the Android phone. To do this, simply go to "Settings". Once you have already clicked on that, click on the "Security" button. Scroll your phone down until you find the "Unknown Sources" option. Once you find it, click on the check button on the right side and then click on the "Ok" button to apply your changes. This will bring down the security settings of your Android so that it can accept the app. For those who are worried about the security, the app is totally safe and will not harm your device. Check out the screenshot below to get an idea on how to modify your settings.

Step 3: Look for the .apk file to fully install the app

Even if you have already installed the app, you still need to look for the .apk file in your device to run the program. In order to find the .apk file in your Android device, simply go to your file manager or your download folder. You'll find the .apk file there. Once you see it, click on it and your device will prompt you to install it. Choose to install the program and wait for it to be installed. Once you click on the .apk file, then you may install the program right away. Do take note that if you want to verify your location in the app, turn on your "Location" so that the app will detect where you are.
---
Bwin app for iphone and Ipad
Aside from Android, customers may also download the app for their iPhone and Ipad devices. The app for Bwin is also available for all kinds of iOS devices wherein it allows customers to place bets and check them. Check out the interface of the app in iOS devices by taking a look at the screenshots below:
As you can see, the interface of the app in iOS devices looks really good and user-friendly. You can find everything you need here, and you won't have a hard time navigating the application. The screenshots show some of the functions that you can try when using the iOS app. The interface and the features are pretty much the same as the regular web app of Bwin, so it's not hard for the existing customers to get used to it.
For those who haven't installed the app yet, here is a step by step guide on how to download and install the app into your iOS device.
How to install Bwin app for iOS?
Step 1: Look for the Bwin App In Your App Store

There are two choices for step one. You can look for the app in your iTunes store or App store. Type in Bwin in the search bar of your app store and it should immediately lead you to the download page.

Step 2: Go to Mobile Section of Website

If you cannot seem to find the Bwin app in your iTunes store or App store, you can go to the Mobile section of the website and click on the link there that redirects you to the download page in the app store. You may find it here:

You can find a small box beside the "Sports App For iPhone and iPad" header that says "Download on the App Store". Click that box, and you will be immediately lead to the downloads section in the app store. From there, you can immediately download the app.

Step 3: Click on the Install Option and Install the App Into Your Device

Once you're on the download page, simply click on the "Install" button and you're all set to go. Unlike for Android devices, iPhone users don't need to modify their security settings and look for the .apk files in their downloads anymore to run the program. All they need to do is simply install the app, and then they can open it up and log in. This is because Apple allows its devices to run gambling apps, unlike Android phones.
---
Bwin mobile app review
When it comes to Bwin mobile app for Android and iOS devices, we can't help but mention what a good job the developers have done. The application allows for seamless exploitation and loads without any problems. In addition, all available sections of the desktop are active and accessible through the mobile app itself, so you will have a full list of options at your disposal. The app developers have tried to provide users with great gameplay and betting experience while using the Bwin mobile app for your iOS device or Android operating system.
---
Mobile site version review
For those who don't want to download the app into the device, there would also be the mobile site version which has the same features as the usual iOS and Android versions. The only difference is that you can just access it on the website and place your bets there. Check out the image below to see the interface of the mobile website version:
As you can see, the mobile website version is straightforward and minimalistic. You can find everything you need on the screen. You can also easily access your bonuses and log into your account in one click.
---
Bwin Sports App
Many players want to have the option to wager on a variety of international and local sports. With Bwin sports app, that is possible and easily accessible – just a few taps away. Take your pick from football, ice hockey, basketball, handball, boxing, tennis, rugby, and etc. All sports types that you love are at your disposal in the sports section where you can place your bets easily without facing any problems in the process.
---
Bwin mobile casino app Review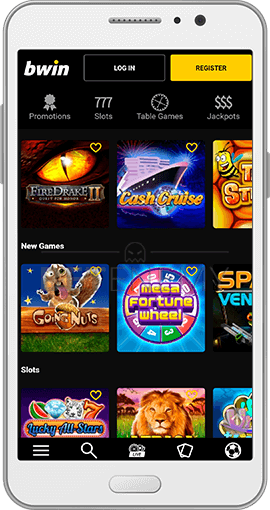 Aside from sports betting, Bwin also offers a casino app that allows you to play casino games as well. Playing casino games on the mobile casino app is very easy and convenient because you can just play anywhere you want. Do take note though that the app for the Bwin Casino has to be downloaded on your mobile device for you to run it. You may download it on your iOS device, your Android device, or just play it on your browser.

In order to download the Mobile Casino of Bwin, you simply have to visit the Mobile Casino section of the website and scan the QR code given on the page to get the download link. You can also look for it in your respective app store. As for the mobile website version, you may just visit the link at casino.m.bwin.com.

What makes this casino experience really good is its convenience and user-friendliness. The management team behind the platform knows that mobile users want something to easy to use. This is why the app was specially designed to be as minimalist as possible to cater to its users.
---
Bwin mobile poker app Review
Just like the Bwin mobile casino app, the mobile poker app can be downloaded by visiting the Mobile Poker section of the website. Unlike the mobile casino, the mobile poker option can't be played on your mobile browser which makes it a little bit inconvenient for those who don't like downloading apps.
However, the Android and iOS mobile apps more than makeup for that one little hiccup. Just like the Mobile casino option, the interface is very visually appealing and also minimalistic, making the functions easy on the eye.
---
Bwin App Features
Just to break down the features that are incorporated into the apps, here are some that are noteworthy. First, Bwin provides a whole range of sports betting markets that you can navigate easily thru your mobile phone. You will also be able to see all the updated statistics of your possible bets in your app. The sliding options are easy to use and very interactive.
---
Mobile Version Features
The mobile version also allows you to place all kinds of bets in just a single swipe. You can have a single bet, a multi bet, and all other types of bets easily using your mobile device. Besides that, feel free to opt for games that can be played in a demo mode if you're a beginner who wants to practice your betting skills without risking your money.
---
Back-up bet offer from Bwin
Every new Bwin's customer from the United Kingdom has the chance to take advantage of the sign-up offer. As a mobile player, you will be eligible to access the promotion. You should register at Bwin and make a deposit of at least £10. Remember that the deposit method used should be different from Skrill or Neteller. Then, if you bet on Sports with an amount up to £10 at odds 2.00 or greater and the bet loses, Bwin will refund your account with a free bet. That Free bet will meet the amount of your stake, which is lost. Note that only single and multi-bets are allowed for this offer. Also, cancelled or closed bets through cash out are not eligible for this promotion. If your bet really loses and it has met the criteria of the promotion, in the next 48 hours you will receive the Free bet amount which is equal to the losing bet up to £10. You should know that from the free bets only the net winnings are paid. You can follow our page about Bwin bonuses and promotions where we've included updated information every month.
This offer is an excellent chance to start your sports betting experience at Bwin mobile.
18+
T&C apply
| begambleaware.org | Play Responsibly.
---
System Requirements and Compatibility
For the Android devices, the minimum requirement for the app would be an Android version 4.1 or higher. For the browser, the best Android browsers for the mobile website version would be Chrome, Dolphin, and Mercury.
As for the iOS devices, the minimum would be iOS v5.1. For the browser, the best iOS browsers would be Chrome, Mercury, Dolphin, and Safari.
Most Samsung with v4.1 Jelly Bean operating systems or higher is compatible with the device. For iOS devices, the iPhone 3GS and above are the best models that are compatible with the app.
---
Bwin Mobile payment methods
Deposit Methods
Withdrawal Methods
| Payment Method | Deposit Minimum | Deposit Maximum | Time for Deposit |
| --- | --- | --- | --- |
| Visa | £10 | £10,000 | Instant |
| Bank Wire Transfer | £10 | £70,000 | 5-7 days |
| Neteller | £10 | £50,000 | Instant |
| Skrill | £10 | £50,000 | Instant |
| MasterCard | £10 | £10,000 | Instant |
| PayPal | £5 | £10,000 | Instant |
| Fast Bank Transfer | £10 | £70,000 | Up to 3 days |
| Maestro | £10 | £10,000 | Instant |
| ClickandBuy | £5 | £20,000 | Instant |
| Delta | £10 | £10,000 | Instant |
| Paysafe Card | £10 | £1000 | Instant |
| Payment Method | Withdrawal Minimum | Withdrawal Maximum | Time for Withdrawal |
| --- | --- | --- | --- |
| Visa | £10 | £8,500 | 3-5 days |
| Bank Wire Transfer | £10 | £5,000 | 3-5 days |
| Neteller | £10 | £4,500 | 24 hours |
| Skrill | £10 | £4,500 | 24 hours |
| MasterCard | £10 | £8,500 | 3-5 days |
| PayPal | £10 | £8,000 | 24 hours |
| Fast Bank Transfer | £10 | £5,000 | Up to 3 days |
| Maestro | £10 | £8,500 | 3-5 days |
| ClickandBuy | £10 | £4,500 | 24 hours |
| Delta | £10 | £8,500 | 3-5 days |
| Paysafe Card | | | |
For payment methods that are available for the platform, there are a lot of online payment facilities that the mobile app supports. Some of these would include Paysafecard, Poli, Skrill, Neteller, Paypal, Moneta, Webmoney, Entropay, and more. These are all very easy to use because you only need to fund your online payment facility and quickly transfer the money. For all online payment facilities, it would take 24 hours to credit the amount to your account.
Aside from that, Visa and Mastercard payments are also accepted. These payments are usually credited instantly.
Finally, there would be the bank wire transfer which would take 1-6 days processing time depending on how fast the system would handle it.
---
FAQs
Can the app work in all smart phones?
Yes, they can work on any smart phone provided that the phone meets all the OS requirements and compatibility concerns.
Can the app be used in all countries?
Unfortunately, the Bwin app does not serve all countries. You may find a list of countries the app is available in on the website.
Do I need to verify my account?
Yes, you need it for security purposes and your own protection.
What documents do I need to verify my account?
You just need to upload a photo of any government issued ID, preferably a passport or a driver's license.
Are there restrictions on withdrawal of money?
While there are no restrictions to withdraw your money, you may need to provide extra documents for security verification. Concerning the withdrawal of bonus amounts, you will need to make sure all the requirements of the said bonus have been met before withdrawal.
Are there restrictions on depositing money?
Each account will have its own max deposit limit which can be seen upon the creation of the account.
How can I get in touch with your customer service?
You may send us a direct email by clicking on the "Contact" option on our website or you may have a live chat with one of our online customer service representatives. You may also call our hotline at 00442039380862.
---
Comapny Information
In the world of sports betting, Bwin is known as one of the leading platforms with many customers under it. Bwin is owned by the e-gaming giant known as GVC Holdings PLC, which is quite known for catering to both the B2C and B2B markets. It is also known for giving some of the best gaming experiences in sports betting, online casino, bingo, and poker.
Bwin bookmaker was founded under the name Simon Bold and in 2001 they were bought over by the Vienna company Bwin Interactive Entertainment AG. Their main operations have been performed under the gaming license of the Government of Gibraltar. In this move, Simon Bold changed its name to Bwin.com. In 2011, they had a merger with PartyGaming PLC, also under the gaming license of Gibraltar. Bwin was acquired by GVC in early 2016 and assigned the operations of the sports betting platform to ElectraWorks Limited. Bwin.com operates from the ElectraWorks headquarters located in Gibraltar under the gaming license of the Government of Gibraltar.
Aside from that, Electraworks Limited is also licensed by the UK Gambling Commission which means that Bwin.com is approved by the said body and can legally operate in the UK markets.
You can read more about Bwin in our main review about their betting offers and options.
Currently, the Bwin management staff includes over a hundred workers and is headed by a management team that has immense experience in the bookmaking and gaming field. Nowadays, Bwin.com is rapidly growing and has maintained its status as one of the leading sports betting platforms on the internet. With its mobile app versions, it is now possible to even check your bets and place them using your mobile phone. The mobile app allows you to have the convenience of checking your app anywhere you want at any time.
---
Verdict and Apps rating
Probably the most appealing thing about this mobile app would be its simplicity and user-friendliness. The team behind Bwin really ensured that the mobile app was made for the convenience of the customers so that they can play without hassle wherever they are. About functions, it has a lot of cool features that allow you to conveniently place your bets and check the statistics of each option you have for betting. With regard to other games, there would also be the casino games, the poker games, and other cool stuff that you can play aside from sports betting.
The aesthetic appeal is also there because it is very simplistic which makes it pleasing to the eye. Also, the colour combination is not so glaring, unlike other sports betting apps. Finally, the customer service of the platform is superb because it allows a lot of options for you to contact customer support in case you can't reach one.
Probably one of the major cons of this app would be that the sports betting app, poker app, and the casino app are all separate and have to be downloaded individually. It would be probably more convenient for the customers to have one app for all Bwin games so that they don't need to switch from app to app.
Aside from that, the platform itself makes up for this con with all of the things that they have to offer.
18+ T&C apply | begambleaware.org | Play Responsibly.