Mobile App for Android
If you're an Android user, then you'll be happy to know that they offer a native Android app that can be downloaded directly from the website. This is a .apk file so we've provided the steps to help you know how to download and install the app without any problems.
Download and Install the .apk File
To download the Android app of Boylesports, follow the steps below:
---
Mobile App for iOS
Just like the Android app, there is also a native app that you can find for iOS devices. All you have to do is scoot over to the iTunes store and download it into your phone. Since you won't download an .apk, it's a bit easier to get it straight from the iTunes store.
Download and Install the App
Downloading Boylesports' iOS app is easy. Follow the steps below to know how.
Step 1: Go over to the iTunes Store and search for Boylesports Betting in the search bar.
Step 2: Click on Boylesports Betting and click on the Download button.
Step 3: Wait for the app to install and start playing.
---
Mobile Sports Betting

Boylesports has made a name for itself in the sports betting industry because of their available betting markets and their very competitive odds. They're especially known for their soccer odds which reach 6% during the big events. Other sports have it a bit lower but this is most likely because soccer is one of the most popular games in Europe and covers a big market.
As for the available betting markets, it offers the standard list of games such as soccer, tennis, basketball, boxing, and many others. They also offer horse racing and greyhound racing markets — something that isn't really offered by all sportsbooks. In Europe, betting on horses or greyhounds is actually a very popular activity so it's no surprise that it's being offered by one of the veteran online bookmakers.
---
Mobile Apps Features
Boylesports makes sure players are satisfied with their services. That's why they have incorporated several mobile features on their app. Here are some of these features:
Cash-Out Feature

The cash-out feature is a very popular feature that majority of the online sportsbooks don't offer. Fortunately, Boylesports does. The cash-out feature allows you to be able to take profit from your bets whenever you want to — even if the event isn't finished yet. This allows you to guarantee profits without the extra risk.

Racing Tips

If you're a race book fan, you'll really love the live racing tips for the UK and Irish greyhound and horse markets. These tips allow you to get the best chances of winning while you bet.

Live Streaming

You now also have the chance to live stream your game while you bet so that you can kind of, actively participate in the betting. This live streaming is done in HD so you can watch a high-quality game while it's happening.

Flash Bet

The Flash Bet feature is a feature that adds to the overall UX of the app. It's a one-touch bet feature wherein you just need one touch to place a bet. This allows you to place your bets faster and easier. It's a handy tool if you're always on the go.

Betting News

Boylesports is always updated with the latest betting news from top contributors. If you're familiar with names such as Joseph O'Brien and Stan Collymore, then you'll know Boylesports' news section is legit.

In-Play Betting

Lastly, there is the in-play betting feature wherein you can place bets live anytime. With this in-play bet feature, you can strategically place your bet and follow live stats to increase your chances of winning

.
---
Review of Mobile Website Version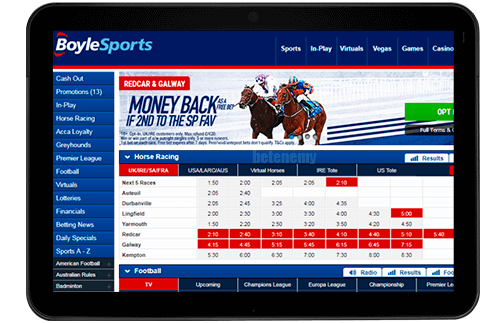 While the mobile website version isn't as interactive as the app, it's still pretty cool to play, especially if you're using phones other than Android or iOS devices. It's actually a more optimized and sleeker version of the website with all its features.
It also has some slider functions and interactive buttons because it runs on Java and Flash. Aesthetics-wise, it's very clean and easy to the eyes. No bright or glaring colours — just a simple and minimalist design where you can bet without breaking a sweat.
---
Casino App
Just like the Boylesports Betting app, there is also a separate casino app known as Boylecasino. However, the app doesn't seem to be available for Android devices so you may want to just use the mobile website version instead.
However, it is available for download in the iTunes store for iOS devices. All you have to do is search for Boylecasino in the iTunes store and it'll instantly show up. Download the app and you'll be able to play from there.
---
Poker App
Just like the casino app, there is also a separate poker app. However, there also doesn't seem to be an available Android poker app too. You can just use the mobile website for playing poker instead.
For iOS devices, you can just search for Boylesports Poker so that you can play on your iPhone. Look for it in the iTunes store and download it.
---
Mobile Version and Apps – Differences Between Them
Although a mobile app and a mobile site version have a lot of similarities, they do have their differences too.
Mobile App
Advantages:
Very clean and interactive
Easy to the eyes
Very smooth and does not need loading time
Has a one-touch bet feature
Disadvantages:
Has a big size (38 MB)
No poker and casino app for Android
Mobile Site Version
Advantages:
No download required
Can be used in any phone
Optimized and user-friendly
No system requirements to use
Disadvantages:
Does not load as fast as app
No one-touch bet feature
---
Mobile Bonuses
Another thing that Boylesports is known for is its set of bonuses that they give. For instance, they have a really nice welcome bonus wherein you have the chance to get up to £25 just by making a bet of £10.
There are also other pretty cool bonuses as well like the Fair Play Cashback for horse racing. In this bonus, you can get a max refund of up to £100 if your horse fails to start any race. There's also the Acca Insurance wherein you can get a free bet if you have a 5 leg bet if ever even just one of them loses.
If you head on over to the Boylecasino, you'll notice that there is a special mobile bonus if you download the iOS app. You can get a free bet of £50 by making an initial bet of £10. There's also another bonus wherein you can get a 100% match bonus of up to £300 for making a first bet using your iOS device.
---
System Requirements and Compatibility
For system requirements, you'll need a 4.0 and above versions for Android operating systems, and for iOS systems, you'll need an OS of 9.0 or higher.
Here are some examples of compatible devices:
Samsung Galaxy Note
Samsung Galaxy S II
Samsung Galaxy S Blaze
Sony Xperia Play
HTC Smartphones
LG Smartphones
iPad 2 and above
iPad mini and above
iPhone 4s and above
---
Deposit and Withdrawal Methods
For the deposit and withdrawal methods, you can take a look at the table below:
| Payment Method | Deposit Minimum | Deposit Maximum | Time for Deposit |
| --- | --- | --- | --- |
| Visa | €5 | Not stated | Instant |
| Neteller | €5 | Not stated | Instant |
| Skrill | €5 | Not stated | Instant |
| MasterCard | €5 | Not stated | Instant |
| PayPal | €5 | Not stated | Instant |
| Maestro | €5 | Not stated | Instant |
| Laser | €5 | Not stated | Instant |
| Payment Method | Withdrawal Minimum | Withdrawal Maximum | Time for Withdrawal |
| --- | --- | --- | --- |
| Visa | €5 | Not stated | 2-5 days |
| Neteller | €5 | Not stated | 24-48 hours |
| Skrill | €5 | Not stated | 24-48 hours |
| MasterCard | €5 | Not stated | 2-5 days |
| PayPal | €5 | Not stated | 24-48 hours |
| Maestro | €5 | Not stated | 2-5 days |
| Laser | €5 | Not stated | 2-5 days |
Neteller, Skrill, PayPal, MasterCard, Visa, Maestro, Laser
Neteller, Skrill, PayPal, MasterCard, Visa, Maestro, Laser
---
FAQs
If you want to get your questions answered, refer to the frequently asked questions below.
Why is the app not on Google Play?
Is the mobile website version exactly like the app?
Is there a Boylesports mobile bonus that is offered for first-time mobile users?
I'm using a Blackberry phone. Can I still play?
Do I need to verify my account? How?
Are there some games or sports markets found on the main website that can't be found in the app?
Does the live stream work in all sports markets?
I can't find the Boylecasino Android app, how do I play?
---
Company Information
Boylesports is definitely one of the oldest independent bookmakers having been founded in 1989 with headquarters in Ireland. While they started out as a small independent bookmaker, they quickly expanded their operations throughout the country and even to the whole continent through an internet presence.
Eventually, they took over William Hill, another bookmaker. This further strengthened their presence and name as a brand. Even if they've already grown to such a big level, they still continue to innovate in order to further serve their customers. They have even created a separate mobile platform that can entice more mobile phone users to play. They have both a native app for download and a mobile website for those who can't download apps.
---
App Rating and Conclusion
Boylesports mobile definitely has a lot to offer to both experienced and beginner gamblers alike. Basically, Boylesports covers almost all aspects of UX such as odds, available betting markets, casino games, poker experience, navigation and app design, bonuses, and features.
Of course, Boylesports isn't perfect so there are a few things that should be pointed out. First off, Boylesports is known not only for their generous bonuses but also for their hard-to-get bonuses. While these bonuses are really attractive, they're not that easy to get as there are a lot of requirements involved. Other than that, you'll notice that there's no live stream for sports other than racing, which is a big letdown for football lovers.
Lastly, the Boylecasino and the Boylesports poker option do not have their own app — even in .apk format. This may create a bad impression on casino lovers and poker players who want to only use apps. While there might be the option to play using the mobile website, not everyone wants to do this.