Introduction

Betway Limited has been offering a comprehensive list of sporting events for betting purposes since 2006. Betway has over time grown into one of the biggest brands in the market and has region specific portals for just about all markets and regions. Their bouquet of products offers betting enthusiasts with just about every sport and casino game to suit any taste or pleasure. The site is easy to navigate, allowing you to find your preferred game or sporting type easily using the quick links menu to the left of the page.
From the minute you access Betway you are entertained by the live scores and current active events. At the very top of the page, a stationary menu allows you to select Sports, Casino, Live Casino, Vegas, Esports and the constant feed in their blog. For those that are accustomed to casino sites, the games and slots offer a wide variety of fun and exciting options. The sports represented cover most major and minor leagues as well as regional sporting events.
Using the menu list on the site, users can quickly select their preferred event and see the live and upcoming games in that category. Betway also has a host of virtual sports available for those that enjoy the rapid pace of this type of events. Virtual sports use statistical data to play out sporting events virtually and offer a fast-paced betting environment. Betway hosts virtual events in Football, Horse Racing, Cycling, Greyhound Racing, Motor Racing, Speedway, and Trotting. Using the menu bar located in the middle of the site, the player can select each event based on starting times as shown by the countdown timer.
---
Virtual Football Betting
Football is one of the most enjoyed sports in the world. The various leagues all over the world provide fans with great opportunities in the world of virtual betting. Real world statistics are used to create events and games that run for up to five mins each. Users can follow the game "live" on the site via the gameplay video in the centre of the page. Betting opens with the odds and spreads are listed in a drop-down list below the gameplay. Most games play out in around 2-3 mins, and the fast-pace of the gameplay make each event as exciting as can be imagined.
Available Betting Markets and Odds
For each game players can select from a host of markets like Win/Draw/Win, Total Goals, 1st Goal as well as various spreads like Half-Time score and Winning Margins and many more. Betting odds are derived from the real-world performance of the team. These odds are listed in the various markets below each game before the start. Once game play has begun the betting closes and players can watch the virtual game "live" on their screen. The commentary is available for each game and can be enjoyed with the cheers of the crowd and stadium atmosphere.
Game Play and Scheduling
As mentioned, virtual football games start every 5 min and play out 24 hours a day and if you enjoy fast-paced football betting then you will enjoy the pace and excitement of the Betway Virtual Football Leagues. The virtual stadium is always filled with cheering fans and this makes each event as realistic as can be.
Leagues
The virtual teams are made up of national teams as well as a wide variety of the local regional teams within the most popular leagues all over the world, from big names like the England national team to a host of local teams, your options are plentiful when it comes to betting on virtual football.
---
Virtual Horse Racing
Betway offers horse racing in the virtual world for the keen horse racing enthusiast with races 24 hours a day. The participants are modelled on the real-world competitors and players can view the race as well as positioning on the video feed. Before each race players can see the horses and jockeys just like they would in a regular race environment. Events range from day events to evening events, and the commentary is superb.
Available Betting Markets and Odds
The betting markets and odds in the virtual racing is as realistic as they come and players can choose from all the spreads and options available from the list of markets below the video feed. These odds are made up from the real-world stats, and the virtual race is as enticing as any other horse racing you have enjoyed.
Race Duration and Scheduling
The virtual horse racing on Betway is designed with fast-paced races each 3 min, and the actual race runs for about 1-2 mins with betting closing as the race commences.
---
Virtual Cycling
Indoor cycling is as exciting as any other short distance racing event of any kind, and the virtual cycling offered by Betway is no different. The events are held over a distance of 750m and have six participants for each race. The video feed for races provides players with the stats for each competitor and their betting odds before each event. Players can view the details before each three laps race.
Available Betting Markets and Odds
Betting odds are spread from race winner to top three, and each participant has their own race odds listed before the event. With betting for each race closing before the event starts players must get their bets in quickly as each race event only lasts about three mins.
Race Duration and Scheduling
Each cycling race concludes in about two minutes, and the events are scheduled 24 hours a day.
---
Virtual Greyhound Racing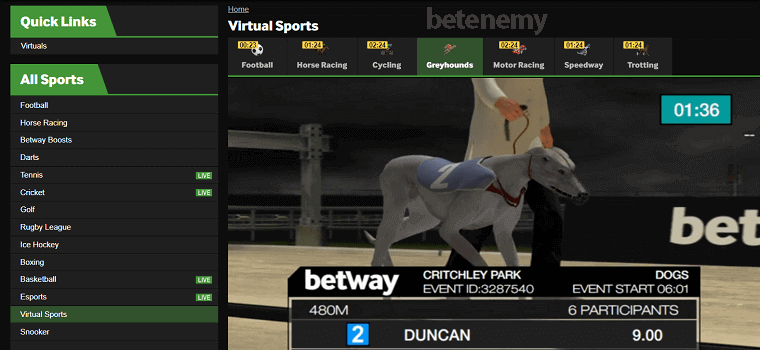 Greyhound racing is popular in many places across the world, and the Virtual Greyhound Racing on Betway.com is fantastic for the dog racing enthusiast. The format is just like in the real world with races over 480m and 6 participants for each race. The video feed of each race is so realistic that at first quick might give you the impression that you are viewing a real-world race.
Available Betting Markets and Odds
Odds and markets for each race are shown below the video feed. Players can choose from spreads and winner bets as well as each way bets for every race. After each race the first three places are displayed with the odds and preceding each race, competitors are shown with their colours and stats. Betting closes shortly before each race and then it's up to the hounds to do their job as players watch via the video feed.
Race Duration and Scheduling
Each event takes place over a period of three minutes and events run throughout the day.
---
Virtual Motor Racing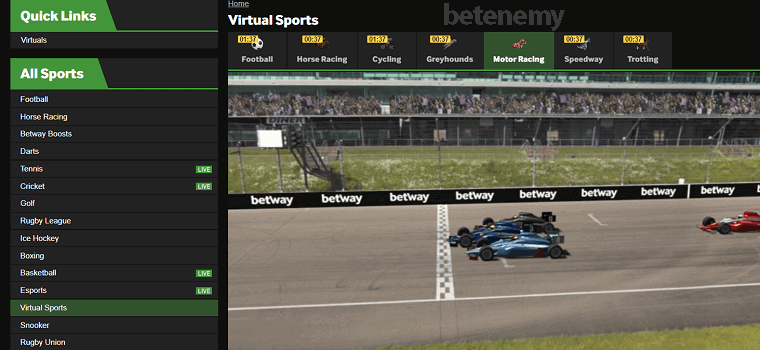 Motor racing is a firm favourite for all "petrol heads", and the Betway Virtual Motor Racing events offer the best from the real world. With 12 competitors racing in a 2-lap format on an oval circuit from a standing start, it's all excitement from the start to photo finish.
Available Betting Markets and Odds
Betting is available for race winner and top two placed racers, and the odds are shown for each participant along with race number and starting position in brackets.
Race Duration and Scheduling
Each virtual race last for two laps and events start every three minutes with betting closing just a few seconds before each race.
---
Virtual Speedway
Speedway is regarded as one of the fastest motorbike racing events and the Betway Virtual Speedway events display the best the world can offer. With races over 800 virtual meters with the four competitors as in the real world. The video feed gives the players the full spectrum of dust sprays, commentating and realistic starting and racing.
Available Betting Markets and Odds
Bets can be placed for race winner and the top three places as well as each way which has a standard ¼ betting odds listing. The stats of the real-world racers are used for the virtual racers, and they are as competitive as can be.
Race Duration and Scheduling
Race formats follow a three minutes duration, and each race is preceded by the race stats. With Speedway races scheduled throughout the day, players can enjoy a full 24 hours of edge of your seat speedway racing.
---
Virtual Trotting
Trotting is a race where horse-drawn buggies are raced around an 800m track and have eight participants for each race. The aim of the race is to out-trot the field without your horse going into a full gallop. The buggies are simple 2-wheel units with the jockey sitting on a seat behind the horse.
Available Betting Markets and Odds
Bets can be placed on race winners and up to the first three places and players can even spread the bet with the Each-Way option. Competitors are displayed before each race with odds and colours shown for easy identification.
Race Duration and Scheduling
The countdown to each race is shown on the video feed and players can enjoy a new race every three minutes, 24-hours a day.
---
Virtual Bonuses on Betway
Although players are betting on Virtual Sports, they are still using real money. As such players get real money bonuses when they deposit their funds in their Betway accounts. The bonuses range from betting funds added to your deposit to free spins and free play options. All require the player to opt into each to receive the bonus. That means that if you don't want the bonus, you don't have to take it. The Betway bonuses are called Flexi-Bonuses, and they give the player the freedom to choose to forfeit the bonus wagering requirements and the bonus when they want to cash out their funds.
A simple example is when a player deposits an amount of $50 into their account, they will receive a $50 bonus in a 50/50 manner. So, when the player places a $10 bet on an event, the bet would be made up of $5 of their funds and $5 of the bonus funds.
Depending on the bonus balance the player has available the betting ration will represent the specific ratio of the total funds. This means that if you have $50 in your account and you have an extra $25 in bonus funds your bet will have a 2/1 ratio of deposit funds and bonus funds.
Betway Virtual Sports have the same bonus structure as any other standard deposit, however, do not have regular bonuses on the virtual sports.
---
Live Betting on Virtual Sports
With the Virtual sports formats, there is no live-in-game betting as you would find in the real-world sports. The virtual events are scheduled only minutes apart, and individual events are only minutes long. Therefore, betting on virtual events are only pre-event and not during the event.
---
Virtual Sports Mobile Betting
As with all other gambling and sports betting portals, Betway has a mobile application available for both Android and iOS mobile devices. Players are able to place their bets on the full bouquet of sporting events as well as virtual sports events from the mobile application. As you can see you are able even to view the event via the mobile application and study all the stats and betting odds as on the website.
---
Virtual Sports Provider at Betway
The provider of the sporting events in the virtual events is Inspired Virtuals. They collect all stats and data needed to provide you, the player, with sports that are as close to the real thing as possible. The various sports events play out in a number of stadiums and race tracks depending on each individual event.
---
Deposits and Withdrawals
Depositing funds into your Betway account is rather easy. They offer a number of methods to deposit your betting funds from PayPal, Neteller, Visa, and Master Card and Rapid Transfer. Each of these methods offers the player with fund security via the Betway Customer Funds Protection Policy that players must select with each deposit.
Deposit Methods
Withdrawal Methods
| Payment Method | Deposit Minimum | Deposit Maximum | Time for Deposit |
| --- | --- | --- | --- |
| MasterCard | £10 | £50,000 | Instant |
| Visa | £10 | £50,000 | Instant |
| Neteller | £50 | £50,000 | Instant |
| PayPal | £10 | £50,000 | Instant |
| Rapid Transfer | £10 | £50,000 | Instant |
| Skrill | £10 | £50,000 | Instant |
| Trustly | £10 | £50,000 | Instant |
| Paysafe Card | £10 | £50,000 | Instant |
| Entropay | £10 | £50,000 | Instant |
| Skrill 1-Tap | £10 | £50,000 | Instant |
| Payment Method | Withdrawal Minimum | Withdrawal Maximum | Time for Withdrawal |
| --- | --- | --- | --- |
| MasterCard | £10 | - | 1-3 days |
| Visa | £10 | - | 1-3 days |
| Neteller | £10 | - | 24 hours |
| PayPal | £10 | - | 24 hours |
| Rapid Transfer | £10 | - | 1-3 days |
| Skrill | £10 | - | 24 hours |
| Trustly | £10 | - | Within 7 days |
| Paysafe Card | £10 | - | Within 7 days |
| Entropay | £10 | - | Within 7 days |
| Skrill 1-Tap | | | |
Entropay, Trustly, Paysafe Card, Skrill 1-Tap, Skrill, Rapid Transfer, PayPal, Neteller, Visa, MasterCard
Entropay, Trustly, Paysafe Card, Skrill 1-Tap, Skrill, Rapid Transfer, PayPal, Neteller, Visa, MasterCard
---
FAQs
Are Virtual Sports based on real-world sports and stats?
Yes, virtual sports are based on real-world data and statistics in order to make them as realistic as possible.
Do I get deposit bonuses for virtual sports on Betway?
Yes, as with all deposits on Betway, you are able to select from a range of offered bonuses depending on your deposit and current special Flexi-Bonus offers.
Are Betway Virtual Sport available all day or only during select times?
Betway Virtual Sports are held 24 hours a day, and most events occur every three minutes. This ensures fast gameplay providing you with a rapid feed of events and all the excitement you can handle.
How do I view the Virtual Sport on Betway?
Each virtual sports event is shown via a video feed. It includes a preview of the game as well as competitors, statistics and odds.
Can I bet on a virtual sporting event as I do on live events?
Virtual Sports are only open for betting pre-event, and the betting closes shortly before the events starts. There is no live betting on virtual events.
What sports are available in the Betway Virtual Sports section?
The Betway Virtual Sports event cover the following sports:
Football
Horse Racing
Indoor Cycling
Motor Racing
Speedway
Trotting
What is the best time to bet on the Virtual Sporting events?
Betway Virtual sports are available 24 hours a day and the best time is always NOW! But do remember to practice responsible gambling principles.
Can I bet on upcoming Virtual Sports events?
Yes, you are able to bet on up to 10 virtual events in each sports type via the website and the mobile applications.
---
Rating and Conclusion
Betway Sports is one of the largest betting portals in the world and have built up a substantial following in the community. Their Virtual Sports are expertly put together and well packaged. The statistics used are as close to the real world as can be, and the video feed is as lifelike as can be. The odds and betting markets are pretty well placed and spread, but the mobile application does have some limitations to it.
All this being said, I thoroughly enjoyed getting my betting muscles worked out in the virtual sports available from Betway. With the numerous events that are available and ten potential games and races in each sport, there is no shortage of excitement and fast-paced betting enjoyment.
My score for the Betway Virtual Sports Betting events is a strong 8.5 / 10, and I am looking forward to Betway notching up the 1,5 to make it even better!