BetStars Review
Operating under the Stars Group, one of the more established and industry-leading companies in online gaming, BetStars offers high-quality and professional-grade sports betting services for punters everywhere.
---
BetStars Registration
The BetStars registration process is reasonably quick and straightforward enough to follow. It features a two-page registration form, which requires you to put in details like your email, preferred Stars ID, and password.
To start creating your own account, simply follow these steps:
Step 1: Go to the BetStars official website.
Step 2: Click the green "Join" button at the site's upper right corner.
Step 3: The first page of their two-page form will appear, requiring you to type in your information.
Step 4: After putting in all the required information, click the "Continue" button.
Step 5: The next page will require you to select all the applicable boxes.
Step 6: After doing so, click the "Create Account" button.
Step 7: You'll then have to check your email for further instructions to verify and activate your account. After that, you now have your own BetStars account.
Creating a Stars account does not only give you access to their wide range of sports betting options, but it also gives you access to their sister site, PokerStars, which is often considered as the largest online poker room in the world.
Aside from this, a BetStars login account also enables you to use the same account wallet for both their sports betting and online poker sites.
---
Website Review – Layouts and Navigation
Featuring a predominantly white and blue colour scheme with a touch of green, BetStars really outdid themselves with their official site. They have a comprehensive and well-organised homepage where everything is easily accessible for punters looking to place their bets on the site.
Each section is separated into tabs, with each tab further divided into sections, giving the site a cleaner, more detailed, and incredibly organised look. Aside from the "Home" tab, you can also see their live betting section under the "In-Play" tab along with some of the most popular sports on their website, such as football, tennis, horse racing, and basketball.
It also features a drop-down menu on how you want the odds displayed and a convenient option to view all available sports on their site arranged in alphabetical order. This makes it a lot easier to find the specific game you're looking for. On the topmost part site, there are links to take you to the PokerStars website and the PokerStars casino.
Overall, BetStar's website is incredibly detailed and organised in such a way that you can easily navigate through it without encountering any problems.
---
Betting on Sports
The BetStars sportsbook offers an extensive range of sports betting options, which range from popular sports like football and tennis to the less common ones like snooker and motorsports. Moreover, for those new in the sports betting scene, they have a convenient section that gives a quick explanation of the practice.
Betting Options
As mentioned, the BetStars sportsbook has plenty of betting options from which punters can choose from, covering even events for Awards and Politics under their Specials betting section. Aside from this, they also offer horse racing and virtual sports to give their players plenty of options on where to place their wagers.
While they don't cover all sports, they still have a pretty extensive range, and the markets available for the games that they include are pretty impressive, especially for their football betting section.
About the Odds
BetStars offers some pretty competitive odds for punters that can sometimes be considered even better than other prominent sports betting sites. They offer three formats for displaying the odds: decimal, fractional, and American.
You can change the way the odds are displayed throughout the site on their homepage, which is incredibly convenient for punters everywhere.
---
New Customer Welcome Offer – Get 2 x £/€10 in Free Bets * NOT ACTIVE
As soon as you sign up as a new player on BetStars, you can avail of their special sign up offer as a welcome bonus. Through this offer, you can receive 2 x £/€10 in BetStars free bets when you place your first wager worth £/€20 with odds of 2.0 or higher on any sport or market.
This new customer offer can be used in any sport or market on their site, and your BetStars free bets will be credited to your account within 48 hours after availing. There's no need for a BetStars promo code.
However, as with anything, there are some terms and conditions you need to take note of when availing of this offer. They're as follows:
The bonus is only applicable on your first ever sports bet with BetStars.
The minimum deposit to qualify for this welcome bonus is £/€20.
Deposits made via Neteller or Skrill don't qualify for this sign-up offer.
Transferred balances from other Stars account are not counted for this promo.
All unused Free bets expire 7 days after being credited to your account.
This promo is unavailable in Albania, Belarus, Armenia, Ukraine, and Serbia.
Important note:
For that moment, Bet Stars offers £5 free bets аs a welcome offer, but we advise you to check their official website, to see an active proposal because it had a chance they update their promotion for new customers.
---
---
Live Betting
BetStars also offers a live betting feature or "in-play" betting, which can be found on their site. Live betting allows punters to get in on the betting action while a game is going on live. This feature gives a different and thrilling experience to punters everywhere.
This feature can be found in the "In-Play" tab on their homepage, under which you can see all the sports for which they offer live betting. Under each sport's section, you can see all the matches that are going on live and the ones where you can place your wagers.
Furthermore, for each event, you can check out all the available betting markets for that particular match, which is further divided into sections for easy navigation. There's also an option to view all ongoing events for each sport under one convenient location – under the "All" tab of their "In-Play" section.
---
Cash Out Feature
Another useful feature of this sports betting site is that they offer a cashout feature for punters who want to settle their wagers before the event is over. However, this feature is not always available as they're not obligated to offer it at all times, so be sure to check for it before placing your wager.
Their cashout option is available for either pre-match or in-play betting, and the amount you receive will be determined by BetStars and can be found on your bet slip. One thing to take note of is that the final results of the match, whether it's favourable or against your wager, will be considered irrelevant to the amount you will receive from their cashout.
---
Live Streaming Service
While BetStars does offer live streaming, they only do so for their Horse Racing section. For other sports such as football and others, only an animation showing what's currently going on in the match or event is available.
This feature can only be accessed when you check out all the available betting markets for a particular match. For punters who prefer to watch the action as it's happening, it would be best to find other sources to stream the event.
---
Virtual Sports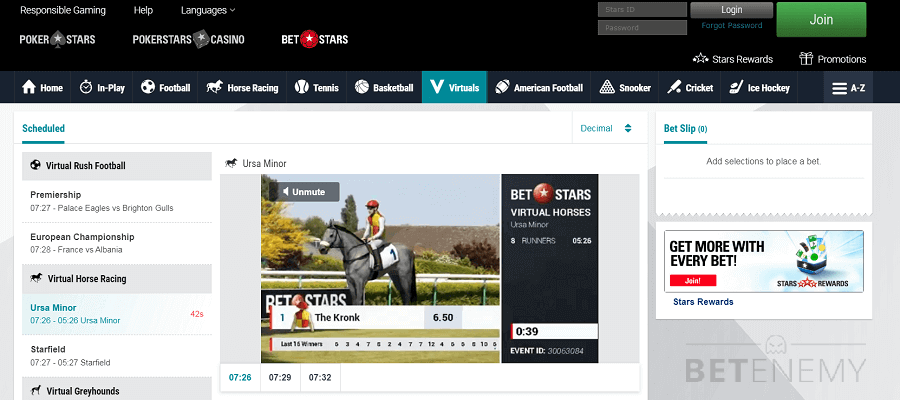 BetStars also offers virtual sports betting, though they only have 3 options, which are virtual horse racing, virtual rush football, and virtual greyhounds. All ongoing matches can be viewed and accessed at the leftmost part of the Virtuals section. You can also see and access all available markets for each match.
---
Options for Deposits and Withdrawals
BetStars has numerous withdrawal and deposit methods, giving punters plenty of payment options to choose from. They also offer a fast deposit option for selected methods to allow punters to add funds to their respective accounts quickly.
Furthermore, BetStars has both desktop and mobile software for banking available for download. This gives players a convenient way of depositing and withdrawing their funds from their accounts.
Aside from their fast deposit option, another convenient feature of BetStars is that they allow you to set your own weekly deposit limits, though the limit you set for yourself can't be higher than the one already set by the site. This gives you increased control over how much funds you add to your account each week. Furthermore, each deposit method has a minimum deposit amount of $10.
To learn more about their various methods, check out the information below:
Deposit Methods
Withdrawal Methods
| Payment Method | Deposit Minimum | Deposit Maximum | Time for Deposit | Taxes |
| --- | --- | --- | --- | --- |
| Visa | £10 | No limit | up to 3 days | No fees |
| Neteller | £10 | No limit | Up to 24 hours | No fees |
| Skrill | £10 | No limit | Up to 24 hours | No fees |
| Paysafe Card | £10 | No limit | 1-2 days | No fees |
| MasterCard | £10 | No limit | 1-2 days | No fees |
| WebMoney | £10 | No limit | 1-2 days | No fees |
| ApplePay | £10 | No limit | Up to 24 hours | No fees |
| Direct Bank Transfer | £10 | No limit | 1-2 days | No fees |
| MuchBetter | £10 | No limit | 1-2 days | No fees |
| Local Bank Transfer | £10 | No limit | 1-2 days | No fees |
| Payment Method | Withdrawal Minimum | Withdrawal Maximum | Time for Withdrawal | Taxes |
| --- | --- | --- | --- | --- |
| Visa | £10 | No limit | up to 3 days | No fees |
| Neteller | £10 | No limit | Up to 24 hours | No fees |
| Skrill | £10 | No limit | Up to 24 hours | No fees |
| Paysafe Card | - | - | - | No fees |
| MasterCard | £10 | No limit | 1-2 days | No fees |
| WebMoney | £10 | No limit | 1-2 days | No fees |
| ApplePay | £10 | No limit | Up to 24 hours | No fees |
| Direct Bank Transfer | £10 | No limit | 1-2 days | No fees |
| MuchBetter | £10 | No limit | 1-2 days | No fees |
| Local Bank Transfer | - | - | - | No fees |
Visa, Skrill, Paysafe Card, WebMoney, MasterCard, Neteller, Bank Wire Transfer, MuchBetter, Local Bank Transfer, ApplePay, Direct Bank Transfer
Bank Wire Transfer, Visa, Skrill, Neteller, Direct Bank Transfer
---
BetStars Mobile App
There's good news for punters who like to place their wagers while on-the-go. There's a BetStars app available for download on both Android and iOS platforms. The availability of a BetStars mobile app gives punters a convenient and streamlined way of accessing their favourite sportsbook and allows them to place their wagers anytime, anywhere.
---
BetStars Affiliate Program
The BetStars group has an affiliate program that allows its members to receive a 20% revenue share from their referrals. Aside from this, joining BetStars Affiliates Club entitles you to receive other benefits such as:
Dedicated affiliate managers that will assist you with any concern or issue you may have – from site integration (which includes odd feeds) to optimisations of campaigns.
Access to their exclusive content and various marketing tools to help you engage with potential visitors and referrals.
Attractive commissions from revenue shares, CPAs, or even a combination of the two.
Should you have any queries, concerns, or suggestions, you can email their customer service at support@starsaffiliateclub.com. You can also gain more information by joining the Stars Affiliate Club and contacting your dedicated affiliate manager.
---
Questions and Answers
Is there a tax on winnings from BetStars?
BetStars doesn't deduct taxes from their players' winnings as they consider it to be the responsibility of the player to comply with their local gambling and tax regulations. Therefore, it's up to you whether or not you declare their winnings to the proper regulating authority in your area.
What is the minimum amount for a wager on BetStars?
Yes, but the amount depends on each event. It typically ranges from (€/£/$) 0.01 to (€/£/$) 0.10.
Can I place wagers via phone call?
At this time, placing wagers via phone call at BetStars is not possible. If you want to place bets, you may do so at their official website, desktop software, or the official BetStars app.
Is there a no deposit bonus available at BetStars?
Unfortunately, there's no BetStars no deposit bonus available. While they do offer free bets after wagering a certain amount, you are still required to fund your account before qualifying.
I have further queries; who do I contact regarding my concerns?
You may contact their customer service via email, which can be accessed on their official website, desktop client, and mobile app. They also feature a live chat service that can also be accessed through all three methods.
Does BetStars have in place a minimum age requirement to register?
Yes, as stated on the second page of the BestStars registration form. You need to be at least 18 years old or above to be able to bet legally at BetStars.
How to activate and verify your BetStars account?
After signing up for a BetStars account, you will receive a validation code in your email, which you need to verify your account. After that, you will need to follow these steps:
For desktop:
Go to Settings
Go to the Account Details section and choose Email.
Select the Validate Email Address option, which will prompt you to enter the validation code.
After entering the code, click the Validate button.
For the mobile app:
Go to the Menu
Select Settings & Tools
Choose Account then tap Validate Email Address
Once the window prompting you to enter the code appears, enter the code you received and tap on Validate.
After doing these steps, a message will then appear, confirming your account's successful validation. This will allow you to now place wagers with BetStars.
How can I recover a forgotten password?
For forgotten passwords, you can click on the "Forgot Password" option just below the BetStars login option on their homepage.
---
Company Info
Having only been established in 2016, BetStars features an impressive array of sports betting options with various markets and a complete and well-organised site. It is a truly remarkable sports betting platform worthy of the attention of any pro gamblers out there.
---
Contact Details
With their comprehensive FAQs and Help section, it's quite unlikely you won't find the answers to your questions. However, if you can't find what you're looking for, BetStars offers excellent customer service to their clients, which can be accessed via email and live chat. Both of them can be found on their official website, desktop client, and mobile app.
To contact their customer service, choose one of the following methods:
---
Final Rating & Conclusion
Overall, BetStars is definitely one of the best and most prominent sports betting sites you can come across in the industry, with the extensive range of their betting options and markets solidifying this. However, the only thing missing from their amazing site is the lack of live streaming service for the other sports. For that, they only receive a 4.6 rating out of 5.
Nevertheless, with their comprehensive and well-organised official website, punters everywhere will be able to easily find their way around, making it an excellent option for a sportsbook even for beginners.