---
Is there a BetRegal App Available for Android?
Unfortunately at this moment in time, BetRegal has not yet come out with an app designed for Android devices. There is no official .apk file to download, and bettors should be aware of this before accidentally downloading something they think is the BetRegal app. Punters wishing to access the site's services via a phone or tablet can still do so by using the mobile version of the site.
---
Is there a BetRegal App Available for iOS?
No, BetRegal currently does not have an app for iOS mobile devices either.
Although there are currently no BetRegal apps, punters can still use their mobile devices to access the mobile version of the main website. All you need to do is type in the URL, and the site will detect it is a mobile device, and switch to the mobile version of the site. This is just like the main website and offers all of the features that can be found on the PC version website. However certain aspects have been tailored to make the site easier to navigate on a touchscreen device, such as the reduction of unnecessary graphics, but retaining the easy to navigate visible page links.
---
Sports Betting on Mobile
The mobile site offers 32 different sports to bet on, so punters can browse the range and find the ones that they are interested in. BetRegal offers all of the popular and common sports, such as football, horse racing and cricket, but also e-Sports, and "Specials", which allow punters to bet on the outcomes of various television competition shows such as Dancing on Ice. This range means there is generally something for everyone.
For punters that are interested, they offer a "BR-Bot" section, which is betting that is based on machine learning on previous events. This is a limited opportunity, but the novelty may be a draw for some and is designed to be used as tips when placing your own bet, but BetRegal does state they do not guarantee any wins. The settings can be altered so you only view bot bets based on certain aspects of the game, such as red cards or first goalscorer. When you receive a suggested bet, you can click on it, and receive information about why the bot has created it.
When you click on a sport, you are taken to a menu that offers all of the current live events for that sport, as well as all of the future games, organized by championship or league. You can click on a certain championship to find a specific game, and you are then taken to a list of bets you can make for that certain event. Although the betting markets are not as extensive as some from other betting apps/sites, punters still have a range of opportunities to make the most out of the mobile site.
The sports betting section of the mobile site is easy to navigate and place bets, offering punters the full experience of being on the BetRegal site. The sporting section is relatively expansive, and offers enough variety for most punters to be satisfied, whether they are new to the pastime, or more experienced. One of the only downfalls is that you cannot change the formatting of the odds. They are in fractional, and although on the main BetRegal site you can change this to decimal to suit your preferences, but on the mobile site this does not appear possible.
---
Mobile Site Features
There are a few features and functions that are common to find in betting sites and their corresponding apps, which utilize the technology to make online betting more convenient and interesting. After browsing the BetRegal mobile site, it is clear that they utilize some of these, but are lacking in others.
Live Streaming
Unfortunately, BetRegal currently does not offer live streaming services for any of the sports that are available to bet on. This can take the edge away from live betting, and may also make it less appealing for many punters. As an alternative, the mobile site does offer a live-play visualizer of what is happening in the event (what individual is winning, who has the ball, where on the court/pitch it is, etc). Although a poor substitute, it does still provide helpful information to bettors, allowing them to make informed bets.
In-Play Function
This allows users to continue to place bets on events that have already started. Traditional sports betting mandated that bets be placed before an event began, using odds that were calculated based on outcomes from previous events. With live betting, punters can see what is happening in real-time, and place bets based on what is occurring, with odds that are constantly changing to reflect the event.
Cash Out
The site advertises that it offers "Cash Out", however, this is not what is typically meant by this phrase on other sites. Cash-out usually means that punters can exit a bet early, and take winnings based on odds at that moment, regardless of the final outcome of the bet. However, BetRegal refers to cash out as the normal process of withdrawing funds from your betting account into your bank account. So while the mobile site does offer "cash-out", this may not be what punters are expecting, and they should note that the BetRegal mobile site does not allow for bets to be exited early.
---
BetRegal Mobile Casino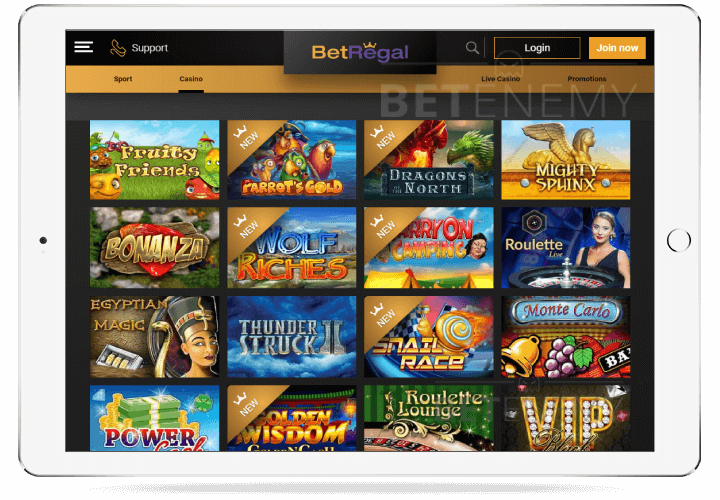 BetRegal has a mobile casino with over 100 games for punters to play. These include slot games, roulette, and other table games. While there is a significant selection, it is unfortunate that BetRegal does not give users the opportunity to browse the games by any specific form of order. The games on the mobile site are not ordered alphabetically, nor are they ordered by game type, or most recently added. In fact, the only identifier on some of the games is a "new" banner, indicating their status. Although the games themselves are of high quality, it can be tiresome scrolling through the various games in order to find something specific. There is no search bar, only a "recent" tab, if you want to replay something you found previously. This inconvenience may put off casino players, but is great for those who do not necessarily care what specific games they play, and are happy to just browse.
---
Mobile Live Casino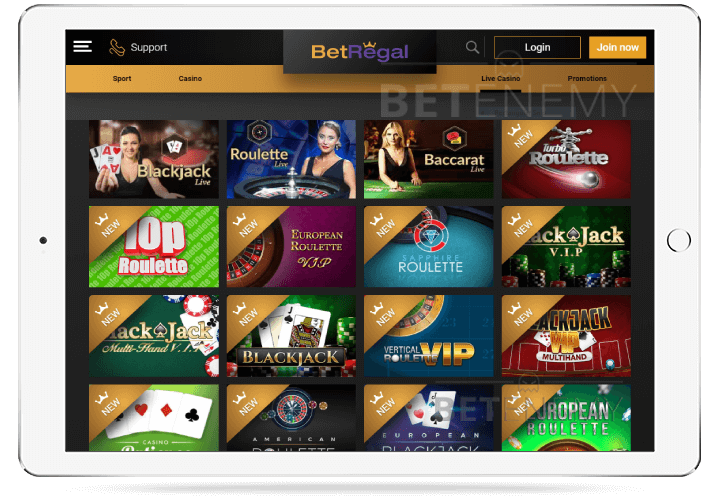 The BetRegal live casino is surprisingly large but limited in terms of what games are on offer. BetRegal gives punters the opportunity to play blackjack, roulette, baccarat, dream catcher and football studio, but does not offer players any other common card games, such as Texas holdem, Carribean stud poker, etc. The games are somewhat organized together by category, making it easier to find what you are looking for, then select the specific game that appeals to you the most. The games themselves are of reasonable quality and come from reputable providers, which does allow players to enjoy the social experience. But for the range of live games on offer, it seems odd that BetRegal would not offer a larger range of different live casino games, instead of just variations of the same thing. Therefore the live casino may appeal to some players, but for others who do not fit the relatively targeted market, they are better finding a site elsewhere.
---
Pros and Cons of the BetRegal Mobile Site
In comparison to the desktop version of the BetRegal site, there are some differences with the mobile site. Some of these differences are clearly objective, but many are subjective. It comes down to the personal preference of the user, whether they should utilize it, or just stick to the PC version of the website.
Pros:
Convenient (can be accessed anywhere, anytime)
Free to access
BetRegal automatically transfers mobile device users to the mobile site
Cons:
Slow to load any of the webpages
Requires more data to download pages than an app usually does
The mobile site itself is more convenient than the desktop version of the website, for those that want to be able to play on a mobile device wherever they are. However, having an app would be arguably more convenient for punters who wish to play on the go, and the mobile site is not necessarily the best solution to this specific need.
---
Is there a BetRegal mobile bonus?
No, BetRegal does not offer a specific bonus for users who access the mobile site. However, punters can still take full advantage of all of the promotions that BetRegal runs, including the welcome bonuses for new customers, and the frequently-changing offers for returning customers. The mobile site has a web page that lists all of the current promotions, so bettors can see what they are eligible to enter if they wish.
Promotions that are available through the site include a casino welcome bonus, which offers punters a 100% matched bonus on their first deposit, up to the value of £250. Sports players can also benefit from ongoing promos, such as the "Predictor Master", which offers a £100 SecureBet In-Play token for correctly predicting the outcomes to questions regarding specific football games on Saturdays and Sundays.
---
System Requirements and Compatibility
Because this is a mobile website and not an app, almost all devices are compatible with it. This is actually beneficial to many people, including those who have devices that do not run on iOS or Android software. All punters need is a mobile device and access to decent-quality internet.
---
Mobile Deposit and Withdrawal Methods
The BetRegal mobile site has a large number of payment methods for their customers. All of the deposits are immediate, allowing punters to play as soon as they have made the transaction. Unfortunately, the withdrawals take much longer, but that is common for betting sites. BetRegal does not charge any fees for depositing or withdrawing money using any of these methods, so there are no hidden costs associated with the site.
Much like all of the other reputable betting sites, the BetRegal mobile site employs a closed-loop policy, meaning that you must withdraw money the same way you deposited it, in order to reduce levels of fraud.
Deposit Methods
Withdrawal Methods
| Payment Method | Deposit Minimum | Deposit Maximum | Time for Deposit |
| --- | --- | --- | --- |
| Visa | £10 | £10,000 | Instant |
| Bank Wire Transfer | £10 | £10,000 | Up to 6 days |
| Neteller | £10 | £10,000 | Instant |
| Skrill | £5 | £10,000 | Instant |
| Paysafe Card | £10 | £10,000 | Instant |
| MasterCard | £10 | £10,000 | Instant |
| PayPal | £10 | £10,000 | Instant |
| Skrill 1-Tap | £10 | £10,000 | Instant |
| Payment Method | Withdrawal Minimum | Withdrawal Maximum | Time for Withdrawal |
| --- | --- | --- | --- |
| Visa | £10 | £5,000 | Up to 8 days |
| Bank Wire Transfer | £10 | £5,000 | Up to 8 days |
| Neteller | £10 | £5,000 | Up to 3 days |
| Skrill | £10 | £5,000 | Up to 3 days |
| Paysafe Card | £10 | £5,000 | N/A |
| MasterCard | £10 | £5,000 | Up to 8 days |
| PayPal | £10 | £5,000 | Up to 3 days |
| Skrill 1-Tap | £10 | £5,000 | Up to 3 days |
---
FAQ
Can I change the odds from fractional to decimal?
It does not appear possible to change the format of the odds on the mobile site.
Is there a BetRegal .apk file for Android that I can download?
No, there is currently no BetRegal Android app. You should not download any .apk files under the impression that they are related to the BetRegal site.
Why can't I find the BetRegal app in the App Store?
Just like the Android app, a BetRegal iOS app currently does not exist. This is why you will not find it in the App store, nor will you find any link to any download on the BetRegal website.
How do I use the BetRegal mobile site?
The BetRegal mobile site is designed to be almost the same as the main site, except tailored for easier use on smaller, handheld devices. Navigate through it as you would on the main site. You can use your BetRegal login to sign into your existing BetRegal account, or you can sign up using the mobile site. You are then free to browse and place bets or use the casino or live casino.
Is the BetRegal mobile site better than the main website?
This is down to personal preference and depends on whether you prefer to use a mobile device or a computer. Each option provides the same services, so you are not missing out by choosing one or the other.
Is the BetRegal mobile site free to use?
Yes, the site is free and does not require any downloading.
Is the BetRegal site licensed?
Yes, it is licensed by the UK Gambling Commission and the Malta Gaming Authority.
Does the mobile site offer live streaming?
Currently, it does not. Instead, they offer a visualizer of the sporting event, so that bettors can see key information about the match or game in real-time, in order to make more informed bets.
---
About the Company
BetRegal is an online bookmaker, based in Malta and founded in 2012. The site offers a casino, live casino and sports betting, so there is something for all punters. BetRegal states on their website that they work hard to ensure the satisfaction of their clients, by employing their CARE policy – Customers Are Really Everything. Their focus is to provide a high-quality online bookmaker, and they have customer service representatives to quickly resolve any potential issues.
---
App Rating and Conclusion
Ultimately, BetRegal scores poorly due to the fact that they do not have an app to offer their customers. Instead, they have the mobile site, which allows users to take advantage of BetRegal on their handheld devices, but for many people, this is still not as convenient as a real app, and the mobile site itself comes with issues.
The mobile site does not immediately load – moving from one page to another result in a BetRegal loading page. While this does not necessarily last too long, it can get tiresome, especially considering other mobile sites will load almost immediately, without the need to load the page for a few seconds or more. Although the sports betting section of the site is of decent quality, the casino and live casino are not the greatest on the market. The casino has no clear method of categorization or opportunity to search for a specific game, and the live casino has a significant number of live options but is limited in terms of what games it provides.
As BetRegal states that they are highly dedicated to providing top-notch customer care, it is possible that they will introduce an app in the near future, in order to maintain the happiness and expectations of punters. They may also improve the quality of the mobile site in order to make that more usable. But until then, BetRegal users must make do with a mediocre mobile site.