BetConnect Review
Betconnect is an up and coming bet platform, that operates as a bet exchange. They offer users a unique way of betting and promise great opportunities for both punters and professionals. Learn more about their services from this detailed review of BetConnect.
---
Betconnect Registration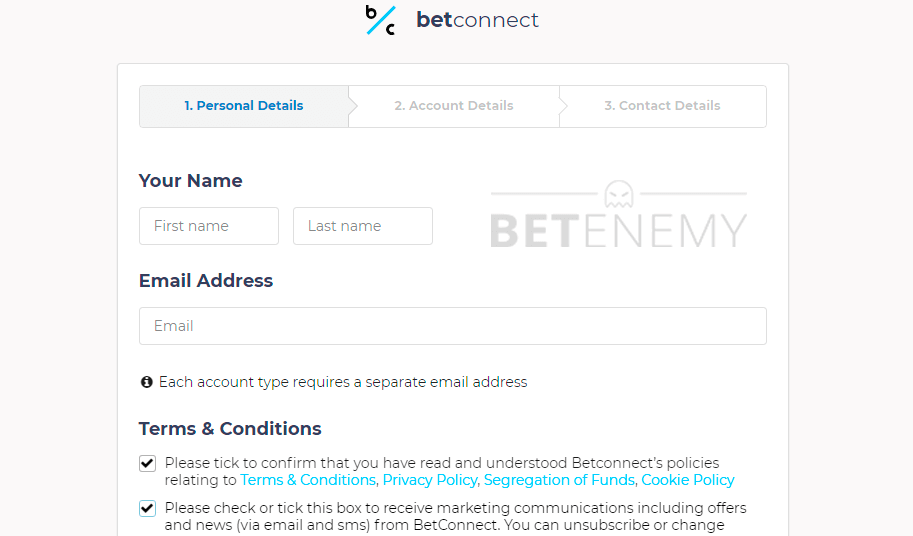 Registering on Betconnect is a natural process that only takes a few minutes of your time.
Click on the blue "Join in" button at the top right-hand corner of the screen.
Fill in all of your prompted personal details. At this point, you must specify whether you are a punter or a professional.
Confirm that you are over the age of 18 and have read and accepted the terms and conditions of the site.
On the next page, create a username and password for your account, fill in your birth date, and select your preferences when it comes to what sports you are interested in betting on.
Select your preferred maximum liability per bet request, which is the maximum amount you will be asked to deposit at a time.
Fill in all of your contact information – address and phone number.
You can then set your deposit limit. You can set it per day, week, month or no limit, and this makes it impossible to deposit more than you are comfortable with. That can always be changed in settings later.
Click sign up, and you have registered.
---
Website Layout and Navigation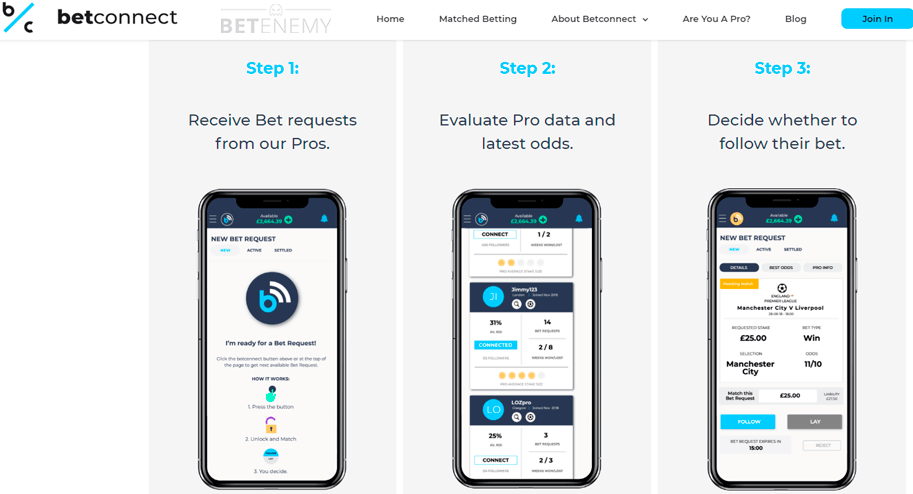 This website looks completely different when you are browsing it on guest mode, compared to when you are logged in. Before you log in, you cannot see any of the bets on offer, you can only see information on how the website works, and what it can offer.
Once you have created your account, you can then see what Betconnect offers. Along the left-hand side of the screen, you can easily find information about your account, as well as along the top of the screen. Pressing the sizeable Betconnect logo takes you to a bet, as well as provides you with a list of all of the betting sites that offer competing for odds so that you can find the best ones. If you are not interested in betting on that specific market, you press the "Not Interested" button at the bottom of the screen, and it will direct you to complete the process again to find another bet.
That is a lot different from traditional bookmakers, and it can take some time to get used to the way that bet exchanges operate. However, the Betconnect site is so simple and uncluttered, that this is the perfect platform to learn on. They also offer helpful information on how to use the website and how it works, so that everyone can understand.
---
Matched Betting on Sports
Another one of the ways that Betconnect is different from other bookmakers is that they offer matched betting. That essentially means that you make two bets – a "back bet", which is a bet for something to happen (such as your team winning a match). You then also place a "lay bet", which is betting against that outcome (so betting that your team will not win). So either way, you win and cancel out your losses. It is also known as a betting exchange, although unlike most other bet exchanges, Betconnect does not charge a commission or a qualifying loss, so you do not stand to lose. They offer a YouTube video that explains this whole process in greater depth, for those who do not understand.
To make a Betconnect matched bet, you need to find a bet request that you are happy with. It will give you odds on a lay bet, that a professional bettor has created. Punters are then given a list of bookmakers that offer a back bet that complements the lay bet, as well as the odds that they offer. To make a matched bet, you find a bookmaker with equal or better odds to the lay bet, and you go to their site and place a bet. Enter the same stake for both the lay bet and the back bet, follow the back bet on Betconnect, and you will have a matched bet.
---
Betconnect Welcome Offer
People who sign up to Betconnect as a new punter (NOT a professional), are eligible to receive £50 in free, matched bets.
Must place a minimum deposit of £10 before you receive the free bets
If you have indicated that you want to receive the bonus, and you have made the necessary deposit, the bonus will automatically be placed into your account
You must match up to 3 bets, with a combined liability of £50 to use the offer
The free £50 in matched bets is only available for the first three matched bets offered. If you reject these, you lose the bonus
There are no wagering requirements for the free bets
---
---
Back Bet vs Lay Bet
When it comes to betting exchanges such as Betconnect, this terminology is important and helps you to understand what is going on. Betconnect encourages punters to make two bets on the same event, betting on opposite outcomes, so that you win regardless.
A back bet is when you are backing something to happen – such as your team winning a match. That is what a usual bet looks like. A lay bet is when you bet on the opposite to happen – your team will lose the match. If you place two opposing bets, this is what is known as matched betting. Therefore, regardless of the outcome, you win, and in theory, your win covers the loss of the other bet.
---
About the Odds
This form of betting only works if the odds on your lay bet are better or equal to the odds on your back bet because your lay bet is what you want to win (your back bet is essentially a form of insurance). So with Betconnect, you are offered a bet by a professional. You can then see all of the odds offered from various other bookmakers so that you can make the best, informed choice. Place a bet with a bookmaker who offers excellent odds, making sure that these odds are better or equal to your lay bet offered on Betconnect. This way, if you win your back bet, you hopefully win more than the cost of your lay bet.
---
Pro-Account vs Punter Account
When you sign up to Betconnect, you can choose whether you would like to have a pro account or a punter account.
Pro accounts are for those who are professional bettors and have been banned from other online bookmakers because of this. With Betconnect, you are no longer restricted, and as a professional, you can have your bets pushed out to punters. You create lay bets, and it is up to punters whether they choose to follow them or not. You have access to the odds from other bookmakers so that you can select the best odds possible for your lay bet. Betconnect charges a small commission based on stakes, rather than winnings, making it more appealing than other bet exchanges. Punters should be aware that the pro account is not eligible to receive the Betconnect free bet promotion upon registration.
If you would prefer a punter account, there are also numerous benefits to that as well. A Betconnect pro bettor backs every bet request you receive. They must back their bet, which means that they truly believe in it, and you can trust their expert opinion. You will be able to see the odds given by other bookmakers on that bet, so that you place your back bet with the site that is offering the highest odds, without having to research this yourself actively. Also, punter accounts have greater access to the bonuses and promotions offered by Betconnect, as not all of these are accessible for pro accounts.
---
Betconnect Blog
Betconnect frequently updates their blog, which is full of helpful tips and tricks on betting for various sports. They offer guides for betting on certain sports, information on bet exchanges, and how to get the most out of the Betconnect platform. It is great for players who want to understand more about the matched betting process or want to stay on top of betting for a certain sport, such as football. All of the blog entries tagged with keywords, so you can easily find more information on the same topic. The tags displayed on the right-hand side of the screen for easy access, so you can find what you're looking for.
---
Options for Deposits and Withdrawals
As it currently stands, Betconnect is only accepting payment from Visa or Mastercard. You cannot use popular e-wallets such as Skrill or Neteller to deposit or withdraw money from the site. However, this is highly likely because Betconnect is still a very new betting site, and it expected that they would expand their payment methods as time goes on. It should noted that the site also currently only accepts GBP, but this may expand as the site does.
| Payment Method | Deposit Minimum | Deposit Maximum | Time for Deposit | Minimum Withdrawal | Withdrawal Maximum | Time for Withdrawal |
| --- | --- | --- | --- | --- | --- | --- |
| Visa | £10 | £10,000 | Instant | £1 | £2,000 | 3-5 Working Days |
| MasterCard | £10 | £10,000 | Instant | £1 | £2,000 | 3-5 Working Days |
| Bank Wire Transfer | £10 | £10,000 | Instant | £1 | £2,000 & more | 3-5 Working Days |
Individual users can also create personal limits that allow them to determine the maximum amount they want to deposit on a daily, weekly or monthly basis, to ensure their safety when gambling.
---
Betconnect App for Mobile
Betconnect also offers punters the opportunity to download their app, allowing you more flexibility to bet when you want, wherever you want. The site provides an Android app, as well as a corresponding iOS app. Both of these are entirely free to download and offer all of the functions of the main website. The Android app can found in the Google Play Store, and the iOS app can be downloaded from the App Store.
Alternatively, if you would prefer to access the website on your mobile device but you do not want to download the app (or you do not have a compatible device), you can always access the mobile version of the website. That is simply the website, slightly redesigned to be easier to use on a smaller touch screen.
---
Betconnect Affiliate Program
This betting site also has an affiliate program, for those wanting to earn a little more on the side. Punters can sign up to the program, and their application will then reviewed. If it is accepted, punters can then become a member. They will receive the necessary support and materials from the Betconnect affiliate program, such as banner to display on their website, as well as other promotional material. You will then receive a commission, for all of the punters who sign up to the site via your link.
---
FAQ
How do I verify my Betconnect account?
You will be asked to verify your account by providing proof of identity by uploading images of your passport, or driver's license. You may also be asked for further verification if Betconnect requires it.
How do I recover my forgotten password?
If you have forgotten your password, click on the "Forgot Password?" link on the Betconnect login page. You will be asked to type in your email address, where you will be sent a link to reset the password.
What kind of Bookmaker is Betconnect?
Betconnect operates as a bet exchange.
What is a bet exchange?
Bet exchange is when punters bet against each other, instead of betting against the bookmaker. It works by placing a lay bet (a bet that something will not happen, or a person/team will lose a match). That is the opposite of a traditional bookmaker, where you place back bets, which are bets that something will happen.
Is Betconnect legal?
Yes, bet exchanges are legal in many places, including the UK. They have a license to operate in the UK, from the UK Gambling Commission.
Does Betconnect offer casino betting?
No, this site solely offers sports betting.
Does Betconnect have any promotions for existing players?
No, there are no offers for users of the site, except for the welcome promotion. However, through Betconnect, you can see all of the sign up offers for other bookmakers, which you can take advantage of when you place your lay bets.
---
Company information
Betconnect is a relatively new bet exchange on the market, aimed at amateur bettors as well as professionals. Professionals can create lay bets based on odds from some great bookmakers and offer these bets to the amateur punters. These punters can then look through the bet requests sent by professionals, and choose to follow the bet or not. They are then giving all the information they need to create a back bet, making a matched bet with the best possible odds on the market.
---
Contact Details
Phone Number: Not offered on the website
Email: support@betconnect.com
Address: Betconnect Ltd. | Elder House, St. Georges Business Park | 207 Brooklands Road, Weybridge | Surrey, KT13 OTS | United Kingdom
* The website also offers a live chat, which states that a team member will usually respond within 5 minutes. However, keep in mind that it is not active 24/7.
---
Final Rating and Conclusion
Betconnect certainly offers a novel alternative to traditional online betting. Although Betconnect is not the first bet exchange on the market, they offer their services in an easy-to-understand way, that is perfect for beginners. It also provides excellent opportunities for professionals.
It also creates the perfect space for professional gamblers who have been banned from traditional bookies, to continue to play in a way that capitalizes on their knowledge and success. On Betconnect, they can offer their bets to amateur punters, and receive a commission from bet stakes, rather than their winnings.
One of the issues with the site is that as a punter, you cannot have access to all of the available bets. You are sent a single bet request at a time, as opposed to being able to pick and choose from the complete list of bets on hand. You cannot alter this format, and the only thing you can do is follow certain professional bet makers, and specify what sports you are interested in, in an attempt to reduce the complete randomness of the bets you are sent, to ones that you know you will probably want to follow. This lack of full choice is one thing that sets Betconnect apart from other bet exchanges, although not necessarily in the best way.
The site is still relatively new in terms of its payment services. Punters can only deposit or withdraw money using Visa or Mastercard, and there are no options for e-wallets such as Neteller or Skrill. Customers are also limited to only GBP as an approved form of currency. While this should not pose an issue to British customers, it will become an issue for international punters interested in the site, slowing down their growth.
Final score: 4.3/5