Betcart Mobile App for Android
Before you get your hopes up, we will immediately reveal the fact that Betcart still hasn't created a mobile app for Android devices. Nevertheless, it offers a mobile site version which many punters consider as a better option for mobile betting for its easier navigation and clarity of formatting.
How to access Betcart Mobile version for Android?
There is no need to download any mobile app for your Android device. Follow the steps below to know how to access Betcart's mobile site version.
Step 1: Open the internet browser on your mobile device.
Step 2: Type in www.betcart.com on the URL bar or follow the link.
Step 3: Log in with your account.
---
Betcart Mobile App for iOS
Much like Android, iOS users will still not enjoy a mobile app from Betcart as of today. Nobody is sure whether there will be one in the future, but looking at where the bookmaker is heading towards, it is not at all impossible. For now, you can access the bookmaker via a mobile browser.
How to access Betcart Mobile website for iOS?
Since there is no mobile app available as of the moment, you'll need to use Betcart's mobile site version.
Step 1: Open the internet browser on your iOS device.
Step 2: Type in www.betcart.com on the URL bar.
Step 3: Log in with your account.
---
Mobile Sports Betting
Betcart is dedicated to improving the markets and features of its sportsbook. This remains true even in its mobile version which perfectly syncs with its original desktop counterpart. Various sports promotions for both real and virtual sports are displayed on the homepage. Punters around the world can also choose from a long list of sports events conveniently available in many languages and currencies.
From the bookmaker's abundant markets, you can play Football, Tennis, Basketball, Volleyball, Ice Hockey, Baseball, Handball, Badminton, Snooker, Futsal, Table Tennis and American Football. If you're not into sports, then maybe you can opt for Politics. There is Dota 2, League of Legends, Counter-Strike: GO, Starcraft, and Starcraft 2 for you too.
Though Betcart isn't the most popular when it comes to sports odds, many of its markets are considered competitive. You can also choose among five different odds view – American, Decimal, Fractional, Hong Kong and Indonesian. It's sportsbook markets with all its features is indeed a vital strength of the bookmaker.
---
Betcart Apps Features
With the absence of mobile apps, Betcart seems to display a poor race performance. Thanks to its user-friendly mobile version, it's able to compensate for its lack of mobile apps. If the bookmaker does create one for Android or iOS, it will not be surprising that the app will be as functional and as feature-rich as the mobile site. As of now, we can only indeed anticipate for dedicated apps hopefully served soon.
---
Betcart Mobile Website Version
Betcart's mobile website is well-loved by punters for its user-friendliness and promptness in responding to requests. Visiting the mobile site, you'll notice its neat interface that has all the features of the desktop version. The only difference is, of course, it's optimised for mobile phone making some variation in the screen visible.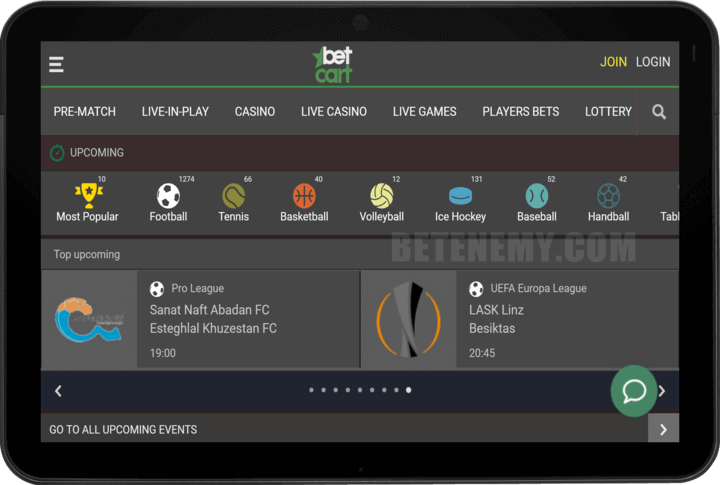 On the top right of the screen are the 'Join' and 'Login' buttons with a list of betting options across it. Just on top of the rotating promotional screen are the available options – Pre-match, Live-In-Play, Today, Casino, Live Casino, Live Games, Players Bets, Lottery, Statistics and Promotions. Below them is a clear presentation of the upcoming markets and live events complete with event names, odds, scores and other relevant statistics.
There is nothing more to ask in this mobile site version. In fact, other punters prefer it over the desktop version for its many admirable features.
---
Betcart Mobile Casino & Poker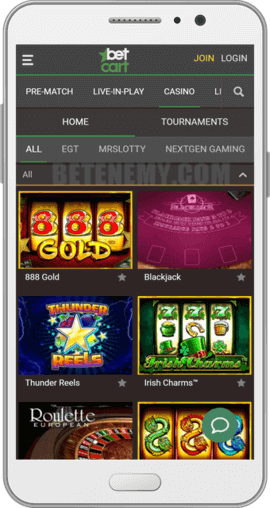 There might still be no Betcart casino app on the market, but Betcart casino is very much accessible through the mobile website version. Thus, if you want to enjoy one of the biggest casinos online, try out Betcart casino. In here, you can play lots of games from 3D slots, realistic games, world match, multislot, and game art.
Among the most favoured feature of the casino is the table games section where punters are given a wide collection of table games including European Roulette, Blackjack, and Baccarat. The live casino is also available via the mobile website which lets punters conduct actual dealings with other players at the other end of the computer.
Betcart partnered with Pokerway to provide stimulating poker experience to poker lovers. If you are one, you can use this platform and enjoy its many exciting features. One of them is the Poker Craft which replays and analyses the games you played in the past. This means any punter can improve his strategy as he goes on playing another poker game.
Poker, however, is only accessible via the mobile website as the bookmaker is yet to introduce its mobile app version. Hopefully, the bookmaker introduces this soon enough.
---
Advantages and disadvantages of the Mobile version of Betcart
Although Betcart hasn't yet given mobile apps to its punters, it is necessary to point out the pluses and minuses of the mobile site version.
Advantages
Easily accessible across a range of devices
Reach more varied users
Updated/upgraded by Betcart
Easier to find for users
Shareable with a link
Can function like native apps
More cost-efficient
Disadvantages
Poor functionality with poor internet connection
Requires modern phone models
---
Mobile Bonus Offers of Betcart
Betcart is one of the few bookmakers which offers a mobile bonus to its punters. To get the bonus, all you have to do is place your first bet via mobile. If you lose, email promo@betcart.com and use the promo code 'MOBILE BONUS' to be granted £10. Simply put, the bonus is a refund upon losing in your first mobile bet.
For the bonus to be credited to your account, you should wager on odds of at least 1.60 or higher. All live and pre-match bets count for this promotion but must be used within five days once received. Punters who have never placed a bet via smartphone or tablet device should avail of this generous promotion.
---
System Requirements and Compatibility
Betcart's mobile website is compatible with Android 4.4.X or later versions and with iOS 8.0 or later versions. Before accessing it, make sure that your device is compatible with the site.
Here are some examples of compatible devices:
Samsung Galaxy S7
Samsung Galaxy Tab
Samsung Galaxy Edge
Samsung Galaxy Edge+
Sony Xperia
LG LTE
iPhone 6
iPhone 7
iPhone 8
iPhone X
---
Deposit and Withdrawal Methods
Punters have plenty of deposit and withdrawal options to choose from with Betcart. Check out these payment methods with the tables below:
Deposit Methods
Withdrawal Methods
| Payment Method | Deposit Minimum | Deposit Maximum | Time for Deposit |
| --- | --- | --- | --- |
| Visa | €1 | €10000 | Instant |
| Bank Wire Transfer | - | - | - |
| MasterCard | €1 | €10000 | Instant |
| WebMoney | €1 | €10000 | Instant |
| Payment Method | Withdrawal Minimum | Withdrawal Maximum | Time for Withdrawal |
| --- | --- | --- | --- |
| Visa | - | - | - |
| Bank Wire Transfer | €50 | €500000 | 24 Hours |
| MasterCard | - | - | - |
| WebMoney | €10 | | Up to 24 hours |
WebMoney, MasterCard, Visa
Bank Wire Transfer
---
FAQs
If you don't have much time to read through the entire article, at least browse here to learn the answers to the most frequently asked questions about Betcart.
Is there an intended mobile app for Android/iOS devices?
While experts foresee this to happen soon, there still is no mobile app available for either Android or iOS devices as of today. To enjoy mobile betting, punters are encouraged to use the highly-functional and user-friendly mobile browser version instead.
Is the mobile browser version accessible throughout all mobile devices?
The mobile browser version of Betcart is fully-functional across modern mobile devices. Just make sure that your phone or tablet is of upgraded version and that you have strong access to the internet while playing.
Will my transactions be safe when done on mobile?
Yes. All your transactions are safe even when conducted via mobile as the bookmaker makes use of the latest security services. Besides, since there is no need for a download, you can even assure than no possibly malicious third-party software will interfere.
Can I avail of any mobile bonus?
Yes. There is a promotional bonus specifically intended for first time mobile users. In this bonus, you can get £10 after losing on your first mobile bet. This acts as a refund to your loss. To claim, just send the promo code 'MOBILE BONUS' to promo@betcart.com.
How do I proceed with mobile payments on the mobile browser?
The process is really just the same as when conducting transactions on the original website. At the upper right corner of the log-in mode, click the option 'Deposit' and choose the payment method of your choice. Enter the amount and the appropriate data to finish the transaction.
Is there a set maximum winning on mobile?
In the same way, as there is on the desktop version, Betcart has a set maximum winning for bets placed on mobile devices. Punters can have a maximum winning of €50,000 per day.
Are there features on the website that aren't available on mobile?
There is none. Every feature, markets, promotions and bonuses you can find on the website are offered on mobile. You can even opt for the 'Live Chat' option on your phone.
Which customer support is available via a mobile device?
All customer services are available on mobile. You can have the quick 'Live chat' option which is available 24/7. For more serious or longer concerns you can send an email at requests@betcart.com instead.
---
Company Information
Betcart is one of the many Europe-based bookmakers with only a few years of experience in the market. It was established in Curacao in 2010 by the Bcourt Group NV. The bookmaker holds exclusive domains in Iran and Italy and is supported by Sbtech, a leading software provider.
While Betcart only targeted a few countries before, it has now turned into a global bookmaker with its website becoming available in various languages and offering 19 different currencies to choose from. Apart from the exciting new features developed by the bookmaker, it had also gained the trust and admiration of its customers when it offered a mobile version. It is generally considered a quick and fun way to do mobile betting. Customers can use either the mobile website version and the app for iOS & Android devices to access their accounts.
---
Apps Rating and Final Verdict
Betcart is unquestionably an attractive betting option for punters around Europe and Asia. The bookmaker has a lot to offer. Features such as its exciting casino, its wide variety of markets in the sportsbook section, and its live betting option can make any punter drool. The bonuses are somewhat limited but are nevertheless good ways to maximise winnings. There still is no live streaming, and the bookmaker still has lots of country restrictions, though, which can all be a discouragement too.
Its mobile browser version for iOS/Android is something the bookmaker can be proud of. Upon examination, anyone can tell that it does look neater than its PC counterpart. All features are functional and navigating through it is a piece of cake even for first-time punters. However, what punters are looking forward the most are the mobile app versions which are still unavailable. Since mobile apps enhance user-experience, the bookmaker definitely has to offer one soon.
Though the bookmaker has excellent features, its lack of mobile apps is an absolute turn-off for both existing and prospective punters.