Bet9ja Review
Bet9ja is one of the leading brands in Africa when it comes to sports betting. Aside from the online sportsbook platform, Bet9ja has also established a few physical shops to allow potential customers to make bets on their favourite sports. They also offer live betting and virtual games, which we'll look into later on. Let's take a look at their betting platform.
---
How to open an account?
The first thing to know is how to open up an account. Here are the steps to opening one:
Step 1: Click on the Register Now button in the home page or select the Register button, located on up right corner of the website.
Step 2: Input your details and click Register.
Step 3: Click on the confirmation link sent to your email address.
Step 4: Fill up the form in the link and login to your new account.
How to activate and verify your account?
The activation of your account is done very early in the registration after you Step 2. So once you create all your login details and input your personal details, you can immediately log in and start playing.
As for the verification of your account, you need to send over some identity details to confirm your age and identity. Usually, they will ask for your ID and probably proof of address. However, you do not need to provide any other documents until you're ready to withdraw your money. So you can just wait until then before you prepare those documents.
Lost your password? How to recover it?
If you ever forget your password, you can quickly improve it by clicking the Forgotten Password button in the login portion of the website. After clicking on it, you'll be requested to provide your username and email address. From there, Bet9ja will send an email with instructions on how to recover the password. Just follow the instructions, and you should be able to get your password right away.
---
Website Review – Design, Structure and Menus
The website sports the design of a typical sports betting platform. What makes the site pretty eye-catching is the colour combination. It carries dark grey shades as the background but dominantly green. This is pretty interesting because green is also the dominant colour of the Nigerian flag. This in itself is attention catching for soccer fans from Nigeria.
Also, the menus are well-placed which gives visitors excellent user experience.
---
Betting on Sports
As soccer is the most popular sport in the platform, there are variations of soccer markets available for soccer fans to wager in. Aside from the usual soccer, there are other soccer betting markets such as soccer specials, goal scorer and antepost soccer. Other than soccer, you can play these other sports as well:
Basketball
Tennis
Baseball
American Football
Baseball
Rugby
Boxing
Cricket
Futsal
Darts
Golf
Politics
Take note that they don't have eSports as a part of their betting markets possibly because eSports aren't that big in Nigeria yet.
Betting Markets
Bet9ja will surprise you with the available betting options. Normally, from this kind of bookmaker it is not expected to offer so many markets, but in Bet9ja you have plenty of options. Of course, the most attractive options are for football matches. There you can bet on all main markets like winner, goals and handicaps. However, there are other markets too. Exciting is the option for betting till a certain minute of the game. Also, you can predict the score in the exact minute.
But, of course, soccer is not the only sport on the website. The available markets for tennis, basketball and other sports are also very much. You have the option to bet on different lines, win margins, sets, games and more.
Are the odds higher?
If we're talking about odds, Bet9ja is known for its spectacular odds in both soccer and basketball. Soccer matches are known for book percentages of 105% for regular matches and 109% for league games. Aside from soccer, NBA games are also top-rated in Nigeria with matches reaching a 106% book percentage. These odds are excellent if you're a big sports fan.
Soccer Zoom
Among the available sports at Bet9ja Sports section you will find the Soccer Zoom category. This is a section which you can't find everywhere, but in Bet9ja you can access it. It is made for football fans who want to bet on virtual games. The Zoom Soccer feature of Bet9ja allows you to place bets on virtual games and leagues which are equal to the leading soccer competitions such as English Premier League, German Bundesliga and more. Also, the names of the teams are similar, so you will find that option exciting.
You can access this section every day, so it is no longer necessary to wait for your favourite teams to play during the weekend. With Soccer Zoom you can place bets like Match winner, Double chance, Over/Under goals and others.
---
Sports Welcome Offer - 100% Up to 100 000 Naira + 1 League Free Bet
Like all other sportsbooks, Bet9ja also has a sportsbook welcome offer for new players. This signup offer allows you to get 100% of your bonus of up to ₦100,000 plus two League Free Bets and require a bonus code. You can use the unique Bet9ja promo code BETENEMY.
Here are the terms and conditions that you have to know of:
The welcome bonus is only applicable to online registrants.
It can only be used once per customer.
You have to make an initial deposit of a minimum of ₦100.
Make a min deposit of ₦100 and you'll get 100% bonus of up to a max of ₦100,000 + 1 League Free Bet.
You must wager the total amount 10 times with odds of 3.00 or higher to withdraw the bonus.
The wagering requirements must be completed in 30 days.
---
---
Live Betting
With the live betting feature, you can bet on live games happening in real-time. This is a really cool feature because you can take part in the action right from your computer. You can also monitor the odds and the progress of the game through the platform. You also get to earn a lot of money because other players are even there betting on their favourite teams to win.
When you open the section, you will see all of the available sports and events. You have a menu on the left from where you can change the sport. The events are divided into tournaments which are good practice for every customer who needs to find a particular game. There is an option to view multi-events and even see the upcoming live meetings from the calendar page, but the most attractive page is the Event View.
When you select an event, a new page will load. There you can see the live information about this event. The info includes live stats and real-time graphics which show how the game is going. Below this field is the available live markets. With that, every player at Bet9ja can avail the maximum of the live betting section and its opportunities for in-play bets.
---
Cash Out Option
Fortunately, of severe punters, there is a cash-out option that allows you to take your profits out even if you haven't finished the game yet. This gives you a guarantee of profits wherein you won't have to worry about losing any more money if the game doesn't go your way. It's a great way to control your bet and ensure that you don't bite off more than you can chew.
---
Live Stream Feature
To make the experience even better, Bet9ja offers live streaming to punters. While you are betting on your favourite team, you can also watch the game. With this feature, you don't need to stream the game in other streaming websites anymore. You can watch the game from the platform and monitor your bets all at the same time. This feature is highly appreciated by most sports fans and is not offered in the majority of the sports betting platforms.
---
Casino Section
While sports is the main feature of the Bet9ja platform, there also is a casino where you can play other types of games such as card games, roulette, slots, and other fun things that you would usually find in a casino.
When you open the Casino page, you will see the most popular games, played at Bet9ja. There are also different sections with games. Every game could be played with real money or in demo mode. The second one is perfect for new players with little casino experience. With the demo option, they can try different games and then they can decide if it is worth to play with real money. Also, for every game, there is an info button which shows the rules of the game. There is an option to mark the game as a favourite too.
Yes, Bet9ja is famous for its sports section, but definitely, you will not make a mistake if you try the casino section.
Is there a casino bonus?
Unfortunately, at the moment Bet9ja doesn't offer any specific promotion for the casino players.
---
Live Casino Games
If you prefer something a little more interactive and little more entertaining concerning your casino play, you can check out the live casino games. The live casino is pretty much like the regular casino games but with a live dealer to play with you. You can play live different games. The dealers are all very professional and accommodating giving you a real Vegas experience that you'll definitely enjoy. Here are the available games:
Roulette
Blackjack
Baccarat
Lottery
Texas Hold'em
Keno
---
Virtual Sports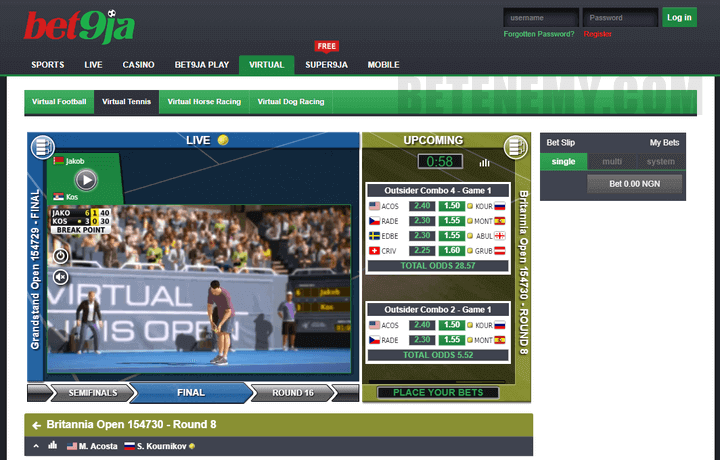 Another part that you can play would be virtual sports, which is pretty much like regular sports betting but on games that aren't real. When there aren't any significant games or matches for you to bet on, virtual sports is another excellent alternative. It'll be like betting on video game matches set up by the platform.
The virtual sports are held for a couple of minutes, so you quickly understand if you win or lose with your bet. The available markets are pretty the same as the real sports, but they are fewer on virtuals. The available virtual sports at Bet9ja include football, tennis, horse racing and dog racing.
---
Bet9ja Play Section
The Bet9ja section is a rather unique feature that you'll find in the Bet9ja website. It includes four games that you can play namely the Premier League, Dog Racing, Horse Racing, and La Liga. This section is especially well known for the dog and horse racing showing all the latest tracks and players. If you're into these types of sports, you'll love this section.
Also, if you are a fan of the Premier League or La Liga football, you will have the opportunity to bet on the virtual played games from these leagues.
---
Payment Methods
There are several payment methods that you can use in Bet9ja. These are some of the deposit and withdrawal methods and their limits:
| Payment Method | Deposit Minimum | Deposit Maximum | Time for Deposit | Minimum Withdrawal | Withdrawal Maximum | Time for Withdrawal |
| --- | --- | --- | --- | --- | --- | --- |
| Bank Wire Transfer | | | | ₦5,000 | ₦9,999,999 | Up to 24 hours |
| Interswitch | ₦100 | ₦10,000 | Instant | | | |
| Nibss | It depends | It depends | Instant | | | |
| Emailmoni | It depends | It depends | Instant | | | |
| Paycom | ₦100 | ₦100,000 | Instant | | | |
| GTBank | ₦100 | ₦9,999,999 | Instant | | | |
| Instant Bank Transfer | ₦100 | ₦9,999,99 | Instant | | | |
| Quickletter | It depends | It depends | Instant | | | |
| SkyeBank | ₦100 | ₦500,000 | Instant | | | |
| ATM | It depends | It depends | Instant | | | |
| Stanbic IBTC | ₦100 | ₦1,0000,000 | Instant | | | |
| Providus Bank | ₦100 | It depends | Instant | | | |
| Zenith | ₦100 | ₦3,0000,000 | Instant | | | |
For some methods, there are definite limits, but for others, they depend on the card provider.
---
Mobile Services
One of the best things about Bet9ja is that it has a very well-designed, mobile-friendly website. It's extremely to use and very interactive. The navigation is also much more straightforward than the site because it uses very nice graphics instead of a lot of text.
There are also mobile apps for Android and iOS devices. They could be downloaded from Bet9ja's website. With them, you can bet wherever you are. The mobile services of this bookmaker completely cover all of the features and offer from the desktop version.
---
Affiliate Program
The affiliate program prepared by Bet9ja is a very straightforward program that allows you to get a 20% commission for being an affiliate of the platform. All you have to do is create an affiliate website and get the affiliate code from Bet9ja to earn commissions. After that, Bet9ja will be the one to provide you with all the necessary marketing materials you need such as banners, ads and the like. This is a great way to earn money aside from just betting.
---
FAQ's
Find your questions on the FAQs below to get quick answers.
What ID can be used for verification?
The best would be either a scanned copy of your passport or a scanned copy of your driver's license.
What can be used as proof of address for verification?
You may submit a utility bill such as a cell phone bill, phone bill, electricity bill, or a water bill. In the absence of a utility bill, you may also submit a bank statement or a credit card statement. Make sure that your proof of address is at most 3 months old otherwise it might not be approved.
How do I change my personal details?
If you want to change something like your username, you have to contact the customer support to help you change your details.
Can I cancel a bet if I already wagered on a sport?
No. Once you make a bet, you can't cancel it. The most that you can do is cash-out early in the game if you think that you're going to lose. This will help minimise your losses.
Can I have multiple bets on one betslip?
Yes, you can. However, the maximum number of bets that you can have in a betslip is 40.
Can I use my sportsbook funds for racing?
You can if you transfer your funds from your sportsbook to the area for racing.
Can people outside of Nigeria also register for the platform?
Unfortunately, the platform only accepts customers that come from Nigeria.
---
More About Bet9ja
While it doesn't have a powerful international presence, it has quickly become one of the top sportsbook websites in the country of Nigeria. Established in 2013, Bet9ja found themselves as a strong bookmaker for soccer games in Africa. They became licensed under Lagos State Lotteries Board allowing them to operate in all regions and states located in Nigeria legally. Though their base is in Africa, the technology they use for powering the website is from Europe making Bet9ja one of the most advanced betting sites in the country.
---
Customer Support
While the platform does not have a live chat feature, it has other really efficient customer support options that you can try out instead. What's unique with this platform is that it even has a Twitter account wherein you can Tweet Bet9ja whenever you want to ask something. This makes up for a live chat that most online betting platforms would have.
---
Contact Details
Use the contact details below to contact Bet9ja for assistance:
Where we can find the head office of the company?
Bet9ja's main office is located in Nigeria. The exact address is Tomi's House, 9 Funsho Williams Avenue, By Fire Service Station, Ojuelegba Bus Stop, Lagos. Also, you can see the location through Google maps.
---
Final Verdict and Rating
Bet9ja is definitely one of the best online betting sites that you can find on the Internet. It includes everything that an online punter would want. It has a wide range of sports markets and excellent odds, especially for the basketball and soccer sports markets. It also has a really good cashout option that allows you to take your money out in the middle of the game just in case you want to guarantee your profits. It also has live streaming and a really lovely live casino. Some minor cons are that the casino doesn't offer poker and there's no live chat feature. However, those cons aren't that big of a deal.
The major con about this betting platform is that it is only available to customers who live in Nigeria. While there are a lot of people who will definitely enjoy playing on this platform, it is only those who have bank accounts or debit cards in Nigeria that can play. This puts a significant barrier on a bigger market of punters.
However, if you are a Nigerian punter, you'll definitely love this platform. Hence, this platform deserves a score of 8 over 10.