Mobile App for Android
Many online bookmakers offer specific Android apps for their services, but for now, Bet90 is not among them. The bookmaker doesn't have a downloadable .apk file with which players can use the mobile services of Bet90. Instead, the bookmaker offers a mobile version of its website which can be accessed directly through your mobile browser.
The main advantage of the mobile site version of Bet90 for Android devices is that you do not need to download anything. You just have to load the bookmaker's website in your mobile browser to access everything available there. Every service and every feature which can be found on the desktop version of Bet90 can also be accessed through the Android mobile version.
---
App for iOS
As of now, there is no particular app for iOS devices. Do not worry because you can still access Bet90's amazing services from your phone. With their mobile site, you can easily place your bets and view updates on the current sports leagues. Their mobile site is compatible with both the iPhone and iPad as long as you have an internet connection and a functioning browser.
You don't have to download or wait for the app. You just have to launch your browser and type in the search bar. No iOS version update is necessary as long as the browser such as Safari or Google Chrome is fully functional.
---
Mobile Site Version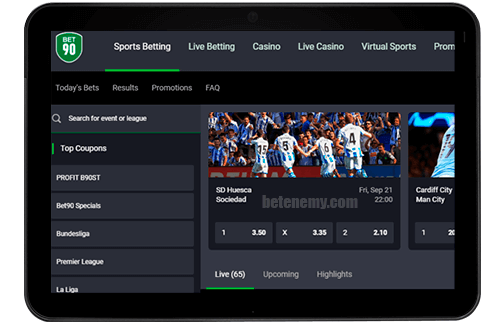 Despite not having a specially optimised app for both iOS and Android devices, Bet90 still wants its users to be at their utmost convenience with their mobile site. Even if you're on the go, as long as you have a connection to the internet, you can access Bet90 anytime. Suitable for almost all tablet and smartphone devices, may it be Android, Windows, or iOS.
Similar to their desktop version, the layout and colour scheme of Bet90 is identical to that of a football field. With the dark tones and soft grass greens, your eyes would surely never strain while you place your bets.
When you open the mobile site, you can immediately view the different bets offered by different sports. Whether it be past matches, current highlights, and live bets, or last-minute statistics, you can surely see it all with just a glance.
---
Mobile Sports Betting
Both Bet90's desktop and mobile website version offer a sports betting feature. With bookmaking in soccer or football being Bet90's main service, you can surely find updates when you open their homepage.
Veteran users will surely not get confused when they access Bet90's mobile site version. The layout and colour scheme of both versions are almost entirely identical. Their mobile sports betting section is free from clutter because of the clever way Bet90 kept the menu bar.
With Bet90's mobile sports betting, you can view all their available sports selection with a glance. Punters and sports enthusiasts can enjoy football bookmaking with a range of over 150 leagues at their expense. Place your bets instantly while being updated on the current statistics of your desired match. Not only does Bet90 offer a strong sports book selection, but they also offer limitless potential for their users.
---
Bet90 Mobile Website Version Features
With the mobile site version of Bet90 players can access different features which are also available from the desktop version. Nevertheless, some players prefer to use them from the mobile version because of the flexibility which this option gives them. So let's take a look at the features you can avail of when using the mobile version of Bet90:
Cash Out

This option is one of the most used in sports betting nowadays. With the Cash Out from Bet90 players can stop their bets earlier. The option gives you the opportunity to close your full bet or just close a part of it. The feature is handy for live betting on sports events, and it will be very handled while betting on the move with the mobile version of Bet90.

Pulse Betting

Another good feature for the mobile site of Bet90 is the Pulse betting option. With it, players can bet if there will be a goal on short periods of live football events. For example, a player can place a bet that there will be a goal in the next 30 seconds or in the next 5 minutes. There are different options with a different profit range.

In-Play sports betting

One of the main features of Bet90 mobile version is its live betting section. There you can bet live on different sports events. The markets and odds are updated regularly, but this is not all. While following the games live, you can watch a live visualisation of the match and also check in-play statistics. This section combined with the previous two features open big doors for sports betting fans.

Live Casino

With the mobile version of Bet90 players can also play live casino games with real dealers wherever they are. The mobile platform for this type of games is very well designed. The video quality is high, and the betting interface is comfortable for mobile users. The only disadvantage is that there are not so many live casino games in the mobile version compared with the desktop website, but we think the available options are enough. Among them are popular games like roulette, baccarat and blackjack.
---
Mobile Casino
Even if you're on the mobile site, you can play Casino games offered by Bet90 entirely up to your expense. Bet90's Mobile Casino offers an extensive list of entertaining games and options. Enjoy the high odds and market with their various games. You don't have to worry about your type of smartphone or tablet because Bet90's mobile casino is compatible with all.
Examples of these Casino Games are American Roulette, Dream Catcher, Book of the Dead, Legacy of Egypt, and Fortunium. Still looking for more, Bet90 offers a live casino feature, video slots and many more.
Bet90 also offers a hefty welcome bonus for their punters who are interested in their casino section. Make your first deposit and receive a bonus of 125%. With these, you can earn up to €350.
---
Is There a Mobile Bonus?
Bet90 offers a 100% up to €100 Welcome bonus for their new customers. Only customers who have not made their first deposit are eligible for this bonus. When you make your first deposit, input SWP100 in the bonus code field. Also, the qualifying deposit amount of a user have odds of at least 1.80. This promotion is also a single-use bonus only. Eligible users can access this bonus whether they are using the desktop site or the mobile site. Either way, Bet90 makes this bonus available to their new users who have registered an account with them. This bonus is very hefty compared to Bet90's leading competitors.
---
System Requirements and Compatibility
Bet90 does not have a strict system requirement and compatibility mainly for the fact that it does not currently have a mobile application. However, their mobile website only requires two things: an internet connection and a smartphone or tablet device. With just a few taps or clicks away, you can access Bet90's services. No updated version for iOS, Android or Windows devices is necessary. Bet90's mobile site is compatible with a wide range of tablet and smartphone devices.
Here are some examples of compatible devices:
Samsung Galaxy S9
Samsung Galaxy Note 8
Sony Xperia XZ2
Google Pixel 2
LG V30
iPhone 6
iPhone 7
iPhone 8
iPhone X
iPad Air 2
---
Deposits and Withdrawals
Punters have the option to choose from these different deposit and withdrawal methods. Here are the payment methods available in Bet90:
Deposit Methods
Withdrawal Methods
| Payment Method | Deposit Minimum | Deposit Maximum | Time for Deposit |
| --- | --- | --- | --- |
| Visa | €10 | €2,000 | Instant |
| Bank Wire Transfer | | | |
| Neteller | €10 | €2,000 | Instant |
| Skrill | €10 | €2,000 | Instant |
| Trustly | €10 | €2,000 | Instant |
| Paysafe Card | €10 | €2,000 | Instant |
| MasterCard | €10 | €2,000 | Instant |
| Sofort | €10 | €2,000 | Instant |
| GiroPay | €10 | €2,000 | Instant |
| Payment Method | Withdrawal Minimum | Withdrawal Maximum | Time for Withdrawal |
| --- | --- | --- | --- |
| Visa | €10 | €2,000 | 1-3 days |
| Bank Wire Transfer | €10 | €2,000 | 1-3 days |
| Neteller | | | |
| Skrill | | | |
| Trustly | | | |
| Paysafe Card | | | |
| MasterCard | €10 | €2,000 | 1-3 days |
| Sofort | | | |
| GiroPay | | | |
---
FAQs
Got questions in mind? Answer them with the FAQs below:
Are there system requirements to download Bet90's mobile version?
Bet90's mobile site version does not have any system requirement to allow players to access it via their mobile devices.
Can I access Bet90 on a mobile device without downloading the app?
Yes, you can through Bet90's mobile site version.
Is there a cash out option on the mobile website?
Yes, there is a cash out option available on the mobile website of Bet90. There is also a partial cash out option.
Is live betting available on the mobile site version?
Yes, live betting is available on the mobile version. In fact, there is a dedicated section on the platform for it.
Does Bet90 offer live streaming?
Is live chat available via mobile?
Yes, live chat is available on the mobile website.
Are there other ways to contact Bet90?
Yes, there is. Aside from live chat, you can also contact Bet90 via email at support@bet90.com.
---
Company Information
Bet90 has been making a name for itself for almost a decade as a prestigious bookmaker. The company Bet90 Sports Limited operates the URL 'www.bet90.com'. Established and on the year 2010, the company is licensed and regulated by the European Union member state of Malta as well as having the high status of being a European bookmaking site. Despite being a primary caterer of bookmaking services to Germany, Bet90 aims to offer their services on a global scale.
The creation of Bet90 was innovated by top-notch gaming professionals. To top all of that, the Bet90 founders are innovators as well as pioneers in the sports bookmaking industry seeing that they were the primary providers of the famed 0:0 live betting. Bet90 offers its customers amazing leading sports betting service with various selections of games and casino betting for numerous events.
To keep up with the technological pace of today's world, Bet90 has introduced a mobile application. With the help of Bet90's step forward, you can access Bet90's superb features on the palm of your hands. Downloading the app and gaining access to the bookmaking site's products and services is free of charge. You don't have to worry about the compatibility requirements as well because the Bet90 mobile app is widely available for iOS and Android devices. Also, almost all of the desktop site's necessary functionalities can be seen in their mobile app. Punters can access Bet90 anytime and anywhere with Bet90's mobile app.
---
Final Verdict and Mobile Site Rating
Bet90 has both sets of benefits and disadvantages. However, the bookmaking site leans more on the pro side. Bet90 boasts a superb and extensive market for their sports betting and casino services paired with high odds. They also have generous promotions and hefty bonuses which are higher than their competitors. This site is being reputable as a decent bookmaking company. They also have live-in-play and cash out feature which would definitely be advantageous to those who prefer this type.
On the negative side, Bet90 features some disadvantages such as having a limit on their winnings. This would discourage some punters who want to earn a more significant winning. For their mobile application, they don't have a specially optimised version for Android and iOS devices. Despite having a currently nonexistent mobile app, their optimised mobile site makes up for it. Bet90 continues to develop and improve their website for the betterment of the customers' experience. Their mobile site and app efficient, optimal and up-to-date.
To top it all off, their secured deposit and withdrawal methods, as well as their excellent customer service, depicts Bet90's commitment to their customers.