Is There an Android .apk Application?
There is currently no native Android app for the betting platform. Since it is new in the market, it has not yet created any mobile app or even .apk file for download. There is also no announcement that the company plans to in the future.
Of course, this does not mean that Android players can't play anymore. The mobile version of the website is more than enough to make up for the lack of the native app. The mobile site is pretty much just like an app, having all the features an app must have and having an interface that emulates some of the best gambling apps you can find.
---
What About Mobile App for iOS?
There is also no mobile app for iOS devices. Even if you search in the iTunes store or in the App Store, you won't find a native or dedicated app for your iOS device. To access the platform, all you have to do is use your iPhone or iPad's mobile browser to get to the mobile platform. Just key in the Bet on Aces URL in your mobile browser, and you'll automatically be redirected to the mobile version.
---
Review of Mobile Website Version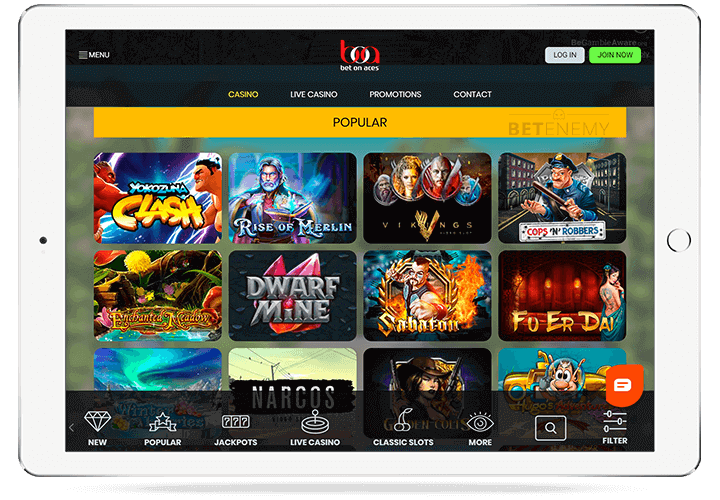 While Bet on Aces doesn't have a native app for both iOS and Android, it does have the mobile website to brag about. If there's one thing that you'll notice about the mobile platform, it would be that it uses a lot of stunning graphics.
When you access the mobile website, the first things that you'll see are the hot bonuses that you can avail of. These look exactly like the ones you'll see on the regular website, but they're made to fit the screen of your phone. Scroll down below, and you'll see a list of games you can play. Unlike other apps, the choices use graphic buttons that you can press instead of just text. There are red buttons with graphics as a background for these buttons but silhouetted over the button's dominant red colour.
Other than that, it's got a very interactive interface. The navigation is incredibly smooth and simple. There is no redirecting of web pages and long loading times. It's exactly like an app in a sense that you can slide options and press buttons without redirecting. This is because the site uses heavy Flash and Java allowing for these functions.
---
Mobile Sports Betting
/*NOT ACTIVE/
The mobile sports betting platform definitely has a lot to offer in terms of betting markets, odds, and bonuses. Starting with the betting markets, Bet on Aces has a trendy football market that appeals to football fans everywhere. They're especially known for very competitive football odds depending on the market and the activity. Of course, the more well-known football markets have the more competitive odds.
Aside from just football, there's also tennis, basketball, hockey, baseball, MMA, and handball. All of which have pretty good odds to brag about. And it's not just mainstream sports that they offer. E-sports, which is becoming a pretty big thing these days, is also being offered for betting.
There are betting markets for Dota tournaments, CS: GO, StarCraft, and more. You can also bet on political elections if ever there happens to be one at that time.
---
Mobile Site Version Features
Although it's not an app, the mobile site version of Bet on Aces offers a lot of features. Here are some of them:
Cash-Out Feature
First, we have the cash-out feature. The cash-out feature is a handy little feature that not all sports betting platforms have. This is why the sports betting platforms that do have it are really well-loved. Basically, the cash-out feature allows you to take out some of your profits before the event you've betted on smooth finishes. This allows you to fix your profits when you're not sure of the outcome of the second half.
Live Stream
You'll really love the live stream feature of this platform because it allows you to watch games in real time while you bet. This allows you to kind of, take part in the action while it is happening. Also, live streaming is in HD so you can watch a really high-quality game using your phone.
Virtual Casino
One of the best innovations that Bet on Aces has come up with is the virtual casino. It is literally a virtual reality live casino that can make you feel like you're actually in Vegas. Of course, you need to use an actual VR set like an Oculus to enjoy the virtual reality feature of the casino.
Virtual Sports
It's not just the casino that has the virtual reality feature. You can also watch sports in virtual reality as well. There is a list of live sports betting markets wherein you can watch them in VR if you have VR goggles. Some of these markets include VR horse racing, VR football, VR tennis, and many more.
---
Mobile Casino
Bet on Aces casino is probably one of the best casinos that you'll be able to find around here. Aside from a really comprehensive list of more than 3,000 casino games (although not all of them can be played in mobile), the interface of the casino is magnificent. You can especially see the aesthetic appeal of the casino in the mobile version through its optimised look. For the game selection, there are a number of table games such as Blackjack, Hold'em, dice games, and more. You'll also be able to play in the live casino where you can play with a casino host. Slot machines are also especially very known in this casino. With classic slots and special event slot games to play, you'll definitely not run out of activities to do.
---
Mobile Offers
When it comes to bonuses, Bet on Aces offers a lot on the plate. There are no current mobile bonuses provided by the platform at the moment. However, there are a lot of other really cool rewards that are offered to both the website players and mobile players. The most basic one is the free spin gift wherein you just have to register.
---
System Requirements and Compatibility
Since there is no native app available for download, you won't have any problems with the system requirements and compatibility with your phone. However, you do need to make sure that the Java and Flash in your phone are updated. If they are, then you can access the mobile version of the website easily.
Here are some examples of compatible devices:
Samsung Galaxy S6
Samsung Galaxy S7
Samsung Galaxy S8
Samsung Galaxy S8+
Nexus Series
Xperia M5
iPhone 5
iPhone 5s
iPhone 5c
iPhone 6
---
Deposit and Withdrawal Methods
To know about the deposit and withdrawal methods of Bet on Aces, check out the tables below:
Deposit Methods
Withdrawal Methods
| Payment Method | Deposit Minimum | Deposit Maximum | Time for Deposit |
| --- | --- | --- | --- |
| Visa | €10 | €5000 | 1-3 days |
| Neteller | €10 | €5000 | 1-3 days |
| Skrill | €10 | €5000 | 1-3 days |
| Entercash | €10 | €5000 | 1-3 days |
| Paysafe Card | €10 | €5000 | 1-3 days |
| EcoPayz | €10 | €5000 | 1-3 days |
| MasterCard | €10 | €5000 | 1-3 days |
| Yandex Money | €10 | €5000 | 1-3 days |
| WireCard | €10 | €2000 | 1-3 days |
| Qiwi | €10 | €5000 | 1-3 days |
| Moneta.ru | €10 | €10000 | 1-3 days |
| Gpaysafe | €10 | €5000 | 1-3 days |
| PugglePay | €10 | €5000 | 1-3 days |
| OtoPay | €10 | €5000 | 1-3 days |
| ArcoPay | €10 | €5000 | 1-3 days |
| Sberbank | €10 | €10000 | 1-3 days |
| Hipay | €10 | €5000 | 1-3 days |
| AstroPay | €10 | €5000 | 1-3 days |
| WalletOne | €10 | €5000 | 1-3 days |
| Payment Method | Withdrawal Minimum | Withdrawal Maximum | Time for Withdrawal |
| --- | --- | --- | --- |
| Visa | €10 | €10000 | 1-3 days |
| Neteller | €25 | €10000 | 1-3 days |
| Skrill | €25 | €10000 | 1-3 days |
| Entercash | €10 | €10000 | 1-3 days |
| Paysafe Card | €1 | €10000 | 1-3 days |
| EcoPayz | €10 | €10000 | 1-3 days |
| MasterCard | €10 | €10000 | 1-3 days |
| Yandex Money | €10 | €10000 | 1-3 days |
| WireCard | €10 | €10000 | 1-3 days |
| Qiwi | €5 | €10000 | 1-3 days |
| Moneta.ru | €1 | €10000 | 1-3 days |
| Gpaysafe | €10 | €10000 | 1-3 days |
| PugglePay | €10 | €10000 | 1-3 days |
| OtoPay | €10 | €10000 | 1-3 days |
| ArcoPay | €5 | €10000 | 1-3 days |
| Sberbank | €10 | €10000 | 1-3 days |
| Hipay | €10 | €10000 | 1-3 days |
| AstroPay | €5 | €10000 | 1-3 days |
| WalletOne | €5 | €10000 | 1-3 days |
Hipay, Sberbank, ArcoPay, OtoPay, PugglePay, Gpaysafe, Moneta.ru, Entercash, Paysafe Card, Visa, Yandex Money, EcoPayz, WireCard, Neteller, Skrill
Cubits, WalletOne, AstroPay, Gpaysafe, Moneta.ru, Entercash, Paysafe Card, Qiwi, EcoPayz, WireCard, Neteller, MasterCard, Visa, Skrill
---
FAQs
If you want to know more about Bet on Aces, read the FAQs below.
Does the mobile site version have system requirements?
Unlike applications, mobile site versions have no system requirements. However, to ensure smooth user experience, you may need to update your mobile device's Java and Flash.
Why doesn't Bet on Aces have a native app?
Because the Bet on Aces mobile version is pretty much already like an app, so the platform doesn't have a need to have a dedicated app. Also, it's more advantageous to just rely on the mobile website so you won't have to download anything.
I am using a Blackberry phone. Can I still access the site?
As long as you have an internet connection, you can access the site. However, you may not be able to access the mobile-optimised version if you're not using a smartphone. In any case, you'll still be able to navigate the normal website with your phone.
Is there a mobile poker room?
Yes, there is a poker platform that's also available for mobile users.
How does the Virtual Reality mode work?
You must first check if your VR goggles are compatible with your phone. If they are, follow the instructions for installing the VR system into your phone then click on virtual casino or virtual betting option.
Are all betting markets and casino games from the main website available on the mobile website?
All betting markets are available for both mobile and the main website. However, there will be some games not available for mobile players.
Is the fantasy sports section available on mobile?
Yes, you can enjoy the fantasy sports section using your mobile phone.
---
Company Information
Bet on Aces might be a new player in the industry, but it does have a lot of potentials to offer to online gamblers. Founded by Radon B.V., Bet on Aces was created just this 2018 under the license of the UK and Curacao. While the platform still doesn't have a stable and firm grasp on the market yet, unlike the other big players, its innovative technology and service have made it a bookmaker that many more prominent bookmakers should watch out for.
Bet on Aces has a list of fascinating games in its casino. It is one of the very few casinos that offer a virtual casino experience that can be used with Virtual Glasses. As for its sports betting platform, it is very well-known for its competitive odds aimed at attracting more players into its platform.
One of the best things about Bet on Aces is that it's not restricted to just a website. It even has a mobile platform that allows it to reach even the mobile gamblers who prefer to place its bets or spin its wheels while on the road. The availability of the mobile platform and innovative features can definitely give it a definite edge as it enters the market.
---
Mobile Site Rating and Conclusion
Bet on Aces definitely has a lot to offer concerning its number of games, innovative functions, aesthetic appeal, and its overall experience that it gives to its players. That's why Bet on Aces is becoming one of the top contenders in the mobile and online gambling industry. Of course, it still does have a long way to go before it reaches the graces of the bigger players, but it definitely does have a strong edge.
This is especially true because of the VR mode, which is one of the most unique features that this platform has to offer. Because of the VR mode, players get to feel like they really are in Vegas or they really are in a game event.
However, it does play a significant role that there is no native app that Bet On Aces offers. A mobile version of the website is good, but app lovers will not like this and may look for other options with mobile apps.