Bet-at-home Review
Bet-at-home boasts about providing high-quality betting and gaming services to millions of bettors and players around the world. But so do other bookmakers. What makes it different? Find more information about it in this review.
---
Registration
Visit Bet-at-home's official website. The website restricted to selected countries. If you can't access the site, add extensions like Hola to your browser. Once inserted, set the browsing address to Germany or France.
Click "Register Now!" In the website's home page, click the "Register Now!" button located at the upper-right corner of the screen.
The website may show a foreign language. Click the language selection button located at the lower-right part of the screen. You may translate the language of the site according to your preference.
Fill out the registration form. After clicking the "Register Now!" button, the website will redirect you to the following screen. The redirected display will show the registration form. Fill out the form with your details.
Once done, click the green "Register Now!" button on the right side of the screen to complete the registration process.
After completing the registration, you will ask for your preferred deposit method. You may register the information right away or disregard it for the time being and register it later.
How to activate our account
After the registration, you will automatically be logged in. Upon logging in, your new 10Bet account has been activating.
How to verify our account before any withdrawal
You will receive a verification email in your email account. Click it and follow the given instructions.
What to do if we lost our password
Go to Bet-at-home's official website. On the log-in section of the screen, click "Forgot your password". You will then redirected to the password recovery page.
The process of password recovery has two steps. On the first step, you will be asked to fill in a form. After filling in the form, click "Send". Then, you will proceed to the next step. Here, you will be asked to check your email were the instructions on how to reset your password given. Follow the given instructions to complete the recovery of your password.
---
Website review – Design and Layouts
Unlike other betting and gaming websites, Bet-at-home's site is plain and simple. It doesn't have much design, and its layout follows the standard format of other websites. It may not be as attractive as any other websites, but its simplicity makes it very understandable and easy to use. The users can quickly learn how to navigate around and hop from page to page. Unlike other websites with complicated designs, makes navigation easier and faster for all users. In Bet-at-home, users would not have to take a lot of their time to figure out how the website works. Plus, the site is available in many different languages, so users from different countries can navigate through every page of the website smoothly.
---
Sports Betting
Bet-at-home has a fair amount of sports to offer for betting. Not to exaggerate, but this betting and gaming company offers nearly all kinds of competitions around the world with the exception n of horse racing.
Originally built as a sports betting company, Bet-at-home excels best in sports betting. In football leagues, the company offers not only the traditional head-to-head, long term and goal total markets but also a wide range of exotic games for every match. The menus are wide-ranging as well with half time, full time, and final score options. That was only for football, and there are already a ton amount of words to describe just one sport. Bet-at-home has a whole lot of sports events as well as a broad range of betting and gaming options to offer.
Bet-at-home has one of the most extensive lists of sports betting markets in the industry. The company covers more than 600 football markets in the world, including the English Premier League and Champions League.
As a smaller bookmaker, Bet-at-home only offers average market odds. Nevertheless, they provide individual odds and price boosts.
Bet-at-Home bonus: 50% Deposit Bonus up to €200 (bonus code:
FIRST

)
Bet-at-home offers a special present for all sports fans. The company is now giving a bonus of 200.00 EUR to all new customers!
Here are its terms and conditions:
The bonus offer is only valid for customers who registered after December 21, 2019 (06:00h AM) and have not previously transferred money to their account.
The exclusive Bet-at-home bonus code

FIRST

must be entered under : "Redeem bonus" within 10 days of the first deposit. The customer will not be able to claim the bonus after the time period.
200.00 EUR is the maximum bonus amount.
Values may deviate for customers who did not select EUR currency in their account. The decision for value deviation will depend on the customer's country.
A redeemed bonus shall be queued should there already be an active bonus.
The amount of bonus will depend on the number of funds in the activation time.
The bonus and deposit amount must be turned over before withdrawal four times with odds minimum of 1.70 within 90 days after redemption.
The bonus may only be turned over with "Bonus funds" and "Linked funds". Bets placed with funds other than the two mentioned funds will not be counted towards the conditions for the turnover.
If bets made after the cancellation or expiration of bonus, the system will only credit the winnings made with linked funds.
The bonus will be granted only for those who have made no withdrawals before redeeming the bonus offer.
The amount deposited and the calculated winnings last until the expiration of the bonus, and it cannot withdraw.
This offer is only valid for live, virtual and sports betting.
This promotion is only credited once per person, computer, family or household.
The bonus offer is not valid for customers residing in one of the following countries: Finland, Netherlands, Cyprus, Ireland, Great, Serbia, Liechtenstein, Gibraltar, Britain, Malta, and Sweden.
Redeeming the bonus means the player accepts the general and bonus terms and conditions.
---
---
Live betting
Live betting in Bet-at-home is full of solid lists of daily events. Bet-at-home's Live Betting Calendar will take you to the upcoming live betting options and the events that will be covered by Bet-at-home's live play video services. Bet-at-home offers a huge selection of the available sports markets.
Live stream option
Bet-at-home's live streaming is free for all its registered members. However, members residing in Switzerland, Germany, and Austria may not be able to view live stream videos of sports taking part with German Teams or taking place in Germany.
To view live streaming videos, you must have Adobe Flash Player version 9 or higher on your computer. A user's IP address will automatically identify the location, and the live streams will be adjusted accordingly.
Horse racing
Bet-at-home does not currently offer horse racing events.
---
Cash-Out option
Bet-at-home's cash-out option allows cash out placed early in single or combination bets from live and sports betting offers. System or multi-way bets will not offer in Bet-at-home's cash-out option. The cash-out option, however, is not available for bets placed in bonus funds, voucher funds, and linked funds.
---
Casino
Bet-at-home offers a complete, enticing casino features. Casino players can get up to €1500 worth of bonus in any tournaments and casino games. The welcome bonus for betting and the welcome bonus for casino gaming is different, but players can use the same account for the two.
In Bet-at-home casino, you will find a long list of different games. From Blackjack, European Roulette, Video Roulette, Blackjack Multi Hand, to Poker Dice – Bet-at-home has all sorts of casino games prepared for you. Casinos in Bet-at-home also have video slots like Amazon Wild, Zuma, Shaaark, Doctor Love, Slot Blox, and more.
Casino bonus – up to 1000 euro
Bet-at-home gives players an opportunity to get a hold of its casino bonus worth up to 1000 euro. Players have the choice to start with the minimum purchase of casino chips worth 1.00 EUR and to double the chips up to 200.00 EUR. Players can also purchase casino chips worth a minimum of 500.00 EUR. Bet-at-home will credit half of the amount as a bonus with a maximum of 1000.00 EUR.
Here are its terms and conditions:
The bonus offer is only valid for customers who have not previously purchased casino chips in Bet-ay-home casino.
The value of the first chip purchased will be used to calculate the bonus amount.
The bonus will be activated as soon as the purchase of casino chips.
Players can only have one bonus variant.
The stakes are taken from the real money first and then from the bonus later.
Winnings from the bonus money can only be converted into real money when the original bonus amount is complete.
To make withdrawals, the bonus amount must be turned over 30 times.
This casino bonus is exclusive for Bet-at-home casino. Live casinos and other betting products excluded.
This bonus is only credited once per person, computer, family or household.
It is not possible to purchase casino chips using sports bonus money.
Redeeming the bonus means the player accepts the general and bonus terms and conditions.
Bet-at-home has the right to make amendments and cancelations for this bonus offer at any time.
Live casino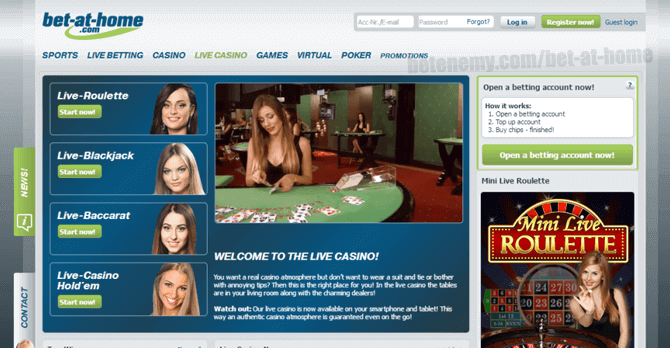 Bet-at-home aims to offer a complete package of live betting events to all its players and betters. They include a lounge for live games in addition to the main casino. Players can log in using their username and password, and they can already play just about any of their favourite casino games live. From roulette, blackjack to baccarat –Bet-at-home organises live events for these casino events. Live casino at Bet-at-home will not feel like you're away. It gives the same level of interactivity in the actual event.
---
Poker
Poker at Bet-at-home has much higher welcome bonus than any other betting companies. You simply need to download their poker software and log in. Once logged in, you have to convert your current foods to poker chips. The system will match 100% of the amount to a maximum amount of €1500.
---
Virtual sports
Bet-at-home presents a virtual football league.
It has 16 teams in all.
There are eight matches in one kick off and four and a half minutes given for each match day.
There are 30 match days in a complete season.
Each virtual event of the football leagues condensed into 140 minutes, that's just enough time to feel the excitement in the game. The virtual football league presents non-stop actions in the field. As soon as a season finishes, another one begins.
---
Payment methods
Bet-at-home provides regular banking services. They have made various payment methods available for all players to use.
| Payment Method | Deposit Minimum | Deposit Maximum | Time for Deposit | Minimum Withdrawal | Withdrawal Maximum | Time for Withdrawal |
| --- | --- | --- | --- | --- | --- | --- |
| Visa | £10 | - | Immediately | £75 | £5000 | 3 - 5 days |
| MasterCard | £10 | - | Immediately | £75 | £5000 | 3 - 5 days |
| Diners Club | £10 | - | Immediately | | | |
| Neteller | £10 | - | Immediately | £10 | £10 000 | up to 24 hours |
| Skrill | £10 | - | Immediately | £10 | £6000 | up to 24 hours |
| Skrill 1-Tap | £10 | - | Immediately | | | |
| Trustly | £10 | - | Immediately | £10 | - | 3 - 5 days |
| Fast Bank Transfer | £10 | - | up to 3 days | - | - | up to 5 days |
| Paysafe Card | £5 | - | Immediately | £10 | £5000 | up to 3 days |
| E-Vouchers | £10 | - | Immediately | | | |
---
Bet-at-home mobile
Just like the betting website, the Bet at home mobile app provides easy navigation and player-friendly graphics. It is also compatible in just about any device type and brand. Bet at home "mobile" offers clients an optimised mobile version and additional apps, simplifying the use of smartphones, tablets and other mobile devices. Thanks to the flexible system, you can place bets from anywhere directly from your phone.
On the internet, there are apps not only for Android but for the iOS operating system as well. A special app has also been created called Sport Map which allows you to check the most current sports events and bet on them from anywhere in the world.
The mobile version of Bet-at-home developed in a way that can adapt to the resolution of your mobile device whether you are using a tablet or a smartphone. With the mobile version, you have the same markets and options as with the desktop version. The design and functionality are similar to the mobile app, but the difference is that you install the app on your device.
---
Affiliate program
Bet-at-home's affiliate program gives affiliates unlimited opportunities to support a brand with a comprehensive range of products while earning a lifetime commission of 30%. The program offers co-branded landing pages, competition budget, readily-made email templates and real-time link click statistics.
Register here: affiliates.bet-at-home.com
---
About Bet-at-home
Bet-at-home is one of the leading online gaming and sports betting companies in Europe. From its foundation in 1999, the company has gathered more than 4.3 million customers to play and bet on their website. Founded in Austria, the company grew wider and wider over time, extending to international countries namely Malta, Germany, and Gibraltar.
Originally, Bet-at-home was solely built as a sports betting company. With the extensive growth of the company throughout the years, the company extended its services to other categories of betting and gaming. In 2015, Bet-at-home had a gross profit of 121.6 million Euros and a betting volume of 2,410.8 million Euros. This year and in the coming years, the online gaming and betting industry expect more from this ever leading company. Bet-at-home offers a wide-ranging collection of betting and gaming events. They currently offer more or less 345,000 events in more than 75 sports held every day.
Bet-at-home's system is available in 13 languages from different countries across the globe.
---
Customer care
If there is only one thing Bet-at-home does best, it would be in the aspect of customer care. Bet-at-home serves customers with patience and respect. They work with the right attitude, and they share only the proper knowledge in betting at Be-at-home.
---
Contacts
Sports bettingMarketingAffiliate AssistancePokerCasinoGames
Where is the main office of Bet-at-home?
The head office of this bookmaker is located in Linz. Here is the exact address: Hafenstraße 47-51, 4020 Linz, Austria. You can also take a look of the location through Google Maps.
---
Final Verdict and Rating
Like any other companies, Bet-at-home has its pros and cons. All in all, online gaming and sports betting it provides are satisfactory. So it deserves to get a 9/10 rating.