Online Betting Sites that Accept VISA, MasterCard and other Bank Cards
Debit cards are not the only possible option for online deposits. Nowadays there are lots of more innovative online payment methods that include digital e-wallets, crypto purses and more. At the same, the majority of punters still prefer traditional banking gateways. Of course, these include payments with debit. Check out our list of all recommended bookmakers that support deposit and withdrawals using bank cards. Find more info on each method by reading the expert review of each brand.
---
What are Bankcards?
Paying cash is now almost a thing of the past. As soon as bankcards came along, the majority of people around the world opted for the plastic debit cards. They are a very convenient substitute for banknotes and coins that you need to carry around in your wallet. Now, customers can get instant access to their money by using cards. Top them up from your bank accounts. Use a cashier desk or an ATM to transfer funds.
The benefits of debit cards are plenty. The one that stands out is their security. You need a PIN to access your money. If someone steals your card or you lose it, you can cancel it within minutes. Consequently, bookmakers always make sure to include this payment option on their online platforms.
---
Online Betting with Debit Cards
You will hardly find a bookie that does not support deposits and withdrawals with bankcards. Punters will be happy to learn that even mobile betting is now possible with the help of VISA or Mastercard. The truth is that regardless of the platform you access, any of the top betting sites will have included debit card payments.
Security Comes First with Bankcards
Why choose bankcards when betting online? Most of all, because of their secure nature! All cards come with CCV numbers that make it impossible for anyone but the owner to make payments online. Besides, cards are linked to a bank account. This means that the bank is always vigilant and pays close attention to your transactions. Finally, you can request added layers of security by activating different verification systems for access.
Processing Times when Using Bankcards
No set timeframe applies to all bankcard transactions. However, you must know that when depositing with VISA, Mastercard, or Maestro, there is instant processing. So you won't lose any time waiting for your money to be credited to your account. At the same time, withdrawals will take a bit more time. Sometimes the transaction will be processed within several hours, but usually, it may take from 3 to 5 working days.
Legality Debit Cards for Gambling
You can fund your betting account with debit cards in most cases. Still, it depends on the gambling laws in your country of residence. Bear in mind that some bookmakers by country like the UK brands will not accept any payments with credit cards. You can, however, fund your bets using debit cards instead.
Betting Bonuses with Debit Cards
When signing up with a new bookmaker, you will be eligible for several betting bonuses starting, of course, with the welcome first deposit promotion. You can claim them without any problem using your VISA or another debit card as your deposit method. Bankcards will not disqualify you unlike some e-wallets like Neteller, for example. Read the terms and conditions of each bonus first just to make sure that card payments are accepted.
---
What Do I Need to Do to Get a Bank Card?
What you need to do to acquire a bank card mainly depends on the type of card in question. Firstly, if you want a debit card, you won't need to sign up for it. As soon as you open a new bank account, the financial institution will issue the card within several days or weeks. You can go to the bank to get it or wait for a delivery to your home address.
---
What is the Difference between Debit and Credit Cards?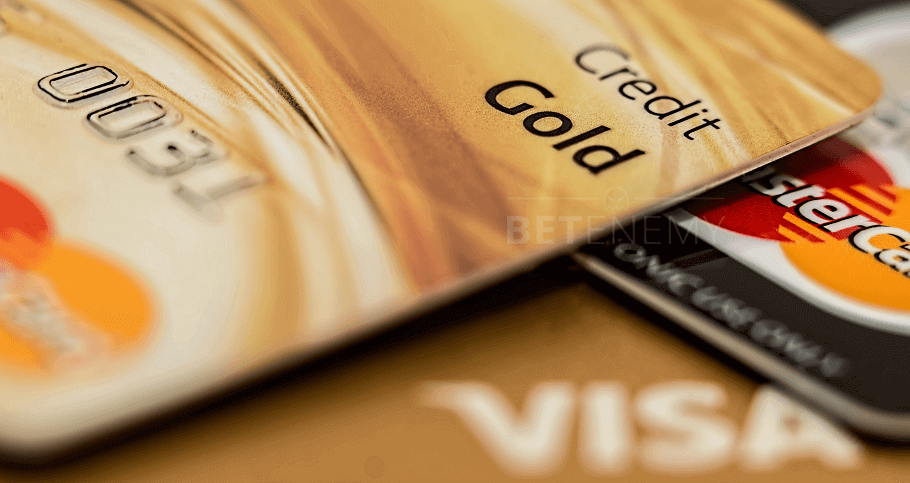 Most importantly, credit and debit cards differ in the money you get out of each. When you pay with a debit card, you use your cash from the bank account linked to the debit card. With credit cards, you pay using borrowed money that will acquire interest over time. So, placing a bet whose stake you need to return with a 10-12% interest definitely seems a high-risk investment. Hence, some countries forbid online betting with credit cards as a way to promote responsible gambling.
With debit cards, it is also much easier to set self-limits in a way to fight gambling addiction, for instance. That is why we highly recommend betting with debit cards over the other alternative.
---
What Card Should I Choose for Online Betting?
There are many different debit cards out there. The most popular are internationally recognised and come in many types. Of course, apart from the ones below, there are other types of bankcards, including Diners Club, for instance. However, we will focus on the most widely known types.

Mastercard is the oldest debit card ever issued. It appeared around 1940 and ever since then has evolved steadily. Now, customers can use it for any type of online payments including betting. You can be sure that all expert bookmakers for professionals will support Mastercard as a deposit and withdrawal method.

You can use VISA or Visa Debit or Visa Electron at almost all betting sites. VISA is perfect for withdrawals because of the low or no fees involved and rather fast processing times. Use it for both mobile payments and online banking on most bookmakers' platforms.

Maestro is a type of debit card of the MasterCard brand. Lots of punters prefer these ones. Unlike credit cards, Maestro won't allow you spend over your limit or the cash you have in your card at the moment. In addition, most bookies' bonuses can be unlocked using this card as your payment method.
---
Ways to Deposit on Bookmakers Using a Debit Card
Deposits with bankcards are instant. Use your debit card at the bookies if you look for convenience and transparency of the transactions. Before you fund your account, though, the operator will require you to provide information on the following:
Card Type: Choose the type of debit card, i.e. VISA, MasterCard, etc.
Full Name: Your first and last name as it appears on the debit card.
Date of Birth (DOB): The day you were born written in the same format as you have noted in your bank. Depending on the country you live in, it may be dd/mm/yyyy or mm/dd/yyyy.
Card Number: The number that appears on the front side of the debit card.
CCV Code: A unique 3-digit code located on the back side of the card.
Once you provide these, you can move on to choosing the amount you would like to deposit. In some cases, the bookie may request a scanned copy of the front and backside of your card for further confirmation.
---
How to Withdraw from Your Betting Account Using a Bankcard?
It is much easier to request a withdrawal with a bank card if you have already used it for a deposit. The cashier section at the bookmakers will ask you to save the information you put in regarding the card. This will allow the company to process your withdrawals without having to ask you to repeat the process of registering your card once more. Thus, you can expect an answer to your payout request within several hours or two days at most.
---
Fees for Debit Card Transactions
We want to emphasize the fact that using bank cards for withdrawing and depositing on betting sites is free. There is no charge involved whatsoever. The bookmakers don't take any commission, which is why debit cards are so popular among players.
At the same time, customers shouldn't overlook the annual maintenance fee you pay for each card you own. Besides, cards come with an interest that may also increase your bill.
---
Pros & Cons of Betting with Bankcards
PROS
Accepted by most bookmakers
Immediate deposits and fast withdrawals
No processing fees
Added layers of security
Internationally recognised
Deposits in any currency supported
CONS
No crypto payments
Your bank accounts are saved on the betting sites, which may be risky
---
Frequently Asked Questions
Can I deposit in crypto bookmakers using a bank card?
No, you can't. You must use a crypto wallet for Bitcoin payments in betting sites and casinos.
Are debit card payments allowed on the leading betting sites?
It depends on the country. For example, the UK Gambling Commission allows for debit card payments only. Credit cards are forbidden.
Will the bookmaker delay my payment when I withdraw with a debit card?
Not really. If you have used the same card for deposits, the transaction will be processed quite fast.
Are mobile payments possible using a debit card?
---
Is it Worth Betting with Debit Cards?
All in all, after taking an in-depth look into bankcard payments on betting sites, we have reached a positive conclusion. Debit cards are convenient, user-friendly, and overall perfect for funding and withdrawing from your online gambling accounts. We recommend this banking option to all punters who want safe and fast transactions.