Mobile App for Android
Is your phone's memory already full to the brim? 12Bet apps provide an excellent alternative for those who don't want to download an app permanently.
12Bet's mobile app is not available on in-phone application stores. App stores such as Google Play ban real money betting apps. However, don't fret because you can still access 12Bet's great features using your Android device by downloading the .apk file.
The app provides all of the basic functionalities 12Bet has to offer. Just launch it from the 12Bet website on your browser, and the site immediately configures the format to match with your mobile device.
The app does have lovely contrasting colours of black and red which look striking. The app contains all the helpful FAQs page and the fantastic services similar to those available on the desktop version.
How to Download and Install the .apk File?
Follow the simple steps listed below to access 12Bet's services using your Android device.
Step 1: Using your mobile device's mobile browser, open www.12bet-mobile.com/en/.
Step 2: On the page, you will see download options for the app's iOS version and Android version. Click the green "

Download now!

" button for the Android app.
Step 3: Wait for the .apk file to be downloaded.
Step 4: Click the downloaded .apk file to prompt its installation on your Android device.
Step 5: Go to your Android's Security Settings and turn on the Unknown Sources.
Step 6: Open the app and start betting!
---
Mobile App for iOS
Don't worry about having an iOS device when you want to access 12Bet. The company launched an equally specialised version for iOS devices. It can be downloaded on both iPhone and iPad devices. Similar to the Android version, all features from the desktop version can also be accessed from an iOS device.
Users can surely place their bets and manage their winnings just about anywhere. With 12Bet iOS version, this can be possible.
How to Download and Install the App?
Downloading 12Bet App for iOS devices like iPhones and iPads is quite easy. There are also two available options. The first one is similar to the given instructions for Android users. The next option is to download the app from the App Store. Listed down below are the detailed steps on how to download the 12Bet iOS app:
---
12Bet Mobile Sports Betting
Sports betting is available in both the mobile app and the desktop version. The layout and features are similar so veteran users won't be confused. The interface and how it is displayed is also identical. The live betting feature from the desktop version can be utilised as well in the mobile app. Current statistics of the results of favourite sports such as football are also displayed in the app.
The bet slip is also adequately placed in the mobile app, and it is not a hassle to locate it. You can also view the upcoming matches and the highlights of the previous ones. 12Bet continuously improves its sportsbook since it is one of its main highlights.
---
Mobile Apps Features
Listed below are the best features of 12Bet's mobile app which are both available in the Android and iOS versions.
Optimized Browser

12Bet has an optimized browser feature in which the desktop version services are all in the mobile app. The layout is also similar. This makes it easy for those who are used to the desktop version to navigate the app.

Wide Selection of Sports

Today's most popular sports in the world are football, tennis, and basketball. These sports are the app's speciality. However, different sports are also covered in the selection. 12Bet offers a wide range of sports selection. Asian sports are also highly focused on 12Bet since it is an Asian bookmaker.

Moreover, if you're starting to get bored on the usual football leagues that you bet on, don't fret because 12Bet covers some football leagues that are not offered in other betting apps. Some of these are the Syrian and Uzbekistan football leagues.

In-Play Betting Feature

Live streams are available in the 12Bet app. The app offers an in-play betting feature which is quite exceptional itself. Users can place their bets while the live streams are playing. Despite containing numerous great features, the last feature to be mentioned in this section is that the app welcomes high and competitive odds.

Cash out

Through the mobile services of 12Bet, you can use the Cash Out option. With this feature, players can close their bets while on the go. The option itself allows you to close single and acca bets. You can use it for both pre-match and live bets, so it could be advantageous when you want to assure your profits or minimise loses using 12Bet mobile services.
---
Review of Mobile Site Version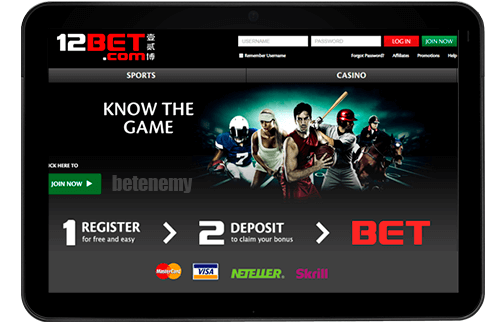 For Android users, they can still use 12Bet through the site especially since they cannot download 12Bet's mobile app easily. Also, for those who prefer not to download many applications on their phone, they can access 12Bet from the mobile site version. The site does not have a significant difference from the app. All the necessary functionalities and user-friendly interface are still present.
---
Casino App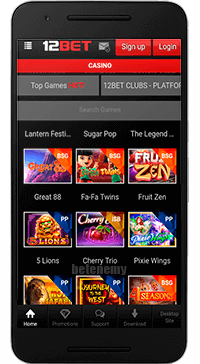 Casino games are accessible in 12Bet's mobile app. The games are very similar between the mobile and desktop versions. However, 12Bet offers unique casino games on both Android and iOS devices. These games also feature high odds and a huge market. Some of these games are Classic 243, Treasure Nile, Cash Splash Reel and Major Millions. There are games for video poker, table games, and jackpots. If you're looking for a specific game, you can use the search bar provided by 12Bet for easier navigation.
---
Differences Between the Mobile App and Mobile Site Version
12Bet offers two options in which you can access it. One is through the mobile app, and the other one is through the mobile site. The mobile app and website offer most of the necessary functionalities that are available in the desktop version, but there are slight advantages and disadvantages.
Mobile App Advantages
The Android and ios versions are specifically tailored for its respective type of device
Can be accessed even without an internet connection
More interactive and functional in terms of interface and accessibility
Mobile App Disadvantages
It has system requirements and compatibility conditions that may not cater to older models of the device
Mobile Site Version Advantages
No download is required
Updating the version is not needed
Compatible and accessible on more devices
Mobile Site Version Disadvantages
Your account is not saved so users are required to log in every time
Less convenient in terms of accessibility
Cannot be accessed without an internet connection
---
Is There Any Mobile Offer?
When you create an account to either 12Bet's mobile app or desktop version, you will be entitled to up to £35 worth of bonus. However, deposits made via debit or credit cards are only allowed to avail the bonus. After creating an account, you need to deposit and stake 6 bets that are qualified and worth at least £10. Don't take to much time because the bonus will last for 24 hours.
The mobile token can be claimed once your bets have already been settled. The bonus is also only available to sports betting, not casino betting.
---
System Requirements and Compatibility
For system requirements, 12Bet requires the device being connected to the internet as well as an iOS or Android device. 12Bet is also compatible with various range of devices as long as they are up to date. If you use and Android-device, the version of the operating system should be at least 4.4 or higher. The requirement for the iPhones and iPads is an iOS version 10.3 or above. Once you have met these requirements, accessing 12Bet is very easy.
Here are some examples of compatible devices:
Samsung Galaxy S4 Mini
Samsung Galaxy S5
Samsung Galaxy Note II
Sony Xperia Z1
Sony Xperia ZL
HTC One X+
LG Nexus 4
iPhone 6
iPhone 7
iPad Mini 2
---
Deposit and Withdrawal Methods
12Bet offers various deposit and withdrawal methods which are free of charge. However, some of these providers might charge an additional fee. They are accessible on both mobile and desktop versions. You may rest assured that these methods are quite safe and secured when made on the 12Bet app or website.
Deposit Methods
Withdrawal Methods
| Payment Method | Deposit Minimum | Deposit Maximum | Time for Deposit |
| --- | --- | --- | --- |
| Visa | £10 | £5 000 | Instant |
| Neteller | £20 | £5 000 | Instant |
| Skrill | £20 | £5 000 | Instant |
| MasterCard | £10 | £5 000 | Instant |
| Payment Method | Withdrawal Minimum | Withdrawal Maximum | Time for Withdrawal |
| --- | --- | --- | --- |
| Visa | £10 | £5 000 | up to 5 days |
| Neteller | £10 | £5 000 | up to 24 hours |
| Skrill | £10 | £5 000 | up to 24 hours |
| MasterCard | £10 | £5 000 | up to 5 days |
Skrill, Neteller, Visa, MasterCard
Skrill, Neteller, Visa, MasterCard
---
FAQs
Want to know more about 12Bet? Read on for the FAQs below.
Is 12Bet mobile version accessible anywhere?
Both the mobile version and desktop version is accessible in any country as long as you are connected through an internet browser. There is no restriction of 12Bet from any country.
Can I log-in to my 12Bet account on both desktop and mobile?
No, your account from 12Bet can only be accessed on one device.
What would happen if I'm in the middle of placing a bet, and I lose connection from the internet?
If you ever encounter an internet connection disruption, you can still confirm if the bet was placed by checking the Statements section. A bet will only be considered and finalised once a bet receipt number is displayed on the screen.
Can you access all casino games from 12Bet's mobile app?
Yes. All features from the desktop version are available on the mobile version as well.
What are the biggest sports featured on 12Bet mobile?
12Bet features quite a lot of sports. The biggest and most popular ones include football, basketball, and tennis.
Is an in-play betting feature available?
Yes, in-play betting is available on a mobile device.
---
Company Information
To provide the most user-friendly service and a comprehensive interface, 12Bet inevitably brings its aims to reality. 12Bet is an online betting brand established by the Pacific Sea Invests in 2007. The site was able to acquire their license to operate, and it is regulated by the Authority of the Philippine Government.
12Bet specialises in imparting sports bookmaking and casino services. These products and services are offered across different countries in Europe and Asia. In addition to being a widely-known betting company in Asia, 12Bet was able to rank in the 17th place globally as stated by the Annual Power 50Ranking of the eGaming Review Magazine. The site launched a mobile application that provides easier access to its features from the comfort of your mobile device. Anywhere you go, as long as you are connected to the internet, 12Bet is just a tap away.
---
App Rating and Conclusion
12Bet was developed in Asia and was established in the Philippines. However, it is widely known in Europe and has lived up to a high standard of success there. Due to their optimal features and services, 12Bet can par with any leading competitor.
12Bet also prioritise their customers' experience as evidenced by quality customer service and the provision of a FAQs page. Also, the company didn't merely develop a mobile app, but they created aн optimised version for both iOS and Android devices. The app has a great layout with a colour palette that is both easy to the eyes and visually appealing. Necessary functionalities are also present in the mobile app. 12Bet continuously improves both their app and desktop site for the betterment of their services.
12Bet's sports betting section boasts a live stream feature which is not available on most bookmaking apps. For punters who want to bet on competitive markets, it is quite apparent that 12Bet is an excellent choice. From their hefty bonuses, generous promotions and very high odds to their secured and safe services, 12Bet surely does not disappoint.